Learn all about this new strawberry variety from Driscoll's and if it truly is bliss! This uniquely colored strawberries is white both on the inside and out. Woah!
This post includes affiliate links. This means that at no additional cost to you, I will earn a commission if you click through and make a purchase. These are products and services I recommend because I use or trust them. Cookies will be used to track the affiliate links you click.
Whenever I find out about a new variety of fruit I will seek it out until I find it.
With Driscoll's Rosé Strawberry it took me a couple years until I traced them down. But with their new Tropical Bliss Strawberry it only took a couple hours! I was in the right place at the right time.
This post is all about this new delicious variety that is an exclusive from Driscoll's.
Jump to:
🌴 What are Tropical Bliss Strawberries?
The first thing you will note about this berry is that the color is reversed. The skin is white and the little tiny seeds are red.
It took many years and a lot of hard work to bring this berry to fruition. Driscoll's plant breeders worked with other existing varieties to come up with Tropical Bliss. This includes in some form the pineberry which Tropical Bliss does look a lot like, but it's not considered a pineberry itself. As plant breeders do, they look for berries with certain qualities they like and they cross breed until they get something they want.
This wasn't an overnight success at all. They had to work to overcome issues like low yield, short shelf life, and disease. For a large producers like Driscoll's the berry has to be worth their time and effort. It has to be able to ship to stores and last long enough for customers to buy it. It's very different than someone growing strawberries at home just for their own enjoyment.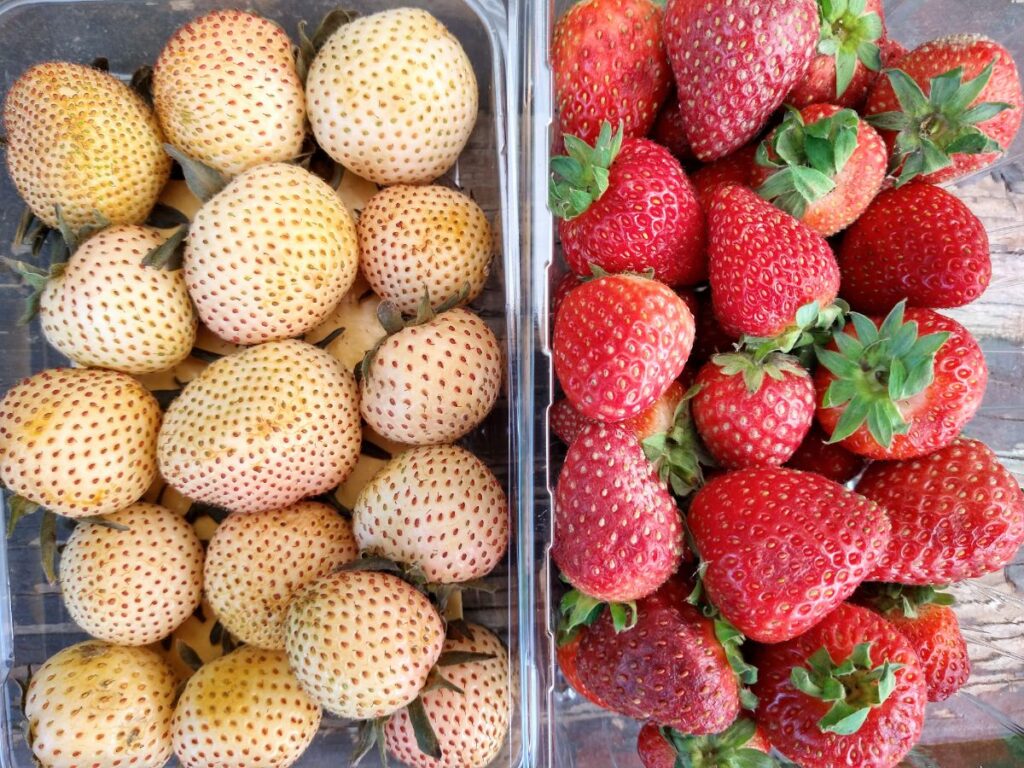 👅 What Do They Taste Like?
Before you even bite into the fruit you are greeted by an intoxicating smell. It reminds me of how fragrant guavas are. It's so wonderful, I wish they could bottle it and use it as an air freshener.
As you take your first bite you are met with a sweet, then a tart flavor that resembles a pineapple. This flavor is far more interesting than what you normally find in a supermarket. It shows that strawberries have more to offer in variety of flavor than you ever thought.
☀️ When in Season?
These strawberries are not available year round, so you have a limited time to find them. The berries are in season from May to the end of September. The earliest I have ever spotted them was in the month of June.
🙋 Are They Different From Rosé Strawberries?
You might be wondering how these are different than Driscoll's Rosé strawberries that came out a couple years ago. Appearance wise the berries are more pinkish in color. Both are white on the inside.
Flavor is not quite the same. The Rosé strawberry has more of a peach, floral flavor which is different from the Tropical Bliss more pineapple like flavor.
As of writing this post in 2022, the Rosé strawberry is more widely available.
🛒 Where to Buy
As of this writing in 2022, Tropical Bliss is very limited in availability. Here are the stores that you can look in. They may not be in all of the stores of these chains, check with your local store.
Dorothy Lane Markets
Lunds & Byerly's
Ralph's
Whole Foods Market
The only store I can confirm to have seen them myself is Lunds & Byerly's who was carrying a wide variety of Driscoll's berries.
💲 How Much Do They Cost?
With their limited availability comes a higher price. The berries were going for $7.99 for a 9 ounce package. It's more of a special treat right now than something you'll have on your grocery list each week. Also consider that the store I got them from is a higher priced store to begin with, you may be able to find them for cheaper, but still not cheap.
One drawback of a white strawberry is that any bruises are going to show up very clearly. The berries have to be handled every carefully and are packed into a smaller container so that they aren't stacked on top of each other. This likely affects the price as well.
🍓 Strawberry Recipes
If you enjoyed this post, make sure to check out these strawberry recipes.
🍇 Unique Fruit to Try
Add these fruits to your shopping wish list.
📧 Email List
Don't miss the best fruit in your grocery store. Subscribe to our list below.
Have you tried the Tropical Bliss strawberry or even the Rosé strawberry? Let us know what you think of them. Leave a comment below.