These sour cream muffins are jam packed with fruit (strawberries + rhubarb) and topped with a delicious streusel topping of flour, sugar, spices, and maple syrup. Great for breakfast or any time of the day.
Also find out what flour I like to use to make these gluten free.
This post includes affiliate links. This means that at no additional cost to you, I will earn a commission if you click through and make a purchase. These are products and services I recommend because I use or trust them. Cookies will be used to track the affiliate links you click.
If there was ever a classic combination it is strawberries and rhubarb.
I don't have the numbers on this, but I would be willingly to bet that the majority of rhubarb is sold in this country to accompany strawberries. And I would bet that the majority of that rhubarb is sold to be with strawberries in a pie.
Pie is great and all. But I was ready to try this classic combo in other ways.
Such as a muffin. Not just a regular muffin, no, a sour cream muffin.
And not just a sour cream muffin, a muffin topped with the same type of topping you would find on a cobbler.
Are you drooling yet?
Jump to:
🚧 Recipe Development
I want to share with you my inspiration for this recipe. In looking for a muffin recipe I loved the one i found at the blog, A Pretty Life in the Suburbs. The batter for the muffin is exactly what I was looking for - it contained sour cream!
Over the years I have tweeted the recipe for the batter by increasing the amount of salt by ¼ teaspoon and adding way more fruit. The increase in salt doesn't make the muffins taste salty, it just enhances the flavors that are already there.
The crumble topping in the Pretty Life recipe contain pecans, which I am not really a fan of. I looked for more inspiration and love the recipe I found from the blog, The Faux Martha. This recipe contained AP and whole wheat flour as some maple syrup and spices - right up my alley.
These muffins are the best muffins I ever made! We look forward to them every year after we u-pick strawberries.
They are moist, filled with fruit in every bite. The tartness of the rhubarb adds great balance to the sweetness of the muffin. The crumble topping is the icing on the cake, without being actual icing on an actual cake 🙂
Let me show you how to make them!
📋 How to Make the Topping
The recipe begins with making that delicious crumble topping.
Start by combining the flour, sugar, spices, and salt in a mixing bowl.
I always use freshly grated nutmeg. It's miles ahead of the ground stuff. My Microplane Zester Grater makes grating easy. Just place it over the bowl and grate away. You can eye ball it - I like A LOT!
Melt the butter in the microwave. Allow to cool before mixing in the maple syrup. Then pour it on top and mix it in until you have a lumpy, bumpy dough. That's perfect!
Set it aside. It's time to make the batter for the muffins.
👩🏻‍🍳 How to Make the Batter
Let me walk you through how to put this batter together. No special equipment needed.
I learned from Alton Brown that this is called the Muffin Method. You mix together the dry ingredients (flour, brown sugar, baking soda, and salt) in one bowl.
Then you mix together the wet ingredients (sour cream, oil, and egg) in another vessel.
Dice up 1 ½ cups worth of fresh rhubarb. You want bite sized pieces.
I quarter or half the strawberries. If you are using grocery store bought berries that are larger you may need to cut them into 8 pieces.
Add the wet ingredients on top of the dry ingredients. Then add the fruit on top.
Mix it all together to just bring the dough together. If there are any lumps don't worry about it, they will work themselves out when baked. You don't want to over mix, that will make the muffins tough.
⏲️ Baking Time
Dish the muffins out into a muffin pan lined with cupcake wrappers. Using the wrappers makes the the pan a lot easier to clean afterwards, and you don't need to spray the pan with any oil.
I find that I am getting about 14-15 muffins out of this batter. You can bake the first 12, and then do the 2-3 more in the same pan. Or if you have another pan use it.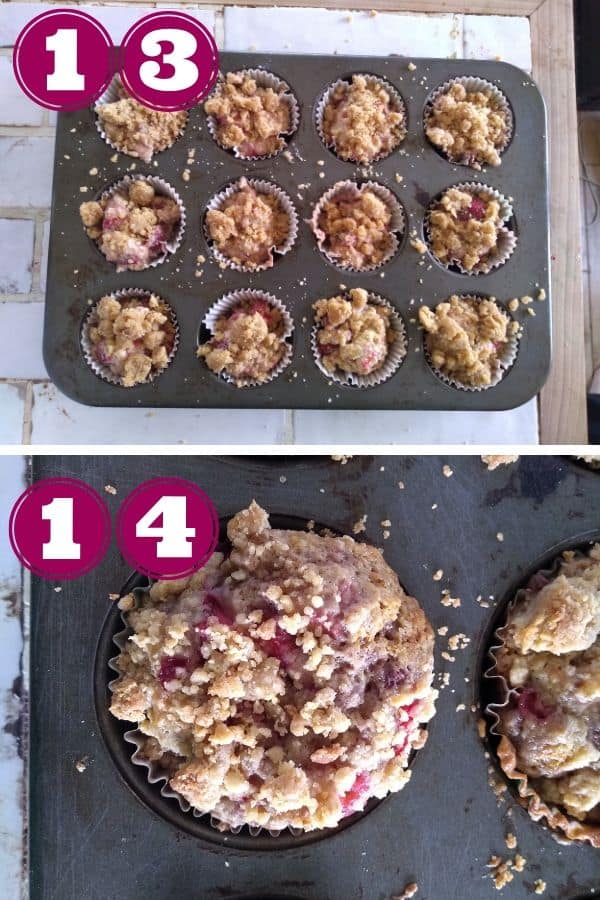 Evenly distribute the crumble topping onto the muffins before baking. I like my crumbles to be all different sizes, as I think it makes for a better appearance. Plus I love when you get a big crumble to bite into.
Bake the muffins for about 20 minutes at 350 degrees.
♻️ Substitutions
Here is a list of some ingredients you can substituent with in this recipe at a 1:1 ratio.
All-Purpose Flour -> Gluten Free Flour - Wherever wheat flour is called for in the recipe use a gluten free flour mix. My favorite is Jessica's
Sour Cream --> Greek Yogurt - You can use plain Greek yogurt instead of sour cream. Use the same exact amount (½ cup)
Maple Syrup --> Honey - I have used honey in the crumble topping before instead of the maple syrup and it turned out great.
Oil - The last time I made these muffins I used canola oil, but you can use vegetable oil, grape seed oil, sunflower oil, etc. You want an oil that is mild in taste, so it doesn't effect the taste of the muffins. Extra virgin olive oil or any strong nut oil would throw off the flavor.
Frozen Fruit - If you want to use frozen rhubarb and/or strawberries feel free to do so. I haven't tested it myself yet, but I can say that since these muffins don't bake very long, I would make sure to defrost your fruit before using it. If you were making something that took longer to bake (like a pie) then I wouldn't worry about it as much.
📖 Variations
I love this muffin so much I have made these other variations as well.
You could also make
Without strawberries - just do rhubarb, 3 cups total
Without rhubarb - just do strawberries, 3 cup total
Strawberry Rhubarb Sour Cream Muffins with Crumble Topping
Celebrate the late spring harvest of strawberries and rhubarb in these delicious fruit filled sour cream muffins
Print
Pin
Rate
Instructions
To make the topping
Combine the flours, sugar, spices, and salt in a mixing bowl.

Add in the melted butter and maple syrup.

Mix until the crumble forms and set aside.
To make the muffins
Preheat your oven to 350 degrees.

Combine all the dry ingredients (flour, sugar, baking soda, and salt) in a large bowl.

In another bowl, combine the wet ingredients (oil, yogurt, and egg).

Pour the wet ingredients on to the dry ingredients, then add the strawberries & rhubarb.

Mix to just bring the batter together. Don't not over mix the batter. If there are a few lumps don't worry about it, they will work themselves out.

Place 12 muffin liners into your muffin pan. Fill each one about ⅔rds the way up.

Evenly distribute the crumble topping onto each muffin.

Bake for about 20 to 25 mintues, until golden brown on top and cooked all the way through. Remove from pan as soon as you can handle them.
Notes
I find that I am getting about 14-15 muffins out of this batter. You can bake the first 12, and then do the 2-3 more in the same pan. Or if you have another pan use it.
I like a lot of fruit in my muffins but if you don't want as much, reduce the strawberries and rhubarb down to 1 cup each. 
Tried this recipe?
Mention @eatlikenooneelse or tag #eatlikenooneelse