Have you seen these strawberries in the store that look like they are way under ripe? They certainly aren't and they may be the best strawberry you will find in the grocery store. Learn all about Rosé Strawberries from Driscoll's.
And in case you were wondering, they make for an amazing if not weird colored strawberry jam!
This post includes affiliate links. This means that at no additional cost to you, I will earn a commission if you click through and make a purchase. These are products and services I recommend because I use or trust them. Cookies will be used to track the affiliate links you click.
I have never been a fan of grocery store strawberries.
They are large, watery, not sweet, and often lacking flavor. When you have tasted strawberries from a local farm or grown them yourself it changes your perspective of what a strawberry should taste like. And it's not what the grocery store is offering.
The best tasting strawberries are often small and very fragile. They don't take to shipping well. Which is why larger, less perishable berries have become the norm. But the flavor has suffered as a result.
Is there a way we can have it both ways. Berries that can be shipped but also knock your socks off in the flavor department?
The leader berry producer in the U.S., Driscoll's is trying to accomplish just that with their Rosé Strawberries. Were they successful?
Jump to:
🌹 What are Rosé Strawberries?
Rosé strawberries are a variety exclusively grown by Driscoll's. They have a pinkish colored skin that make them look like unripe berries, but they are indeed fully ripe. When you bite into the berry, besides the flavor which will talk more about in a moment, you will be shocked to see the fruit is completely white inside!
RELATED - Check out the Rosé Raspberries from Driscoll's
The berries are not genetically modified to be different. They were bred using traditional cross-breeding techniques that have been used for years to get new varieties of fruits and vegetables. We didn't have the Russet potato until Luther Burbank bred it. We have Calvin Lamborn to thank for the super snap pea. What exact varieties they used to come up with the Rosé strawberry is not public information.
👅 What Do They Taste Like?
The taste is more intense than a regular grocery store strawberry. It's sweet-tart with subtle peach and floral notes. The name was chosen for it's flavor and color that is similar to Rosé wine. The flavor resembles some of the small heirloom strawberries I grew in my garden. Not as intense as that, but the only thing that I have found at the store that comes close.
☀️ When in Season?
These strawberries are not available year round, so you have a limited time to find them. The berries are in season from June to September. The first time I spotted them was in the month of August.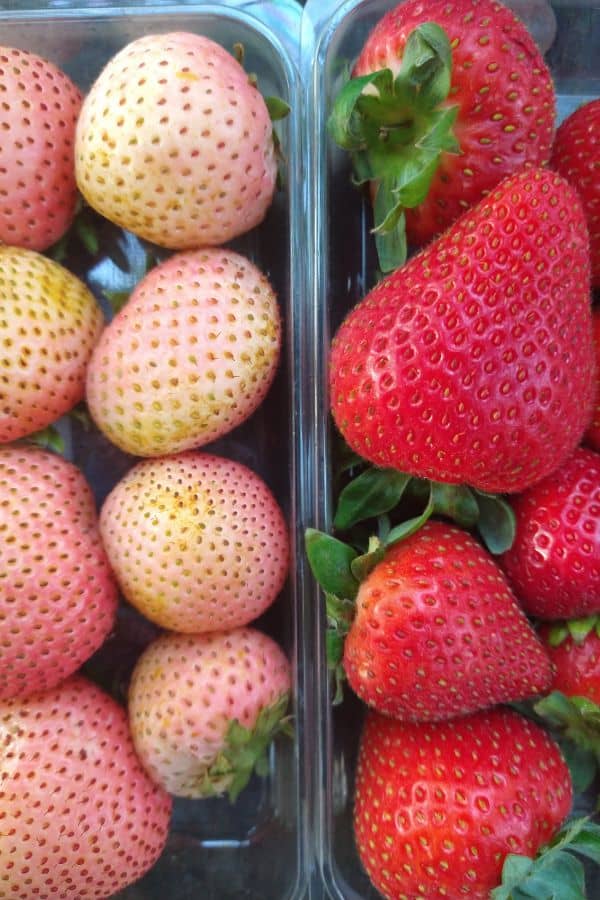 🛒 Where to Buy
This isn't a complete list but this is where I would start if you are looking for them. The only store I can confirm to have seen them myself is Hannaford Market.
Albertsons
Big Y
Dorothy Lane Markets
Giant Foods
Hannaford
Heinen's
Hy-Vee
King Soopers
Kroger
Lunds & Byerly's
Publix
Schnucks
Shaws
Sprouts Farmers Market
Stop & Shop
The Giant Food Comapny
Wegman's
Whole Foods Market
💲 How Much Do They Cost?
They are not cheap berries. I paid $4.49 for 10 ounces. It's more of a special treat than berries I would buy for my family every day. I anticipate that the labor cost for growing these berries is greater, which results in a higher price tag. Since they are a newer crop having only debuted in 2019, the supply may be limited. Hopefully we will see more in the future.
🍓 More Strawberry Posts
If you enjoyed this post, make sure to check out these additional strawberry posts
🍇 Other Unique Fruit to Try
📧 Email List
Find to keep updated on when the most tasty fruit of the year is available. Sign up for our email list.
🥄 Jam Recipe
I was too curious to not try how these berries did as a jam. So I made a small batch of them with just a single container. It made enough jam to fill 2-4oz mason jars, so 8 ounces total.
I used an equal amount of sugar to the berries and added in 1 teaspoon of Ball Real Fruit Classic Pectin.
This is NOT a canning jam recipe. It's meant to be stored in the fridge or freezer only.
At the first taste, my wife immediately said this was the best strawberry jam she has had. The flavor is really good. The color isn't as appealing. It come out looking brown, more like my apricot jam.
Small Batch Rose Strawberry Jam
How to turn 1 container of Rose strawberries into 8 ounces of freezer or fridge jam.
Print
Pin
Rate
Instructions
Begin by removing the leaves of the berries. Try not to remove too much of the fruit itself.

Slice each berry into 4 pieces. Add to a mixing bowl.

Smash the berries with a potato masher or large spoon for a chunky jam. For a more smooth jam you can put the berries into a blender or food processor, or hit them with an immersion blender to smooth out.

Place the berries into a wide pot or pan and bring to a boil. Stir in the pectin. Allow to simmer for 5-10 minutes until the jam begins to thicken.

You can test if it's set up by putting a small amount on plate and placing the place in the freezer for 1 minute. If the jam doesn't move or only moves slightly when the plate is turned, the jam is finished.

Remove from the pan and pour into 2-4oz jars or 1 8oz jar. Place in the fridge. Enjoy within a month, longer if you put in the freezer.
Notes
This is NOT a canning jam recipe. It's meant to be stored in the fridge or freezer only.
Tried this recipe?
Mention @eatlikenooneelse or tag #eatlikenooneelse