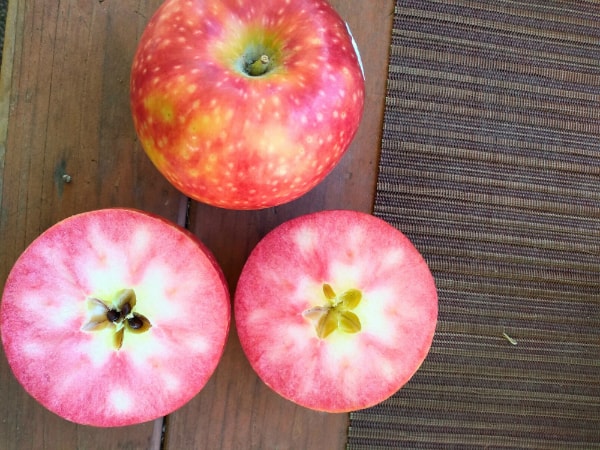 When a grower says they have a new apple variety to share, I always say bring them on.
I will tell you I never get tried of trying new apples.
If the apple is unusual, even better. Red flesh apples fall under that category. I have been fornate to have a few like the Pink Pearl apple.
Each one of these red flesh apples has been an heirloom variety - an older apple from days gone by. None have been a new, fancy apple with a marketable name. That is until now.
Chelean Fresh has released a new apple variety called Lucy Rose. Here take another look at how pretty it is.
What Are Lucy Rose Apples?
To learn more about the origin of these apples, let's see what Chelan Fresh has to say.
Lucy™ Apples are grown in the heart of Central Washington by a small group of pioneering growers who are passionate about developing new varieties. Through countless years of research and development, they discovered they could grow a great tasting, pink-red interior apple.

Lucy™Apples are part Honeycrisp, which give them their sweet, tangy flavor and crunchy texture we all love. Lucy™Rose has a red skin and sweet berry notes in the flavor profile.
What part Honeycrisp you say? Everyone loves Honeycrisp. And it seems everyone loves developing new varieites from Honeycrisp. These isn't the first one I have mentioned try the Sugar Bee apple, or the Pazazz apple, or EverCrisp (Honeycrisp + Fuji). The list continues to grow. Apple breeders love them some Honeycrisp DNA!
What Do Lucy Rose Apples Taste Like?
Lucy Rose are a tasty apple if I do say so myself. They have a good balance of sweetness and tartness. Out of all the red fleshed apples Ia have tried, Lucy Rose has been the most crisp - thanks to it's Honeycrisp parentage.
I would not say Lucy Rose is as crisp or as juicy as a Honeycrisp. Like other red fleshed apples, the texture is more firm and a bit drier, not in a bad way. You bite in and get more concentrated flavor with hints of berry. You know some apples can be really juicy but bland. I will always take the most flavorful apple.
Can You Bake with Lucy Rose Apples?
Absolutely. You know how pretty that will be. Chelan Fresh posted a recipe for a galette using them. Stunning. Over on Instagram I saw someone that used some of them to make a pie. What a colorful pie. The texture of these apple will hold firm when baked.
So you better believe you can bake Lucy Rose! Try it if you can.
Where to Buy Lucy Rose Apples
During my trip to California for Christmas I found them at Pavilions. I also heard they were at Sprouts as well. For other grocery store options, you can check out Chelean Fresh locator. It's one of the better ones in the business as it share actual delivery information on when it reached the store last. Also check the comments below to see where others are finding them.
Have you tried this apple? What did you think? Leave a comment below telling us. Be a helper and share where you found it. You may make someone's day with your insider info on where to get them! If you are a true apple lover, you'll want to check out all of our apple reviews.