A review of Alton Brown's Cacio e Pepe recipe from Good Eats Reloaded.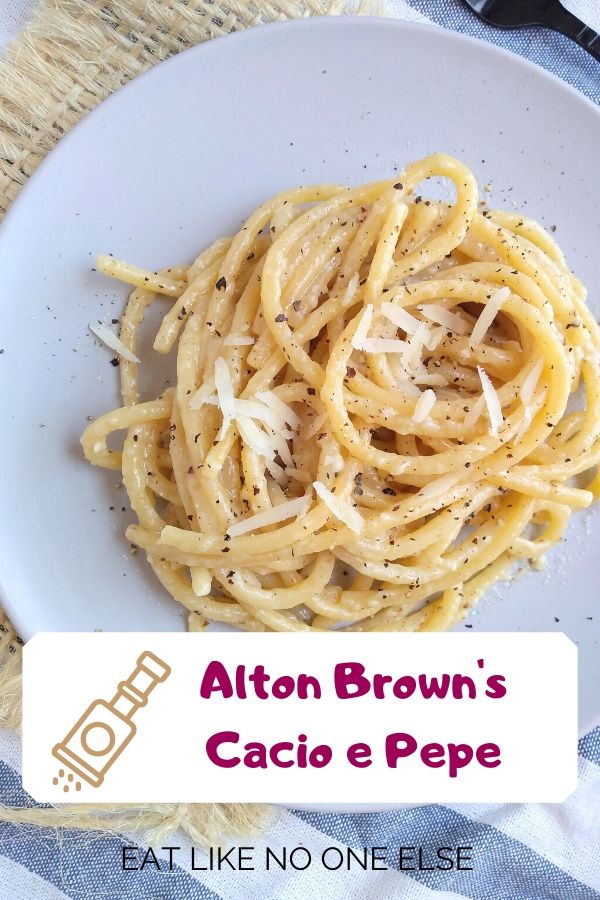 This post includes affiliate links. This means that, at no additional cost to you, I will earn a commission if you click through and make a purchase. These are products and services I recommend because I use or trust them. Cookies will be used to track the affiliate links you click.
Before I start this post, can you hold on for one second?
(proceeds to run around the house screaming and yelling)
Guys I am pumped. Good Eats is BACK! Well it's more reloaded than it is back. Alton Brown has updated some of his past shows, before he embarks on new culinary trails.
In the early days of this blog, I would review the new recipes he would release on Good Eats. I am excited to have the change to bring back those types of posts for the Reloaded series.
Jump to:
❓ Why Recipe Review?
Why I like to review recipes as oppose to just writing my own is that I like to share recipes that not only brought me good food but also taught me something that I use it other recipes down the road. The recipe I am talking about today is no different.
🍜 Pantry Raid I - Use Your Noodle - The Reload
The 2nd episode of Good Eats Reloaded that aired was Pantry Raid I - Use Your Noodle - The Reload. In the original episode I was introduced to bronze dies and have been buying pasts made with them every since.
In the Reloaded version, Alton has changed his tune about pasta. He always said pasta needed to be cooked in a gallon of water. But he has to come to learn and except that you can cook it in in far less.
And sometimes that has huge advantages.
One example - Cacio e Pepe - a dish that contains just cheese, oil, and pepper. The key to it's deliciousness is cooking the pasta in very little water and then using that very starchy water to create a creamy sauce that doesn't contain any actual cream.
🗒️ Recipe Notes
Here are my observations from making this dish.
I have to admit after years of cooking pasta in copious amounts of water it was very strange to only cover my pasta with enough water to cover it. Just as it was equally strange starting my pasta in cold water.
A mistake I made the first time was not covering the pan as it came to a boil. I lost too much water to evaporation getting to a boil that i need to add more water later. I won't make this mistake again.
It may seem like when you are adding the pasta to the cheese and water that it will never come together. Just keep working it and working it and working it and at one point it all of sudden became a sauce. Like Alton said it was like magic.
The recipe called for grating your own Pecorino Romano. I would normally be all for that. When I went to buy the cheese at a Kroger store, it was significantly more expensive to buy it whole than some already grated. This Kroger does have a Murray's cheese counter, so their grated cheese are actually fresher and high quality than others, so in this case I decided to save the money. 
I have made the recipe with Bucatini pasta instead of spaghetti. It's my favorite long pasta because it a hole in the middle.
RELATED - How Long Does Parmesan Cheese Last?
🤏 Picking Peppercorns
This dish is truly all about the pepper. You want to use the best you can find. For that I turn to Burlap & Barrel - a single origin spice company that sources spices from small farms all over the world.
Last time I made Cacio e Pepe, I used a 50/50 combo of their purple peppercorns and white fermented pepper. The purple added a fruity, spicy kick, while the fermented white add a umami flavor.. They make for a great team!
I have also used red peppecorns. Not pink peppercorns that you find everywhere. Red peppercorns are hard to find. They are the fully ripened fruit that has been allowed to dry. Their flavor is more pronounced, sweeter, with a bright floral taste and all the bite. Read more about them and other peppercorn types.
RELATED - Read the Best Ingredients for Cacio e Pepe
⭐ Recipe Review
What a darling dish. Very simple ingredients yet big flavor. You got the cheese flavor, but it's not like eating mac & cheese.
The pepper Alton calls for though is pretty intense. The dish was super spicy. With a name like Cacio e Pepe it should be spicy, but I think a lot of people would be turned off with the amount of pepper used. It was too overwhelming for my wife.
What I recommend is staring with half the pepper he calls for, and see how you like it. In the recipe that I re-wrote below you will find me saying to use 1 tablespoon of pepper. he calls for 2, plus another ¾ teaspoon when served.
As I mentioned I made mine with all sorts of different peppercorns, but I expect most people to turn to the easy to find black peppercorns.
What I don't want you to ever do is used pre-ground black pepper. Just don't do it. You will be missing the key flavor that makes this dish if you do that.
Overall this is a great dish that can be thrown together in not too much time for a quick dinner. I definitely want to be a part of our regular rotation. 
🍝 Fresh Pasta
I had someone ask about whether you could make this using fresh pasta. A lot more grocer stores are offering that nowadays, especially Whole Foods Market. Would it work though? I still need to test it myself. Fresh pasta doesn't take as long to look, so the question for me is would there be enough time for starch to be released into the water.
👓 Alton Brown Reviews
We have a ton more Alton Brown reviews on the blog including our most popular one on his Dry Brined Spatchock Turkey.
Also check out these as well:
If anyone has try with fresh pasta, leave a comment below to share your experience.
Alton Brown's Cacio e Pepe
A simple pasta dish made with starchy pasta water, cheese, oil, and lots of pepper. The recipe was created by Alton Brown. I did cut the peeper in half because my wife and I thought it was pretty strong and I read reviews online saying the same. I have written the instructions in my own words.
Print
Pin
Rate
Instructions
Combine pasta and salt in a high sided saute pan.

Add enough cold water to cover the pasta. Cover the pan if you have a lid. Bring to a boil over high heat.

When water reaches a boil, remove the lid and stir with a pair of tongs.

Decrease the heat to medium. Make sure the pasta remains submerged. Only add more water if the pan looks dry.

While pasta is cooking, in a large mixing bowl combine the pepper, olive oil, and both cheeses. You can save a little bit of these cheese if you want for topping of the pasta at the end. 

Combine the ingredients until they form a thick paste and set aside.

After 5 minutes of simmering, ladle a cup of the water into a measuring cup.

Start with a ¾ cup and slowly drizzle the bowl with the cheese. Combine until smooth. If too clumbly you can add more of the water.

At about the 10 minute mark, the pasta should be al dente. Check frequently for doneness.

Using tongs, remove the pasta from the pan, allowing it to drain in midair for a few seconds before adding it to the mixing bowl.

Stir vigorously with the tongs for 2 minutes. It may look like it's not going to come together, but give it time and a lot of force. If it's still too clumby add more cooking water.
Notes
The original recipe called for 2 tablespoons of salt. I have had people say they thought the dish was too salty, so I am recommending cutting that in half and starting with 1 tablespoon. You can add more if you like. 
Tried this recipe?
Mention @eatlikenooneelse or tag #eatlikenooneelse