Get the lowdown on what apples are best to use to make the tastiest applesauce to ever come out of a kitchen.
Get the pork chops ready!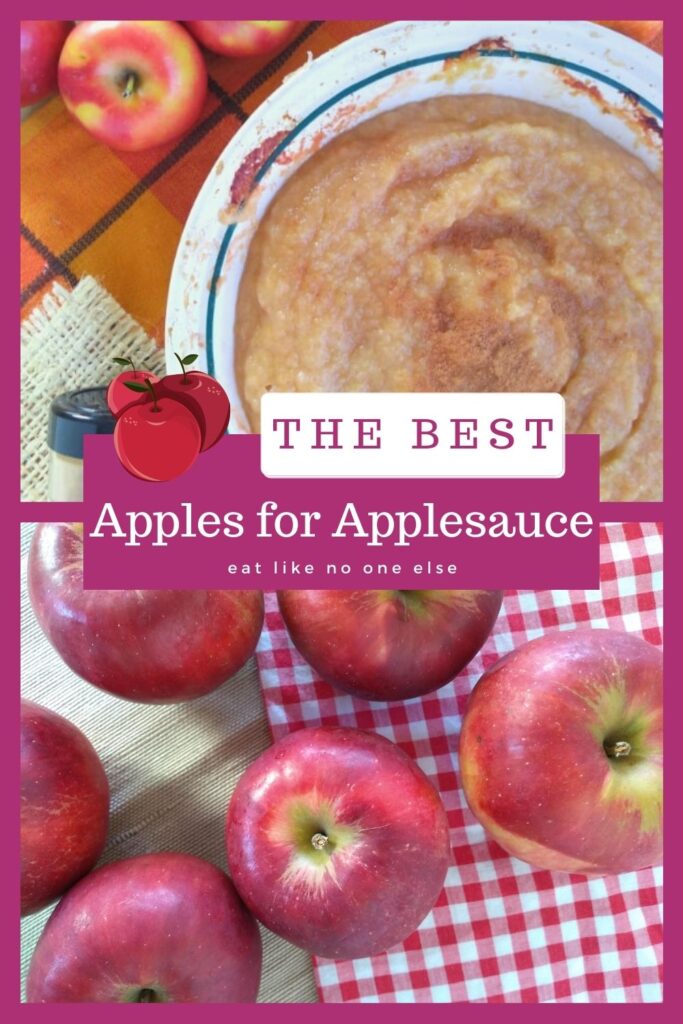 Disclaimer: This posts includes affiliate links. This means that at no additional cost to you, I will earn a commission if you click through and make a purchase. These are products and services I recommend because I use or trust them. Cookies will be used to track the affiliate links you click.
Applesauce.
The only food that comes out of a baby food jar that we still eat as adults, unless you secretly eat Gerber Chicken & Gravy when no one is looking (don't worry your secret is safe with me!)
The key to creating great applesauce is knowing what apples make the best sauce. There are many varieties of apples that can be used in sauce making. In fact really any apple can be used. But not every apple is a good choice. The best baking apples I usually skip as they hold up well when cooked so they take longer to turn into sauce.
Jump to:
📋 List of Best Apples
When making sauce, I think the overall goal (besides awesome flavor) should be to use a combination of apples that will enable you to add little or no sugar (see my post on How to Make No Sugar Added Applesauce). By having a combination of sweet and tart apples you can pull this off.
First I will give you a list of apples that I think make for good applesauce. The second list will be apples you can add to your applesauce so you won't need to add any additional sugar.
Then you will find my experience working with some different combination as well as incorporating other fruits.
For this first list here are some one of the best varieties. Some may be easier to find than others. In general the apples I use for pies, I don't use for sauce and vice versa (maybe Jonathans are one of the only exceptions).
McIntosh
Jersey Mac
Jonared (makes a reddish applesauce)
Pink Pearl (makes a pink applesauce or more orangish if you leave on skins)
For no sugar added applesauce see our post on How to Make No Sugar Added Applesauce
Otherwise here are some apples to add for sweetness
Golden Delicious
Fuji
Ambrosia
Sweetie
Gala apples are good for adding sweetness to applesauce and are what I most often used for that reason. Ambrosia and Fuji are options too but I prefer the flavor of Gala.
💡 Tip - If you do decide to add sugar to your applesauce, you can also use brown sugar. I just do it to taste. It will add a more rich flavor than regular white sugar. If you have it on hand maple syrup it would be delicious as well.
❓ Honeycrisp for Applesauce?
Before I get started with exact varieties I bet I am going to get this question so let's cut to the chase. When it comes to using Honeycrisp apples for applesauce I wouldn't. They do have a good flavor, but I think their increased cost (check out my post on why they are more expensive) is enough to drive me to cheaper, yet still tasty apples for sauce. So enjoy them fresh out of hand, or maybe in a cobbler.
🌟 Other Popular Apples
Pink Lady apples I don't really like for applesauce - not enough sweetness and too firm. Granny Smith even more so. Sauce made with them does end up more chunky and a lighter color like commercial applesauce.
🏆 Best Combinations
Below you will find a list of apple sauce combination that I used in past seasons. For each I indicate if I had to add sugar or not.
McIntosh + Sweet Apples
McIntosh apples are one of the best apples for sauce. They break down really easily and make the sauce taste amazing. In fact about a month after they are picked they are already practically applesauce. But you will probably need to add sugar to your sauce so that it isn't so tart. Or you can mix in a few sweet apples like Galas.
Can't find McIntosh? Another option would be to use Empire or Cortland apples which are related to a McIntosh and also have good flavor.
Golden Delicious + McIntosh + Pears
This is a pretty classic apple combo for sauce. Most orchards will have both of these apples at the same time. What makes it more fun is to add in some pears which are in season at the same time. Bartlett works really well for this. Bosc will take longer to break down and they are usually available later in the season.
Peach & Apple Mix
When fresh peaches are in season locally I love to mix them with apples. I pick what apples are in season at the same time as well.
Those apples would include a mix of Ginger Gold, Paula Red, and Jersey Mac. A Jersey Mac is very similar to a McIntosh but ripen earlier, and both Ginger Gold and Paula Red are good for cooking and have a nice sweet/tart balance.
The peach added some acidicity of it's own, so I did need to add about ¼ cup of sugar to this one to get it just right.
🥄 RECIPE - Homemade Peach Applesauce
Add Cranberries
When we start getting into November, fresh cranberries become available and they make a beautiful addition to any applesauce. For this I would use only sweet apples to counter act the extreme tartness of the cranberries.
🥄 RECIPE - Homemade No Sugar Added Cranberry Applesauce
💡 Special Tip
Try to buy seconds if you can for applesauce.
A lot of farms sell seconds. They are cheaper apples that may not look as good as the other apples, but taste just the same at a fraction of the cost. So you can get a lot of apples to make a lot of sauce without a lot of your dough.
Some u-pick apple orchards will allow you to pick drops at a reduced price. These are apples that have fallen to the ground. Often time they cannot use these apples by law, not even for cider.
🚫 No Peeling
A food mill is the BEST tool to have on hand for applesauce. It save saves me SO MUCH time!!! Why? Because I don't have to peel the apples. I like to slice them in half or quarter them before cooking to make them cook faster. That's it for prep. When the sauce is ready just run in through the food mill with the hand crank. A little muscle (I mean a little) is all you need.
In 2017, I purchased an Oxo Food Mill. It was a little more expensive than the others but so worth it as it works really well and it easy to use and the best part - easy to clean.
If you don't have a food mill you can rush the sauce through a sieve instead to remove the skins, it's just a lot more work.
👶 Apples for Baby Food Making
People have asked about specific apples to use to make baby food. I think anything on the list above will work just fine.
🍎 Smooth Applesauce
The best texture of applesauce I find with Transparent apples. They are available during the summer around mid July. They are very tart, so I had to add sugar a good amount of sugar to them when the sauce was done.
To help make a sooth sauce, you can use a potato masher, I often do this while the sauce is cooking. A food processor can be employed as well when done but I like the ease of using an immersion blender so I don't have to dirty the food processor parts.
🍏 Chunky Applesauce
If you are looking to make a chunky applesauce, try using Ida Red apples. These apples hold up well in cooking, so your end results will be more naturally chunky that other sauce made with other varieties.
📧 Join Our Email List
If you want to be notified when the best apples are in season, join our Apple club email list.