Learn all about the Transparent apple - the apple that kicks off the apple season and makes some of the best applesauce of the year.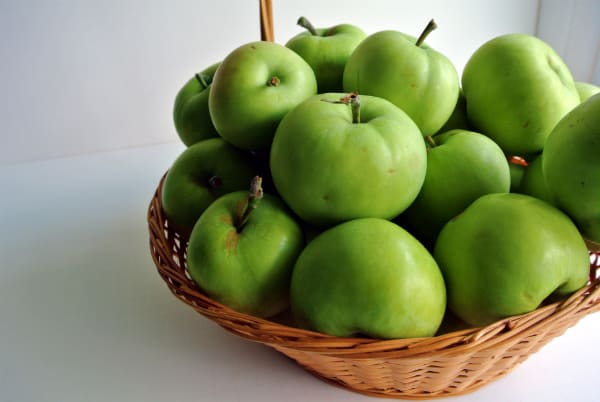 Many people I have spoken with were amazed that I could get a Michigan grown apple in the middle of July, even before the first locally grown peach shows up.
There are some super early varieties out there. One such is the Transparent apple also called Yellow Transparent (sometimes even white transparent), although they are really more green than yellow.
This variety was first discovered in Lativia and made it's way over to North America circa 1870.
? Review
Here is what I think of the apple on a rating scale of 1-10.
| | |
| --- | --- |
| Crispiness | 2 |
| Tartness | 10 |
| Flavor | 7 |
| Sweetness | 2 |
| Juiciness | 8 |
Before I bought these apples I was told they were good for making applesauce, so that was my plan all along,
But before I cooked my sauce, I tried one and knew there was no way I wanted to take another bite. These are extremely tart apples!
They are also juicy apples that aren't too crisp, which is what makes them perfect for applesauce, not to mention for adding to a green juice that is all that rage right now.
Check out my recipe below for Transparent applesauce. "The recipe" is more of an instruction guide than a measurement of what you need.
? A Personal Story
In 2012 a warm March lead to several freezes in April that almost wiped out the entire Michigan apple crop. The farm that I bought my Transparent apples from were apple-less in 2012.
After a two year wait and a facebook message that they were there I finally got my hands on some. The last time these apples were available my 2 year daughter couldn't even walk.
Now she was walking around with me at the market, begging to try one of these apples. I was thinking to myself, ok I will let her try one but I know she isn't going to finish it.
I handed her one in the van ride home and she was still chopping away on it as we walked in the door! Guess Transparent apples aren't too tart for my little girl!
? Where to Buy Transparent Apples
Being that it's an early apple variety the shelf life on Transparent apples is very short. They are not keepers. Grocery stores are unlikely to carry them. You will have to go directly to the farm, either at the farm or at the farmer's market.
Here is a list of farms that grown Transparent apples:
Want to grow your very own Transparent apples? Here is a list of growers
? Where to Buy Transparent Apple Trees
Ingredients
any amount of Transparent apples

good quality honey

apple blossom honey if you can find it or use brown sugar or a combo of the two
Instructions
Remove the core of the apples. Remove the skin only if you do not have a food mill. Quarter the apples. Place into a slow cooker set to high. Allow the apples to cook until they can be mashed with the back of a spoon.

If the sauce is too thin, cook it longer with the lid off until it reaches your desire consistency.

If you are using a food mill, run the sauce through the food mill.

Add honey or brown sugar stirring well until the sauce is as sweet as you want it to be.
Tried this recipe?
Mention @eatlikenooneelse or tag #eatlikenooneelse
? Other Early Varieties
Have you tried this apple? What did you think? Leave a comment below telling us. Be a helper and share where you found it. You may make someone's day with your insider info on where to get them! If you are a true apple lover, you'll want to check out all of our apple reviews.