The early season apples that are excellent for making applesauce!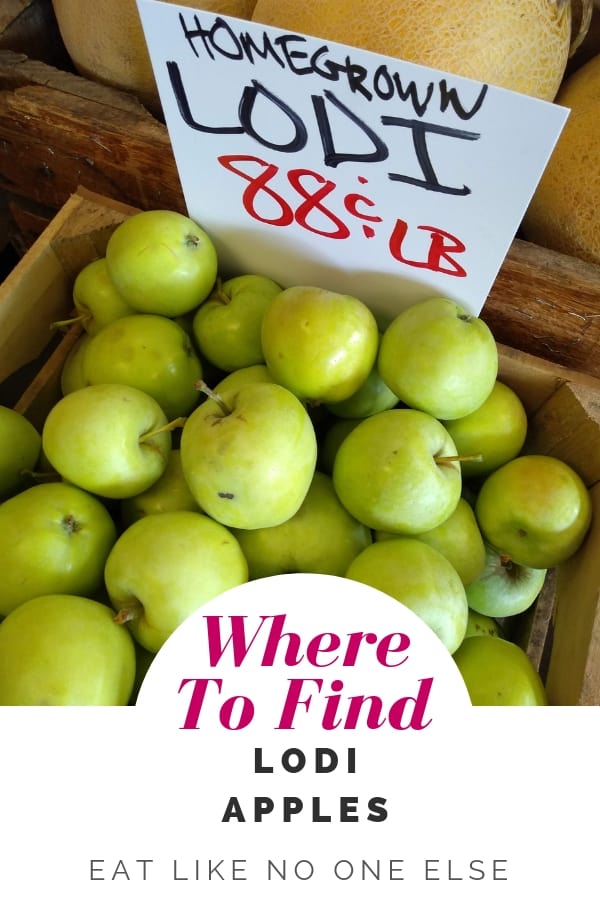 Many people are surprised when I tell them that I bought apples from the farmer's market in late July.
No, these apples are from last season. There are a few really early varieties that ripen in the dog days of summer.
What is a Lodi Apple?
Early season apples can help us get our apple fix, before the heart of the season begins. The trouble with most of them is that their shelf life is very short. Such as the Lodi apple.
After only a few days this apples begin to crack. Yes I said crack, not rot.
Don't believe me? Here is the proof.
Therefore an apple like a Lodi is only found at the local farmer's market. No grocery store is going to stock their produce section with an apple that will go bad if someone looks at it the wrong way.
Origin of the Lodi Apple
So why even care about this apple? I will get to that in a minute. First I want to share some more background info on the Lodi.
This apple's origin can be traced back to the beginning of the 20th century. Lodi was developed by the New York State Agricultural Experiment Station. Lodi was created by crossing a Transparent apple with a Montgomery.
Lodi is a very similar to Transparent, only they tend to keep a little bit longer than Transparent and tend to have larger size fruit.
Lodi Apple Review
My Experience with this Apple (Rating Scale 1-10)
| | |
| --- | --- |
| Crispiness | 3 |
| Tartness | 9 |
| Apple Flavor | 6 |
| Sweetness | 4 |
| Juiciness | 8 |
Overall Feeling: The reason to buy this apple - applesauce. Get your pork chops ready!
With it's level of tartness and amount of juice, the Lodi is perfect for sauce making. The texture of the apple also bodes well for your sauce making.
I have also heard them being used to make fruit leather. As for eating out of hand, I wouldn't bother, unless you like things that are really tart and even the texture isn't good for straight up eating.
Have you tried this apple? What did you think? Leave a comment below telling us. Be a helper and share where you found it. You may make someone's day with your insider info on where to get them! If you are a true apple lover, you'll want to check out all of our apple reviews.
Store Lodi Apples in the Fridge
If you buy them make sure to use them up quickly. I would store them in the fridge if you aren't going to use them the day you buy them. And even then you may only have a week, two if you are lucky.
When are Lodi Apples in Season?
Lodi apples can be found growing in many states. In southern states like Virginia you can find them as early as late June. More northern state like Ohio and Michigan you can find them in mid July to late July.
It all depends on the weather and the crop. In 2019, it was a later season so I got my first Lodi apples from Ohio in early August.
Since their shelf life is brief, they are harder to find when get deeper into August.
Where to Find Lodi Apples?
The following is a list of places that have had Lodi apples:
| | |
| --- | --- |
| Monnette's Market | Toledo, OH |
| Woodland Farm | Glastonbury, CT |
| Brookfield Orchards | North Broofield, MA |
| Thompson's Farm | Naches, WA |
| White House Fruit Farm | Green Township, OH |
| Way Fruit Farm | Port Matilda, PA |
| Milky Fork Farm | Scio, OR |
| Quarry Hill Orchards | Berlin Heights, OH |
| Bill's Berry Farm | Grandview, WA |
| Chapel Creek Farms | Montvale, VA |
| Showalter's Orchard | Timberville, VA |
| Thorton River Orcvhards | Sperryville, VA |
| Ryan's Fruit Market | Timberville, VA |
| Calumet Valley Orchard | Clarksville, MO |
| Jackson's Orchard | Bowling Green, KY |
| Huyck Farms | Paducah, KY |
| Lewis Farms | New Era, MI |
| Eckert's | Belleville, IL |
| Marlin Orchards | South Glengarry, Ontario |
| Curtis Orchard | Champaign, IL |
Where to Buy a Lodi Apple Tree?
Lots of nurseries sell Lodi apples. It's a popular apple for home gardeners since it ripens so early. Try Stark Bros, they sell Lodi apples.