Find how the SweeTango apple stacks up to the super popular Honeycrisp.
This post includes affiliate links. This means that, at no additional cost to you, I will earn a commission if you click through and make a purchase. These are products and services I recommend because I use or trust them. Cookies will be used to track the affiliate links you click.
Which apple is better? This match-up puts the parent (Honeycrisp) vs. the child (SweeTango), an establish player vs. an up-and-comer, Honeycrisp vs. SweeTango.
This post will talk about how these apples are similar, yet different. And at the end we will look at other apples that Honeycrisp is the parent of and what that holds for it's future.
Jump to:
❓ What is a SweeTango Apple?
Everyone by now knows what a Honeycrisp apple is like but what about the SweeTango. This apple is a cross between a Honeycrisp and a Zestar! It was developed by the University of Minnesota. who own the SweeTango trademark and were the same people who developed the Honeycrisp.
The original name for SweeTango was Minneiska.
🍏 Similarities
First let us look at the similarities.
Both apples are very crisp.
Both apples have a nice balance of sweet and tart.
Both apples are juicy.
Both apples have nice appearance.
Both apples are available organic
👅 Taste Differences
So what separates these two titans of the apple world? It's taste.
And for taste the clear cut winner for me is the SweeTango. It has a stronger flavor, that is simply better than the Honeycrisp. It's like drinking spiced apple cider. I would say SweeTango have a sweeter taste than Honeycrisp.
When I worked at a grocery store, I once did a side by side blind taste test and had people decide which apple they liked better. 2 out 3 people choose SweeTango over Honeycrisp and many were surprised when they found out which one they picked.
I have had both SweeTango apple grown in Minnesota and Washington. I have noticed that the Washington grown ones I have had have had the most consistent and best flavor. Sometimes the Minnesota grown ones have been rather disappointing and bland in flavor. Look for apples that early in the season, with darker yellow coloring in them if they aren't all or mostly red.
📅 Availability
As of now Honeycrisp are a little easier to find. Pretty much every grocery stores carries them. SweeTango are only carried by certain grocery stores like Trader Joe's for example.
Both types show up in stores in the late summer. Usually Honeycrisp are in stores first, with SweeTango lagging a week or two behind.
Honeycrisp are year round now at this point. SweeTango before hard to find in the late winter/early spring. You do on occasion see some coming in from New Zealand in the summer.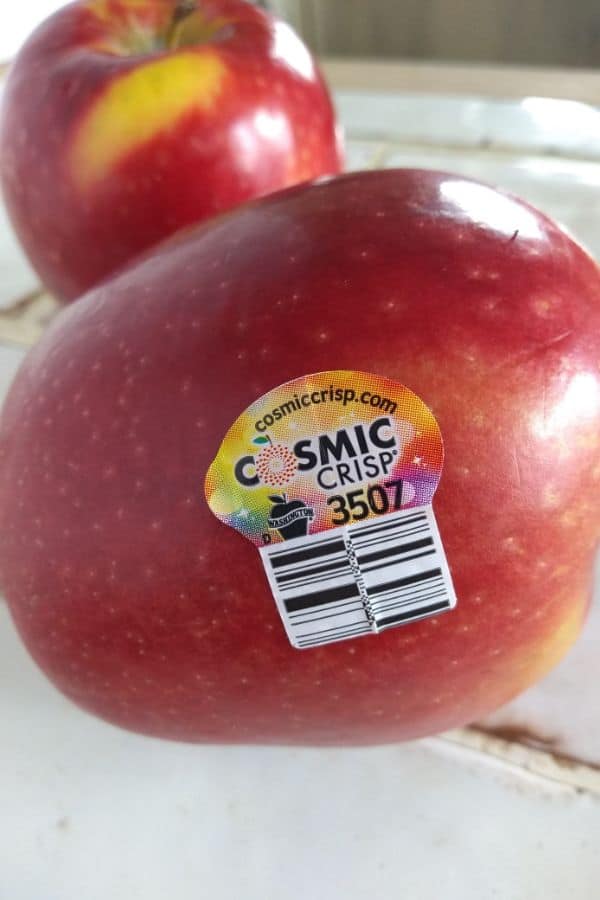 🍎 Other Honeycrisp Crosses
Since SweeTango has hit the scene there have been so many more Honeycrisp crosses. They include:
Feels like this list gets longer every season. At first, I thought the SweeTango was going to take over Honeycrisp's spot at the top but the hype for it has decreased in recent years. Cosmic Crisp seems to be the more likely choice, with a big campaign behind it. Only time will tell for sure if Honeycrisp will be knocked off it's throne.
There are challenges to growing and storing Honeycrisp which is why growers are looking for replacements.
📧 Join Our Email List
Want to know when Sweetango apples and more are in season? Join our Apple club email list.