Learn how to make finger licking good Honey Mustard Pork Chops. Brining the pork chops adds flavor and keep them moist when cooking.
This post includes affiliate links. This means that at no additional cost to you, I will earn a commission if you click through and make a purchase. These are products and services I recommend because I use or trust them. Cookies will be used to track the affiliate links you click.
There is something special about a good pork chop.
A lot of pork chops come out of the American kitchen, either dry, flavorless, or a swirl of both!
Not these pork chops, my friends. Through the magical process we call brining and creating a delicious glaze, these won't be the same old boring pork chops.
Jump to:
Ingredients
Here is what you will need from the grocery store.
Bone-in pork chops
vegetable broth
light brown sugar
cooking oil
mustard
apple cider vinegar
honey
chicken broth or stock
freshly cracked pepper
Mustard
Your glaze is only going to be as good as your mustard. If all you have on hand is yellow mustard, god ahead and use it.
Here the types of mustard you could use as well:
Spicy brown mustard
Dijon mustard
Stone ground mustard
I think the best mustards are stone ground. They pack the most flavor.
Optional Ingredients
These ingredients are optional but will make for a glaze with more depth of flavor. I like to add ¼ teaspoon of Worcestershire sauce. Freshly chopped tarragon is a nice addition on top.
If you want to cut the sweetness a little bit, add in a small amount of freshly squeezed lemon juice.
You can replace the honey with maple syrup if you like as well. Do note that maple syrup is thinning that honey so it may take a little longer to thicken the sauce. I would also add a little bit and taste it to be sure it's the sweetness you want. I haven't tested this substitution.
Cooking Oil
For cooking the pork chops, I typically choose a natural flavored oil. Grape seed is one I often turn to. Avocado oil is a good choice as well.
I usually don't use the good olive oil as I don't think the flavor translates well into the final dish, but you certainly are welcome to use it.
Why Brine?
Alton Brown taught me to brine my pork. And I am so thankful that he did. It has changed my world. Because pork really needs it. It has gotten more lean over the years as the pigs have gotten leaner and leaner. Not because they have been on a diet but because that is what the pork industry has been seeking, leaner meat. Since it's so lean it's a challenge to keep it from drying out.
Whenever I cook pork with a dry heat method I always brine it first. Through the wonderful process of osmosis, the interior of the meat becomes both juicy and flavorful. The brine is basically the same one that Alton Brown used on an episode of my much loved Good Eats to make a slow cooked pork dish.
You can do a basic brine with just water, salt, and sugar, if those are the only ingredients you have on hand. I like it better replacing the water with vegetable broth (you could do chicken as well). Also adding some additional seasonings like whole black peppercorns or freshly cracked ones. Pepper is good on pork there should be a law that you must put freshly ground pepper on all pork.
Making your brine with brown sugar instead of white will also add to the flavor you got going on.
Bone-In or Boneless?
For this recipe it doesn't mater which you use. I used bone-in pork chops, but you can use boneless if you like. It might effect the cook time for boneless, so keep a close eye on them when cooking.
We could talk all day about the benefits of bone-in or boneless. I am going to take the superficial route today. I think the presentation is better with the bone 🙂
Sometimes I buy a whole boneless pork loin and cut in into chops and roasts. Then I would make this recipe using boneless pork chops. Either way it will come out delicious.
You could also use a pork tenderloin instead of chops. Slice the tenderloin into about 2 inches pieces. I would still brine. You will only need about 3 minutes per side. Or if you want to roast your tenderloin you can apply the glaze near the end of cooking. You may want to double the glaze recipe.
How to Cook
⏲️ Cooking time - 4-5 minutes per side for the pork chops, depending on thickness.
My way to do it to cook them in a cast iron pan. You can use a grill pan to get those lovely grill marks. I like a pan with higher sides so that you can make the glaze right in the pan without dirtying another dish - always a bonus in my house.
The chops are cooked on one side, then flipped over and cooked on the other side. The glaze ingredients then go in to de-glaze the pan, that is to get all the delicious brown chunks that stuck to the bottom of the pan. Once the glaze is thickened, put the pork back in the pan for their coating of flavor.
Heat Setting
My choice is medium-high heat. If you turn the dial all the way up to high you could burn the pork chops before they are done in the middle. A medium high setting is enough to get a nice sear and completely cook your pork chops.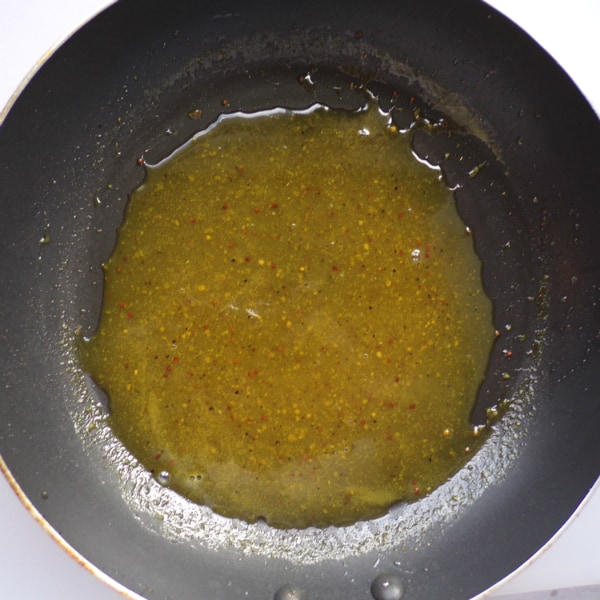 Could You Bake Them?
Absolutely you could. I know there are people that wish to avoid cooking oil, so they choose to bake in the oven instead. If you are going to do that, choose a thick pork chop, at least in the 2 inch range.
You can insert a probe meat thermometer, that will best tell you when the pork is perfectly cooked. I always use thermometer when cooking meat in the oven, because it takes out all the guess work.
You can easily your glaze separate in a pan the stove top and have it ready to go when the pork comes out of the oven.
Electric Skillet
Electric skillet works great for cooking the chops in as well. Prepare them the save way as in the recipe below.
Sous Vide
This has become my new favorite method for preparing pork chops. I have found that our family likes them cooked around 150 degrees in a water bath for at least 1 hour. When they are done cooking, you prepare the glaze and give the meat a quick sear, only I use high heat and only cook about 1 to 1 ½ minutes per side just to brown it.
Side Dish Recipes
What should you serve with these pork chops? I always love some good steamed green beans with garlic. Or any of these recipes from the blog would go well with them.
Honey Mustard Glazed Pork Chops
These pork chops are brined, sauteed, and topped with a honey mustard glaze.
Print
Pin
Rate
Ingredients
For the honey mustard glaze
3

teaspoons

stone ground mustard

2

teaspoons

apple cider vinegar

¼

cup

honey

¼

cup

chicken broth or stock

¼

teaspoon

Worcestershire sauce

optional

kosher salt and freshly cracked pepper to taste

garnish with fresh tarragon

optional
Instructions
To make the brine
Combine all the ingredients into a saucepan over high heat.

Cook until the salt and sugar are dissolved. Then remove from the heat and add about 1 pound of ice to cool the brine down. Give it a good stir and set it aside.

Now take your chops and place them in a gallon sized plastic bag and dump the brine into the bag. Seal the bag well, place it in a container just in case the bag leaks, and place it into the refrigerator for 1-2 hours.
Cooking the pork chops
Start by placing about an inch or so cooking oil in the bottom of an skillet.

Remove the chops from the brine and pat them dry. Season them with black pepper and kosher salt.

When your skillet is ready, place them in, so that they do not touch each other. Cook for 4-5 minutes until the chops are golden brown, then flip and cook for another 4-5 minutes until the other side is brown. Remove the chops from the skillet.
Making the glaze
Now add your chicken broth and scrap anything that stuck to the bottom of the pan.

Add the honey, mustard, Worcestershire sauce (if using) and cider vinegar.

Stir constantly until your glaze is nice and thick, should only take 2 to 4 minutes.

Return the chops to the pan and coat them in the glaze. Then enjoy!
Tried this recipe?
Mention @eatlikenooneelse or tag #eatlikenooneelse