Learn the technique for the perfect sous vide sweet potatoes that will save you time on turkey day as well as that all precious oven space. The sweet potatoes can be used to make a filling for a pie as well.
This post includes affiliate links. This means that at no additional cost to you, I will earn a commission if you click through and make a purchase. These are products and services I recommend because I use or trust them. Cookies will be used to track the affiliate links you click.
It wouldn't be Thanksgiving without sweet potatoes.
And why not cook them for Thanksgiving? They are easy to make and super cheap. You can feed a lot of people with them for a little amount of money.
The biggest issue with making them for Thanksgiving may be having the oven space. The turkey is an oven hog that doesn't like to share.
You know what I am thankful for this year - sous vide! As long as you got a pot, some water and a plug you can cook sweet potatoes anywhere, even out in the garage (although I would make sure to cover that pot in you use that garage!)
In this post, we are going to show you how to make sweet potatoes via sous vide and then what you can do with them afterward.
❓ What Temperature to Use?
It all starts by knowing what temperature to set your sous vide machine to.
?️ For sweet potatoes go with 185 degrees.
You don't want to go too high that could cause them to be overcooked. You also want to go high enough so that you don't have to cook them for more than 1 hour. I think 185 is the sweet spot.
❔ How Long to Cook Them?
Sure you could boil them and they would be done a lot quicker. But when you boil in water you also dilute the flavor with that water.
⏲️ Sous vide the sweet potatoes for 1 hour.
? How to Use Them
Here are some options for serving the sweet potatoes when they are finished.
Mashed
Just like you would for mashed potatoes, add your butter and milk and mix together for mashed sweet potatoes.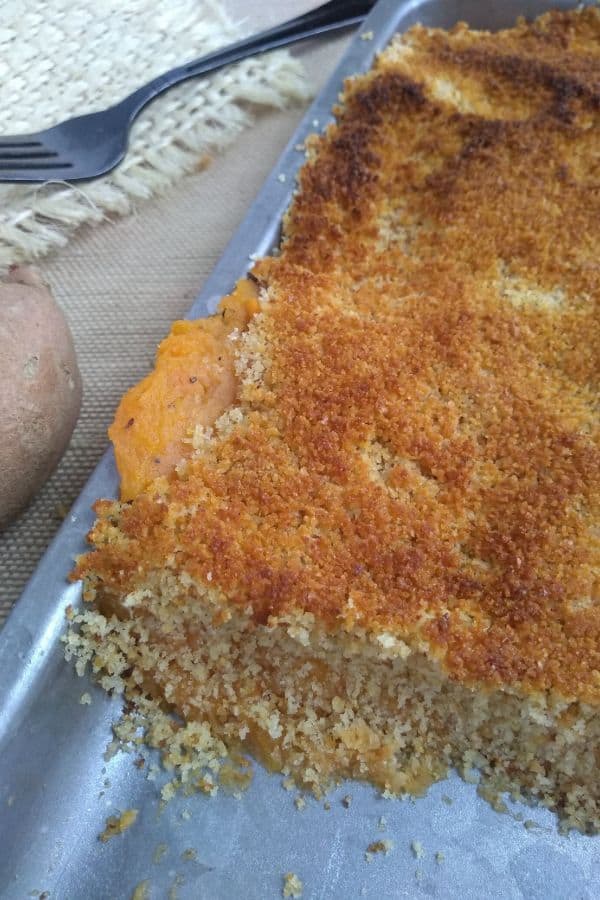 Casserole
You can take the sweet potatoes and use them to make a casserole super fast. You could do the marshmallow thing - just don't bring it to my house, as I won't eat it! Or you could do what I did:
Mash up the finished sweet potatoes
Spread onto an oven safe pan
Sprinkle a layer of bread crumbs on top
Place in 450 degree oven until the bread crumbs are toasted.
You could even do this under the broiler to make it really fast, just make sure you are watching at all times, it's easy to burn.
The nice thing about this dish is that you can do it really fast, right after you pull the turkey out of the oven on Thanksgiving.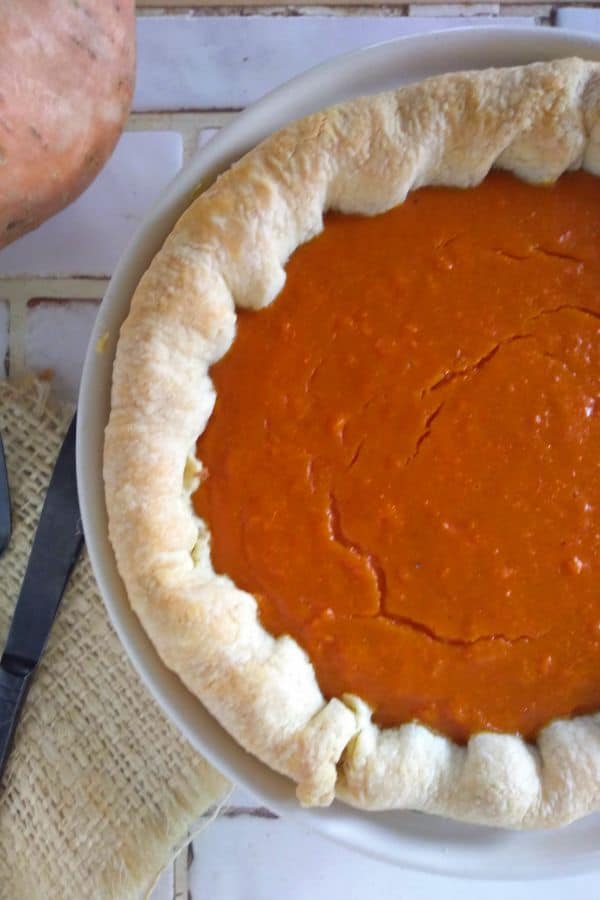 Pie
Want to make a sweet potato pie? Having sous vide sweet potatoes waiting in the fridge will make your life a lot easier. You can easily do the sweet potatoes a day before and store them in the fridge until you are ready to make your pie filling.
? TIP - How to Know When a Sweet Potato Pie is Done
? Ingredients
Here are the ingredients you will need to make sous vide sweet potatoes.
Sweet potato (any type)
Butter
Salt
You could skip the butter if you don't do dairy products. The main purpose here is to cook them and then you can season them how you want afterward depending on how you plan to use them.
There is no reason you can't eat them as is right out of the bag. Topping them off with some fresh herbs would be nice.
? Tip - Try this recipe with Stokes Purple Sweet Potatoes. They are purple inside and out!
? Instructions
Let's take you step by step through the process.
Start by peeling the skin off the sweet potatoes. Then cut them into cubes.
Seal the sweet potatoes in a bag or place them into a gallon sized bag with as much air removed as you can and place into a water bath that is set to 185 degrees. Cook for 1 hour.
If the potatoes float too much, you can use something to weight them down. A small pot usually does the trick, just be sure you don't raise the water level above the maximum fill line for your sous vide machine. Or you could clip the bag to the sides of your container.
When time is up, you can remove from the water bath and give a few mintues to cool before opening.
Then eat them as is with some fresh herbs or use them for any of the dishes I mentioned above.
Sous Vide Sweet Potatoes
How to sous vide sweet potatoes to eat right as a side dish or to use in other recipes
Print
Pin
Rate
Ingredients
2-4

sweet potatoes

2 large or 4 small

4

tbsp

butter

kosher salt

to taste

fresh herbs for serving

optional
Instructions
Start by peeling all your sweet potatoes.

Cut them into cubes that are roughly even in size.

Place the cubes in a a plastic bag that you can vacuum seal or use a gallon size plastic bag and try to get as much air out as you can.

Place into a 185 degree water bath for 1 hour. If they float, try to keep them under water using a small pot, just be sure the water level doesn't go above the max fill line for your machine.

Once finished, carefully remove from the water bath using a pair of tongs. Allow to cool for a few minutes before opening.

Ready to eat as is. Season with some fresh herbs. Or can be saved to be used with another recipe calling for cooked sweet potatoes.
Notes
How to make a bread crumb topped sweet potatoes:
Mash up the finished sweet potatoes
Spread onto an oven safe pan
Sprinkle a layer of bread crumbs on top
Place in 450 degree oven until the bread crumbs are toasted.
Tried this recipe?
Mention @eatlikenooneelse or tag #eatlikenooneelse