We take a look at how to cook the trendiest steak on the market, including why we love cooking this steak via the sous vide method. We also will explore other methods of cooking from cast iron to grill to the Instant Pot.
There are many steaks out there that people rave about.
T-Bone
New York Strip
Filet Mignon
But you know I'm going to go for steaks that don't cost as much yet still offer flavor that even surpasses those steaks.
Case in point - the flat iron steak. Coming in for under $10 a pound, this steak offers tenderness when cooked right and amazing flavor.
? What is Flat Iron?
So what type of cut is it? The steak comes from the chuck primal of the cow. This area is known for flavor, however it is also known to be tough if not cooked right.
It's a relatively new steak. The steak is cut from the top blade roast, which has a tough, gristly member that runs in it, which is not desirable. A joint project by the Universities of Nebraska and Florida, found a way to cut the top blade roast to remove this gristly member, offering a steak that would be cheaper than some of the high end options.
The top blade was never considered valuable beyond grinding up as ground chuck, so this new way to cut it up was a game changer.
Read our post on How Much Does a Flat Iron Steak Cost?
? Other Names
You may also see flat iron steak called chuck shoulder or top blade steak, however most groceries have adopted the flat iron name.
Flat iron steak looks kind of like a flank steak, but they are definitely not the same. A flank steak comes from the belly region and is a lot leaner than flat iron steaks.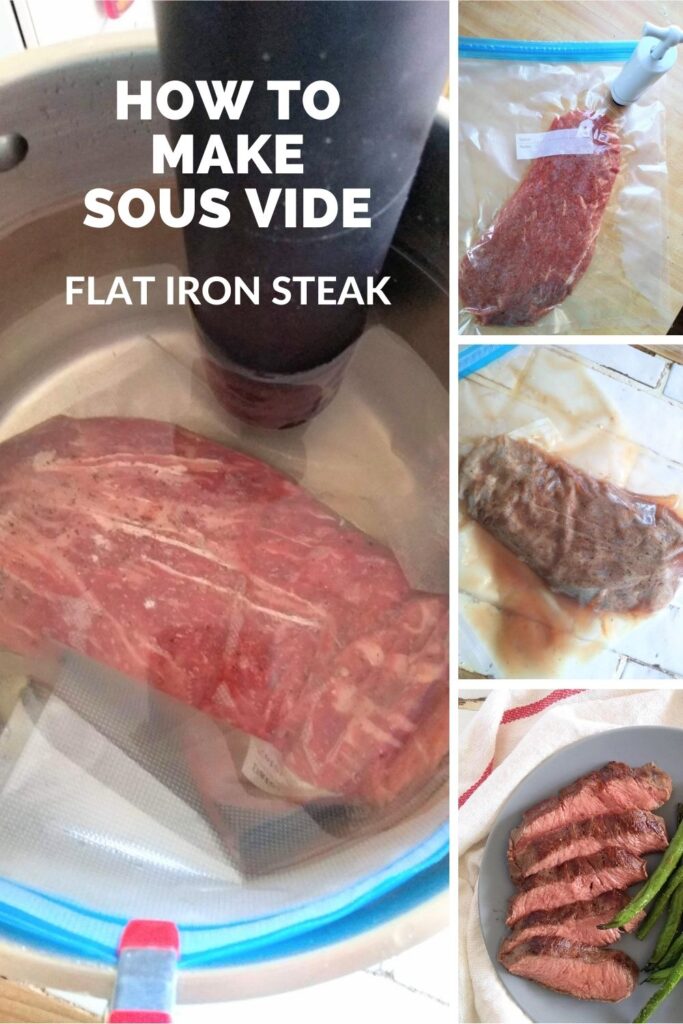 ? Sous Vide
Ever since I got my first immersion circulator, I have cooked all my steaks via the sous vide method. It's perfection every time. You are cooking the steak by setting the temperature you want it cooked to. No worrying abut time or getting it right. It's the stress-free way to cook meat. I highly recommend you get one if you don't have one.
How to
Let me show you how I sous vide a steak. I own a Anova Precision Nano Cooker.
Season the steak on both sides liberally with kosher salt, garlic powder, and freshly ground black pepper.
I use reusable bags for sous vide cooking. The steak is placed inside the bag, sealed up good, and then you use a pump to suck out all of the air.
The reusable bags also come with clips that I use to clip the bag to the sides of a large stock pot. You don't need any special containers for sous vide, a large, tall pot will do for almost anything you would cook.
I cook my steak for 2 ½ hours. This allows plenty of time for steak to get tender and with the advantage of the sous vide you don't overcook it because the steak is held at the optimal temperature. There really is no other cooking method that can do that.
?️ Temperature
Here is what temperature you are shooting for.
| | |
| --- | --- |
| Rare | 120-130°F |
| Medium Rare | 130-135°F |
| Medium | 135°F-145°F |
| Medium Well | 145°F-155°F |
Recommended time and temperature - 135°F for 2 ½ hours
We cooked our steak to 135 which is right at the high end for medium rare, and the low end for medium. I really would not recommend going beyond that or the steak will be tougher. If you must, then slice your steak thin when you eat it.
? Cast Iron
To finish my sous vide steak, I break out a cast iron skillet and get it as hot as I can.
Cook the steak on each side for 1-2 minutes just to get the outside brown.
For a non-sous vide method, cast iron is great to cook the steak in.
Just Using Cast Iron
When you cook a flat iron steak in cast iron you'll want to cut your steak in half if weighs a pound. It's often sold in 1 to 1 ¼ pound sizes, which I don't cut for sous vide since I have time on my side and I am not concerned about the whole large steak being cooked all the way through.
Here is how you do it:
Heat up your cast iron grill pan or skillet over medium heat with a couple tablespoons of oil
Once it is hot, you cook the steaks for 5-6 minutes per side
Remove from heat and allow the steak to rest for 5-10 minutes before slicing
If you want to make sure your steak is done to your liking before slicing in, use an Instant Read thermometer to check its temperature.
? Grilling
You can also finish a sous vide steak over the grill. You want to make sure your grill is at maximum heat. If your grill has an accurate thermometer or you own an infrared thermometer, you want your grill to be at 450° to 500° degrees.
If you don't have a thermometer and are using charcoal you are looking for the coals to be just barely covered in ash.
You want to do this fast to just brown the outside of the steak - no more than 2 minutes per side. Even if you haven't gotten perfect grill marks yet, I would pull it as I think it's better to preserve the interior of the steak over getting the outside absolutely perfect - sorry perfectionists!
Just Using the Grill
Here is how you cook a raw flat iron on the grill
Cut your steak into around 8 oz portions if it's over a pound.
You will want your grill at a lower temperature if you are going to cook a raw steak on it. Aim for around 400 degrees. You want to cook over hot coals, not a fire.
Grill over direct heat for around 5-7 minutes per side
Don't touch the steak for at least the first 5 minutes, let it do it's thing!
Check the temperature with a thermometer, following the temperature guide from above
Rest the steak for 5-10 minutes before slicing into it
In the Oven
Broiler
We are still talking about the oven here, but we are turning it up to the broiler setting. The broiler is a tool that I think most of us neglect to use but it can be extremely useful.
If you want to cook your flat iron steak from start to finish under the broiler, do what Alton Brown did for his broiler sirloin steak recipe:
Set your oven to broil.
Place a some foil on the bottom rack to catch any drippings
The next rack should be right above it, put the steak directly on the rack
Cook for 5 minutes. Then flip it and cook another 5 minutes.
Move the rack up one position and cook the steak for 3 minutes, then flip and another 3 minutes
If you are finishing a sous vide steak via the broiler, then place the rack about 4 inches away from the heating element. Then cook it no more than 2 minutes per side. Don't leave the room, keep the door cracked (no kids or pets nearby) and watch it as it turns brown.
How to Cut
I think we have addressed enough ways to cook this steak, but just about how important it is to cook it right is how to cut it right. Carefully examine your steak. Look for the lines. You want to cut the steak against the grain and on the bias (which means to cut diagonally).
Why does it matter? If you cut the steak this way you are making the meat fibers shorter thus a more tender steak in the mouth.
❓ Frequently Asked Questions
After doing a thorough search, these are the questions I believe people have the most when it comes to cooking a flat iron steak.
Marinade
You don't have to have a marinade, however if you were to do one here are a list of ingredients I would consider for a marinade:
Soy sauce
Worchestershire sauce
Fresh ginger
Kosher salt
Freshly cracked black pepper
Honey
Olive oil
Minced garlic
Minced onion
Lemon juice
Dried thyme
Dried rosemay
Place the steak with your ingredients of choice into a resealable gallon sized plastic bag. Put the bag into another container in case and leaks and refrigerate for as close as 8-12 hours as you can.
Fajitas?
You might be wondering if flat iron steak will work for fajitas. The steak in shape looks a lot like skirt steak.
We tested some of our sous vide flat iron to make a batch of fajitas. The nice thing about doing it sous vide is that you can just cut the steak and throw it into the pan with your peppers, onions, etc when the vegetables are cooked. You just need to heat up the steak.
Flat iron does make for excellent fajitas. Give it a try!
Crock Pot?
You certainly could slow cook a flat iron. I enjoy it too much as a steak to do so. There are also cheaper cuts that I think would be a better value for a slow cooker recipe. However, that doesn't mean flat iron won't be delicious.
Instant Pot?
While I have not tried this method yet, if you are looking to make shredded beef tacos, the Instant Pot would make quick work for you. Most recipes I have found call for about 8-10 minutes cooking time, so that is pretty fast.
Substitute
Can't find flat iron but want a similar steak experience? Flank and skirt steak are the most similar in appearance and can be a good substitute. However, I think if you want a similar flavor you need to try a chuck eye steak. It is more fatty than a flat iron but since they are both from the chuck primal area of the cow, the taste is similar.
? More Beefy Reading
What is a Good Price for a Flat Iron Steak
How to Cook a Bottom Round Roast
3 Hour Sous Vide Flat Iron Steak
The most tender, flavorful flat iron steak perfectly cooked via sous vide
Print
Pin
Rate
Equipment
Immersion circulator/sous vide cooker
Instructions
Set your immersion circulator/sous vide to desired finished temperature (I recommend 135 degrees) for 3 hours.

Liberally season your steak with salt, pepper, and garlic powder.

Vacuum seal your steak. If doing more than one, seal them separately.

Place into the water bath, making sure the steak is fully submerged in water.

When time is up, remove the steak. Allow to cool for 10 minutes before opening.

Heat up a grill or a cast iron pan.

When hot, cook the steak for 1-2 minutes per side just to get it hot.

Rest for 5 minutes. Cut slices against the grain and on the bias.
Tried this recipe?
Mention @eatlikenooneelse or tag #eatlikenooneelse
This post includes affiliate links. This means that at no additional cost to you, I will earn a commission if you click through and make a purchase. These are products and services I recommend because I use or trust them. Cookies will be used to track the affiliate links you click.