Purple sweet potatoes may be one of the prettiest veggies on this planet. Let us teach you how they are different and the best ways to use them.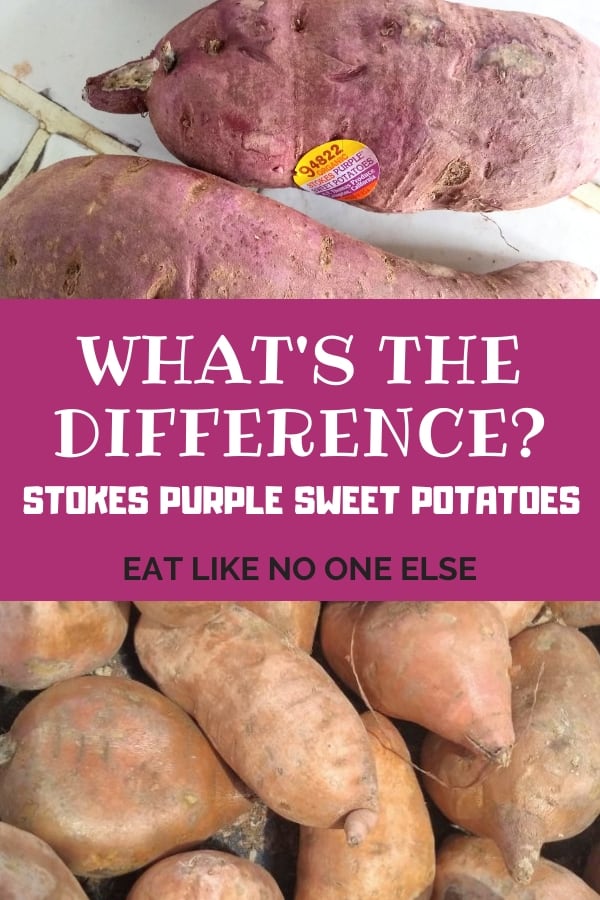 The world of produce is a beautiful place.
So many colors, I bet rainbows get jealous.
Out of all the fruits and veggies I have encountered, it's hard to top the beauty of a Stokes Purple Sweet Potato. Purple outside and even more purple inside. Unlike purple beans, these don't lose their color when cooked, in fact it's often even more purple.
Beyond the cosmetic, how are purple sweet potatoes different than the sweet potatoes you are more familiar with?
Check out all the posts in our What's the Difference series. Cheddar vs. Colby. Flat vs. Point Brisket. White vs. Yellow Popcorn and many other topics.
How are Purple Sweet Potatoes Different?
The flavor of the potato is outstanding, part of that is due to it's more dry texture that leaves you with less water and more flavor. I have heard some people say they have a more nutty flavor, reminiscent of chestnuts.
Stokes Purple are less sweet than other sweet potatoes. This is something I actually appreciate as growing up I was never fan of sweet potatoes, especially not the ones covered in marshmallows at Thanksgiving. Yuck!
You may also find another sweet potato that has a purplish color on the outside. They are usually labeled as Japanese Sweet Potatoes. Another variety name you may find is called Murasaki (these are sold at Trader Joe's). Both of these are not going to be as purple on the outside and the flesh inside is white. They are more similar in flavor and texture to the Stokes Purple.
The Okinawan sweet potato is white outside in purple inside.
Are Purple Sweet Potatoes Genetically Modified?
When I worked in produce retail, one of the most common questions I got when a customer encountered a fruit or vegetable that was a different color than they were use to was is this is a GMO? Part of this problem is that our grocery stores only offer a small amount of the diversity of fruits and vegetables, so when people see something new like a purple sweet potato they have a hard time believing that it wasn't created in a lab.
The answer is no. Stokes Purple Sweet Potatoes were not genetically modified to look purple. They are just as natural as the orange sweet potatoes that dominate our grocery stores.
Stokes Purple has become my favorite sweet potato for the following reasons.
Top 5 Reasons to Buy these Potatoes
That purple color means lots of antioxidants that are oh so good for our bodies.
A non-GMO variety that has not been messed around with in a lab
Not overly sweet
To make beautiful food with
You can find organically grown purple sweet potatoes
Where Are They Grown?
Did you know that Stokes originated in North Carolina? The climate and soil where they are mostly grown around Hanging Rock State Park and the Sauratown Mountain range help produce a sweet potato of such unique color and with rich nutrients.
Farmers were replacing their tobacco groups with these sweet potatoes. There was a company that was producing them called Stokes Foods. I was featured on their website. However they seem to have gone out of business as I can't find a trace of them online anymore.
Now all Stokes Purple Sweet Potatoes you are seeing in the stores are coming from California. You can find them distributed by Frieda's Produce, the same company responsible for introducing Kiwi to the United States as well as many other fruits and vegetables.
How to Use Purple Sweet Potatoes
I think these characteristics make them an excellent choice for homemade sweet potatoes fries (check out my recipe). They also are not as sweet as other sweet potatoes, which I approve of.
If you want to see their vivid color on full display trying making my Purple Sweet Potato Gnocchi. Or combine them with regular potatoes and make Mixed Mashed Potatoes.
Really whatever a standard potato can do a sweet potato can do, and a purple sweet potato can do more beautifully. I have seen many amazing photos of sweet potato pies made with them. The purple color is just stunning.
The only thing I don't recommend doing with them is to boil them. They easily become water logged and lose their eye appeal. Steaming is a much better option and it doesn't take that long either. You will find a recipe below that will show you how to steam them.
Where to Buy
Whole Foods Market is the place that I find them most often. They stock them nearly the entire year now. I have also seen them at the Fresh Market. So look for grocery stores like those.
Want even more purple foods in your life? Try out Purple Potatoes, Purple Cauliflower, and Purple Asparagus.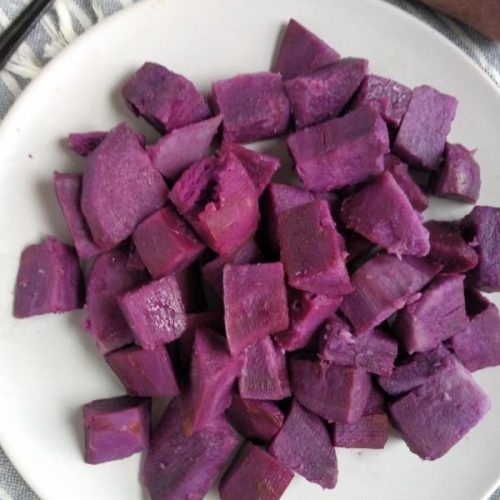 Steamed Purple Sweet Potatoes
Simple to make steamed purple sweet potatoes. Done in 20 minutes.
Print
Pin
Rate
Ingredients
2

medium to large Stokes Purple Sweet Potatoes

2-4

tablespoons

butter

kosher salt and freshly ground black pepper to taste
Instructions
Peel your sweet potatoes, then cube them.

Place them into your steamer basket (see notes if you don't have one) and steam them until fork tender

You could eat them as is, or you could mash them up with a fork, then mix in butter, salt, and black pepper to taste.
Notes
If you don't have any special steaming equipment just take a pot that you had a lid for place a mesh strainer over top. Add the sweet potatoes. Fill the pot with enough water to just come underneath the potatoes. Add the lid. Bring the water to a boil, then turn down to simmer. Cook until tender.
You could also place the finished potatoes into a pan with a couple tablespoons of oil, and pan fry the potatoes until just browned. Should only take a few minutes. 
Tried this recipe?
Mention @eatlikenooneelse or tag #eatlikenooneelse