Guide to the turkeys you will find at Trader Joe's in 2023 along with some other items you should consider buying for the Thanksgiving meal.
I love Thanksgiving time. While many fear the lines and the crowds at the grocery stores, I love the atmosphere. There are so many foods to get excited about. I decided to pop my head into a Trader Joe's this past Friday. I am presenting you with your turkey options and some other foods you should consider buying.
Jump to:
🦃 Turkeys
I have to start with the star of the show - the turkey. So what is the price of a turkey at Trader Joe's?
Here is the breakdown for you. These prices are updated for the 2023 season.
| | |
| --- | --- |
| Brined Fresh Young Turkey | $2.49/lb |
| Kosher Fresh Young Turkey | $3.49/lb |
| Organic Fresh Young Turkey | $3.99/lb |
The prices have gone up by 50 cents a pound on each turkey since I first published this post back in 2018.
Kosher Turkey
If a Kosher turkey is a must have for your holiday meal, Trader Joe's is a great source. They have them each year. Most grocers I find don't carry them. A Kosher turkey has been pre-salted. They also have to follow all the kosher laws in order to be labeled as a kosher turkey. This has to do with how the turkey is slaughtered.
Organic Turkey
Organic Free Range turkeys from Trader Joe's. At $3.99 a pound, they are 50 cents more than an organic turkey that Costco sells.
Brined Turkey
The cheapest turkey you are going to get at Trader Joe's is their brined fresh turkey. Trader Joe's is smart here using the word "brined". You can say that many of the turkeys on the market are "pre-brined turkeys".
Let me show you. Here is a comparison of just ingredients (not necessarily the turkeys themselves) in Trader Joe's turkeys and other brands.
| | |
| --- | --- |
| Trader Joe's Brined Fresh Turkey | 8% solution of water, sea salt, sugar, turkey broth powder, and natural flavorings |
| Kroger Frozen Turkey | 9.5% solution of turkey broth, salt, sodium phosphate, sugar, flavoring. |
| Butterball Frozen Turkey | 8% of a solution of water, salt, spices, and natural Flavor. |
| Butterball Fresh Turkey | 4% of a solution of water, salt, and spices |
As you can see other turkeys have been injected with solutions as well. Most turkeys are unless you buy organic. You could call these all brined turkeys.
Do you still brine these kinds of turkeys? I always do as I think what they have added to them wouldn't be enough to flavor the whole bird.
💡 Tip - I prefer to use a dry brine method instead of a wet brine which I think is perfect for these types of turkeys.
🍠 Vegetables
Now let us take a look at some other items you might want to consider for Thanksgiving dinner.
Brussels Sprouts Stalks
One veggie that has become a classic of the Thanksgiving experience at Trader Joe's is the Brussels Sprouts on a stalk. These are so fun and great to showcase to the kids how Brussels Sprouts actually grow (next is to get them to eat them).
When picking your stalk, look for the one with the most sprouts on it. They tend to fall off when they are being stocked so you want to get your money's worth since they are sold by the stalk, not by the pound.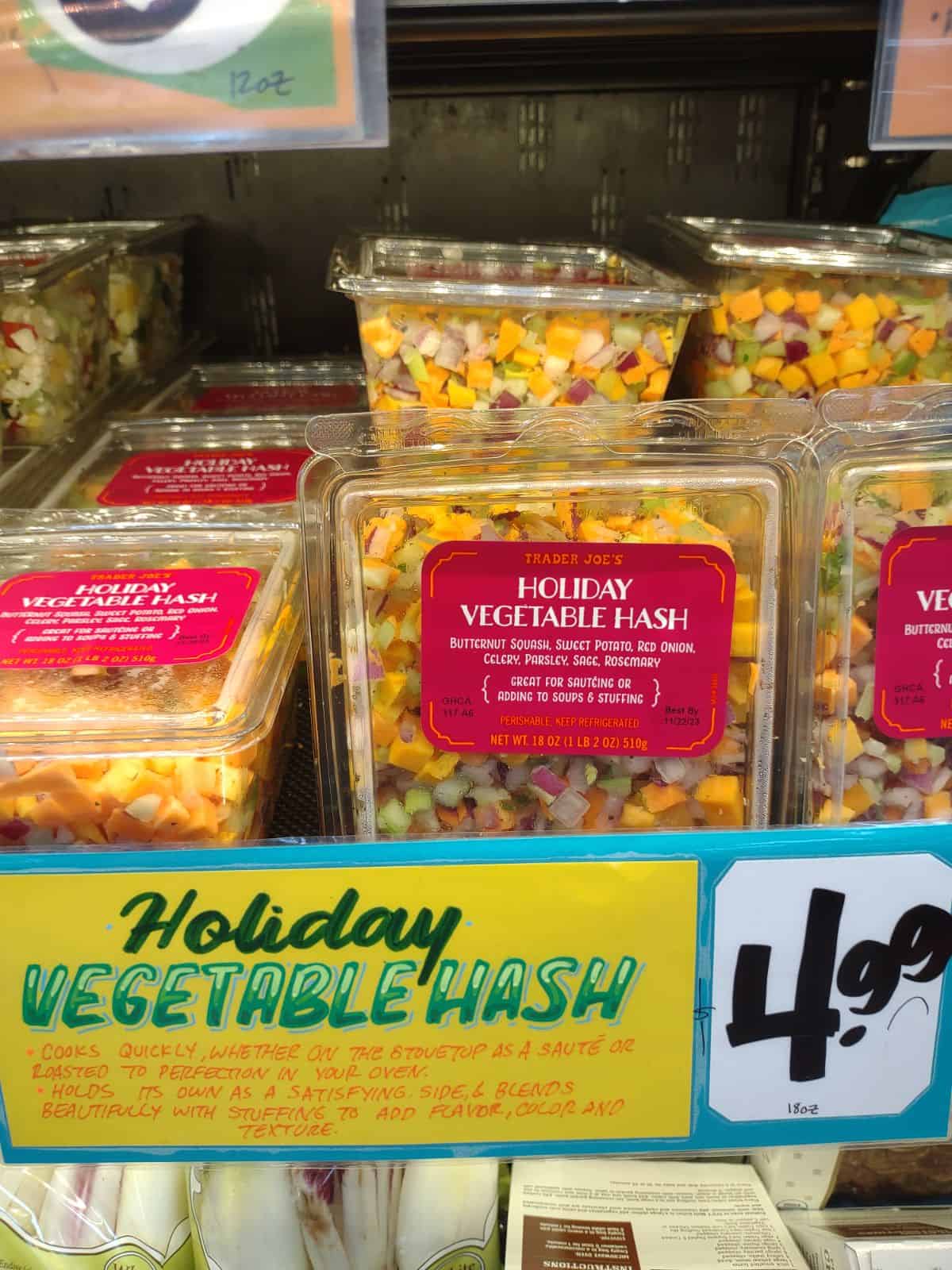 Holiday Vegetable Hash
If you are looking for another quick Thanksgiving side dish, I would look into this vegetable hash. It contains:
Butternut squash
Sweet potato
Red onion
Celery
Parsley
Sage
Rosemary
This side can come together fast. You just need to cook everything in a sauté pan with some oil. All the pieces are small so they will cook fast. Add in a can of black beans as well if want to bulk this up every more.
Green Beans
Making a green bean casserole? My Trader Joe's had a couple different sized bags of French green beans that you can use. Note that the thinner beans will cook faster than standard green beans.
RELATED - What is the difference between green beans and French green beans?
Corn
Fresh corn is out of season now so if you want it for Thanksgiving you need to choose frozen. You can find roasted frozen corn. This is great just heated up, with butter and salt. Or you can make some Creamed Corn. It's easier than it would appear and way better than what you would get if you just opened up a can of it.
Murasaki Sweet Potatoes
For someone that isn't so sure about sweet potatoes, this is the sweet potato you must get. It is white on the inside and is not as sweet as your more traditional orange potato. Murasaki sweet potatoes do have a nutty flavor that I adore. I love to steam them, then mash them. Add some butter and milk. The key ingredient is sautéed shallots. They go so well with these sweet potatoes.
RELATED - The Different Types of Sweet Potatoes
🥧 For Pies
I have heard people have some good things to say about the premade pies from Trader Joe's but I am all for making them myself.
A lot of grocery stores only have pie pumpkin before Halloween, but Trader Joe's still has pie pumpkins available for Thanksgiving. I really love to make pumpkin pie with fresh pumpkin.
If you need to make a gluten free pie crust for your guests and don't want to buy all the alternative flours or starches to make it, you can get these gluten free pie crusts in the frozen section.
Or you can use puff pastry instead of making a traditional pie crust for your Thanksgiving dessert.
Trader Joe's has small boxes of whipped cream that are shelf stable, so you don't have to store them in the fridge. However they don't much fat in them. You are better off with heavy whipping cream to make homemade cream for your pies.
🎧 Listen to my podcast episode on - Troubleshooting Whipped Cream for Thanksgiving Pies.
🧂 Seasonings
You want to be able to have salt for your meal that your guests can use if they want. Why not do something extra fun this year and try out the Portuguese Flor De Sal salt. This is a great salt to have at your table for your guests that will a little more salt on their food.
Fried onions are the common "seasoning" for a green bean casserole. I am here to tell you that Trader Joe's has you covered.
Trader Joe's is known for their Everything But Seasoning blends. They have one for Thanksgiving that has:
Dehydrated Onion
Sea Salt
Yeast Extract
Salt
Ground Black Pepper
Dried Yeast
Turmeric Powder
Natural Flavor
Dried Celery Seed
Citric Acid (Acidulant)
Ground Sage
Rosemary Powder
Dried Thyme
Dried Parsley
🧃 Drinks
For those looking for some good drink options for the kids or if you don't drink any alcohol, then here are 2 good options to good for.
Sugar Plum Sparking Beverage
Spiced Apple Cider
What is your favorite thing to pick up at Trader Joe's for Thanksgiving? Leave a comment below, letting us all know your favs.