Make your life easier and more delicious with this recipe for sous vide mashed potatoes. We will show how you can make the potatoes ahead of time, perfect for Thanksgiving, Christmas, or any other type of gathering.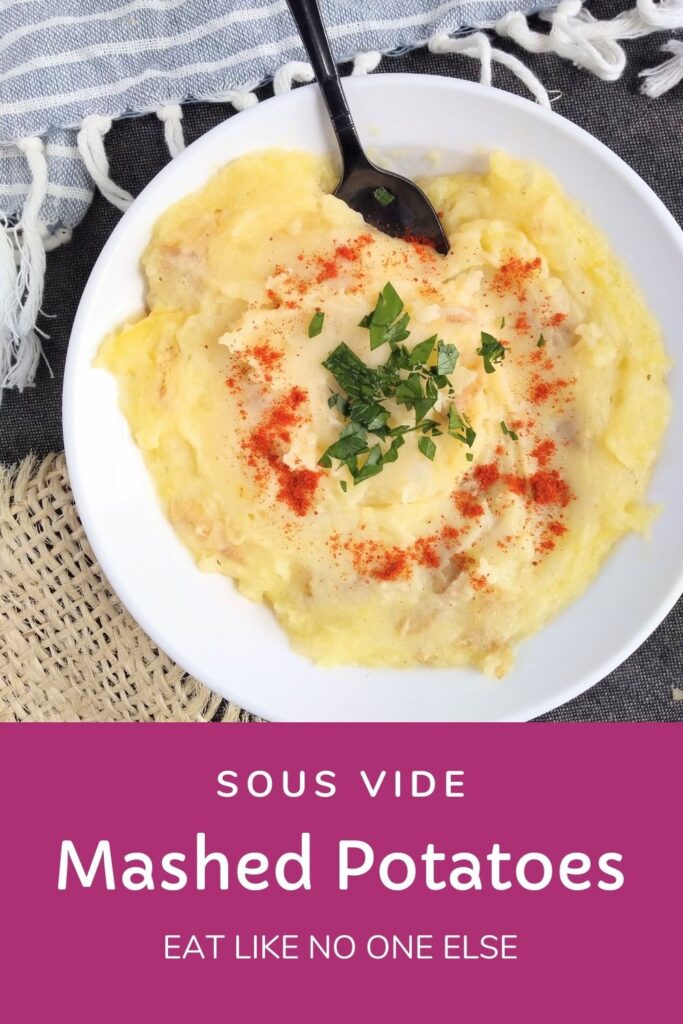 This post includes affiliate links. This means that at no additional cost to you, I will earn a commission if you click through and make a purchase. These are products and services I recommend because I use or trust them. Cookies will be used to track the affiliate links you click.
It would not be Thanksgiving without mashed potatoes.
And you want those potatoes to be good, not a waterlogged mess or with the texture of paste.
Often time I think mashed potatoes end up lacking because they were thrown together at the last moment in a fit of stress of trying to get everything on the table - we recognize that's not easy.
That's why I think you should make them ahead of time. And if you got a sous vide machine, then it becomes even easier.
Jump to:
❓ Why Sous Vide?
When you cook potatoes in a water, no matter how quickly you cook them, they are going to take in some water. This dilutes the flavor. By cooking via sous vide, you get the potatoes completely cooked without adding any additional water. That's more potato flavor
You can cook the potatoes and have them hang out in the water bath until you are ready to mash them. If you have ever cooked a pot of potatoes in boiling water and then forget about them until they are mushy, then going the sous vide route will help prevent that from happening again.
You can also make them in the morning, and then put them back in the water bath once mashed. Then just pull them out when you are ready to eat. Or make them the night before, store in the fridge overnight, and put them back in the water to warm them through.
I have sold you yet on sous vide mashed potatoes?
What Temperature to Use?
You don't want to go too high that could cause them to be overcooked. You also want to go high enough so that you don't have to cook them for more than 1 hour. I think 185 is the sweet spot.
?️ For potatoes go with 185 degrees.
How Long to Cook Them?
Sure you could boil them and they would be done a lot quicker. But when you boil in water you also dilute the flavor with that water.
⏲️ Cook the potatoes for 1 hour. You can go up to 2 hours if you need to without any loss of quality.
If you need a quicker method, try my Instant Pot Mashed Potatoes.
🛒 Ingredients
Here is what you will need to make these mashed potatoes:
Gold potatoes
Milk
Butter - would be incredibly yummy if you use Kerrygold butter
Your standard mashed potato ingredients. Nothing fancy here. Since you are going to sous vide the potatoes, you don't need nothing fancy.
The best part is that you are cooking the potatoes in the milk itself, the same milk you are going to use when it comes time for mashing.
📋 Instructions
Start by cutting the potatoes into cubes and placing them in the bag you are going to use for sous vide.
Then pour in the milk, butter, and salt to taste - you can always add more salt at the end, so don't worry about it being the perfect amount. If you don't salt them at all, you are more likely to use more salt later.
A Note About Vacuum Sealing
As much as I like using my Vesta vacuum sealer for sous vide that isn't going to fly with this recipe. Milk is added to the potatoes when cooking them so if you try to vacuum seal you also suck out the milk. Instead you can use a standard gallon sized releasable bag or a reusable sous vide bag. You could forgo cooking the potatoes in the milk if you choose the vacuum sealer route but it would be a shame to miss out on doing so.
I found out the hard way when I tried vacuum sealing a bag of potatoes that had milk. I had to hurry and shut off the sealer before I had an uncontrollable mess (and potential break my sealer).
Cook the potatoes in the water bath at 185 degrees for one hour.
Then remove them from the water bath. I use a pair of long tongs for this so I don't splash hot water on my hands. Allow them to cool for a few minutes before opening the bag up.
This next step is important. Drain the potatoes but don't let the milk go down the drain. You want to save it. For ease, drain them over your largest measuring cup (mine is a Pyrex 4-cup), this will make adding milk back in easier.
Whip the potatoes with a hand mixer. Add the milk a little a time until you have the right consistency. You don't want them to be soupy, so best to add a little bit at time. Last time I made these I didn't use all of the milk - so keep that in mind when you are thinking about dumping all the milk back in - just don't do it!
💡 Tip - You only need to whip the potatoes for about 30 seconds. For sure never go past a 1 minute.
🔥 Warming Them Up
Do you want to:
Make your potatoes the night before?
Make them in the morning and keep them warm for the meal?
You can use the sous vide for that. Just re-package them back up once you have made the potatoes and place them back into a water bath. If you didn't vacuum seal them the first time once you mash them up and there isn't too much liquid, you should be able to vacuum seal them fine.
🌡️ To re-heat or keep warm, heat the potatoes up to 150 degrees.
If you are pulling them directly from the fridge, you should give them at least 30 minutes in the water bath to warm through.
📧 Sign Up for Our Email List
Feeling anxious about cooking the meal? Not sure whether brining your turkey is worth your time? Hate peeling potatoes for mashed potatoes but don't know any other way? Never sure when a pumpkin pie is done?
If you have questions like this that have brought stress or anxiety to what should be a fun meal to cook, then you need to sign up for our Thanksgiving Anxiety Reducing email list.
🥔 Try These Potato Recipes
🍽️ Try These Sous Vide Recipes
Make Ahead Sous Vide Mashed Potatoes
Make your mashed potatoes ahead of time with the wonders of sous vide
Print
Pin
Rate
Equipment
Sous vide machine / immersion circulator
Ingredients
3

pounds

(Yukon) Gold potatoes

unpeeled

1

cup

whole milk

2

tbsp

butter

kosher salt

to taste
Instructions
You don't have to peel the potatoes, so start buy cutting them into equal sized cubes.

Place the potatoes into a bag for sous vide. (Read notes below about vacuum sealing). Add the milk, butter, and salt to taste. Remove as much air for the bag as you can.

Place the bag into a water bath. Set your sous vide machine for 185 degrees for 1 hour.

If the bag floats at all use a small pot to keep it down or you could clip the part to the side of whatever you are using for your water bath. Make sure to not go above the max line for your machine.

Carefully remove the bag after an hour from the water bath using a long pair of tongs. Allow the bag 5 minutes to cook before opening.

Set a sieve over top a large measuring cup or bowl. Drain the milk, making sure you save the milk.

Place the potatoes into a mixing bowl. Add a little bit of the milk and using a hand mixer start to whip the potatoes, after a few seconds if the potatoes seem dry, add more milk and continue to whip until you have the right consistency. Try to keep the amount of time whipping the potatoes to 30 seconds and no more than 1 mintue.

Taste and add more salt if necessary.

To keep the potatoes warm, place them back in the bag or a new bag if needed, making sure it's water tight. Seal the potatoes up and place them into a 150 degree water bath until you are ready to eat.
Notes
If you try to vacuum seal the raw potatoes with the milk in the bag, the milk will more than likely run out of the bag when the air is sucked out. It's better to use a gallon sized plastic bag or a reusable sous vide bag.
If you want to still vacuum seal, save the milk until you are ready to whip the potatoes.
The finished mashed potatoes can be put in the fridge overnight. Then when you are ready to serve, make sure they are in a water tight bag or container and place them into a 150 degree water bath for at least 30 minutes. 
Tried this recipe?
Mention @eatlikenooneelse or tag #eatlikenooneelse