Learn you to make mashed potatoes by using Russett potatoes that you bake in the oven. Once baked the potatoes will be easier to peel.
There is more than one way to make mashed potatoes! I will be exploring different throughout the unofficial mashed potato month of November. I want to encourage to try something new this Thanksgiving. You spend so much time and effort on the turkey, pies, and sides, why not give some love to the potatoes too. How does mashed potatoes that have a big bold potato flavor sound to you? Don't boil the potatoes, bake them!
Think about whenever you boil something. You are doing so in water. Water, well tastes like water. Of course some of that water will get inside the potatoes, diluting their flavor. Instead of boiling them, you could just steam them, again water still getting into the potato. What you need is a dry environment, where the potato can be cooked and without any dilution of flavor.
Just as I would if I was preparing baked potatoes, I turn to the Russet potato for this application. This high starch potato baked up nice and fluffy. Around Thanksgiving time you can get them for dirt cheap, I have gotten a 10 potato bag for a measly $2.50.
We haven't even touched on the best part of this recipe - NO PEELING!!!! Just bake these puppies up, pop them open and get the goodness out. How is that for a happier Thanksgiving!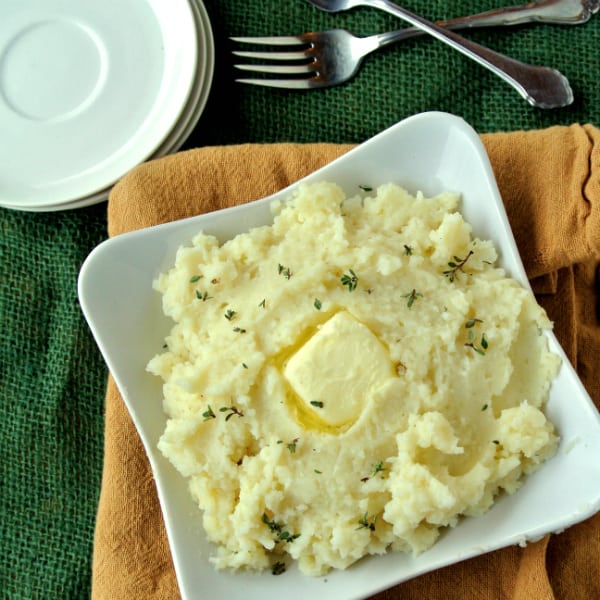 There is one more key to making these potatoes, the best you will ever have. That's running the potatoes through a potato ricer
. Trust me on this, you will know the difference the first time you have potatoes that have been riced. It makes for an amazing texture and prevent gummy potatoes. If there ever was a day to go all out in the kitchen it's Thanksgiving.
Once those potatoes have been riced, some milk or cream, butter, and a short 10 to 15 second whipping by a hand mixer
and you will be in mashed potato heaven.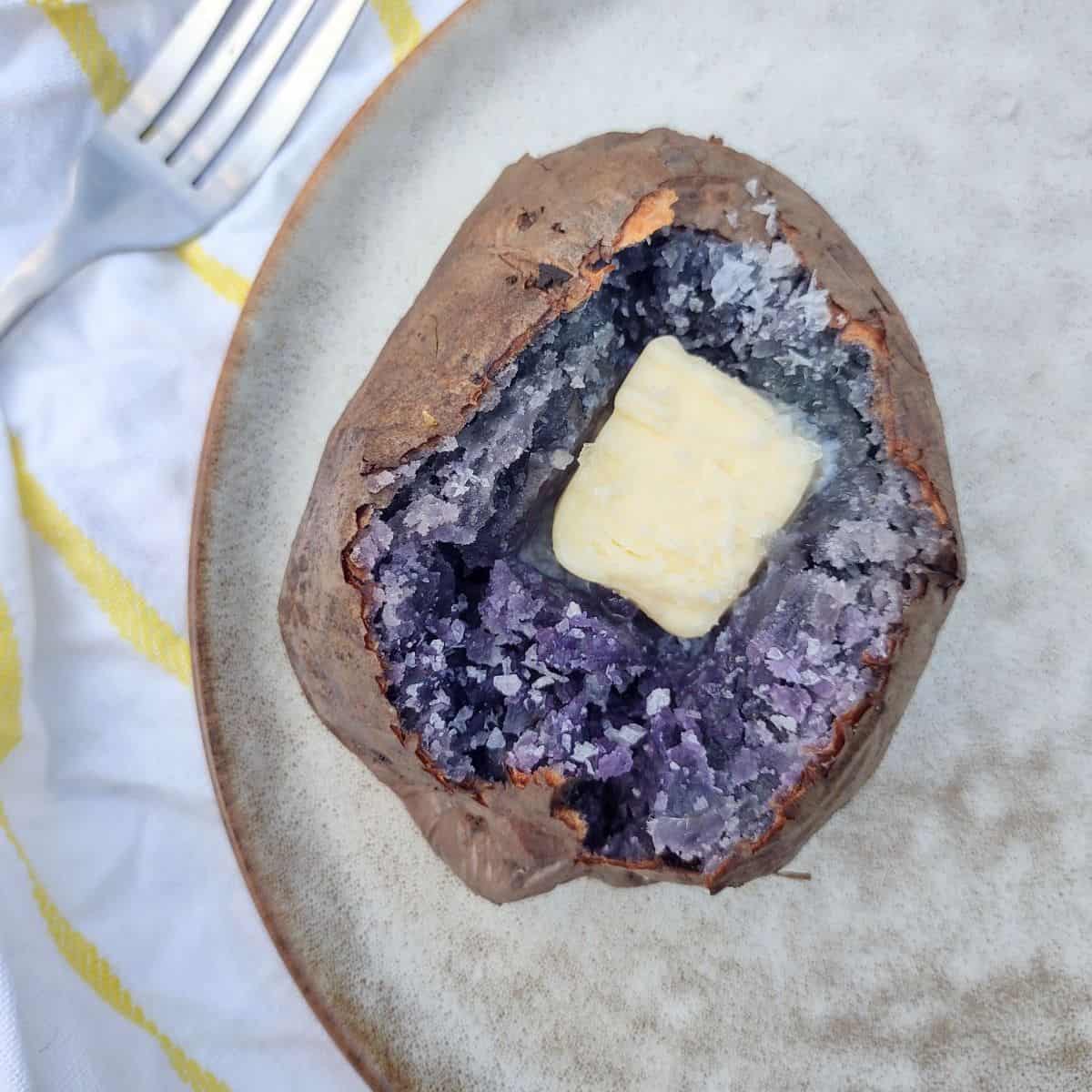 Want to make your mashed potatoes prettier? Try using purple potatoes instead of Russet for baking. They work well too. Or you can swirl together two different types of potatoes.
Ingredients
10

whole Russet potatoes

cleaned and pierced with a fork

4

tablespoons

butter

¼

cup

to ½ cup warm milk or warm heavy cream

kosher salt to taste
Instructions
Preheat your oven to 350 degrees.

Place the potato directly on the oven rack.

Bake for about 1 hour or until the potatoes can be pierced with a fork.

Carefully pop open the potatoes to allow steam to escape and allow to cool until you can safely handle them.

Warm up your milk or cream in a saucepan. Just warm it through,don't let it boil.

When potatoes are cool enough to handle, scoop out all the potatoes into a bowl.

If you have a ricer, run the potatoes through it.

Add the butter and start with ¼ cup of the dairy.

Whip with a hand mixer for 10 to 15 seconds to just smooth the potatoes out. Add more dairy if necessary.

Add kosher salt to taste.
Tried this recipe?
Mention @eatlikenooneelse or tag #eatlikenooneelse