Learn how to take purple potatoes and throw them into the oven to make the prettiest baked potatoes you have ever seen. And they taste delicious as well.
This post includes affiliate links. This means that at no additional cost to you, I will earn a commission if you click through and make a purchase. These are products and services I recommend because I use or trust them. Cookies will be used to track the affiliate links you click.
The beauty of making baked potatoes is that you just throw them in the oven. You can place them right on the rack itself so that you aren't dirtying any dish whatsoever.
What is even more beautiful is using purple potatoes to make your baked potatoes instead of just the ordinary Russet. I am going to tell you all about it.
Jump to:
🍽️ Why Make this Recipe
The visual alone of a pat of butter or sour cream on a purple fleshed potato is reason enough. Also they are just delicious. It's nice to be able change up what you normally do for a baked potato. I love a good Russet everyday of the week, but I love eating a variety of different colored foods and I am not talking about any round candies that come out of a red bag.
When you serve these up to your family or friends they will love opening them up and seeing that bold purple color. It does not fade away at all when cooked. In case you have in the past been disappointed that your purple beans turned green or your purple asparagus turned green, you definitely won't with purple potatoes.
🛒 Ingredients
This can't get much simpler:
Large Purple Potatoes
Salt
Sour cream or Mexican crema
RELATED - Where to Buy Purple Potatoes
It can be a challenge to find large purple potatoes. Most of them I find in the stores are small to medium. I want the size of potato that you would get at a steakhouse. Last time I got purple potatoes I was able to find a couple in the pile. But if you can't just go for as big as you can get and try to get them to be the same size so that they will finish cooking at the same time.
For salt, I love Redmond Real Salt from Utah. It's a great tasting salt. I get the fine grain and use it on everything, especially on popcorn. We also use Maldon Flake Salt as a finishing salt (salt that you only add at the table) in our household.
For the sour cream, choose ones that just say "Cultured cream, milk, and enzymes" on the ingredient list. Sometimes I will use Mexican crema instead of sour cream. I like to get it in a squeeze bottle that is easy to distribute.
📋 Instructions
Preheat your oven to 400 degrees.
While you are waiting, clean off an excessive dirt on the potatoes. This can simply be done by running the potatoes your kitchen faucet. Dirt can be harder to spot on these dark colored potatoes.
Use a fork to poke some holes in the potatoes. This will allow for some steam to escape so you can have fluffy potatoes.
When the oven is ready for you, place the potatoes directly on the rack. You don't need to put them in a vessel that you will have to clean later. And you don't need to use foil. I use to do stuff like that, then Alton Brown told me to stop, so I listened and have had no reason to go back since.
🌬️ Air Fryer
There is no reason you can't make a great baked potato in your air fryer instead. Why I like it:
It heats up faster.
In the summer when it's hot you don't have to heat up your whole kitchen with the oven on.
It's simple to just pop open your air fryer and check the potatoes. No need to lean over a hot oven.
Place your potatoes in your air fryer, making sure they don't touch. Set your air fryer to 400 degrees. Cook for 45 minutes to an hour. Super easy.
Something I should note is that the purple potato will turn brown on the outside when you bake it or air fry it whole. However that beautiful purple color will remain on the inside.
🌡️ How to Know When They are Done?
The fork test is what people normally say to do. You stick a fork in the potato. If it goes all the way through without a lot of pressure than its finished. I choose to be more precise. I use a thermometer to check the temperature of the potato. Just like you would a steak you want your potatoes cooked perfectly and when you cook to temperature you get perfection.
What temperature? A baked potato is perfect when it hits around 210 degrees. Then is when the potato is done in the middle, is fluffy, but not dried out.
There are two different options you can try. You can use an instant read thermometer that when you poke it into the enter of the potato it will read your the temperature. hopefully instantly but more brands on the market, really take 10 seconds or more to get to a final temperature. The Thermapen® ONE from ThermoWorks, can do it in a single second. If you aren't patient then they are a great choice.
The quality too is worth it. You buy one and have it for a long time, instead of having to replace the cheaper ones regularly. I have gone through several thermometers and I can say I am glad I settled on using ThermoWorks ones. I also own the smaller, cheaper ThermoPop which is what you saw me using in the photo above.
Another option would be to use a probe thermometer in which you stick the probe into the potatoes while they are cooking and then shut the oven door. You set an alarm for 210 and when it goes off your potatoes are ready. I have one of their more affordable models, DOT® Simple Alarm Thermometer, which I have been happy with it's performance and size.
🎧 RELATED - Why a Thermometer Will Save You Money
🥔 More Potato Recipes
Want more ideas for cooking purple potatoes? Check out our complete guide - How to Cook Purple Potatoes.
Did you know you can take baked potatoes and turn them into mashed potatoes? You should give that a try, you will be amazed at how much potato flavor they have.
From time to time I like to mix up how I make my mashers by doing Instant Pot Mashed Potatoes or Sous Vide Mashed Potatoes with my immersion circulator.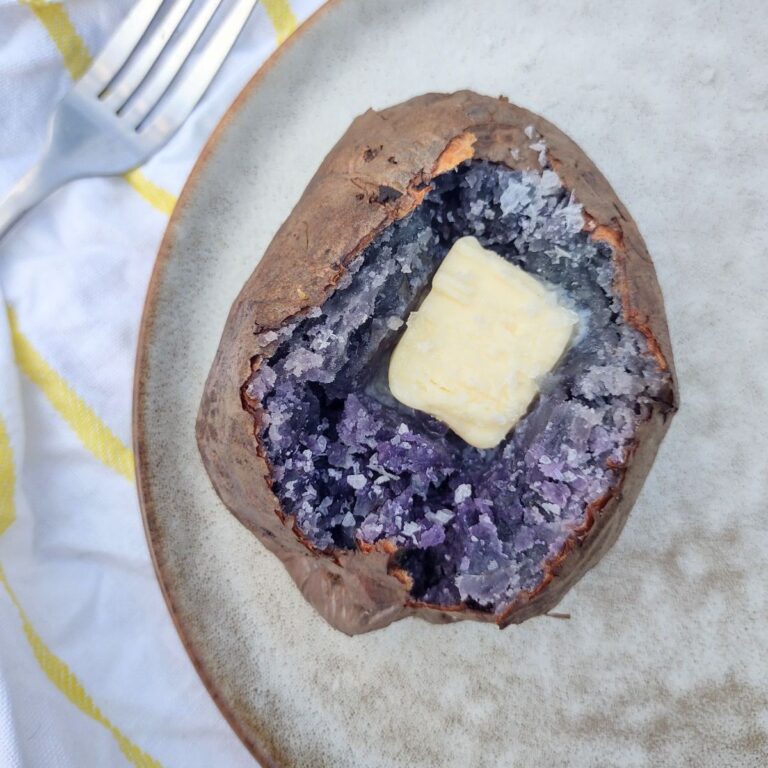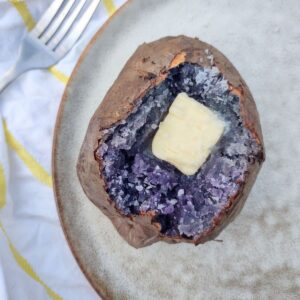 Baked Purple Potatoes (Oven or Air Fryer)
Learn how to bake purple potatoes in your oven or air fryer
Print
Pin
Rate
Ingredients
purple potatoes

salt

to taste

sour cream or Mexican Crema
Instructions
Wash any excess dirt off the potatoes. Poke some holes with a fork into the potatoes to allow steam to escape.

Preheat your oven to 400 degrees. Place the potatoes directly on the oven rack. If using an air fryer just put your potato directly in the basket and set to 400 degrees.

Bake or air fry the potatoes for about 1 hour or until the internal temperature of the potato hits 210 degrees. Remove the potatoes.

Allow to cool a bit so you can handle them. Cut them down the center and pop them open with your hands.

Serve with salt to taste and sour cream or Mexican crema.
Tried this recipe?
Mention @eatlikenooneelse or tag #eatlikenooneelse