Find out where you can buy the visualizing stunning purple potatoes or purple sweet potatoes near you.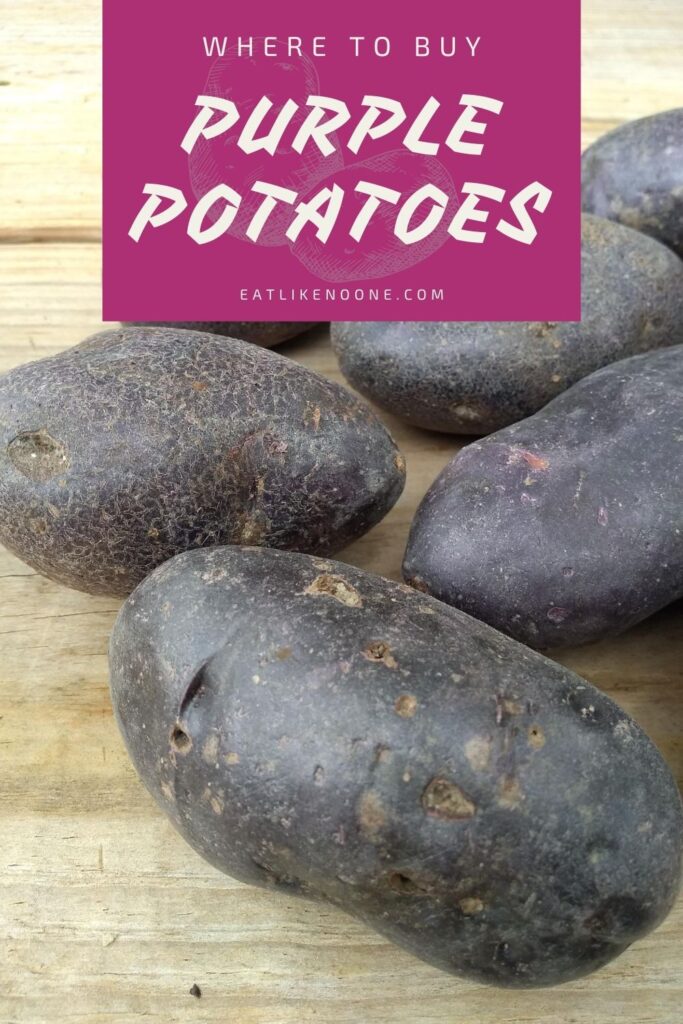 This post includes affiliate links. This means that at no additional cost to you, I will earn a commission if you click through and make a purchase. These are products and services I recommend because I use or trust them. Cookies will be used to track the affiliate links you click.
Stores use to be just full of either red, white, or yellow potatoes. You got three choices and you were expected to be happy with them.
But potatoes are more than just those simple colors - both inside and out.
Thankful we are seeing more types of potatoes in the grocery store than we did, say ten years ago with purple potatoes - ones that are purple inside and out, being on the rise.
But still not ever store has them. We are here to help you track them spuds down as well as their purple sweet potato counterparts - yes, sweet potatoes can be purple too!
? Where to Buy
In my travels around the country, I am keeping a look out for where I can spot purple potatoes. You either are going to find them three ways
Loose by the pound
Included in a bag, usually a smaller sized bag
Or in a mix with other types of small sized potatoes
The list stores you sell below are ones that I have confirmed at some point have carried purple potatoes in any of the three fashions mentioned above.
ALDI
BJ's Warehouse
Central Market (Texas)
Fred Meyer
HEB
Jungle Jim's (Ohio)
Kroger
Meijer
Plum Market
Publix
Specialty Produce (California)
Trader Joe's
Wegman's
Whole Foods Market
Please note just because a store appears on this list, doesn't mean they currently carry them. These stores have already carried them in one form in the past. Depending on the store it may be a seasonal thing. Some stores carry more types of potatoes around the holidays.
?️ Additional Notes
Whole Foods is the best and most reliable place to get purple sweet potatoes - they are organic too.
Trader Joe's and ALDI only have medley bags that include purple.
Sam's Club and Costco are not likely places to carry them. Never seen them at either.
You can sometimes find organic purple potatoes. Central Market stores in Texas carry them.
I have not found them consistently at any Kroger owned stores. And if I do see them they are in small bags.
If you want to order them online look up Specialty Produce or Melissa's produce.
? Farmer's Market
My absolute favorite place to buy purple potatoes is a farmer's market.
You can find them pretty easily nowadays at most large farmer's markets. They have great eye appeal that attract people to the vendor's tables. These are going to be the freshest potatoes as well. Sometimes you can get them just dug from the ground the day before - these are called new potatoes.
Farmer's market is also a great place to go if you want to seek out a specific variety of purple potato. You are unlikely to know what specific variety of potato you are getting in a store. But you can certainly ask the farmer if you buy it directly from them. Here are some varieties to look for (note some of the have the name "blue" in them but I still would consider them purple)
Vitelotte - a French heirloom variety
Adirondack Blue - a popular variety for home gardeners
All Blue
Purple Majesty
Purple Fiesta
Purple Peruvian Fingerling
Purple Viking - white inside
? Purple Sweet Potatoes
Purple sweet potatoes are growing in popularity as well. But they are still harder to find. If I am looking for them I always go to Whole Foods and they rarely let me down. They carry the Stokes Purple Sweet Potato.
Trader Joe's carries a different variety on occasion called the Murasaki. It is purple outside and white inside. Just as the Stokes purple it is more starchy, less sweet than an orange sweet potato.
? Read about the difference between sweet potatoes and yams.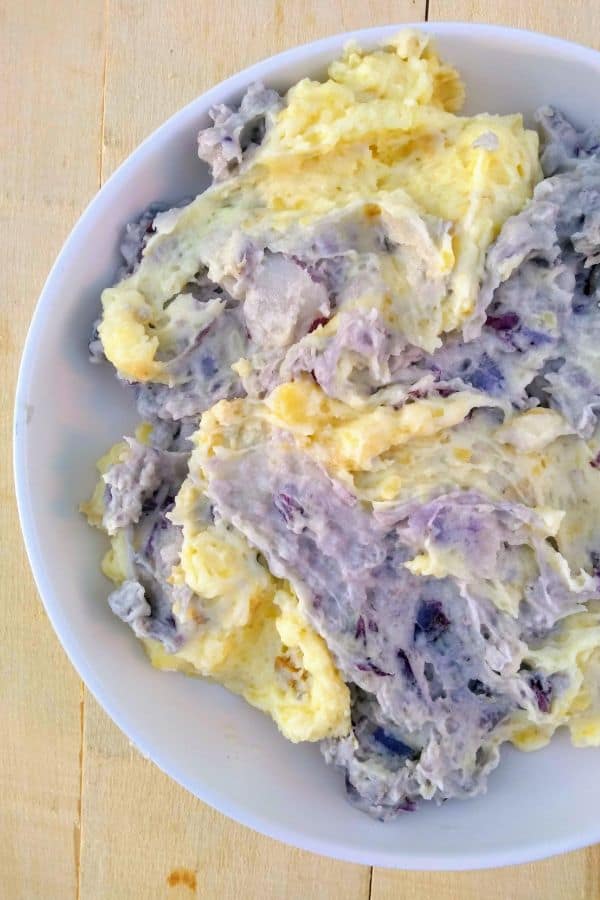 ?‍? How to Cook Them
There are many ways to cook purple potatoes. Check out our post - What is the Best Way to Cook Purple Potatoes - where I examine the pros and cons of different cooking methods.
In the photo above features beautiful mashed potatoes made by cooking purple and gold potatoes separately and then swirling the together. See our recipe for Marbled Potatoes.
?? Potato Chips
You can find purple potato chips in some stores. In the past I have found them brands like Terra and Jackson's Honest. One year for 4th of July I got a mix of white, purple, and red potato chip made by Saratoga Chips. They made the original kettle chip. It's so fun to see such colorful chips without any fake coloring whatsoever - yes, there are even potatoes that are red on the inside.
✋ Give your fellow readers a hand and leave in the comments section below anywhere that you have found purple potatoes or purple sweet potatoes before.