Learn how to boil purple potatoes so that they are perfectly done and loaded with flavor. I will share with you the key tool you will need so that they are perfect. Also see how they can be used to make a delicious potato salad.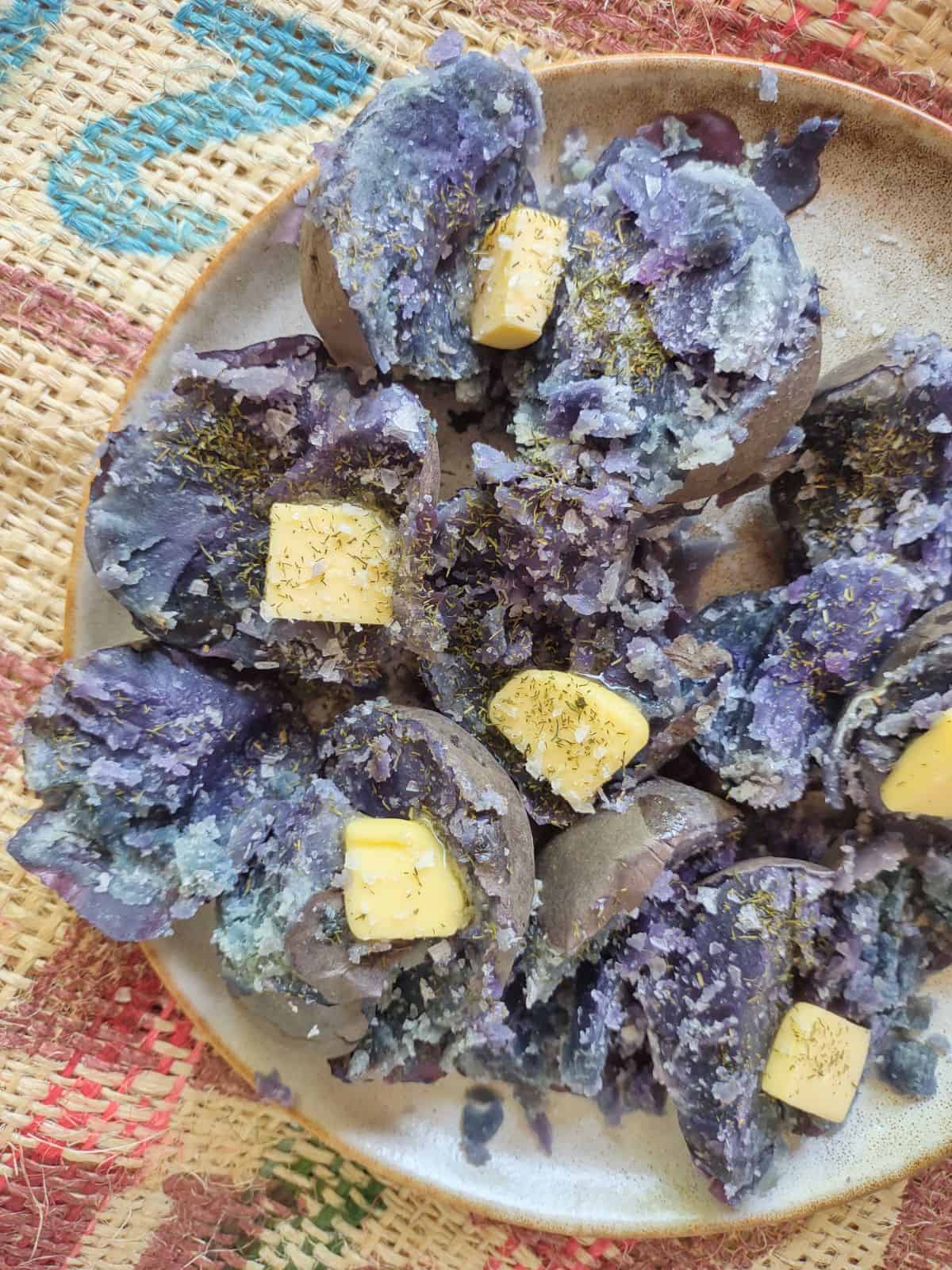 This post includes affiliate links. This means that at no additional cost to you, I will earn a commission if you click through and make a purchase. These are products and services I recommend because I use or trust them. Cookies will be used to track the affiliate links you click.
There are a lot of ways to cook a potato. You can bake them, fry them, sautéed them, grill them, sous vide them, put them in the Instant Pot, you can make mashed potatoes or potato salad. So many options.
Boil them in water is another. This is the default way a lot of vegetables are cooked. And the success rate on that is not all that good. I am sure many of us had nightmares as a kid of a boiled vegetable that we had to choke down.
I am here to tell you that at least when it comes to potatoes, if you boil them just right, there will be the stuff of dreams instead.
Jump to:
🍽️ Why Make this Recipe
It's easy and not messy. It can help you get a side dish on the table without much fuss. I believe any time you can serve a vegetable easily without sacrificing flavor you need to do it. Thankfully you are here and reading all of our tips so they won't sacrifice any flavor!
🛒 Ingredients
Here is what you will need to make these boiled potatoes.
Purple potatoes
Freshly cracked black pepper
Salt to taste
Grass fed butter
RELATED - Where to Buy Purple Potatoes
For this recipe pick out the smaller or medium sized purple potatoes. I love to bake the really big ones, but those are hard to find. You want to boil the potatoes whole so that they don't take on any excess water. Yes, cutting them would help them cook faster, but it can also waterlog them. If you pick reasonable sized potatoes there is no reason to cut them before cooking.
For this recipe I actually use two different types of salt. I like to salt the water with kosher salt which will help season the potatoes as they cook. Then when I taste the finished potatoes if the need any additional salt, I used Redmond Real Salt.
Any type of freshly ground peppercorn will be delicious with potatoes. I have a whole guide to peppercorns that will show you all the different types you an try. I love having different ones on hand because you can make simple sides like this one taste different with just a change in the pepper you use.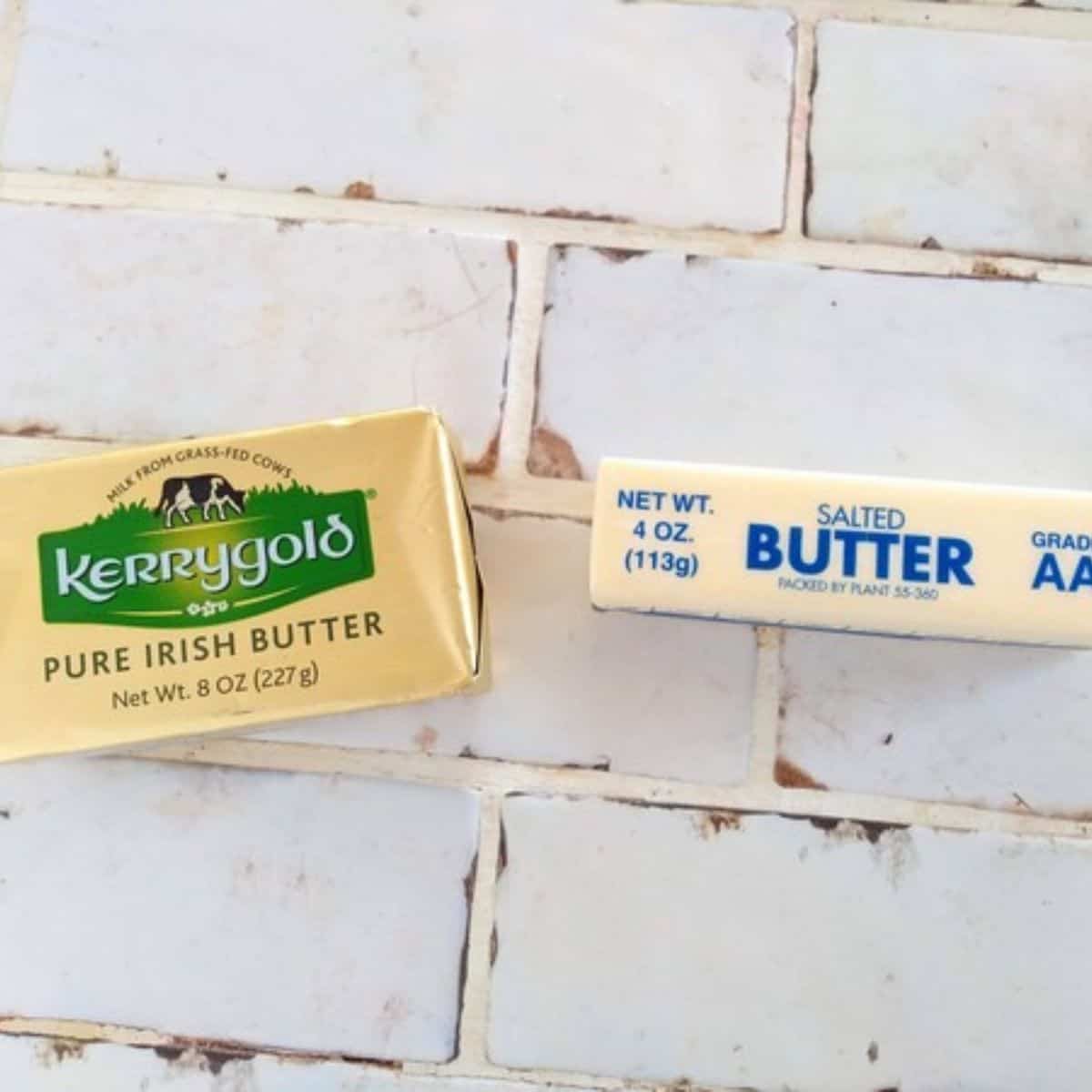 As for the butter, in this recipe you are really going to taste the butter, so this is the time to bring out the good stuff. For me that is always going to be grass fed butter. My favorite one is Kerrygold Irish Butter. You can very clearly taste the difference. While I don't use it everyday, it's great to have on hand when butter is going to be one of the major flavor component of what you are making.
📋 Instructions
Let's kick this off with a 🕒 time saving tip. You don't need to wait until the water is boiling to add the potatoes.
Give them a head start and put them whole with the skins on right away. You want the water to just cover them by an inch or two. The less water you use, the quicker the water will come to a boil.
Add salt to the water, so it tastes salty. Then turn your heat up to high and bring to a boil. I then reduce it to medium or medium high. I want to see a decent boil but not a huge bubbling, rolling boil.
💡 Now here is the best secret to cooking your boiled purple potatoes perfectly - use a thermometer.
That's right just as you might use one to see if your steak or chicken is done, temping your potatoes is a good idea as well. What temperature? The first time I tried this when the potatoes hit 185, the proper was pretty easy to insert.
This is the temperature I use when I am cooking many vegetables via sous vide. At 185 I found these to be the very best boiled potatoes I ever had. They were tender enough and weren't waterlogged whatsoever. They were so good even a guy who has been food blogging for 13 years was just about speechless.
My thermometer of choice is the The Thermapen® ONE from ThermoWorks.
Immediately remove them from the water and get ready to serve them. How I like to serve them is smash them out with a fork. The skins will be tender enough to eat. Then place several pats of grass fed butter on the potatoes. Finish with salt and pepper. So good!
🥗 Potato Salad
You can use these potatoes to make potato salad. Here are the all ingredients I use
1 pound cooked purple potatoes
1 teaspoon kosher salt
black pepper to taste
½ cup mayo
1 tablespoon yellow mustard
¼ onion, finely diced
two ribs of celery, finely diced
chopped fresh dill to taste (optional)
Once you have your boiled potatoes here is how you make the potato salad.
Remove the finished boiled potatoes from the pot. To stop the cooking, place them into a bowl of ice water for 2-3 minutes.
Don't want the skin you should be able to rub most of it off using a towel before you cut them. I leave the skins on.
Now cut the potatoes into bite sized pieces.
Then place the potatoes in the fridge until they are cold.
Put your ingredients seasonings into a mixing bowl. Fold to combine,
Everyone will rave at your next picnic how beautiful your purple potato salad looks.
🥔 More Potato Recipes
When you got purple potatoes to cook, there are many pretty dishes to make. Here are a couple
The purple potatoes will shine in any of these recipes.
Also check out how I turn baked potatoes into mashed potatoes or French fries!
Perfectly Boiled Purple Potatoes
Learn how to make the perfect boiled purple potatoes that you can eat as a side or use for a purple potato salad.
Print
Pin
Rate
Ingredients
2

lbs

purple potatoes

whole

freshy cracked black pepper

to taste

kosher salt

for salting the water

Redmond Real Salt

to taste

4

tbsp

grass fed butter
Instructions
Place the potatoes in pot. Add water until it's an inch or two above the potatoes.

Place the pot over high heat. Bring to a boil.

Reduce the heat to medium, so the potatoes are simmering well but not rapidly boiling.

Cook for 10-20 mintues depending on the size of the potatoes. Insert a probe thermometer it should go in easy enough and record a temperature of 185 degrees.

Drain the water out of the pot. Smash the potatoes with a fork. Add butter, salt, and pepper. It's ready to serve.

If you want to use the potatoes for potato salad, keep whole, and then place into a bowl of ice water. Chill for 2-3 minutes. You can remove the skin with a towel. Then cut into bite sized pieces. Place in the fridge until cold and ready to make your potato salad with.
Notes
Here are the ingredients we like to use to make our potato salads with:
1 pound cooked purple potatoes
1 tablespoon yellow mustard
two ribs of celery, finely diced
chopped fresh dill to taste (optional)
Cut your potatoes into bite sized pieces, then chill them. Once cold add them to a mixing bowl along with all the other ingredients. Fold with a spatula to combine. 
Tried this recipe?
Mention @eatlikenooneelse or tag #eatlikenooneelse