Learn all the perks of giving your Brussels sprouts the immersion circulator treatment! Perfect method to make your Brussels sprouts ahead of time and finish them when time to serve (great for Thanksgiving or Christmas).
We include how the recipe does with the Instant Pot sous vide function.
This post includes affiliate links. This means that at no additional cost to you, I will earn a commission if you click through and make a purchase. These are products and services I recommend because I use or trust them. Cookies will be used to track the affiliate links you click.
Brussels sprouts have become one of my favorite veggies in the last decade. I eat plenty of them especially in the fall. I have tried cooking the many different ways with different seasonings.
Today, we are going to show you how to cook them via the sous vide method. Find out if it's worth the time to do so and how much time you will need.
Jump to:
❓ Why Sous Vide
It can be tricky to get Brussels Sprouts perfectly cooked. The stem part of the Brussel Sprouts takes longer to cook than the outside. If you aren't careful you up with them being burned on the outside and still hard inside. Sous vide makes it easy to cook them equally all the way through.
🛒 Ingredients
Here is what you will need to make this dish
Brussels sprouts
Olive Oil
Those are your basic ingredients, but you can definitely up the ante.
Instead of oil you can use bacon fat which is so good with Brussels, but not good if you were hoping to keep this a vegan recipe! At the bottom of this post you will see how we used Everything But the Bagel seasoning - which I truly love to put on everything! Trader Joe's made this seasoning popular but you can find it at pretty much any store now.
When they are done cooking you can finish them with any of these if you like too.
balsamic vinegar
mustard
squeeze of lime juice
squeeze of lemon juice
maple syrup like Barrel Aged syrup
flake salt like Maldon
📋 Instructions
I use to just use Ziploc bags that I sealed good and then used the water immersion technique. But really a vacuum sealer makes it so much easier. Since I sous vide something at least once a week, it's good investment. Plus I use it to store food in the freezer.
I found the WeVac bags on Amazon that I use my sous vide bag.
Whatever method you use it's important to season your sprouts well, then arrange them in a single layer before sealing. With Brussels sprouts I still find that I end up with some air pockets and the bag pretty much always float. So I usually just grab a small pot to place on top of them to keep them submerged.
✂️ To cut or not to cut? I have done both. I prefer to cut them now to get the seasonings into the inner part of the sprouts and to have more surface area to brown them later. Discard any yellowing or bad looking outer leaves.
Set your immersion circulator to a temp of 185 degrees. Once up to temperature add your sealed bag to your sous vide bath.
How long do you sous vide for? I found that an even 1 hour ended up being the right amount of time.
When finished you can serve as it. Or....
🏁 How to Finish
To get the most flavor out of your Brussel sprouts you need to hit them with some serious heat. What you are trying to do is brown the outside. This brings out the natural sugars in the sprouts.
You can place them on a baking sheet then into a 475 degree oven to brown them. Or if watch them very carefully put them under the broiler, that will be super fast to get them to crispy perfection. Or use your air fryer at it's highest setting until you have browned the sprouts.
📅 Make Ahead Side Dish
You can turn this easily into a make ahead side dish. When the Brussels are done in the sous vide put them into an ice bath - a large bowl filled with water and ice. This will stop the cooking and cool them down so you can place them in the fridge. Then when you are ready to eat them follow our browning instructions from above.
I would recommend eating them within 3 days.
🥩 Can You Cook With Meat at the Same Time?
Now what if you wanted to cook them as the same time in the same water bath as something like a steak? Can you do that? Well the temperature needs are two different. If you cook a steak to 185 degrees good luck chewing that. And if you cook the Brussels sprouts to 130 degrees the temperature of a medium rare steak, then your Brussels will be too hard, good luck chewing that!
While it was nice to have the convivence of doing both at once it doesn't work. Unless you have the right type of Instant Pot....
💨 Instant Pot Sous Vide
When I needed to replace my original Instant Pot, I decided to go with one with a sous vide function (Instant Pot Duo Plus). This way I would have a 2nd device to use for sous vide cooking. So I could cook a steak sous vide and a vegetable at the same time.
Let me go over the basics of using the Instant Pot to sous vide Brussels sprouts. Since the Instant Pot doesn't a minimum fill line for sous vide, I put the bag of Brussels sprouts into the pot and cover with water. Then take them out, and start heating the water up.
A con of the Instant Pot is that it takes a long time to come to temp for sous vide. For this recipe I timed it as 42 minutes! It's not fast at all, but it's nice to be able to use it while I am using my sous vide machine for something else.
Here is what you do:
Hit the sous vide button
Set the temperature to 185 degrees
Set the time to 1 hour
Hit start
Once it beeps that it has reached temp, put in the Brussels sprouts
When the timer finishes they are done.
The sprouts were floating, so I did weight them down to keep the submerged. Besides the long time it takes to come to temperature, the Instant Pot did in fact cook the Brussels sprouts well. And it was easy to weight down the bag because I didn't have to worry about going over a max fill line.
🍽️ More Sous Vide Recipes
More things to try out in your sous vide water bath:
🥕 Veggies
🥩 Meat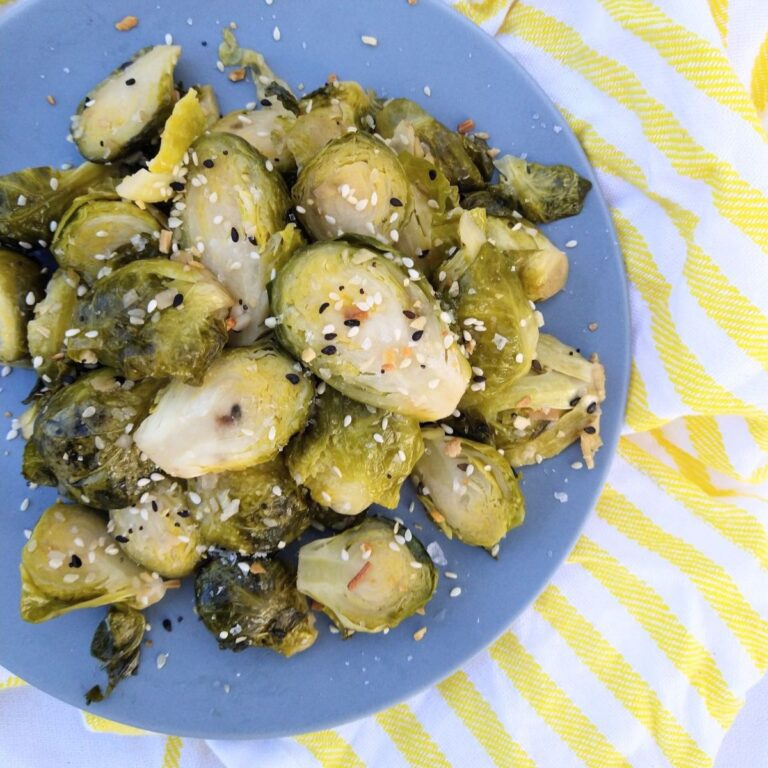 Sous Vide Brussels Sprouts with Everything But the Bagel Seasoning
Brussels sprouts seasoned with Everything But the Bagel seasoning and cooked in a sous vide bath
Print
Pin
Rate
Equipment
Immersion circulator or Instant Pot with sous vide function
Ingredients
1

lb

Brussles sprouts

halved

1

tbsp

olive oil

1

tbsp

Everything But the Bagel seasoning

kosher salt

to taste

freshly ground black pepper

to taste
Instructions
Preheat your sous vide bath to 185 degrees

Slice the Brussels sprouts in half, add to the sous vide bag.

Add in the olive oil, kosher salt and everything seasoning.

Seal the bag with the Brussels sprouts in a single layer.

Once water bath has come to temperature, add the Brussels sprouts. Cook for 1 hour.

There is a good chance they will still float, so try clipping them to the side of your water bath container or use something heavy like a pot to keep them submerged. Do not pass the max fill line on your machine.

Carefully remove the bag with a pair of tongs. Serve immediately or brown them in a skillet or pan over high heat or place them on a baking sheet and roast them at 475 degrees until brown or you can put them under the broiler for a 1 minute or 2 carefully watching them the whole time.
Notes
Once your Brussels sprouts are done here are some optional seasonings you could add:
balsamic vinegar
squeeze of lime juice
squeeze of lemon juice
maple syrup
flake salt like Maldon
Tried this recipe?
Mention @eatlikenooneelse or tag #eatlikenooneelse