Learn all about how maple syrup producers are now aging their maple syrup in bourbon barrels. What other types of barrels are they using? Does it taste any different?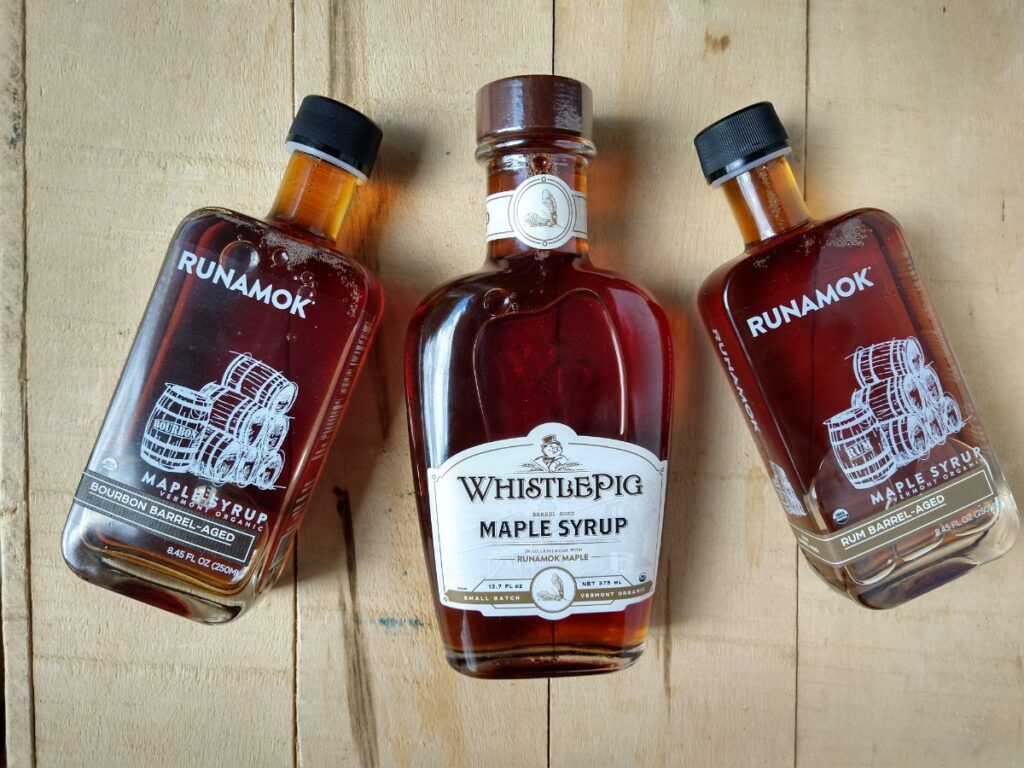 This post includes affiliate links. This means that at no additional cost to you, I will earn a commission if you click through and make a purchase. These are products and services I recommend because I use or trust them. Cookies will be used to track the affiliate links you click.
If there is one thing I didn't have enough of as a kid it is maple syrup.
I honestly can't ever recall having the real stuff until I was an adult.
I certainly never had it at a restaurant. My favorite thing to order on vacation for breakfast was always French toast, so I had a lot of syrup during those trips, but never the legit stuff.
Now as an adult I have come to learn that real maple syrup is a magical elixir that is one of the most tasty things ever created on this planet.
I love it all, especially the really dark, grade B stuff - now normally referred to as Grade A Dark Amber.
I didn't think it could get any better. Then I made a discovery - many maple syrup producers are aging the syrup in bourbon barrels!
Mind blown!
I first saw this concept at Trader Joe's. Tried it, wasn't all that impressive honestly. I had a gift card for Whole Foods and found another barrel aged syrup and my tune was changed.
Jump to: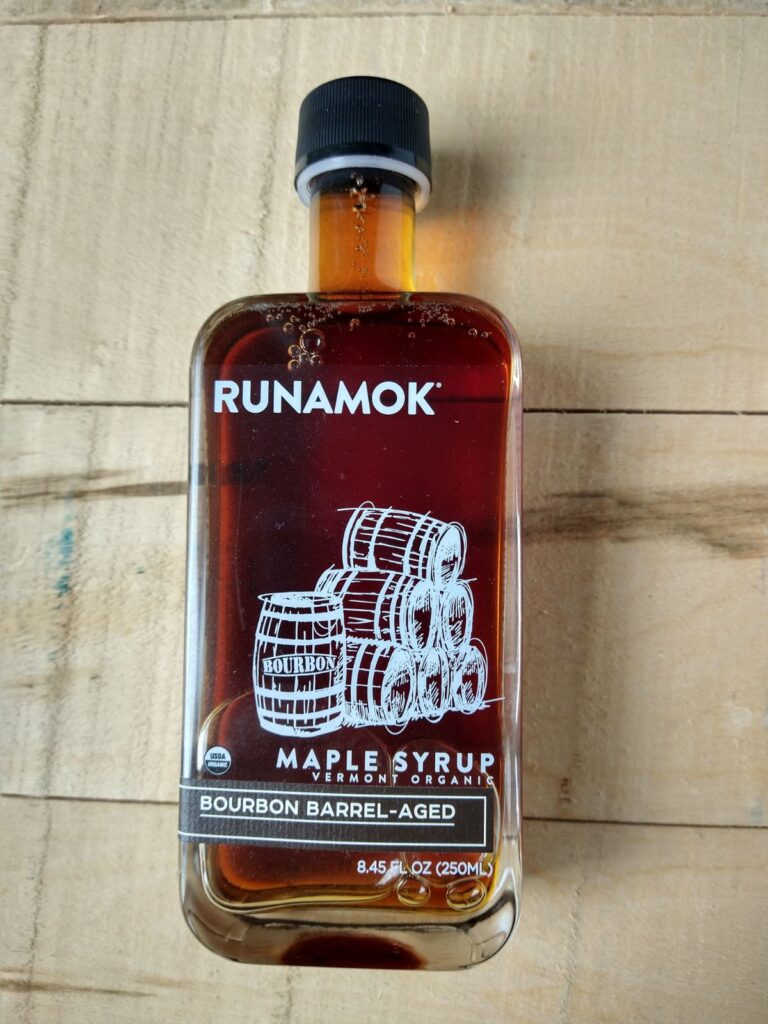 👅 What Does It Taste Like
This process of aging the syrup in bourbon barrel really enhances the flavor of the maple syrup.
It has a richer, more complex, smoky, butterscotch-like flavor. It is all done without adding any additional ingredients to it. Just look at the ingredient list on any bottle and you will still just see maple syrup.
🛢️ How Is It Aged?
How each producer ages the syrup is different and sometime it's a closely keep secret. It's not often you find out how long the syrup was aged for or the exact process used. I appreciate when the secrets are revealed.
It's more than just putting maple syrup in a barrel. You need the right type of barrel. Some producer will look for white oak barrels that were used first for bourbon.
Then they chose a specific maple syrup that has the right strength to create that balance of flavor you get from barrels. You don't want the maple syrup to have too strong or too weak of a maple flavor.
🏆 What's the Best?
I have tried several different brands. The one that I think is the best is made by Runamok. They are from the maple syrup state of Vermont. A small family business that began when they wanted to bring innovation to the maple syrup industry. And boy have they done that with unique syrup like their Sparkle maple syrup that contains food-grade edible sparkles.
Why is Runamok the best? It's all about the flavor. I found consistently among their product line amazing flavor. You can tell no corner was cut. Sometimes you will find barrel aged syrup that really doesn't taste any different. Runamok is legit.
🍁 Order your own bottle of Runamok Bourbon Barrel Aged
They also make these barrel aged syrups as well. Oh and I didn't mention yet their syrup is USDA Organic.
🏴‍☠️ Rum Barrel Aged
Besides bourbon barrels, Runamok is aging syrup in rum barrels as well.
🍁 Order your own bottle of Runamok Rum Barrel Aged
As compared to the Bourbon barrel aged, I didn't find this one very different in flavor myself. Some would say the flavor has a sweeter finished. I did not notice that myself, but either way this is a delicious maple syrup that is on par with the Bourbon.
🐖 Whiskey Barrel Aged
This syrup is aged in WhistlePig Rye Whiskey barrels for up to 12 months.
🍁 Order your own bottle of Whistle Pig Maple Syrup
I found this one had the most intense flavor. Put this syrup on someone's pancakes without knowing and you are really going to get their attention.
❔ FAQ
Here are the answers to two questions that might be rattling around in your head.
No, you don't show your ID to buy it.
Yes, it's going to be more expensive than your normal maple syrup, I would let the kid just go crazy with it at the breakfast table.
Why More Money?
The higher cost is to be expected as it takes time for the syrup to age. What they say is true - time is money! In this case, spending more of your money will bring a better product to your table.
Does It Have Alcohol?
After the maple syrup is done aging, I have heard one producer say that they heat the syrup back up to get rid of any alcohol. However I once heard Alton Brown say that you don't cook off 100% of the alcohol, there still could be a trace amount, but it's extremely small.
Runamok says for their barrel aged syrups that they "may contain trace amounts of alcohol up to 1%."
I have never been asked for an ID to buy barrel aged syrup just as I have never been asked for buying vanilla extract that utilized alcohol.
I do say if you are someone that can't have alcohol for whatever circumstance that you should still avoid barrel aged syrups.
How to Use
Any barrel aged syrup can be used like regular maple syrup. With it's additional flavor boast it's a great time to use it for more than just pancakes. Here are some uses I recommend -
Coffee - my wife's favorite use
Salad dressings
Yogurt, we use it on our Instant Pot homemade yogurt
On veggies, especially Brussel sprouts!
In baked goods, like this blueberry maple buckle
Do You Need to Refrigerate
Yes, after you open the syrup you should keep it in the fridge. Now it's not like leaving out raw chicken. It's not just going to go bad like that. Over time you will reduce the amount of time it will be good. Mold could still grow. But don't panic if you left it from breakfast in the morning and didn't notice until lunch time.
Does It Expire?
Most people will give you a general rule to use it up within a year. I can't imagine having maple syrup last in my house that long.