Inspired by Alton Brown's Blueberry Buckle, this recipe takes the dessert to a whole another level as they are sweetened with maple sugar and maple syrup. I'm calling this the Best Blueberry Buckle ever, if not the best dessert I have made with maple syrup.
Ground ginger and freshly grated nutmeg, add in more flavor to this dessert (or you could eat it for breakfast).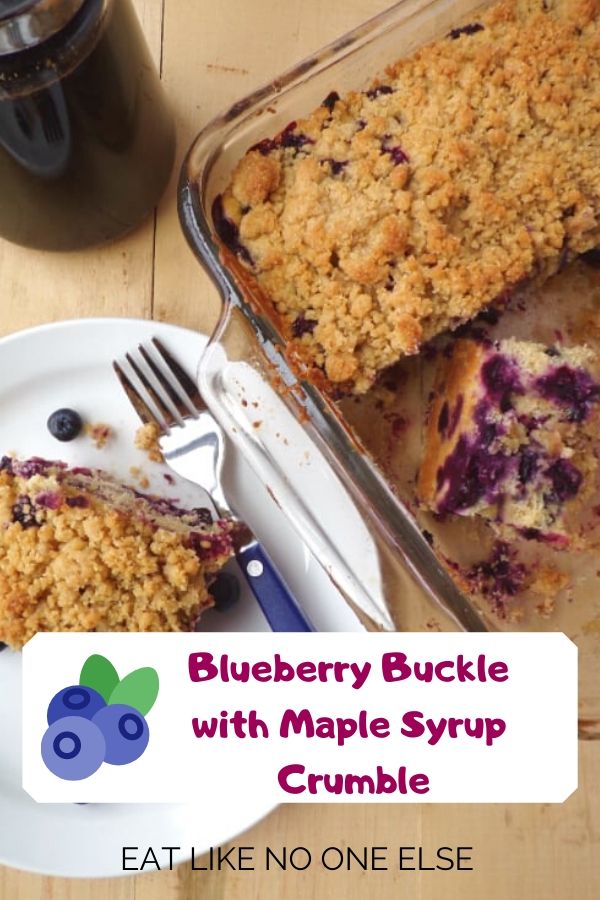 This post includes affiliate links. This means that at no additional cost to you, I will earn a commission if you click through and make a purchase. These are products and services I recommend because I use or trust them. Cookies will be used to track the affiliate links you click.
There is no doubt about. Blueberry Buckle is one of the greatest things ever invented.
No other dessert has the same name as a structural failure as well as something that attaches to my belt.
What is great about a buckle is that its the perfect marriage of cake, pie, and cobbler. You got the fruit you associate with pies, you got a crumble topping that you associated with cobbler, and it is all in the package of a cake - the kind you would want to eat with your coffee.
Yeah buckle is pretty perfect. I have been making Alton Brown's Blueberry Buckle every blueberry season for several years now. It has become a tradition.
So I am here today to say that I am screwing with tradition. And at the same time trying to top Alton Brown's recipe. Sacrilegious you say. I would say I am simply trying to make good eats (notice the lowercase letters to apply I am not referring specifically to the Food Network show with the same name 🙂 )
Jump to:
🛒 Ingredients
Here is what you will need to make this recipe:
For the batter
Cake flour
Butter
Maple sugar
Egg
Whole milk
Fresh or frozen blueberries
For the topping
Light brown sugar
Whole nutmeg
Maple syrup
Butter
🍁 Baking with Maple Syrup
So you may be wondering how I improved on a great blueberry buckle recipe. Maple is the answer. My good friends at Mohawk Valley Trading Company sent me some of their maple syrup as well as their maple sugar. You also could try using barrel aged syrup. They have become increasingly popular in recent years.
I decided to use the maple syrup in the streusel topping for the blueberry buckle. The maple sugar i used in the batter.
Why do this? Simple. Flavor. I figure anytime you can replace white sugar with something that imparts its own flavor, than go for it.
The topping I made with the maple syrup was more flavorful by far and it browned better in the oven. Alton's topping is rather light in color. The cake is done before it get really than brown.
♻️ Substitute for White Sugar
The advantage of maple sugar as opposed to syrup is that you can add it to baked goods without it messing with the amount of liquid. If you use syrup you have to adjust the amount of liquid you use.
Most people online suggest using less maple sugar than you would white sugar. I wanted my buckle to have a strong maple flavor, so ignored all that advice and used it 1:1. If you want you could easily do ½ maple sugar and ½ white sugar.
🎂 Why Cake Flour?
The reason you want to use cake flour instead of all purpose is because you want a lower protein flour to make a lighter cake. You aren't making bread here so you don't need a lot of gluten.
🤏 Pick Your Berries
I am very fortunate to live in a great fruit state. Here in Michigan we have the opportunity to pick our own fruit throughout the late spring and summer. So far this year I have already picked strawberries, Saskatoon berries (you could use them to make a buckle too), mulberries, tart cherries, apricots, and blueberries.
Michigan is one of the top blueberry producing states in the nation. I have plenty of options to go to pick my own. We love to take the kids picking as it is some of the most kid friendly u-picking your going to do. The kids can reach the fruit standing up without the need for a ladder. There are also no thorns to worry about.
RELATED - When are Blueberries in Season?
🔵 More Blueberry Posts
Here are some more blueberry posts you'll want to check out
Maple Blueberry Buckle
A take on Alton Brown's Blueberry Buckle with maple syrup and maple sugar
Print
Pin
Rate
Ingredients
9

ounces

cake flour

don't substitute AP flour

½

teaspoon

kosher salt

1

teaspoon

baking powder

½

teaspoon

ground ginger

4

tablespoons

butter

room temperature

5 ¼

ounces

maple sugar

1

large

egg

room temperature

½

cup

whole milk

15

ounces

blueberries
For the topping
4 ¼

ounces

all-purpose flour

2

tablespoons

light brown sugar

¼

teaspoon

nutmeg

freshly grated please

3

tablespoons

maple syrup

darker, the better

3

tablespoons

cold butter

cubed

pinch

kosher salt
Instructions
Preheat your oven to 375 degrees. Liberally spray a 9-inch square glass baking dish with non-stick cooking spray.

To make the batter
In a medium sized mixing bowl, combine the cake flour, baking powder, salt, and ground ginger.


In the bowl of your stand mixer, combine the room temperature butter and the maple sugar. Use your paddle attachment and cream the butter and sugar on medium speed til light and fluffy, should take about 60 seconds.


Reduce the speed and add your egg, mix to just combine.


With the mixing running on low, alternate adding the flour mixture and the milk until everything is added and the batter just comes together. Don't overmix.


Turn the mixer off, and gently stir in the blueberries. Pour the mixture in into your glass baking dish.

To make the topping
In a large mixing bowl, combine the flour, brown sugar, maple syrup, salt, and nutmeg.

Add the cubed butter into the bowl. With your hand work in the butter until it resembles a coarse cornmeal.
To bake the buckle
Sprinkle the topping over the batter. Bake in the center of your oven for 40-45 mintues or until browned and a tooth pick comes out clean.

Allow to cool for a half hour before consuming.
Tried this recipe?
Mention @eatlikenooneelse or tag #eatlikenooneelse