This steak sure has a strange name, it has several other name as well. Learn about the Teres Major from where to buy it to how you should be cooking it. It's one tender steak that is worth every penny - it can be less pennies than Filet mignon!
This post includes affiliate links. This means that at no additional cost to you, I will earn a commission if you click through and make a purchase. These are products and services I recommend because I use or trust them. Cookies will be used to track the affiliate links you click.
Teres Major. What a strange name for a steak.
I am about to tell you why you shouldn't sleep on this steak and where you can get on to cook up yourself.
Jump to:
🐄 What is Teres Major?
Steaks are all about location. Where on the cow does it come from? This steak is cut from the chuck primal of the cow. This is at the front of the animal, near the head. The best pot roast comes from chuck. I also like to use ground chuck for burgers.
Other names used for Teres Major include - shoulder tender steak, petite tender steak, bristo filet, or mock tender steak.
Normally you might think a steak cut from the chuck primal will be tough. But Teres Major is actually a very tender steak, nearly rivaling the actual tenderloin! Location again comes into factor. Teres Major comes from right below the cow's leg. That muscle doesn't get as much work as surrounding ones. The more work a muscle in a cow gets, the tougher it will be.
The flat iron steak is located close to the Teres Major and could be used as a substitute for it.
💲 Where to Buy
Despite being a tender steak that you think would be in high demand, they are not easy to find. Why? Because they are not easy to remove for the butcher. It takes a skilled butcher to remove it. It most often is cut in half and used for ground beef as that is much quicker to do.
I have never seen them carried in a major grocery store. I have seen them advertised by small local butchers and there are several online sources you can turn to. The one I recommend and where I got my first Teres Major steak from is Porter Road out of Nashville, Tennessee.
🎵 Porter Road Review
Order Teres Major steak from Porter Road.
The Teres Major steak from Porter Road certainly does not disappoint. It's tender as you would dream of. 100% of the meat is useable meat. It doesn't have a bone, grizzle, silverskin, or extraordinary fatty pieces. It's great value when you don't have to discard anything.
If you want to try something that was crafted by a skilled butcher than dry aged for intense flavor than give this steak a try. The steak is shipped frozen and will weight between .5-.75 lbs.
🔥 How to Cook
It's a lean steak. You need to cook it accordingly so it won't dry out. Cook it over high heat whether that is a grill or in a skillet - cast iron is best. You want it to be medium rare at most.
The way I get a perfect medium rare steak is via sous vide. Keep reading on for sous vide instructions.
📋 Sous Vide Instructions
You can keep the seasoning pretty simple - kosher salt and black pepper. You don't need anything else.
Once seasoned, it's time to seal the steak for cooking. The two things I use for vacuum sealing my steaks for the water bath are:
Do your best to get as much air as you can. Sometimes the steak will want to float. If that happens just use a heavy object like a pot to keep the steak under water. Just make sure you don't pass the max fill line on the immersion circulator.
Set your water bath to 138 degrees for 1-2 hours. At least one hour is necessarily and you can do up to 2 hours. Sous vide cooking is forgiving, making it easy to work on the rest of your meal and your steak can be ready when everything else is.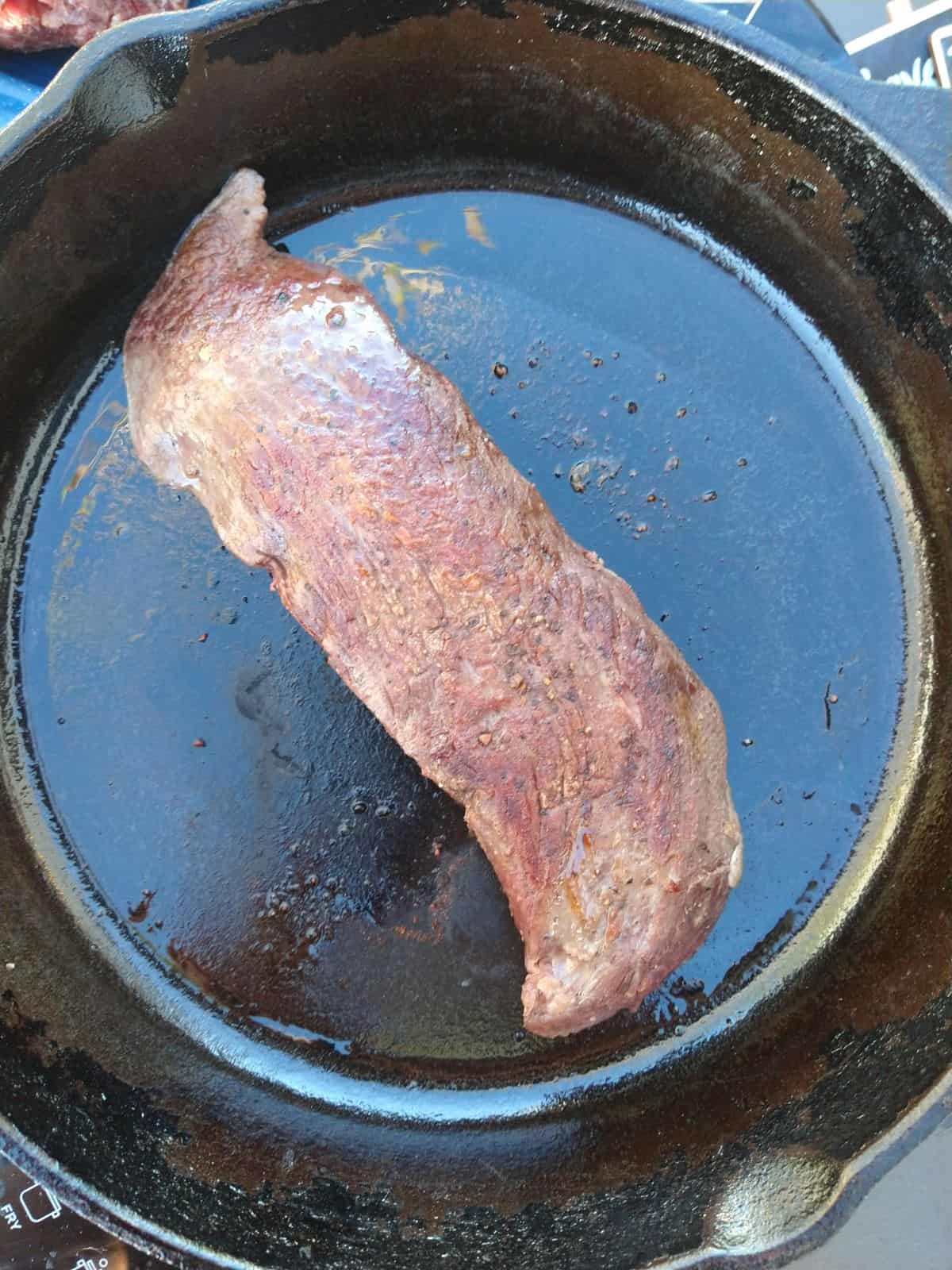 When the steak is done with it's bath, throw it into a really hot cast iron skillet or pan. I use an induction cooktop and Lodge Cast Iron skillet.
♨️ Sear 1 minute per side just to get some brown on the outside of the steak.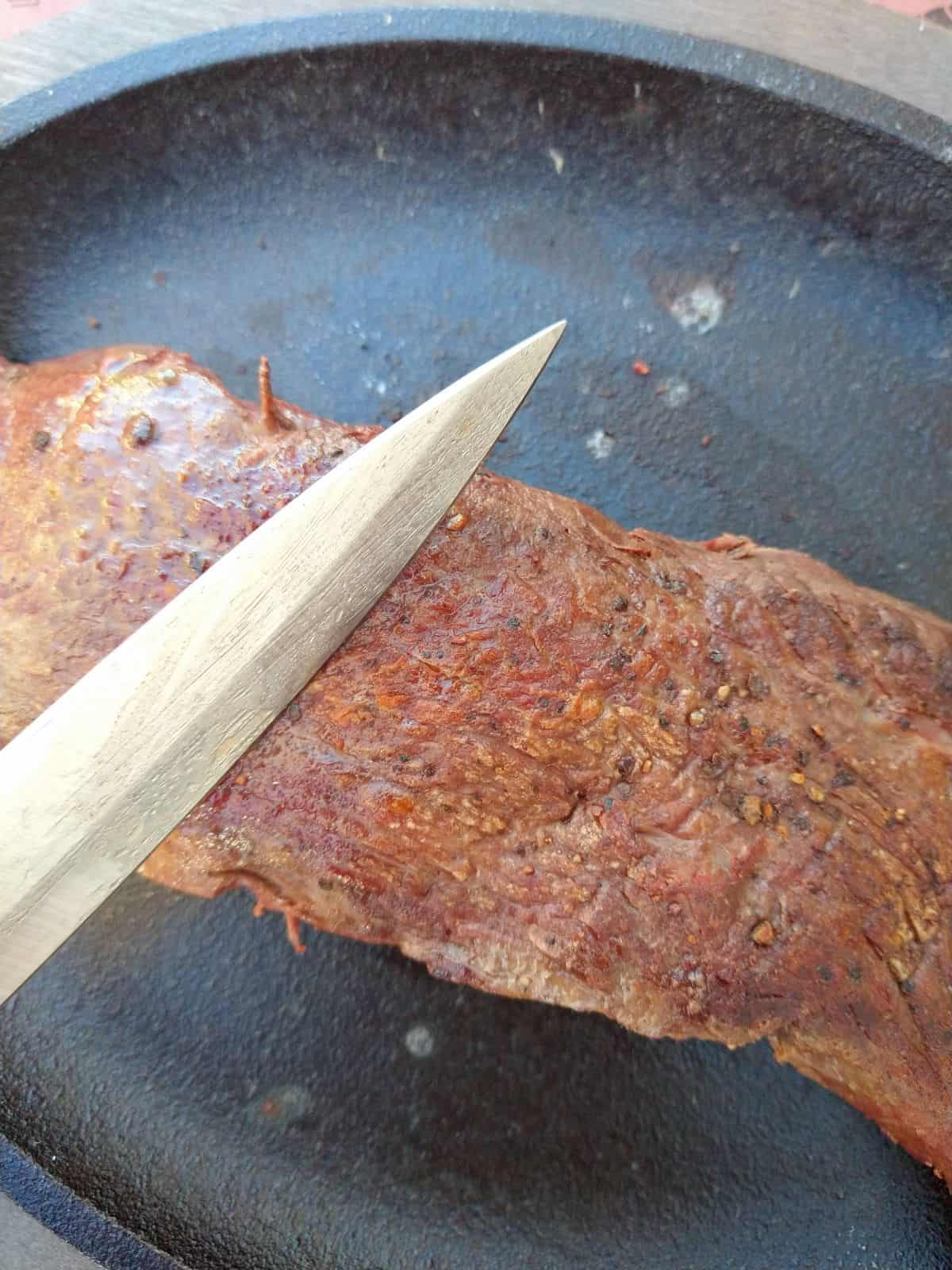 This might be one of the biggest things to remember. Cut the steak AGAINST the grain. Find where the lines of meat are in cut against them. This will make the steak tender in your mouth as you are cutting the muscle fibers shorter. If you cut at an angle it will look beautiful on the plate.
🥩 More Steak Posts
The true steak lover is going to want check out these blog posts.
⭐ More Porter Road Reviews
We are working on reviewing more and more of their products. Here is what we have so far.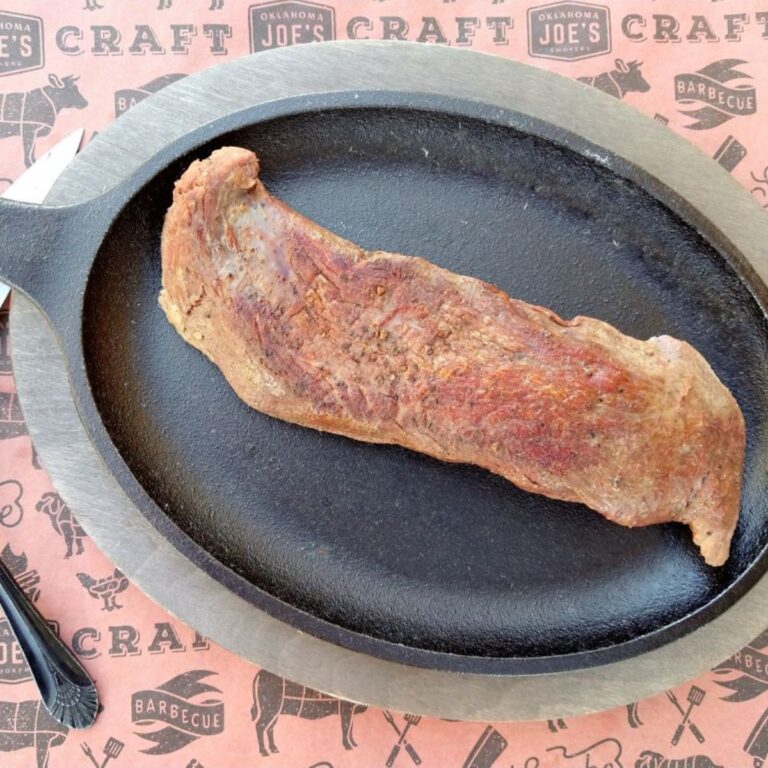 Sous Vide Teres Major Steak
Instructions for sous viding a Teres Major steak
Print
Pin
Rate
Instructions
Set your sous vide water bath to 138 degrees - the temperature for medium rare.

Add salt and pepper to both sides of the steak to your tastes.

Seal the steak with a vacuum sealer or the water displacement method.

Add to water bath. Find that it's floating? Clip it to the side of the water bath or use a heavy object like a pot to weigh it down. Make sure to not pass the max fill line for your machine.

Remove the steak from the water bath. I use tongs so I don't touch the hot water.

You can drain the liquid inside the bag into a small bowl for dipping. It's optional.

Put a cast iron skillet over high heat. Once the skillet is hot, add 2 tablespoons of your favorite cooking oil. Cook the steak for 1 minute per side to brown each side.

Slice the steak against the grain when serving.
Tried this recipe?
Mention @eatlikenooneelse or tag #eatlikenooneelse