Learn all about this unheralded cut of pork that needs to be on more people's dinner tables. Find out where to buy and get our recipe for cooking it in the oven.
This post includes affiliate links. This means that at no additional cost to you, I will earn a commission if you click through and make a purchase. These are products and services I recommend because I use or trust them. Cookies will be used to track the affiliate links you click.
🎙️ Hit play below to listen to this blog post via our podcast
When you think of brisket, you think of beef. Probably smoked and cooked very slowly, then splattered in BBQ sauce. Yum! But did you know that brisket isn't just a cow thing. There is also pork brisket.
We are going to tell you all about it, including a simple way to cook it that led my son to declare this was the best pork he ever had!
Jump to:
🐖 What is Pork Brisket?
Porter Road introduced me to pork brisket. I have never even heard of it before. If you look at both cows and pigs, you will see some similarities. Both walk on all fours. They work similar muscles. Brisket is found in the lower front region of the cow. Same for the pig. Mainly pork brisket is included with picnic ham when it's butchered. Some butchers like Porter Road will separate it.
Brisket on a pig is a lot smaller of an area. It isn't a huge cut of meat that can feed a crowd.
Sometimes you can find pork brisket with the skin on. Great if you want to use the skin to make some cracklings!
💲 Where to Buy
You got to know a guy (or gal) to find pork brisket. Supermarket butchers are unlikely to know what you are talking about. But a good, local butcher might be able to assist you.
I am lucky as I know a guy. In 2021, I got to hang out with one of the founders of Porter Road, James Peisker, at his butcher shop in Music City. It's the place to go to try different cuts of meat that you have never heard of (Sierra steak is another) as well as to get the best Ribeyes, hot dogs, and anything that comes from a cow, pig, or chicken.
🎵 Porter Road Review
Order a pork brisket from them and see what they are all about. I think any pork lover needs to give it a try at least once. They are shipped frozen from Porter Road and average in size between 1.25-1.75 lbs. Mine was actually 1.88 lbs. It ended up being enough for my family of 6 for one meal.
So now on to what I think of their pork brisket. I loved it. My whole family (at least the ones that like meat) loved it. The rub I put it on give it a ton of flavor. The meat was tender and rich in pork flavor. The texture was different than pulled. I don't think flaky like fish would be the perfect comparison but imagine that in pork form and you'll get pretty close. My son can't wait until I get some again and he has never given a ringing endorsement to pork before.
The brisket was trimmed by someone who knew what they were doing. Every morsel of meat was eaten, with zero waste.
🔥 How to Cook
There is no doubt that smoking this piece of meat is a fantastic idea. You can roast in the oven as well. Anyway you cook it, you got to treat it like beef brisket and go low and slow - a low temperature for a long cook time. The meat has connective tissue that needs time to be broken down. When it is, it's finger licking good meat.
I opted to cook it in the oven just as Porter Road recommended at 225 degrees for 4 hours or until it hit an internal temperature of 200 degrees.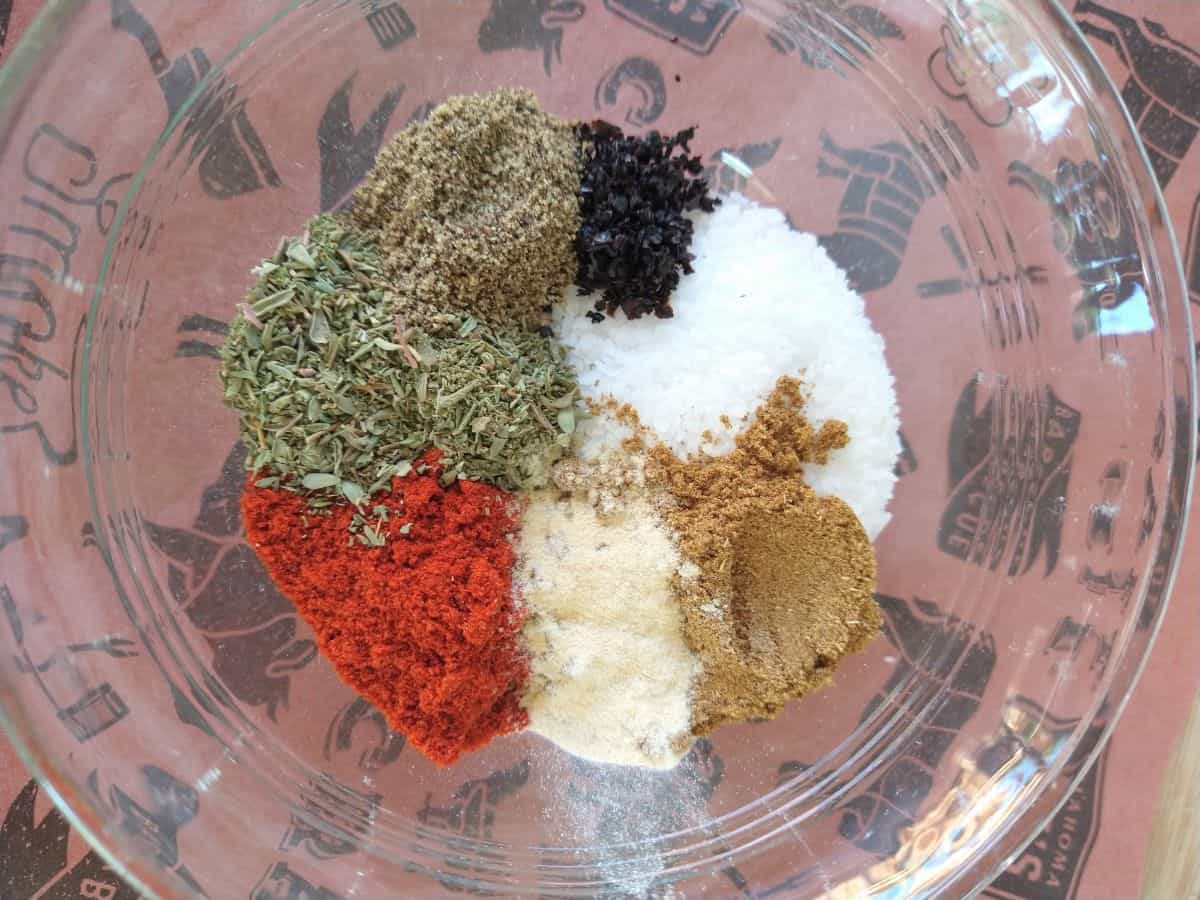 🛒 Ingredients
You got your pork brisket, now it's time to get your seasonings together.
I am of the philosophy why buy a rub when you can just make one yourself. Pick out the best spices you can find. You can customize to your tastes and to what you have on hand. I have a lot of success lately sticking with a simple formula of 1 tablespoon of kosher salt and then 1 teaspoon each of everything else. The only time I don't do a teaspoon is if I am adding something with some heat and don't want it to overwhelm (I am father of 4, so I'm always cooking for kids).
Here is what was in our rub.
I want to point out one ingredient in this rub - Black Urfa Chili. I got it from my favorite spice source - Burlap & Barrel. The chili is cured and packed with sunflower oil and salt. You open the jar and it smells like raisins. It's mild but adds the little something extra that everyone is sure to love. You also need to add it to your morning eggs!
📋 Oven Instructions
Set your oven to 225 degrees.
Place the pork brisket onto a sheet pan. I like to line it with parchment paper so it doesn't stick to the pan. Rub all of your spice rub on both sides.
Into the oven for 4 hours or until the internal temperature of the pork reaches 200 degrees. I use a probe thermometer to monitor the temperature while the pork cooks.
Allow the meat 10 minutes to rest before cutting into. Look for the grain of the pork and try to cut against that for the most tender meat.
🐷 More Pork Posts
Check out what else we have written about pork on the blog.
⭐ More Porter Road Reviews
We are working on reviewing more and more of their products. Here is what we have so far.
Instructions
Preheat the oven to 225 degrees

Combine all the salt, spices, and herbs together in a small bowl.

Place the brisket onto a sheet pan. Line with parchment paper if you like.

Rub the spice rub all over the meat on both sides.

Place the meat into the oven for 4 hours or until it reaches an internal temperature of 200 degrees.

Allow the meat to rest for 10 minutes.

Carve the meat against the grain.
Notes
An optional ingredient for the rub but one I recommend getting is Black Urfa Chili. It's a chili that is cured and packed with sunflower oil and salt. You open the jar and it smells like raisins. It add some mild heat and a savory flavor.
Tried this recipe?
Mention @eatlikenooneelse or tag #eatlikenooneelse