Enjoy the most tender corned beef with this 24 hour sous vide method. Also get our tip for reducing the amount of salt in the meat.
This post includes affiliate links. This means that at no additional cost to you, I will earn a commission if you click through and make a purchase. These are products and services I recommend because I use or trust them. Cookies will be used to track the affiliate links you click.
So far in my sous vide experience I have not come across a cut of meat that wasn't better with the sous vide treatment.
Every year for St. Patrick's Day, we make corned beef. I love our Instant Pot method, but wanted to try it via sous vide. The Instant Pot was meant to speed up the process but in this case we are going to slow it down and cook it in a sous vide water bath for 24 hours.
Let's show you how.
Jump to:
⏲️ Why 24 Hours?
Why am I cooking for 24 hours? There are recipes that say to do it for 48 or 72 hours. I wanted to test it out at a time that would be more approachable. Many of us would not think of starting the corned beef 2-3 days before hand. But the day before, when you probably have already bought it is more likely for most of us.
Plus I wanted to see if 24 hours would be enough and how tender the corned beef would be.
Corned beef always needs a long cooking time. It's made from cuts that are tough and contain a lot of connective tissue. Even though the meat is basically pickled or corned it still needs time to cook so it's tender.
🧂 How to Make Less Salty?
Usually when you cook corned beef you do it in a liquid. Corned beef is cured so it's pretty salty. Some of that salt will end up in the cooking liquid. However with sous vide you are cooking the corned beef without any liquid in the bag. So that salt will be in all in the beef.
Here is what you can do to ensure your corned beef isn't overly salty. Place the corned beef into a bowl of cold water for about 3 hours before cooking. I did this and I found that the final corned beef wasn't too salty at all.
The salt content is going to vary between corned beef but it worked with what I bought.
🌡️ What Temperature?
Depending on your tastes you could choose different temperatures. My goal for corned beef is it for it to be tender, yet sliceable still. I don't want it to simply fall apart like pulled pork.
152 degrees produces a sous vide corned beef that is tender and sliceable. A great quality for sandwiches.
Any higher than that the may start falling apart and d that's fine if that is what you want
📋 Instructions
As we said above we want to reduce the salt level of the corned beef. So start by soaking it in a bowl of cold water. Don't leave it out to soak, do it in the fridge.
After the 3 hours you will notice the water has taken on some of the pink color. Remove the corned beef from the bowl and dispose of the water.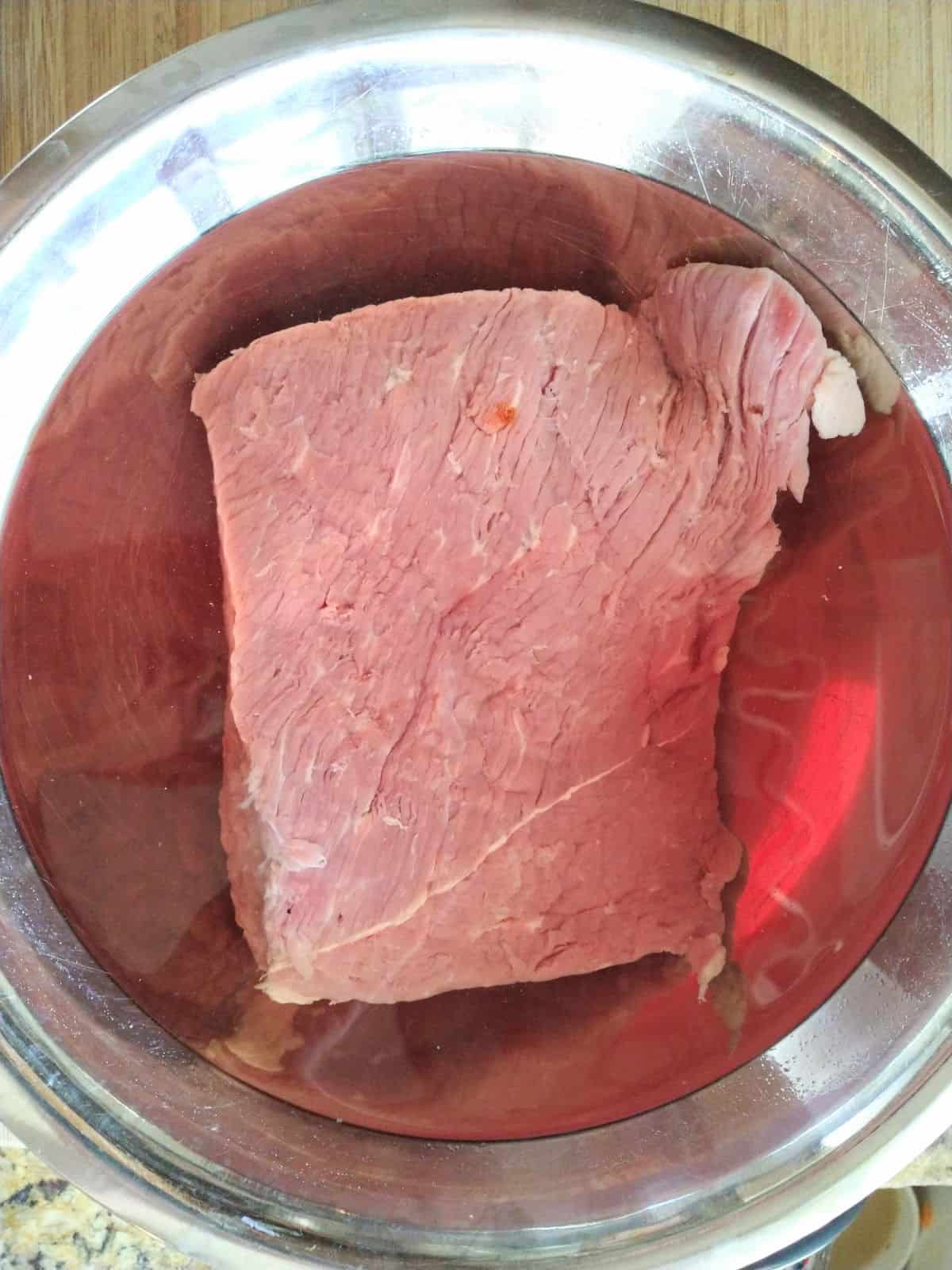 Corned beef always comes with a seasoning pack. But I think those little tiny packets aren't enough. I usually like to add a little more, it's optional but here are some guidelines if you do. I just eyeball it with whatever I can find in my spice cabinet. Typical spices used for corned beef are:
Mustard seeds
Coriander
Anise seeds
Peppercorns
Cloves
Cardamom
Ground ginger
Bay leaves
Allspice berries
Juniper berries
If you got any of those spices combine what you want in a bowl and rub them onto the corned beef. Don't forget to open up the small seasoning pack as well. Anywhere between ½ teaspoon to 1 teaspoon for each spice would be fine. I think corned beef should be loaded with spices!
Vacuum seal the corned beef and put it into the water bath. Since I am cooking it for so long I don't worry about waiting for the water to preheat all the way. It's fast enough anyway as is.
Then it's into the water bath for the next 24 hours.
Make sure the corned beef is under water. If it's floating at all make sure to put something on top of it, like a heavy bowl or small pot. It must stay submerged. Also with such a long cooking time, you are going to lose some water.
Check it before going to bed to make sure you are staying over the minimum fill line. Covering the water bath with foil is a good way to help keep moisture in.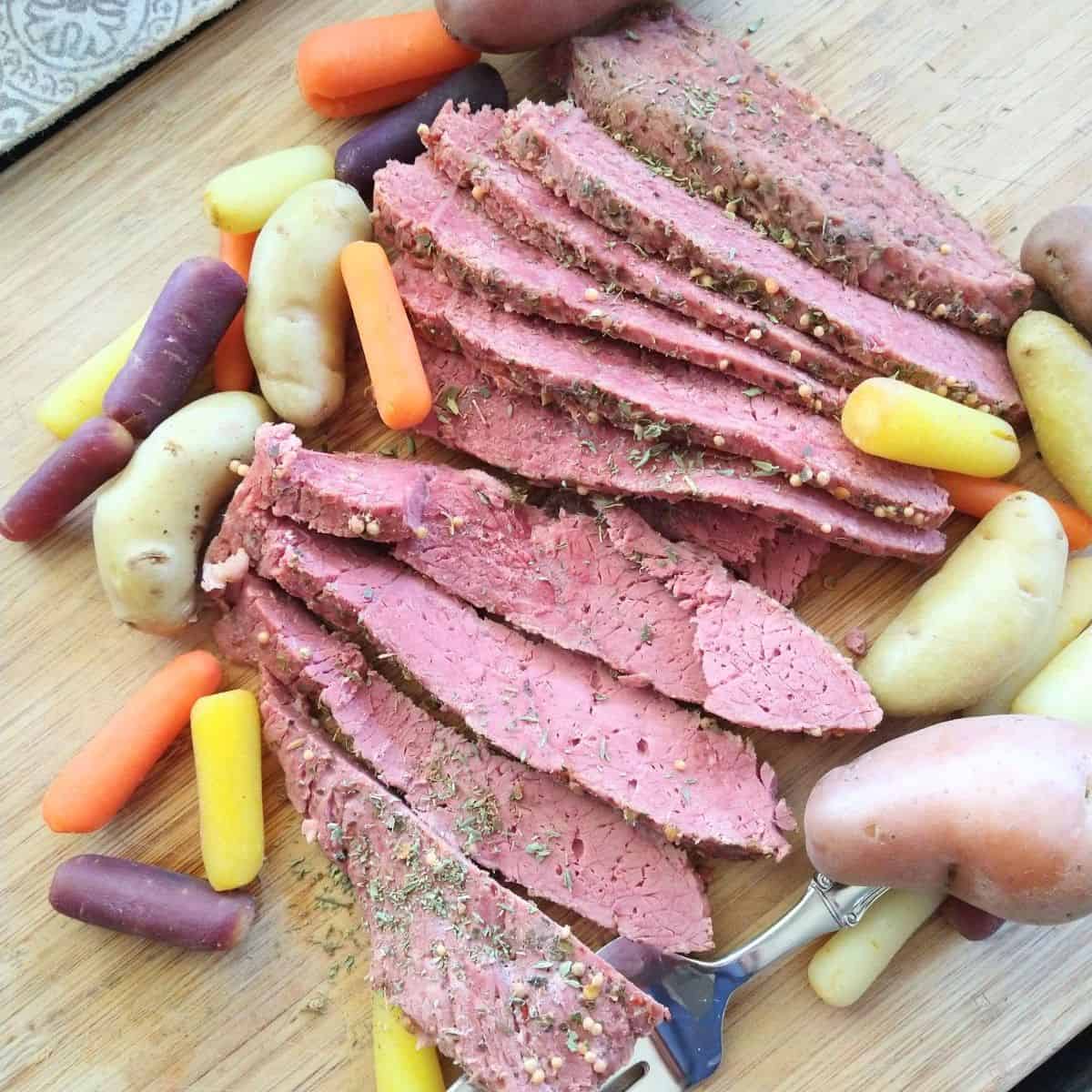 When the time is up. Remove from the water bath and cut open the vacuum sealed bag, being careful not to to spill any liquid that has collected. When you are ready to eat, slice the meat against he grain
If it's not quite dinner time yet, you can let it go longer or if you are hungry now an it's only been 23 hours, just go ahead and dig in.
➕ More Corned Beef Posts
Read more about corned beef on the blog:
Ingredients
raw packaged corned beef

additional spices (see notes)

optional
Instructions
In order to make the corned beef less salty, remove it from it's packaging, place into a bowl of water. Place the water in the fridge for 3 hours. You can skip this if you aren't worried about your corned beef being too salty.

Remove corned beef from the water. Pat dry.

Add the contents of the spice packet that came with the corned beef along with any additional spices you would like (see notes).

Vacuum seal the corned beef.

Add to a 152 degree water bath. Set to cook for 24 hours.

Make sure the waterline stays about the minimum line for your sous vide machine. Covering with foil will help keep water from evaporating.

After 24 hours carefully remove the corned beef with some tongs. Cut open the package and move the corned beef to a cutting board.

Slice the corned beef against the grain and serve.

Refrigerate leftovers and try to use up within 3-4 days.
Notes
We recommend soaking the corned beef before cooking via sous vide. Since the meat itself isn't being cooked in water, it won't lose any salt to the liquid like other methods for cooking corned beef. This could leave your corned beef to be too salty for your liking. 
If you want to add extra spices, use ½ teaspoon of any of these spices.
Mustard seeds
Coriander
Anise seeds
Peppercorns
Cloves
Cardamom
Ground ginger
Bay leaves
Allspice berries
Juniper berries
Tried this recipe?
Mention @eatlikenooneelse or tag #eatlikenooneelse