Got leftover corned beef? Maybe some potatoes as well? Mix it all into some eggs and make these delicious moist, egg bites in your Instant Pot.
Leftovers - Yay or nah?
I like having leftovers in the house for two reasons.
You can take a break from having to cook for the night or even more importantly a break from dishes and cleaning.
You have a chance to take those leftovers and turn them into a whole new dish
Reason no. 2 is why we are here today.
Whenever I make corned beef there is always leftovers. It's the beauty of cooking a big chunk of beef.
This year we wanted to try to make something new with the leftovers. We recently purchased two egg bite silicone molds. We having a lot of fun playing around with the molds.
The list of what we have made includes egg bites (of course), pancake bites, and "hard boiled" eggs. All in the Instant Pot with the silicone molds.
Usually my wife likes to make corned beef hash with leftover corned beef. In light of having the new molds I thought instead of putting the eggs on top of the corned beef and potatoes, let's try putting the corned beef and the potatoes inside the eggs.
Thus corned beef has egg bites were born.
These corned beef hash egg bites successfully gave us the flavor of a corned beef hash with less work and time. They are more portable too.
Sure there is that crunch that is missing from a good hash, so I wouldn't call this a replacement just another alternative that is more eggy!
Jump to: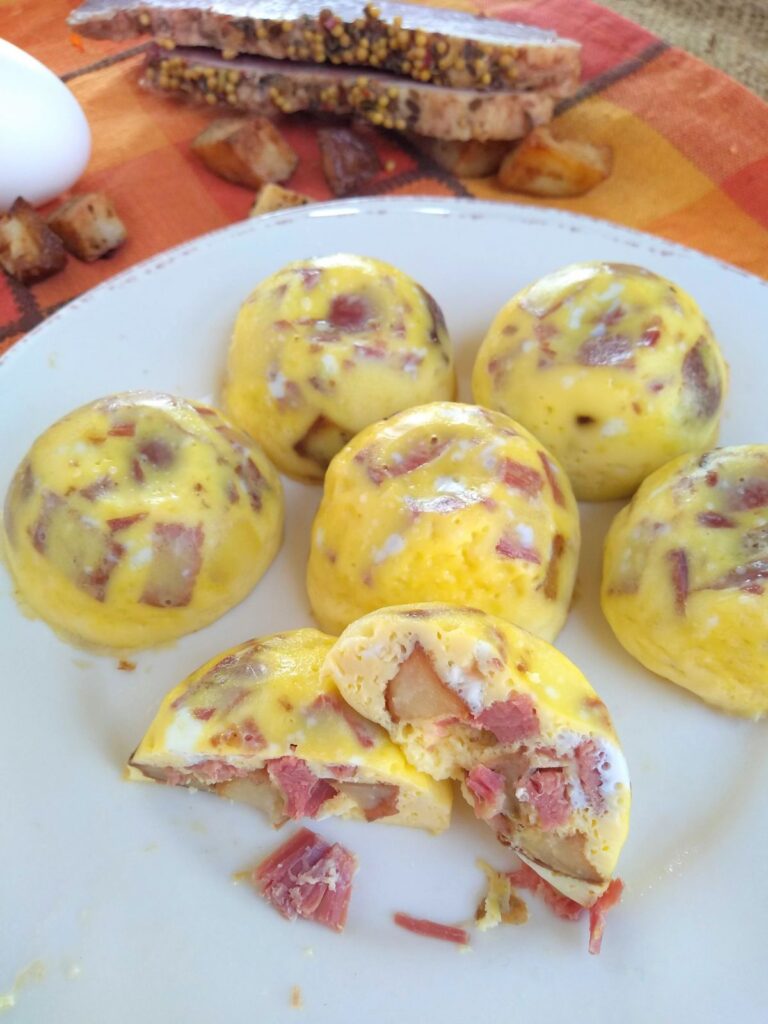 🐄 How I Cooked the Corned Beef
I am not going to into full detail here how I cooked the corned beef because I already covered that in another post (spoiler I did in the Instant Pot!)
A quick synopsis, I cooked it for 1 hour 25 minutes which produced a corned beef that was tender yet still slice-able without falling apart.
🛒 Ingredients
I like to buy my corned beef at Costco to make for St. Patrick's Day each year. I always have leftovers so these egg bites are always an option. Here is what you will need to make this recipe.
1 cup leftover corned beef cut into bite sized pieces
1 cup leftover potatoes cut into bite sized pieces
4 large eggs
splash half and half
If you only have corned beef, you could just include more beef instead of the potatoes. This would work for corned beef brisket or round.
📋 Instructions
Egg bites are so simple to make in the Instant Pot.
You first put the trivet at the bottom for the pot,
Add 1 cup of water, then add your silicone mold.
Close and seal the Instant Pot
Cook for 6 minutes on high pressure
Allow for a natural release
💡 Time Saving Tip - When you have two silicone molds you can stack them on top of each other when you want to make more egg bites. I can do 14 at a time that way. I recommend getting two of them if you cook for a family.
🍽️ RECIPE - Use the egg bite molds to make these Meatloaf Bites.
⏲️ How Long to Cook?
We tried a couple different times and have found that 6 minutes seems to be the sweet spot. Allow the Instant Pot to naturally release. It should take no more than 5 minutes. You can manual release after 5 minutes if its still locked.
When we tried them at 8 minutes, we found that the eggs were overcooked/dry.
🥚 Where to Buy Egg Molds
Look for them in stores where you can buy an Instant Pot such as Walmart or Bed, Bath, and Beyond. A lot of stores also carry different accessories.
Or you could just order them online. This is the silicone mold I use
🧰 Here are some other Instant Pot tools you should consider for your kitchen.
🐮 More Leftover Beef Recipes
Here are some other recipes you could use leftover corned beef in.
🍽️ More Instant Pot Recipes
Like this recipe? Try some of our other Instant Pot recipes.
Sign Up for Emails
Corned Beef Hash Egg Bites
Corned Beef Hash Egg Bites are a different take on corned beef hash made in the Instant Pot.
Print
Pin
Rate
Ingredients
1

cup

leftover corned beef

cut into bite sized pieces

1

cup

leftover potatoes

cut into bite sized pieces

4

large

eggs

splash

half and half
Instructions
Crack your eggs into a bowl, and scramble with a fork. Add a splash of half and half.

Spray the mold with a little oil to help them pop out when cooked.

Evenly distribute the corned beef and potatoes into the egg bite mold.

Fill the molds up with eggs. Don't fill them more than ¾ full.

Place the trivet into the bottom of your Instant Pot.

Place the mold into the Instant Pot.

Close the lid and set the Instant Pot to 6 minutes of high pressure cooking.

Allow for natural release. Should take about 5 minutes.

Remove the lid. Allow any excess steam to dissipate before carefully removing the silicone mold from the pot.

Turn the mold over pop out the bites over a plate. Serve hot.
Notes
This recipe makes 7 bites, Double everything and use a second mold to make 14. You can stack the molds on top of each other in the pot.
Tried this recipe?
Mention @eatlikenooneelse or tag #eatlikenooneelse