Find out to cook your potatoes quick and perfectly in the Instant Pot. No more overcooked potatoes. A great way to cook them year round for an easy side dish, but especially great for Thanksgiving as it saves stove space and you can keep them warm in the pot.
Why do people love the Instant Pot so much?
Speed. The Instant Pot is about cooking food faster than it would be using other methods.
That's the power of pressure. It's ability to increase the boiling point of water, cooking food faster.
Think of anything you boil. Would it be better to do in the Instant Pot? Let's explore one food today that is often boiled - potatoes. And why are they boiled? Well for mashed potatoes of course.
These are some of the best mashed potatoes I have ever made. They have more potato flavor than boiled potatoes.
Jump to:
🛒 Ingredients
Here is what you will need from the store to make these potatoes.
3 pounds gold potatoes quartered
4 tbsp butter cubed
⅓ to ¼ cup whole warm milk
kosher salt to taste
🥔 Best Potato
Gold or Yukon gold potatoes are really great for making mashed potatoes with. They have a beautiful yellow inferior and give the mashers a buttery taste. Red potatoes would work as well.
I normally don't use Russet potatoes unless I am making my Baked Mashed Potatoes.
➕ Optional
Here are some optional ingredients or substations you can make in this recipe.
Want a creamy texture? Use heavy cream or half and half instead of just milk
Use vegan butter instead
Add sour cream. I would do about ½ cup.
Add cream cheese, use about 8 ounces, cut into cubes
Garlic cloves
Fresh herbs
Black pepper - freshly cracked please!
⏲️ Cooking Time
Cooking time - 10 minutes of high pressure plus natural release
In order to make mashed potatoes in the Instant Pot, there are a couple things to consider. You don't want to overcook the potatoes and make them water logged. The downside about using an Instant Pot, is that you can't as easily check on them as you would if they are boiling away in a pot.
For 3 pounds of potatoes I would recommend cooking them no more than 10 minutes. That is how long I did mine, but I probably could have gotten away with doing them at 8 minutes and be perfectly fine. It can vary based on that potatoes used and what size you cut them.
If you are using small potatoes, you would be better off keeping them whole or just halved.
Just Enough Water
Next thing to consider is your water. You don't need to drown the potatoes in water. The more water you add, the longer it will take to come to pressure. Cover the potatoes about half way or ¾ quarters of the way with cold water. You don't need to completely cover them. All of my potatoes were cooked, even the ones that weren't completely covered at the top.
If you use more water it will also take longer for the pressure to release unless you do it manually. Some of the time I shy away from quick release, especially something that is starchy as I don't want starchy steam sticking all over my kitchen. I also want to use as little water as I can get away so that the potatoes aren't overcooked or absorb too much water. Quick cooking helps prevent that.
🏆 Fluffier Potatoes
In the past, I have talked about potato ricers on this blog. They are your friend. By taking the time to put your potatoes through a ricer you break them down and keep them from getting gummy - we aren't making bears!
If you don't have one, that is fine. Just don't work the potatoes too much if using a potato masher. You can whip them quickly with a electric mixer if you want. The ricer also helps remove the skins if your not a fan of peeling potatoes.[
🌡️ Keep Warm
Here is the absolutely beauty of cooking mashed potatoes in the Instant Pot - you can keep them warm. It's much easier to keep potatoes warm in the instant Pot than on the stove. You can finish them ahead of time for your meal and then just have them on the warm setting, ready to serve without having to dirty another vessel.
This is the kind of thing it would be helpful for to have the Instant Pot glass lid. It's easier to remove than the Instant Pot lid when it comes time to serve the potatoes.
📧 Sign Up for Emails
Don't miss anything we are posting about the Instant Pot. Sign up for our emails.
🥗 Potato Salad
You can use this recipe to cook your potatoes for potato salad. You may or may not want to shorten the cooking time by a minute or two if you want your potatoes to be firmer, but I think it would probably work as is.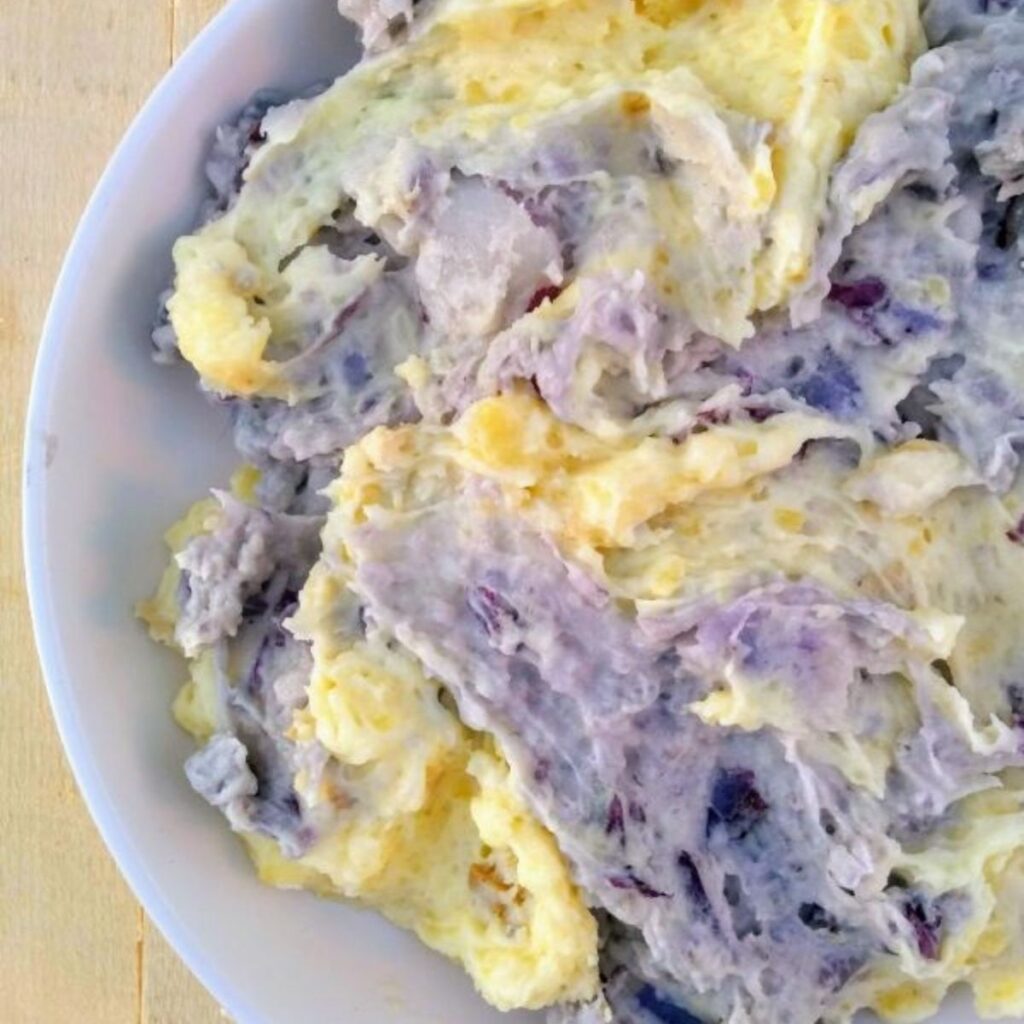 🍟 More Potato Recipes
Check out some of the other recipes on the blog and maybe you will find your new favorite potato recipe!
🍽️ More Instant Pot Recipes
Want some more things to make in the Instant Pot? Try these.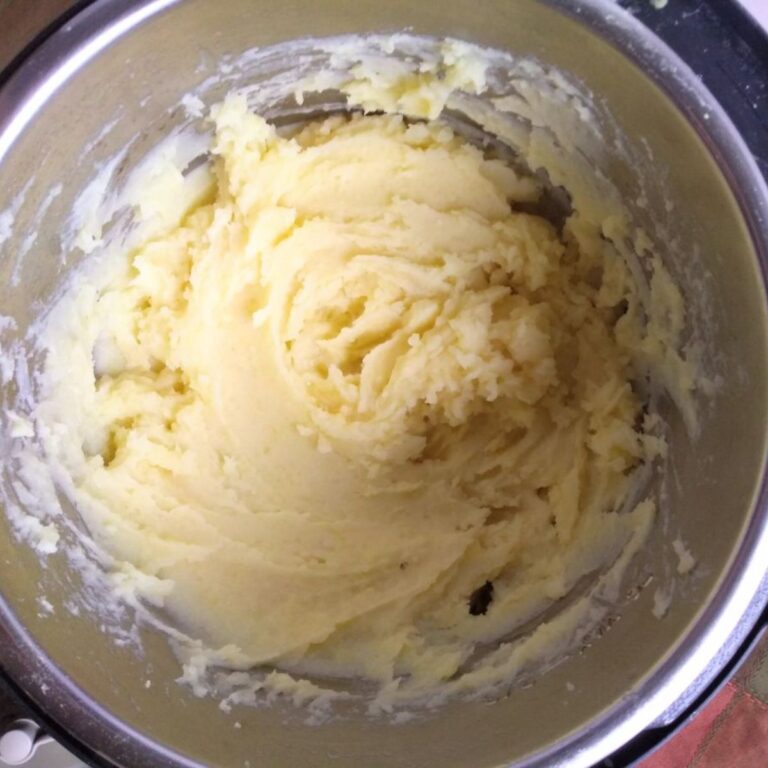 Ingredients
3

pounds

gold potatoes

quartered

4

tbsp

butter

cubed

⅓ to ¼

cup

whole warm milk

kosher salt

to taste
Instructions
Place your quartered potatoes in the Instant Pot. Add enough water to come up the potatoes ½ to ¾ of the way.

Seal the Instant Pot and cook at high pressure for 10 minutes. Allow for natural release.

Drain the potatoes. Then place them back in the pot. If using a ricer, run the potatoes through that first. If not using a ricer, mash the potaties with a potato masher or back of a wood spoon.

Add butter and salt to taste. Slowly add in the milk, only using what the potatoes need. Using a hand mixer or a whisk to just combine. Don't overwork them.

Set the Instant Pot to warm until ready to serve.
Tried this recipe?
Mention @eatlikenooneelse or tag #eatlikenooneelse