Learn how to use egg bite molds to make Instant Pot mini meatloaves - they are so cute! We use half ground beef and half ground pork sausage to make a delicious, tender meatloaf bite. The bites are topped with ketchup with smoked paprika and Worcestershire sauce.
Ultimate comfort food if I do say so myself. Double the recipe and make these for a Super Bowl party, holiday party, or any excuse you can come up with!
This post includes affiliate links. This means that, at no additional cost to you, I will earn a commission if you click through and make a purchase. These are products and services I recommend because I use or trust them. Cookies will be used to track the affiliate links you click.
What do you think when you hear the words "meatloaf"?
Do you have warm, comforting thoughts or did you just lose your appetite?
Meatloaf is one of those foods that we tend to have a strong opinion about. There are lots of bad meatloafs out there, that strike fear in anyone that eats them.
Luckily this meatloaf is not one of those.
No huge chunks of still raw onions - that is my meatloaf pet peeve.
No dry meatloaf you need to drink a gallon of water just so you don't risk needing the Heimlich maneuver performed on you.
This meatloaf won't just fall apart when you look at.
Did I mention that it's made in the Instant Pot using silicone egg bite molds? Another win for the pressure cooker!
Jump to:
🥚 Egg Bite Molds
The first decision that has to be made when you have decided your going to make meatloaf in the Instant Pot is how am I going to cook it? You don't just put the meat in the bottom fo the pot and cook it!
Most of the pans that we traditionally use for meatloaf don't fit in the Instant Pot.
I have seen people use a spring form pan, which isn't a bad idea. My vessel of choice is my silicone egg bite molds. Not only am I giving them another use besides just egg bites, I get to make cute, mini meatloaf.
You can read all about the egg bite silicone mold that I use in my post on What Tools to Use with Your Instant Pot. If you don't have molds you can use a muffin tin and just bake these in the oven instead.
🛒 Ingredients
Here is what you will need to make these meatloaf bites.
For the meatloaf mixture, instead of using just beef, I love using a combination of ground chuck and ground pork sausage. Here are some substitution ideas.
ground Chorizo sausage
lean ground beef
ground turkey
ground pork
ground chicken
I have not tried this recipe yet using leaner meats like lean ground beef or ground turkey. Since it's cooked faster in the instant Pot I think it would be less likely to dry out than if it was cooked in the oven. As I said I haven't tested that theory yet.
For every pound of meat I use I add 1 whole egg. The egg helps bind the meat together, adds moisture, and adds depth of flavor.
For sweetness and the addition of a veggie, add 1 large carrot, shredded fine. You can do this with a box grater.
For moisture retention and tenderness, breadcrumbs are added. I have also done this using Matzo meal with excellent results. Or you could use finely smashed up crackers. ½ cup per 1 pound of meat.
Optional Ingredients
Here are some other things you could add to the meat mixture.
Garlic powder
Onion powder
📋 Instructions
⏲️ Prep time - 10 minutes or less
Combine ground beef, ground sausage, breadcrumbs or Matzo meal, shredded carrot, salt, pepper, and eggs in a large mixing bowl.
Don't Overwork the Meat
Then working with my hands I mix everything well enough and as fast as I can. Try not to overwork the meat - doing so will make your meatloaf bites tougher. Don't work try to be a perfectionist.
To incorporate the salt and pepper evenly. I add them in 3 part installments. I suggest doing it to your particular tastes - which means I just eyeballed!
How to Use the Egg Bite Molds
Spray the egg bite molds with some non-stick spray. It will make it easier to remove them when they are done. Fill the egg bite molds all the way to the top and cover with the silicone lid.
My setup inside the Instant Pot is the trivet on the very bottom. Then I have a sling that makes it easier to remove the molds when done without burning yourself. I also use it when cooking a whole chicken - it's so worth it. The official Instant Pot sling works well and is of high quality.
If you don't have a sling, position the trivet on its legs so that it rises the molds out of the water. You don't want them touching the water at all. Speaking of water...
How Much Water Do You Need
When we are cooking in the Instant Pot, we are going to need water. Really in essence we are making steamed meatloaf.
I go with 1 cup of water. Too much water and your mold will be touching the water. Too little water and you may end up with a burn error. 1 cup seems to be that sweet spot.
⏲️ Cook Time
I decided on 35 minutes, the first time I was experimenting with the recipe and liked how they came out, so I am sticking to it.
You can opt for either natural pressure release or quick release method. With only 1 cup of water in the pot it doesn't take long for the pressure to be naturally released. Just be sure if you do quick release that the hot steam is pointed away from you and your kitchen cabinets.
Make sure when you remove them you give them enough time to cook before attempting to remove them. You will notice that they do shrink up some and you may see some fat in the water. That's normal.
Total time - From start to finish you can have this done in just under an hour.
🧂 Spicing Up Ketchup
Ketchup is an easy topping for meatloaf that is classic and comforting. I can't just put ketchup on and call it a day. Oh no.
We got to add something to it. Just two things though. Some splashes of Worcestershire sauce and Smoked Paprika.
The Smoked Paprika from Burlap & Barrel is by far the best I ever had with a wonderful smoky flavor and a sweetness from the pepper. It's truly remarkable.
I just brush the ketchup on when ready to serve the meatloaf bites. It's easy to do with a silicone pastry brush.
If you like a little sweetness, you could add in some brown sugar to taste.
If you don't want to use ketchup, here are some other things you could use instead:
BBQ sauce
Sweet & sour sauce
Sour cream
Tomato sauce
✖️ Double the Recipe
You absolutely can double the recipe. That would make 28 meatloaves. Unless you have 4 egg bite molds you are going to need to reuse them. You can put the finished meatloaf bites on a sheet pan and cover it with a large piece of aluminum foil. Place in a oven set to warm.
📧 Sign Up for Emails
Don't miss anything that we are doing with the Instant Pot. Sign up for our email list.
🍽️ More Instant Pot Recipes
Here are some more recipes to try out in your Instant Pot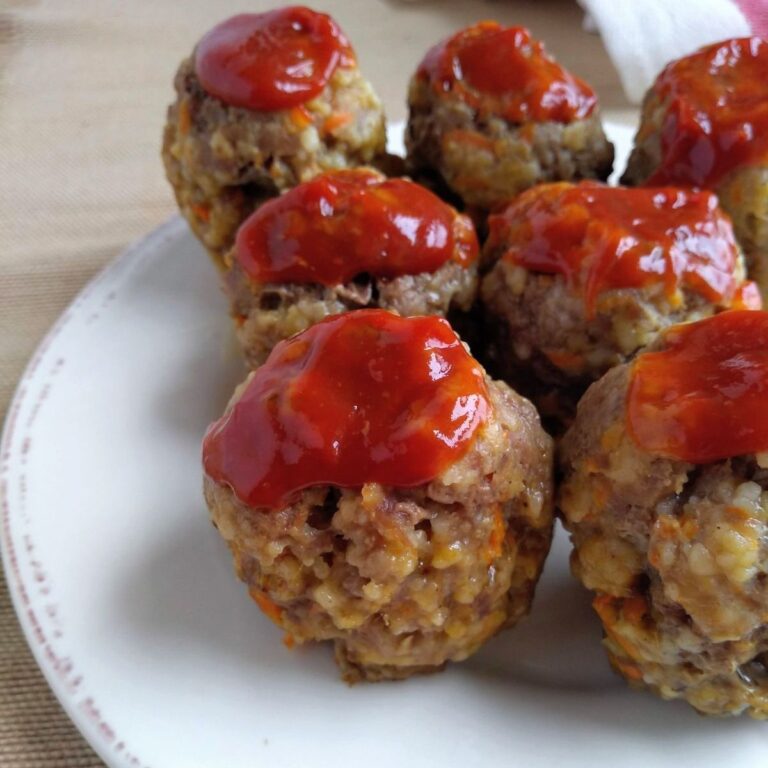 Instant Pot Meatloaf Bites
A recipe for making meatloaf bites in the Instant Pot using silicone egg molds.
Print
Pin
Rate
Instructions
In a large mixing bowl combine using your hands ground beef, ground sausage, breadcrumbs or Matzo meal, shredded carrot, salt, pepper, and eggs. Using a fold motion combine all the ingredients together until combined. Try not to overwork the meat, just enough to mix the ingredients.

Spray the egg bite mold with non stick spray.

Completely fill 2 egg bite molds with the meat. You may some leftover meat.

Place the trivet in the bottom of the Instant Pot. Add 1 cup of water. If you have a sling add that next. Make sure the egg bite molds are not touching the bottom of the pan.

Set to high pressure for 35 minutes. Set the pot to sealing.

Release the pressure when complete or allow for natural release.

Carefully remove the molds from the Instant Pot. Allow to cool for a few minutes before removing the bites.

To remove, place a plate upside down over top of the mold. Turn the plate over. Lift the mold up, the bites should slide right out.
To make the ketchup
In a small mixing bowl, combine ketchup, Worcestershire sauce, and smoked paprika. Taste and adjust seasonings if needed.

Brush the ketchup onto each bite.
Notes
I had enough meatloaf for 18 bites. My egg bite molds hold 14, so I had made 1 last batch using the extra meat. You may need to do the same based on the size of your molds.
If you wish to bake in the oven instead, set to 350 degrees. Place the egg bite molds on a sheet pan and bake for 45 minutes. 
Tried this recipe?
Mention @eatlikenooneelse or tag #eatlikenooneelse