Box Craters are one of the most used tools for home cooks. Find out why they are so great and which type makes the best cheese grater.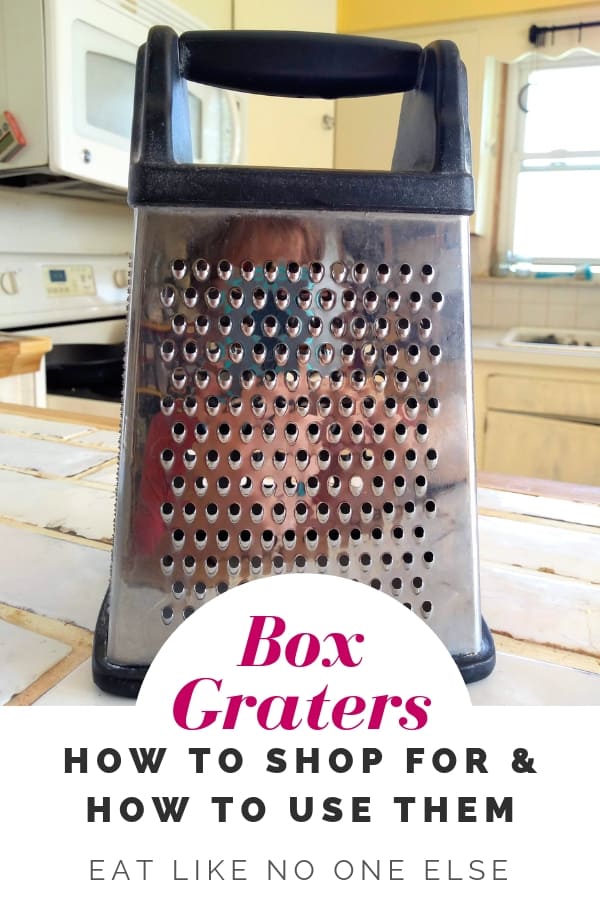 This post includes affiliate links. This means that, at no additional cost to you, I will earn a commission if you click through and make a purchase. These are products and services I recommend because I use or trust them. Cookies will be used to track the affiliate links you click.
Is there anything greater to have in your kitchen than a grater?
I doubt there is a week that goes by that I don't employ the powers of my box grater.
The grater has the ability to take food and shred into pieces that you could not do with a knife. And if you can do it with a knife, I am blown away by your knife skills 🙂
We want to help you choose the best grater for your home and give you some ways to use it.
Jump to:
🛠️ Types
The most useful type of grater I know is the box grater. My box grater has 4 sides like a box 🙂
Other box graters have 6 sides. I don't think I have seen any 8-sides graters yet.
You may find one that is a triangle with 3 sides. A lot of those I have used are collapsible for easy storage. However I find that those kind are not as stable or as easy to use, so I would go with....
4 SIDES! Let's face it you are probably only going to use a couple of the sides anyway, one with small holes and one with large holes. A 4 sided grater is plenty stable. Although 6 sides graters may be even more stable than a 4 sided one.
👀 What to Look For
When choosing a box grater, there are two things that you should look for - stability and comfort.
Is it stable? I talked about that a lot already, but I believe it's extremely important. You want to be able to fast to use. Last thing I want is if to fall over easily, which leads for more opportunities to nick your finger.
If you are shopping for one in the store, place it on a flat surface, and move it around. Does it wiggly a lot or does it stay put?
The other important thing is does it have a comfortable handle. If it's hard to grip that that can be a safety issue or your hand will get tired fast.
📦 With a Lid
The cheese grater I own has a lid on the bottom to collect the cheese. It's not bad to have. However, you can do without it. Reason being that not all the cheese will end up inside the grater. You are going to get some that land on the outside.
I like to put my grater over a flexible cutting board (read my post on the best cutting boards). The flexible board is nice because when if I am shredding cheese for a sauce, I can just fold it up and the slide the cheese in the pan.
🥡 With a Container
Some cheese grater come with a container on the bottom than collects the cheese such as the Oxo Good Grips Box Grater. Like a lid, not a bad feature to have. However, it the grater stable with the container attached to the bottom? If it's not, then you are better off not using it or getting one that doesn't have it. I wouldn't pay extra for one.
RELATED - Trader Joe's Cheese List
🏆 Best Box Graters
A couple brands I like are Faberware (which is what I have) or Oxo. Alton Brown recommends in his book "Alton Brown's Gear for Your Kitchen" a model from KitchenAid. $15-$20 is all you need to pay to end up with a reliable cheese grater tool in your kitchen.
🍽️ Table Grater
There is another tool that I will use to grate cheese and that is a Microplane. It's what is best to bring out to the table to grate hard cheeses that I am serving at on top of that night's dinner. Most of the time it's what I use for Parmesan cheese - no cheese comes out of a green shaker at our house! It's not really good for soft cheeses.
You can grate Parmesan with a box grater and I do if I am using it for a sauce. It's much easier to use a grater with a handle for small jobs, like grating cheese on top of your spaghetti - when you are look for a really fine grate.
Some people use rotary graters that has a handle you turn. Those do work, but I don't like them as they take up a lot of space in a drawer and they can be clunking to use. The Microplane is way more versatile. I use it for zesting citrus fruits as well.
🔪 Food Processor
Many food processors come with a disc attachment that is great for shredding cheese. I like it because it's fast and I don't ever hurt my hand when I have to do a lot. The downside to it is that it does require more cleanup, so I am usually hesitate to bring it out. But if I am doing a lot of cheese, it's a great option to have.
🧀 Cheese Posts
I love talking about cheese on this blog from What Does Butterkase Taste Like to What Cheese Makes the Best Detroit Style Pizza. Read more about these different types of cheese and get to grating: