Read all about Kerrygold's cheese named after a famous stone in Ireland.
This grass fed cheese is said to be a gouda style cheese. Does it taste like Gouda? And is this a cheese that you want to melt with?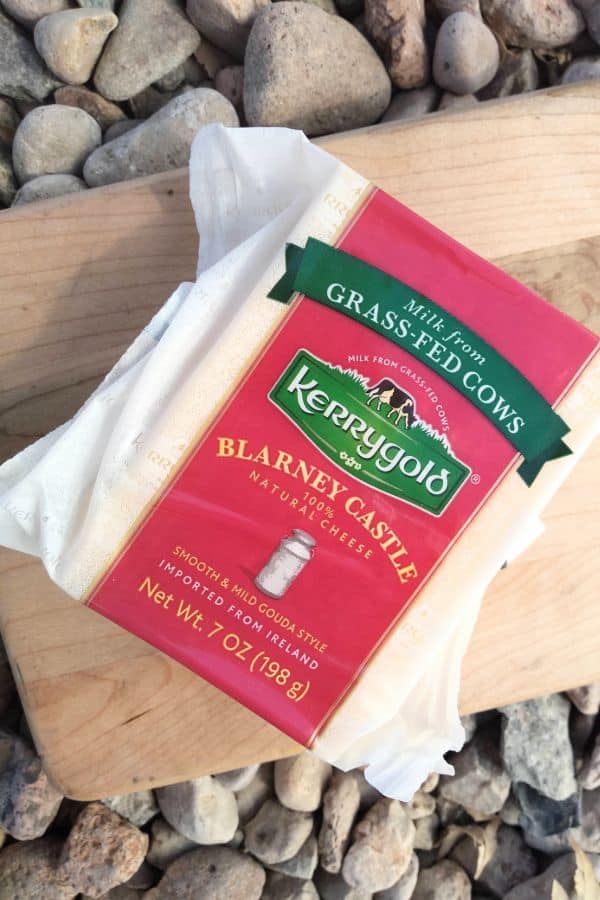 I don't need an excuse to buy cheese at the store.
That doesn't mean I won't take an excuse!
St Patrick's Day is the perfect time to load up all of the best products from Kerrygold. They are likely to be on a sale too.
Each year, I pick up a block or two of their Blarney Castle cheese. Why do I like and what's with the name?
Jump to:
? The Name
If you are looking for a cheese with some history behind it, then this is the cheese. Kerrygold Blarney Castle Cheese is named after Blarney Castle in Ireland.
Blarney Castle was first built sometime before 1200 AD. A stone fortification was built in 1210. The castle was destroyed but rebuilt in 1446. The castle was built to protect the herds in a fertile land.
Today, the castle is a popular tourist spot. The Blarney stone is there. People come to kiss the stone in hopes of getting the "gift of gab". Imagine the germs on that stone!
? What Does It Taste Like?
A delicious mild, creamy cheese that does taste very much like a mild Gouda. This is something that I love - making this my favorite Kerrygold cheese.
The cheese is soft yet sliceable. It has a slightly open texture. Moist like you would expect from a mild Gouda like cheese.
Why this cheese is different from a Gouda I don't know. It's so similar. The use of the name "gouda" is not restricted so either they choose to not call it a gouda because they didn't want to to be confused with cheese from the Netherlands or the cheesemaking process differs from gouda.
? Read our post to learn more about Gouda cheese.
? Can You Melt It?
We decided to do a simple test to show how this cheese did when it was melted by making a grill cheese sandwich.
The results.
It worked great. The cheese melted and was creamy. Made for a delicious grilled cheese.
? Uses
Cheese and crackers everyday, all day! I especially like pairing it with a really thin crispy cracker. Then you get the contrast of the crispy cracker and the soft, creamy cheese.
As mentioned above it's great for grilled cheese or also inside of a quesadilla. Maybe add in some potatoes and pre cooked cabbage to give it that Irish flare.
Or you might consider using some of it for mac & cheese. It would be good mixed with a sharp cheddar.
? More Cheese to Try
Here are some other cheeses that you may want to give a try including more Irish cheese, Spanish, and Mexican cheese.