Find out what Butterkäse cheese tastes like. What is it good for? Does it melt well for grilled cheese or mac & cheese? And where you can find it.
This post includes affiliate links. This means that at no additional cost to you, I will earn a commission if you click through and make a purchase. These are products and services I recommend because I use or trust them. Cookies will be used to track the affiliate links you click.
I love visiting Wisconsin. The main reason has to be the cheese.
With the amount of choices of cheese there, I would need to live there for years to try them all!
One cheese that I find in Wisconsin that I don't see as often elsewhere is Butterkäse. I stocked up on it during our last trip to Madison. And now I want to teach you all about it.
Jump to:
👅 What Does It Taste Like?
Butterkäse is a mild cheese with a buttery taste and creamy texture. It's aged for just 1 month.
If you are familiar with cheesemaking, both a mesophilic culture and a thermophilic culture are added when making the cheese. They have an affect on the cheese when the milk is at different temps. When you find a block of cheese it will just say cultures on it normally without indicating the type.
The name is German and it means "butter cheese". I don't think it could have a more appropriate name. I sampled 4 different brands of Butterkäse with various levels of sharpness of flavor but all still very mild. Those brands were:
Roth
Cedar Grove Cheese
Hook's
Sassy Cow Creamery
Some Butterkäse has annatto (used commonly to color cheddar) added to it to give it more of a yellowish color. Some is just pure white. It depends on what the producers decide.
It's a softer cheese than cheddar. It would be considered a semi-soft cheese.
Amish Butter Cheese is the most similar cheese. Next would either be mild Brick, Muenster, or Havarti. I would say that it has more flavor than Mozzarella. And is milder than swiss cheese.
💡 Tip - For optimal flavor, enjoy your Butterkäse at room temperature.
🍐 What is It Good For?
If you want to melt some cheese then Butterkäse has to be a cheese you consider. It's a beautiful melter for pizza, grilled cheese, mac & cheese, etc. It works as the perfect table cheese for a cheeseboard with fruit. It's great to pair it with an aged cheddar to have that contrast in texture and flavor.
It's a good snack cheese for kids to just eat as it's mild enough for their young taste buds. Don't forget the crackers!
🥪 Grilled Cheese
I wanted to put the melting abilities of Butterkäse to the test in the simplest way possible - a grilled cheese sandwich. My daughter made one up. She loves making the herself and she is a fan of this cheese for grilled cheese. I didn't think that the cheese was as stringy as other cheeses when they melt, but still melts perfectly fine.
🍴 Mac & Cheese
This is a great cheese to use to make mac & cheese with. But I think it's one that you want to pair a stronger cheese with.
Try mixing...
Half sharp cheddar
Half Butterkäse.
The cheddar will provide a punch of flavor and the Butterkäse with bring the creaminess. If you have a strongly flavored Gouda cheese that can work as well in the same ratio.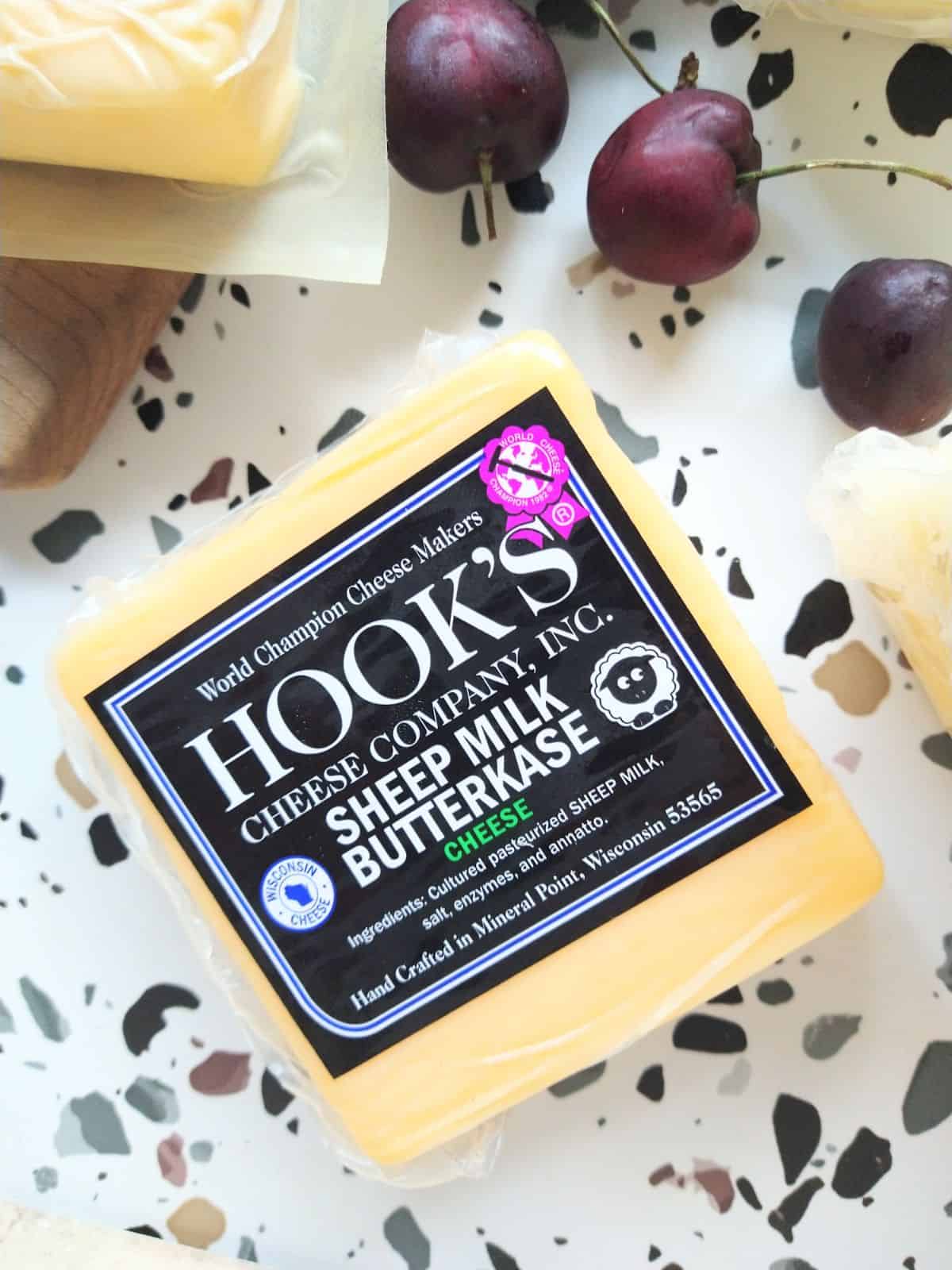 🐑 Sheep's Milk
I was super excited when I found a Butterkäse made with sheep's milk instead of cow. Yep, Butterkäse is one just a cow's milk cheee. The one I found is made by Hook's, who have won the World Championship for their Colby cheese, so I was confident it would not disappoint.
I really enjoyed this particularly Butterkäse. It's different than the other ones I have tried. It reminded me of the popular Manchego cheese that is also made from sheep milk's but with a texture more like Butterkäse. It's a bit harder and drier than the cow milk ones, but not too much.
🛒 Where to Buy
In Wisconsin this cheese is all over the place. But outside of it, you may need to hunt around more. If you are lucky to have a Kroger store with a Murray's cheese counter, you can find Butterkäse in it, normally made by Roth Kase. I have seen that same cheese carried by Whole Foods Market.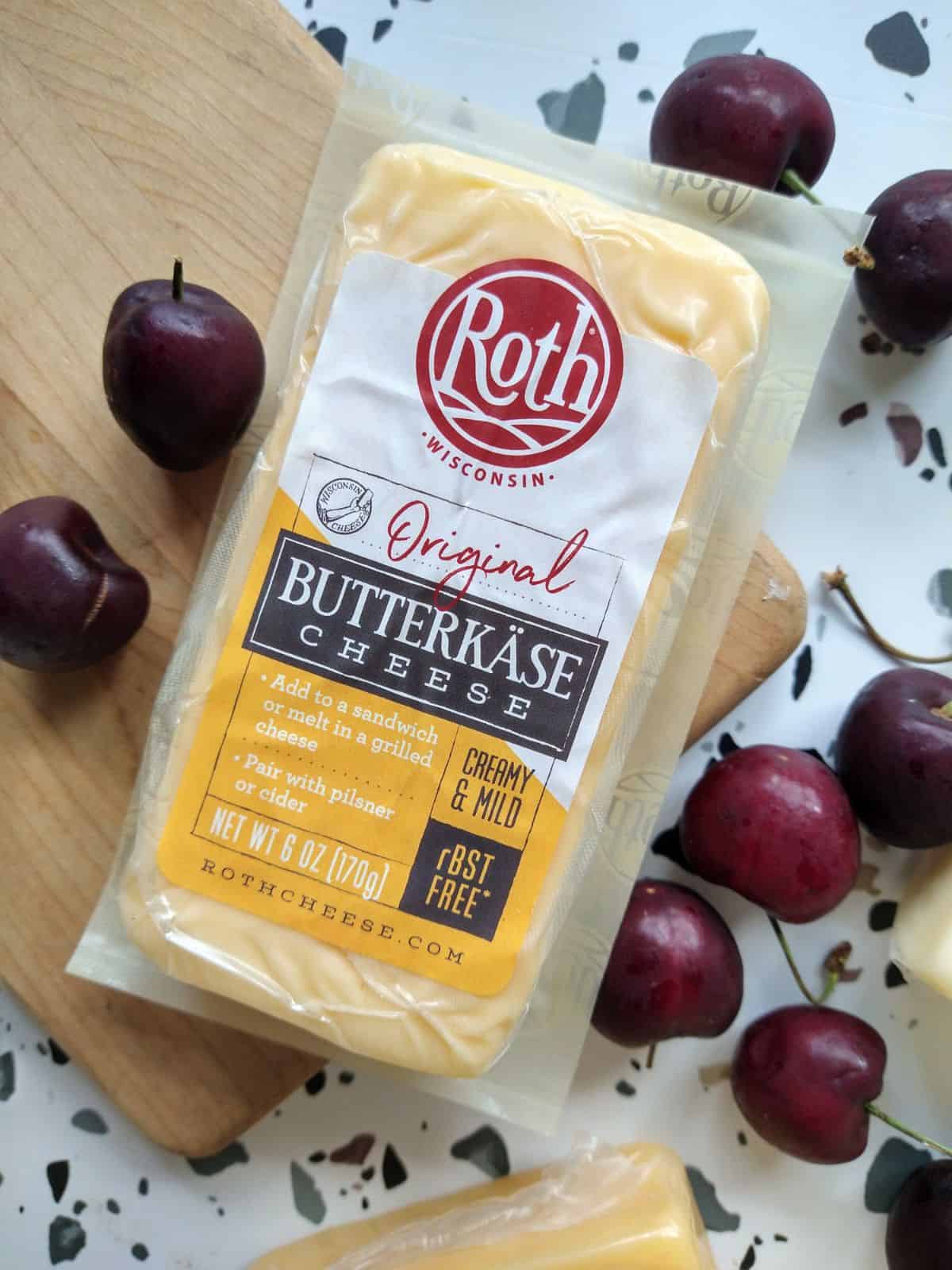 Here is our list of stores you should look in. I can't guarantee each store will have it, but these are ones I have on record for carrying it at some point. At some places it may be a seasonal item.
ALDI (in slices)
Albertsons
Central Market
Hy-Vee
Meijer
Kroger
HEB
Pavilions
Publix
Safeway
Stop & Shop
Vons
Wegmans
Woodman's
Whole Foods Market
Boar's Head makes a Butterkäse cheese, so look for it in stores that carry their products, such as Publix in the south. In the past, Sam's Club carried an Oktoberfest sliced cheese pack that contained Butterkäse.
You also may be able to order it from Amazon.
Where have you found Butterkäse cheese? Leave a comment below letting us know. Thanks.
🧀 Learn About
Want to learn more about cheese? Check out these posts