Nothing melts like Muenster. Slap it between two pieces of bread. Grilled cheese doesn't get any better 🙂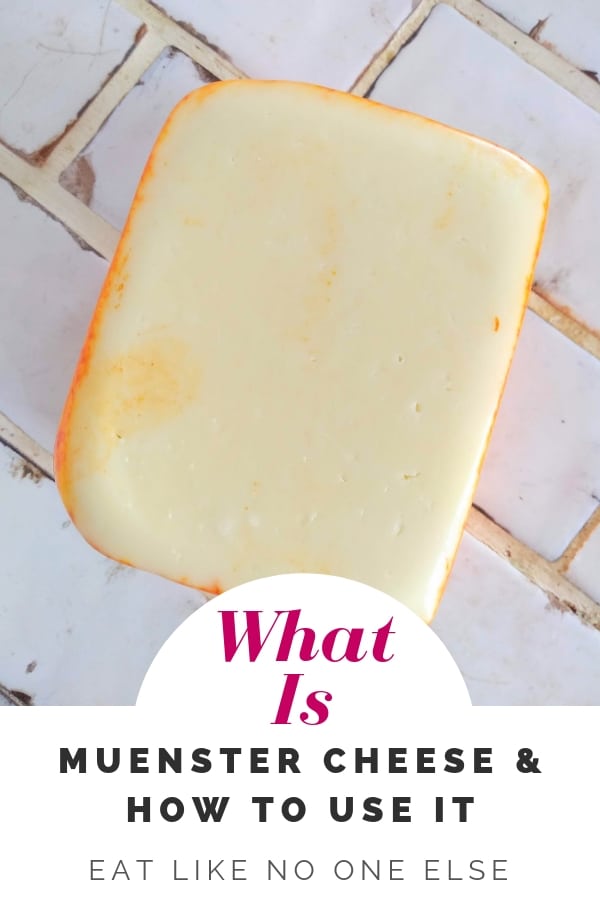 This post is a part of my What is ____ Cheese Series? featuring | Muenster | Brick | Gouda | Colby
The cheese world is full of what seems like endless options.
Naturally because of that some can go without much fan fair.
One of those cheese is muenster. You know that white cheese with the orange rind.
Everyone has seen it and you find it everywhere. But have you really taken anytime to think about what muenster is and why it deserves a place in your fridge?
Now it your chance!
Jump to:
👅 What Does It Taste Like?
Muenster is a buttery, mild cheese that a taste that mildly reminds of a mild Monterrey Jack cheese. The cheese is typically made from whole milk.
🟠 What is the Orange Part? Can You Eat It?
Muenster is easily recognized by the orange/red coloring around the edges. This is either a vegetable based coloring or a very mild Paprika. It is pretty bland and completely edible.
Why have it there anyway? The reason is to resemble it's cousin, the European Munster (notice the spelling difference). Not all American Muenster will have the orange coloring. I have some completely lacking the color. The only thing the coloring does is add to the visual appeal aka marketing.
❔ Is Muenster a Good Melting Cheese?
Absolutely!
It melts wonderfully, maybe one of the best melters out there. It's great for all of these things: grilled cheese sandwiches, pizza, tuna melts, hamburgers, etc.
We use Muenster most for grilled cheese sammys, we got a recipe below 🙂
Did You Know?
Little Caesars actually uses muenster cheese along with mozzarella cheese on their Hot'n'Ready pizzas. Isn't that cool?
Muenster cheese makes a great addition to mac & cheese. I would recommend mixing it with some stronger cheeses (like a 2 year old cheddar). I often do a 50/50 ratio.
🏆 Who Makes the Best?
Let me start by saying there is a lot of bad muenster cheeses out there. The cheap store brand stuff often has the texture of rubber and the taste to match. Take a look beyond the cheap stuff and see what else your grocery store has.
I have been doing some investigating with my tongue and so far the best muenster I have found is made by Alp & Dell. Their cheese can be found at Whole Foods Market as well as several other grocery stores. It has a nice texture, almost melts in your mouth as you it. The flavor is well balanced.
Sometimes I find that Muenster can be overly salty, but Alp & Dell seems to have gotten that just right. Try this one your next hamburger, you will wonder why you didn't try it earlier!
Also if you have a Kroger store nearby that has a Murray's cheese counter, get their muenster. My kids love the cubes they sell - they usually get eaten on the car ride home!
🐐 Can It Be Made with Goat Milk?
Traditionally muenster is made with cow's milk, there are some places that do make it with goat milk. This gives the mild cheese a little extra something without being too "goaty". Click here to read more about mild goat cheeses.
So now that you have time to give muenster a second thought, why not give it a second thought next time you are at the grocery store. The melting possibilities are endless!
Now onto that grilled cheese recipes I promised
♻️ Muenster Substitutes
If you are finding a hard time finding muenster cheese or just want to change things up there are several things that could work as a substitute:
One place I got Muenster from, the Mousehouse Cheesehaus, called Muenster a Brick Family member, so a brick cheese would make a great substitute.
For even more suggestions for substitutes, check out our blog post on the Best Muenster Substitutes.
🥪 Best Grilled Cheese Sandwich
A grilled cheese sandwich doesn't have to be anything complicated. The best grilled chese is when you have some good bread and you are using muenster.
Just scroll back above. Look at the cheese stretch, doesn't it have make you want one right now? I am hoping you already got the bread and muenster in your house.
Go Low and Slow
I recognize you are hungry. You need this sandwich. But if you keep your heat down to a medium and slowly melt that cheese and brown that bread, your patience will be rewarded. Trust me.
💲 Is Muenster Expensive?
Not at all. It's among one of the most affordable cheeses. Even the highest quality ones I have found have still been under $10 a pound. I normally pay $5 a pound or less for the Muenster I buy and I get it very often.
Muenster isn't aged very long, so it can be produced and sold rather quickly unlike say a 5 year old cheddar that is $20 a pound.
🧀 Learn About Other Cheeses
I hope you enjoyed this post and are going to make a grilled cheese sandwich with our recipe below. But before you do that, here are some other cheesy topics you will want to explore.
Muenster Grilled Cheese Sandwich
The best grilled cheese sandwiches are made with easy to melt muenster cheese.
Print
Pin
Rate
Ingredients
8

ounces

sliced or shredded Muenster cheese

2

tablespoons

butter

8

slices

your favorite bread
Instructions
Place 2 oz of the shredded or thinly sliced muenster between the bread.

Turn your electric griddle to medium temperature.

When it heats up add 1 tablespoon of butter a time. Spread the butter around with a spatula.

Add the sandwiches to the griddle.

Cook until 90% of the cheese is melted and then flip. Should take around 5 minutes.

Cook until the other side has browned about another 3-4 minutes.
Notes
If you don't have a griddle use a frying pan do one sandwich at a time.
You can either either slice the cheese thin for the sandwiches or shred the cheese with a grater. If you shred the cheese it will help it melt faster and more evenly. 
Tried this recipe?
Mention @eatlikenooneelse or tag #eatlikenooneelse