Mozzarella cheese may be regarded as the pizza cheese, but brick cheese may be the best pizza cheese. Learn all about this cheese from Wisconsin that is also known as the cheese used for Detroit style pizza.
This post includes affiliate links. This means that, at no additional cost to you, I will earn a commission if you click through and make a purchase. These are products and services I recommend because I use or trust them. Cookies will be used to track the affiliate links you click.
This post is a part of my What is Cheese Series? featuring | Muenster | Brick | Gouda | Colby
The grocery store can be a great place of discovery.
And one of the top places to discover at is the cheese counter. With a good cheese counter, there is bound to be something you haven't tried yet.
For me, I remember an experience several years ago, coming across a cheese called brick at a grocery store near the Detroit Zoo. There was a little sign with it, speaking of it's usefulness on a pizza. That was enough to tempt to try it.
I'm glad I did, as I discovered what is my opinion is the best cheese for pizza.
Jump to:
🧱 What is Brick Cheese
Brick cheese originated in the great cheese state of Wisconsin. It was first made by John Jossia in 1877.
It might be called brick cheese for two reasons: it comes often shaped like a brick and bricks were used in the process of making it. The bricks are used to weight down the cheese before the cheese enters a brine.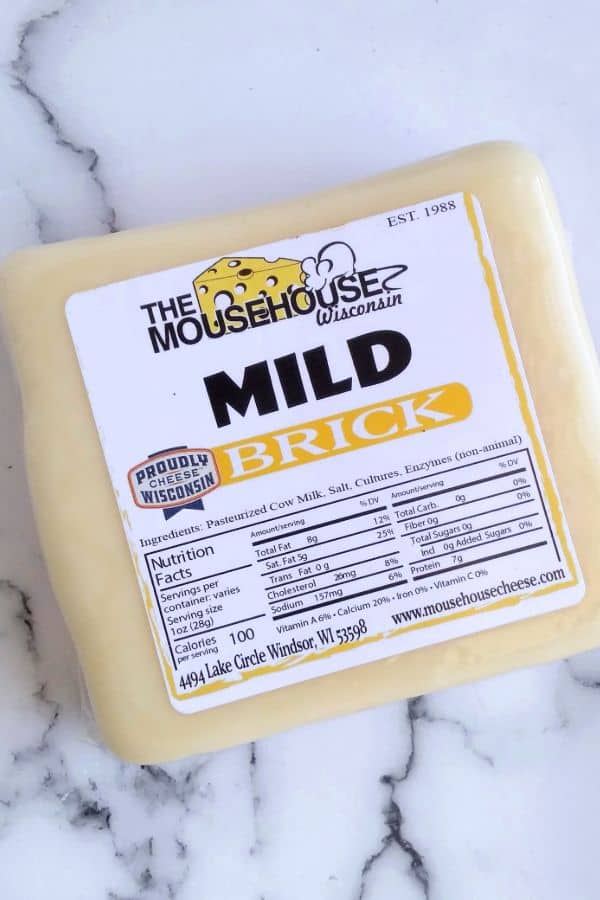 🐄 Brick Cheese vs. Mozzarella
What does Brick cheese taste like? I want to start out by comparing it to Mozzarella. Mild brick cheese tastes similar, yet with a more distinctive flavor.
It melts just like mozzarella and when you bite into a pizza made with you can tell that is has more flavor.
👴 Aging
Unlike mozzarella that you don't find aged, you do find aged brick cheese. When it comes to age, brick changes a lot. When it's young, it's pretty mild in taste.
But when you get some aged brick it becomes much more like Limburger cheese in both taste and odor. The Brick cheese that I normally find here in Michigan is the mild variety. But I did manage to find an aged brick that was pretty pungent and not that kind of thing I would want on my pizza - I tried it, it was too much for me!
🧀 Wisconsin
The authentic stuff is still being made in Wisconsin. When I visited the state for the first time as an adult in May 2010, I found some amazing brick cheese. I wish I could have brought even more home! Whenever I go now I definitely do.
What you often find unfortunately in the supermarket is a mass produced facsimile that doesn't live up to the original. So if you can find some quality brick, make sure you buy it!
🚗 Detroit Style Pizza
I have already said how great brick is as a pizza cheese. But did you know that when it comes to genuine Detroit Style Pizza, brick is the cheese that is used. Detroit pizza is a pizza that is made in a rectangular pan, so the pieces are rectangles. The crust is both thick and crispy on the outside.
Buddy's Pizza is a small chain in Michigan that are the one believed to have invented Detroit style. They use brick cheese on their pizza. Jet's Pizza is another example of this style, although they do not use brick cheese.
♻️ Substitute
Got a recipe that calls for brick cheese but you can't get any? You can sub any of these cheeses or a combo of them. They would be the closest in flavor and melting ability -
None of those beat good Wisconsin brick!
🛒 Where to Buy
If you live outside Wisconsin or the Midwest, it may be hard to find this cheese. In Wisconsin every place seems to have it. In Michigan, you have to be in the Metro Detroit area to find it.
Your best bet is turning to online sources. I got it last time from the Mousehouse Cheese House. I was very happy with that shipment.
📰 Read About these Cheeses