Our review of the cheese you can regularly find at Trader Joe's and how much they cost. Learn how to shop at Trader Joe's for quality cheese that won't break the bank. Find out what cheeses I think are the best at Trader Joe's.
This post includes affiliate links. This means that, at no additional cost to you, I will earn a commission if you click through and make a purchase. These are products and services I recommend because I use or trust them. Cookies will be used to track the affiliate links you click.
Trader Joe's is one of my favorite places to buy cheese.
They do a good job of balancing value with quality. The prices you pay for the cheese is on par with other stores, if not cheaper in some cases. And the quality is generally better.
I would take Trader Joe's cheddar over any other generic store brand cheddar.
Trader Joe's offers a wide selection of cheeses. This post is about the cheese that you can find everyday at Trader Joe's. We will list the prices per pound, review of some of our favorites, and share with you how to use some of these cheeses to make things like fondue.
Let's put the cheesy intro to bed and get right to it.
Jump to:
Trader Joe's Cheese List
Here is a list of cheese available at Trader Joe's and what the cost is. I break the list down into 4 parts - cheese under $6, cheese over $6/pound, goat cheese, and cheese not priced by the pound.
What you won't find here is the special Spotlight Cheese they offer on a monthly basis. I wanted to stick to cheese that the have year round (mostly) for this post.
Cheese Under $6/pound
Here are the cheapest cheese you will find at Trader Joe's. These prices may not be accurate, but represent what I have seen before.
| | |
| --- | --- |
| Wisconsin Mild Cheddar | $3.99/lb |
| Wisconsin Monterey Jack | $3.99/lb |
| Wisconsin Sharp Cheddar | $4.99/lb |
| Wisconsin Extra Sharp Cheddar | $4.99/lb |
| New Zealand Grass Fed Cheddar (6-12 months) | $5.99/lb |
| Raw Milk Cheddar (aged min 4 months) | $5.99/lb |
| Baby Swiss | $4.99/lb |
| Dutch Gouda | $5.99/LB |
| Fontina | $5.99/LB |
| Whole Milk Mozzarella | $4.99/lb |
| Part Skim MIlk Mozzarella | $4.99/lb |
| Double Cream Brie | $5.99/LB |
Those are same great prices for your basic cheese. Enough selection where you can put together a pretty good cheese board from just these cheeses. Or have what you need to make mac & cheese (more on that shortly) or a pizza.
Here are a a few short reviews of some of the cheese on this list.
Mild Cheddar Review
The quality you are getting from Trader Joe's cheese is far superior to anything with the Kraft label. Their Mild Cheddar wasn't necessarily the greatest cheddar I have ever consumed. But it might be best cheap cheese I have ever consumed.
It does not have the texture of melted plastic like most of the cheap cheese you find at those big grocery stores. It is a creamy, and smooth, slightly crumbly cheese.
You may find either Wisconsin Mild or California Mild.
Monterey Jack Review
With some store brands cheeses I have had troubling telling the different between the Colby and the cheddar. This should never be. But the cheese that seems to get the biggest screw job is Monterey Jack.
Most of the time it is seen as a mild/medium cheese with no distinctive characteristic or flavor. It's more known for being paired with Colby to form the popular Co-Jack. Believe it or not, Jack cheese does have a distinct flavor.
The Trader Joe's Monterey Jack does have that distinct Jack flavor. Enough bite to it give your palate something different.
🏆 Top Rated - Best bargain Monterey Jack cheese I have found that wasn't too sharp of a flavor and not tasted like nothing either.
Raw Milk Cheddar
When you see the word "raw milk" does it make you scared? Well it shouldn't as raw milk cheese has to be aged for 60 days by US law before it can be sold. The believe is that after 60 days the acid and salt will destroy anything harmful that could be in the milk. The number is up for debate.
I personally have no issues with consuming raw milk cheese.
The package indicates the cheese has be aged for at least 4 months, twice as long as raw milk cheddar must be aged. It was a very good, mild cheddar. It's great for just slicing and eating, or maybe enjoying with some crackers. The use of raw milk gives the cheese a little more character.
It's affordable, so if you are looking to show someone the difference between regular mild cheddar and raw milk cheddar, try picking up both the raw milk and the regular mild cheddar and do a side by side comparison. I believe the raw milk is worth the extra cost.
🏆 Top Rated - Out of all the cheddar at Trader Joe's, I think the raw milk cheddar has the best flavor. Using raw milk really makes a huge difference.
Baby Swiss
Baby Swiss is probably the most mild of all the Baby Swiss I have had. But that isn't a bad thing. I liked this cheese. It's not as good as the Baby Swiss made by the company that invented it Guggisberg, but it's a nice alternative.
Cheese Over $6/pound
| | |
| --- | --- |
| Kerrygold Dubliner | $8.99/lb |
| Cabot Extra Sharp Cheddar | $6.99/lb |
| Organic New Zealand cheddar | $7.99/lb |
| Black Pepper Toscano | $9.99/lb |
| Double Cream Gouda | $7.99/lb |
| Gruyere (6 month) | $9.99/lb |
| Pecorino Romano | $11.99/lb |
| Asiago | $7.99/lb |
| Parmigiano Reggiano | $14.99/lb |
| Jarlsberg | $6.99/lb |
| Havarti | $6.99/lb |
| Cave Aged Blue | $6.99/lb |
Kerrygold Dubliner
This is a cheese that I always get for St. Patrick's Day. It has the taste of a sharp cheddar without being too overwhelming. Great for those that prefer milder cheese like myself. It has a slight natural sweetness to it and a more crumbly than smooth texture.
The best way I can describe it as most like a cheddar with a hint of Parmesan flavor in it.
Cabot Extra Sharp Cheddar
If you are looking for a good sharp cheddar, the Cabot is the best sharp cheddar at Trader Joe's. Any good sharp cheddar should have more than just a sharp bite. Cabot is like that
Cabot cheese can be found all over the place, but I think Trader Joe's has one of the best prices at $6.99/pound. Sam's Club also carries their cheese, if you have a membership that might be better for you.
Cabot is one of the best big cheese makers on the east coast, ,while Tillamook is the best on the west coast. I should totally do a taste off some day!
Black Pepper Toscano
A very popular cheese at Trader Joe's, this Toscano cheese is studded with cracked black peppercorns. The perfect cheese to pair with some mild crackers on a cheese board.
Toscano cheese is a robust cheese with nutty notes of a good Parmesan, but creamier like a mild cheddar. There isn't much info online about Toscano cheese that I could find. I know there is a Percorino Toscano cheese that is produced in Tuscany. I am thinking the TJ's one is based on that one but not from that region.
If anyone knows more, please share it the comments below.
Havarti
I find this Havarti to have a sharper flavor than the one that I get in slices at Costco. Not bad just an observation.
Havarti is a semisoft Danish cheese that is really good for melting. You will often find it with herbs added to it, most commonly dill.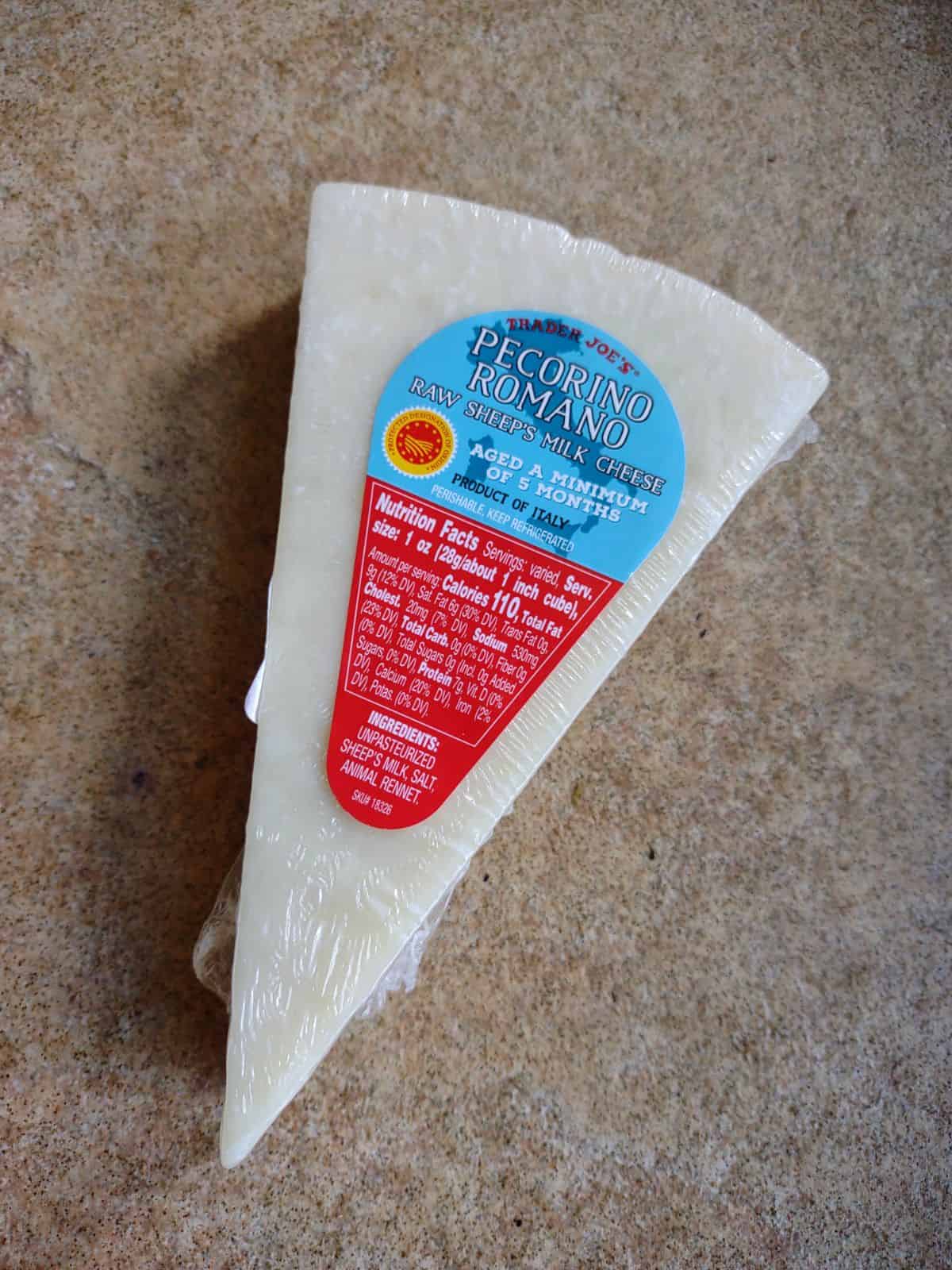 Pecorino Romano
My wife and I think this is the best hard cheese for grating on foods there is. We actually both prefer it over parmesan. A lot of places just sell it already grated but you can get a wedge at Trader Joe's.
🏆 Top Rated - Trader Joe's Pecorino Romano is definitely worth a place in your fridge. Pull it out every time you have pasta or pizza.
Goat Cheese
| | |
| --- | --- |
| Cheddar | $10.49/lb |
| Gouda | $9.99/lb |
| Brie | $2.99 for 4.4oz |
I honestly don't buy a lot of goat cheese, I just wanted to share what I found. I do admire the brilliant white color of a goat Gouda. It's stunning.
The goat brie was surprise, I don't recall seeing it before.
Cheese Not Priced Per Pound
| | |
| --- | --- |
| Fresh Mozzarella | $2.99 for 8 oz |
| Authentic Greek Feta | $7.99 for 10.5oz |
| Feta Block | $3.49 for 8oz |
| Crumbled Feta | $2.99 for 6oz |
Nothing quite tops a salad like some good feta. $2.99 to get either crumbled feta or a block of feta that you can crumble yourself is a good value.
My friend Brenda over at Become Betty, reviewed the Authentic Greek Feta. I recommend checking that out.
Cheese for Making Fondue
While Trader Joe's does sell a fondue kit or fondue cheese, if I am going to make fondue I am going to make my own cheese choices.
Here is what I would recommend for a fabulous fondue. Use in any recipe that calls for 1 pound of total cheese.
| | |
| --- | --- |
| Amount of Each Type of Cheese | Approximate Cost |
| 7 ounces of Jarlsberg | $3.05 |
| 6 ounces of Gruyere | $3.75 |
| 3 ounces of Dutch Gouda | $1.12 |
| TOTAL CHEESE COST: | $7.92 |
Cheese for Mac & Cheese
I gotta say I really like the Extra Sharp Wisconsin cheddar to make mac & cheese as it's inexpensive and tastes good. A bag of elbows only costs $.99/lb. Add in 2 cups of milk, ½ stick of butter, and 3 tablespoons of flour, and some salt and you got yourself an easy to make, yet awesome mac & cheese that didn't cost you a a lot.
You could also use a combination of cheese which is always fun to do. I like mixing Gouda and Sharp Cheddar at a 50/50 ratio. Also you could try 3 ounces of Gruyere with 5 ounces of Sharp cheddar.
Cheese for Making Pizza
Mozzarella is the obvious choice here. I grab the Whole Milk Mozzarella for $4.99 a pound (it comes in 1 pound portions). There are other cheeses I do like better for pizza like Brick and Tuma but they aren't carried at Trader Joe's. Both those cheese melt just like Mozzarella but they have more flavor to them.
Pick up some Parmigiano Reggiano or Pecorino Romano to grate on top of your pizza. If you don't make your own crust, the French baguette or ciabatta (try the Ciabatta Rolls for individual pizzas) that you find at TJ's can make for a tasty crust.
Spanish Cheese
Trader Joe's has an amazing selection of Spanish cheese. They are known for their sheep's milk cheeses. Starting with their Tapas Sampler. These are three different Spanish cheeses (Iberico, Cabra, and Manchego). These are great for snacking with crackers. Each cheese has a subtle different in flavor or creaminess.
RELATED - What's the Difference Between Manchego and Mahon Spanish Cheese?
You also can buy wedges of Manchego and Iberico by themselves. When I was there recently they were sampling El Cortijo Dorado cheese. This cheese is a Manchego style cheese that is made with a combination of sheep's and cow's milk. It has a sharper bite to it than their regular Manchego they carry.
🏆 Top Rated - The Spanish Tapas collection is a cheese that I love picking out for a cheeseboard. I have even gotten it for a road trip before. Better than just eating string cheese!
Mexican Cheese
Trader Joe's doesn't offer much in terms of Mexican cheeses that aren't pre-shredded. No Oaxaca. No Panela Cheese. No Queso Fresco. But they did have Cotija cheese which is like the Mexican version of parmesan. Great for grating on top of foods, tacos, and for making elote.
Are you looking to make homemade enchiladas? I strongly believe in grating all of my cheese. No added ingredient that way. Flour and dextrose are often added to prevent mold or caking.
Cheddar, Jack, or Mozzarella, or any combination of those is the best I recommend for homemade Enchiladas.
French Cheese
I have already talked some about Brie cheese. For most of us it's probably the cheese we think of when someone says French cheese. Trader Joe's offers several different types of Brie cheese.
Another type of popular French cheese is Comte. It is known as a French mountain cheese made with unpasteurized milk. I tried it on it's own before and didn't like it. I am more of a milder cheese fan. I have heard it's good to use in recipes, so I plan to give it a chance again in the future.
🏆 Top Rated - The Triple Creme Brie Cheese is their best Brie. It is the creamiest with a good flavor that isn't overpowering.
Cacio e Pepe
One of my favorite pasta dishes is Cacio e Pepe. It's easy to make with simple ingredients that really shine when mixed together. You just need spaghetti, Percorino-Romano, Parmgiain-Reggiano, black pepper, and some technique!
Here is how much the cheese would cost to make it.
| | |
| --- | --- |
| Amount of Each Type of Cheese | Approximate Cost |
| 3 ½ ounces of Pecorino-Romano | $2.62 |
| 1 ½ ounces of Parmigiano Reggiano | $1.41 |
| TOTAL CHEESE COST: | $4.03 |
Got any questions about buying cheese at Trader Joe's? Leave it in the comments below.