Learn all about Kerrygold Skellig Sweet Cheddar Cheese. This cheese is imported from Ireland and was produced with milk from grass fed cows.
Find out why it's my daughter's favorite cheese.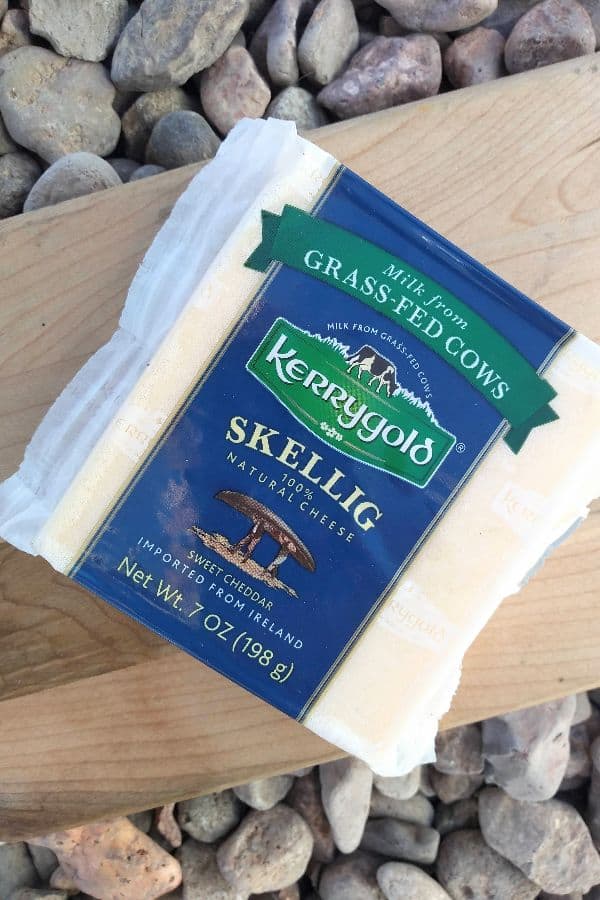 I am going to come right out and say it - this is my oldest daughter's favorite cheese.
It's not sold in every grocery store, but you can be sure if my daughters is in the store with me, she is going to spot it.
What makes this cheese so special?
Jump to:
? The Name
These cheese is named after the Skellig Islands off the coast of mainland Ireland. The package has two people carrying a boat on it, how appropriate.
They have shot some scenes from some different Star Wars productions here, so it must be a pretty special place.
? What Does It Taste Like?
Skellig is a type of cheddar. It is an aged cheddar that is on the sweet side. That doesn't mean they added sugar, nor does it taste like they did.
My daugther said it's all about 3 things for her:
Texture
Sharpness
Flavor
? Skellig vs. Dubliner
How does it compare to Kerrygold's most widely sold cheese - Dubliner? Our family tasted them side by side, and Skellig was the unanimous winner. I think Dubliner is a little bit sharper and the texture is a bit drier.
? Read our post to learn more about Dubliner cheese.
? Can You Melt It?
As with every cheese, I gotta to ask the question - can you melt it?
The easiest test is a grilled cheese sandwich. Here are some pictures of how ours turned out.
If you are looking for ooey gooey stretchy grilled cheese sandwich, this is not going to be your cheese. Try something like Muenster instead. Despite that, this sandwich barely lasted a few moments after I took this picture.
The cheese inside did melt. It was firm. The sweetness of this cheddar really shined through when melted.
? Uses
Mostly in our household it just gets into my daughter's mouth as fast as possible. It's a good match for crackers and something we like to include as part of an Irish cheese course on St. Patrick's Day.
Last year, we shredded some up to make some cheesy Irish soda scones and that was amazing. You could include it in traditional soda bread as well - although we like ours gluten free.
? More Cheese to Try
Here are some other cheeses that you may want to give a try including more Irish cheese, Spanish, and Mexican cheese.