Learn all about Irish cheese. What makes it different? What are some of the brands to check out.
We will mainly focus on cheddar but also talk about different types of Irish cheese. We will also look at what are the most widely available types and what you can substitute if need be.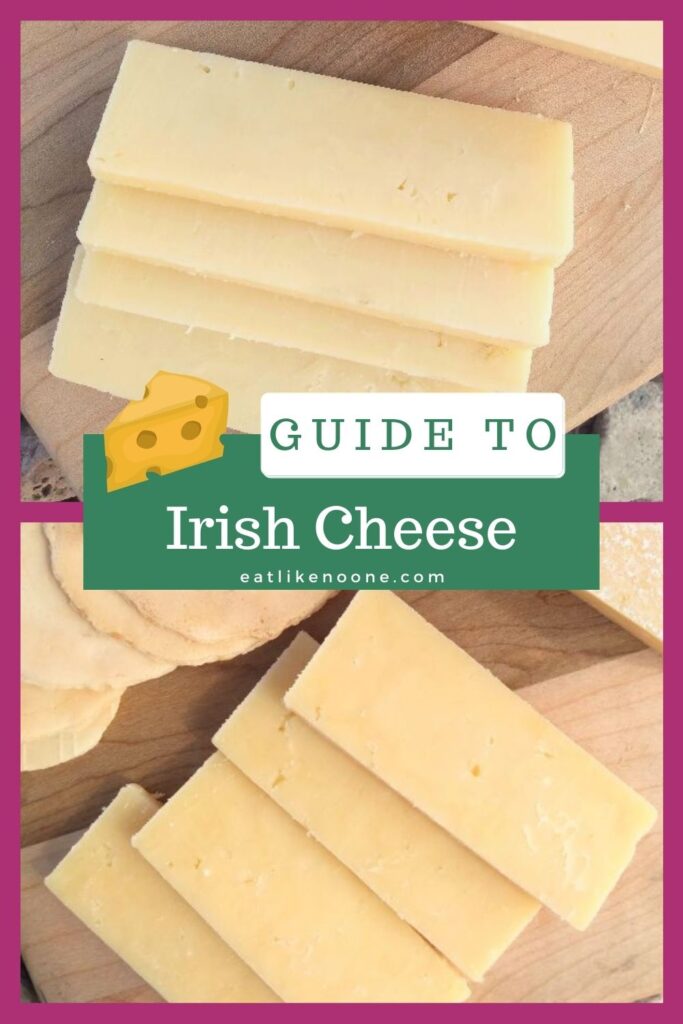 It's March so the countdown to St. Patrick's Day is almost over. A day dedicated to everything Irish. It's one of our favorite culinary days of the year.
Cooks and food lovers get to explore some of the great tastes of Ireland. The best of those great tastes has to be the cheese. Really is there any better food than cheese?
When it comes to Irish cheese hitting the grocery store shelves here in America, cheddar is certainly the most common. Let us take out on a journey through Irish cheddar with a stop to "kiss the Blarney Stone" as we also look at other types of Irish cheese.
Jump to:
What Does Irish Cheddar Cheese Taste Like?
There are many different types of cheddar that I have tried that came from Ireland. To give a general description, most Irish cheddar I have had has been o the sharp size. A lot of them have been made with milk from grass fed cows, which I think gives the cheese a richer flavor and a creamier texture.
A lot of Irish cheddar I have experience has a sweeter flavor. Kerrygold Skellig is an example of this. The cheese doesn't taste like it has sugar in it or anything, just an overall sweeter taste on the tongue.
In my experience of trying both Irish and English cheddars, I find that the English ones are typically more sharp. That doesn't mean that it is the case, as I am sure there are milder English cheddars. But from what I find in the common grocery store, Irish cheddars tend to be milder.
Dubliner
By far, the most commonly found Irish cheese is Dubliner from Kerrygold. Most major grocery store chains carry it including Walmart, Trader Joe's, and Whole Foods Market. And pretty much everyone has it on sale for St. Patrick's Day.
Named after the largest city in Ireland, this aged cheese has a strong flavor with a touch of sweetness. You can find a big block of it at Costco.
We have written a full review of Dubliner. See how it melts for a grilled cheese.
If you are looking for a substitute for Dubliner look for Tipperary Extra Sharp Cheddar Cheese, Kerrygold Aged Cheddar, or Kerrygold BallyShannon (available at Sam's Club)
Dubliner vs. Cheddar
Dubliner isn't a cheddar cheese by definition. But it eats just like a cheddar and you certainly could use it like a cheddar. I would go as far as saying it does have some similar flavor to Parmesan in it, so it's kind of like crossing Parmesan and cheddar.
? RELATED - What's the Difference Between Cheddar and Colby?
Irish Cheese at ALDI
One of my favorite places to shop for cheese is ALDI. They have great prices and they do seasonal cheese as well. Around St. Patrick's Day look for their aged cheddar. It's similar in sharpness to the Kerrygold cheeses and at a cheaper price. They don't have the same sweetness though.
Two Tone
For great visual appeal look out for Maple Leaf Irish Harp Cheddar. This is a two-toned cheddar, wrapped in green wax. It looks like the Irish flag in cheese form! A great visual for St. Patrick's Day cheese board. It has a smooth and firm texture.
You may also find different Irish cheddar with green, orange, and white wax.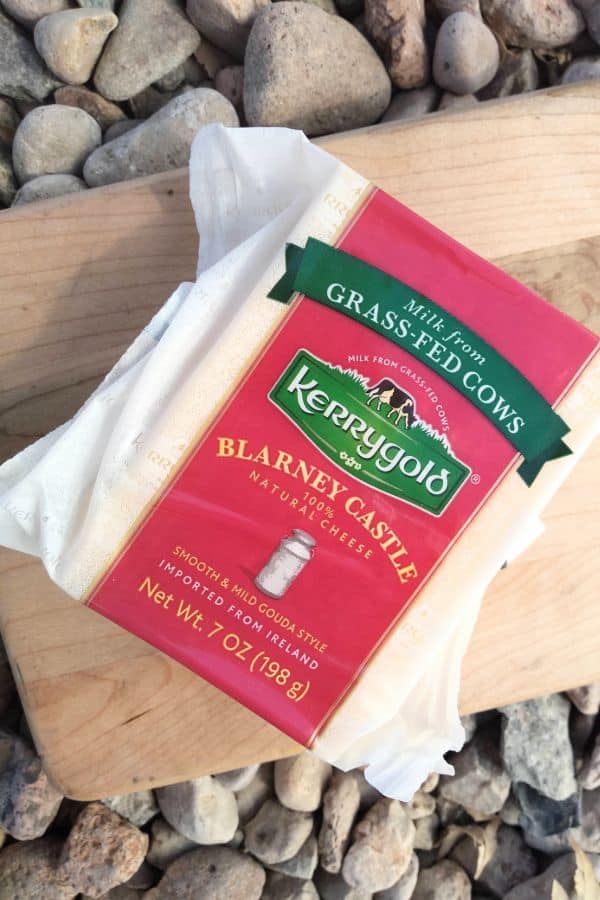 Gouda Style
Mainly it's cheddar that I find but also have tried a couple different gouda-style cheeses from Ireland. These cheeses are not officially being called gouda for one reason or another, but they are so similar most of us would not be able to tell any difference.
At the start of this post I talked about kissing the "Blarney Stone" and that is what you would do if you went to Blarney Castle. Kerrygold named one of their cheeses after it. It's my favorite for it's mild taste and smooth, creamy texture. Matches up to any true Gouda I have had.
A more bold tasting gouda style cheese is Erin Gold Irish Style cheese from the DCI Cheese Company (Black Diamond is one of their brands). It's wrapped in an Irish green wax. The texture is just as buttery as the Blarney Castle. I mixed it once with a sharp Irish cheddar to a really tasty mac & cheese.
Red Leicester
Much more common to see coming from England, I have tried Kerrygold Red Leicester before.
As the name suggest this cheese is as red as cheese gets. It has a very flaky texture, and medium flavor at first, but with a tanginess that lingers on the tongue.
Creating an Irish Cheese Board
Whenever making a cheese board there really are no rules. But there are things that you can do to enhance your experience.
I would recommend at least 3 different cheeses.
? Top Tips
You want their to be clear differences in the cheeses. For example, having a flaky cheese like a Red Leicester and a buttery cheese like the Erin Gold are two nice contrasts to have on the plate.
Or you can try having several of the same type of cheese (like a couple different cheddars) for people to taste the different.
I like to try something a little different each year for my St. Patrick's Day cheese board. Here is an example of what I choose one year and why.
Irish Harp - the two tone cheese is appealing on the plate, slice the cheese so that a little bit of the wax is still on the cheese.
Tipperary - a second cheddar to taste side by side with the Irish Harp. It both differs in texture and strength of flavor than the Irish Harp
Erin Gold - a nice buttery cheese, provide another textural experience. Blarney Castle would have worked here as well.
Dubliner - a cheddar like cheese that a bit of sweetness that makes it stand out from the two cheddars on the plate.
✍️ What is your favorite Irish cheese? Leave a comment below.