Find out what a Sierra steak is and the best way to cook it - spoiler it's sous vide!
Discover our favorite source for this delicious cut.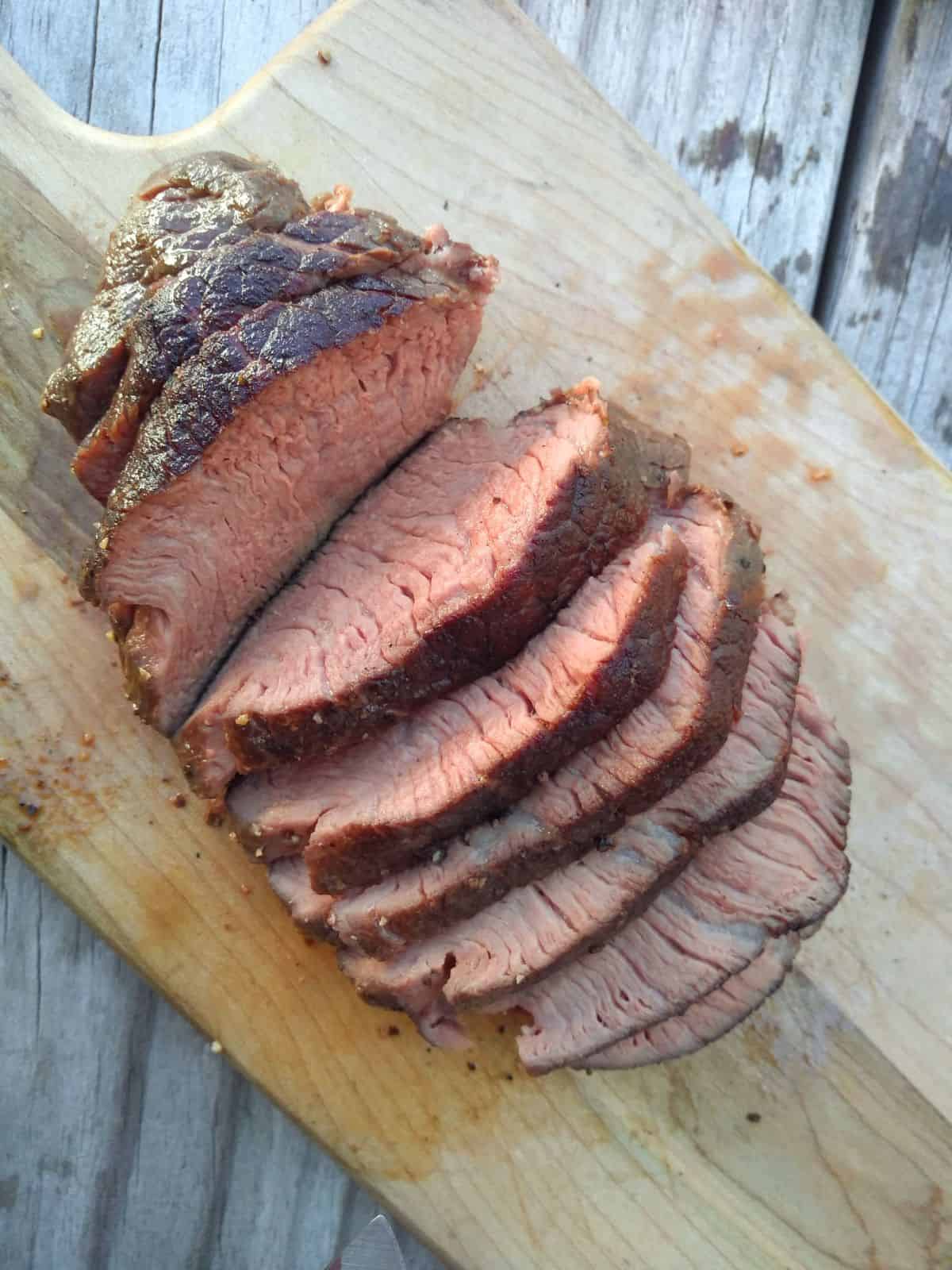 This post includes affiliate links. This means that at no additional cost to you, I will earn a commission if you click through and make a purchase. These are products and services I recommend because I use or trust them. Cookies will be used to track the affiliate links you click.
I am always up for trying a new steak.
It's amazing how many different named cuts of beef there are.
Sometimes when I see a new steak it's just a differed name for a familiar steak. Not the case today with the Sierra steak.
Jump to:
🥩 What is a Sierra Steak?
The steak is cut from the chuck primal. It's located right on top of where boneless short ribs are cut on the cow. It's not very big, so it's often overlooked. It's a thinner steak. The size of the steaks average around ½ to ¾ pounds.
🛒 Where to Buy
Sierra steaks are not super easy to find, but I do know of an amazing source.
If you are looking to buy a quality Sierra steak, maybe you have never had one or you just want to try the best, I highly recommend Porter Road. This is where I got my first Sierra steak from. Porter Road is my favorite company to get meat from. Besides having some unique cuts hard to find elsewhere, their steaks come from cows raised responsibly by small farmers. They are dry-aged before you they are sent to you.
I have yet to actual see a sierra steak in a grocery store besides Porter Road's Nashville shop. If you have seen them in a store, please leave a comment below sharing where you found them.
I can say that I thought the Porter Road Sierra steak was amazing. Great flavor. Tender when cooked the right way. 5 stars for sure. If you are going to get your steak from them, keep in mind they source from smaller farms so sometimes they run out of certain cuts. You can join their waitlist so that you know immediately when they are back in stock.
🔥 How to Cook
Meat cuts coming from the chuck primal are known for flavor, but aren't as tender as other parts of the cow. Sierra doesn't have a ton of fat, so it can be easy to dry out. These two factors make it the ideal candidate for sous vide cooking.
If you do not have a sous vide, then you could grill it or cook it in a pan but it's best as a rare steak, medium rare if you must. The magic of sous vide is going to make this steak one worth having.
If you are going to cook in a pan or grill, I recommend 2-3 minutes per side. You can use a instant read thermometer to confirm the temperature. You want at least 120 degrees for rare and 130 degrees for medium rare.
You could make fajitas with them, cut them into strips (against the grain) and cook them just until you get a char on the outside. It's on the thin side so that should make for fast cooking. There also recipes out there for braising the steak slowly in a flavorful liquid for about 2 hours or until fork tender.
🛁 Sous Vide
For sure our favorite method for this steak. Let us show you how to sous vide it.
Start by liberally seasoning the outside of the steak with kosher salt and freshly cracked pepper on both sides. The steak has great beef flavor so no other seasoning is needed.
Then vacuum seal the steak. Get your water bath ready:
For rare, set to 120-130 degrees
For medium, set to 130-140 degrees
I don't recommend going past 140 which is the minimum threshold for medium. We like medium rare steaks at 135 degrees. Here is a picture of what that will look like.
Once the steak is done, remove from the vacuum pack. I like to cut a corner out of the packaging and drain the liquid into small bowl. That's your au jus! Great for dipping the steak into.
To get a sear on your steak, get a cast iron pan as hot as you can get it. You want to do this sear fast. Cook 1 minute, then flip and cook another minute. You don't want to cook the interior just get the exterior brown. If it's not perfect, don't worry about it.
Make sure when you are cutting your steak that you run the knife against the grain. This will make the meat fibers shorter thus it will be more tender in your mouth.
🐄 Similar Cuts
It's very similar to a flank steak. It actually does have more marbling than flank but is still on the lean side. Doing a side by side comparison would be fun to see which one I really liked more. Skirt steak would be the other one you could say it's similar to but I think flank is the closest.
Any recipe that calls for flank steak, you could give Sierra a try with.
🧂 Marinate
Since it's very similar to flank steak, which I think is the best steak to marinate, you can marinate. Sierra steak before cooking if you want. Any marinade should contain oil, acid, salt, and other seasonings. Here are some ingredients to consider for your marinade.
Soy sauce
Olive oil
Garlic cloves
Worcestershire sauce
Kosher salt
Freshly cracked peppercorns
Lemon juice
Balsamic vinegar
Red wine vinegar
Fresh thyme
Dijon mustard
Pepper flakes
Honey
Since it's a thin steak you won't need to marinate it longer than 1 hour or 2.
🍖 Other Steaks
Here is some information on other types of steaks you should try:
Sous Vide Sierra Steak
Learn how to sous vide sierra steak to make it tender and delicious
Print
Pin
Rate
Instructions
Season steak with salt and pepper.

Vacuum seal the steak, getting as much air out as you can. Or use alternative methods if you don't have a sealer.

Set your water temperature bath to 120-130 for rare or 130-140 degrees. Set to cook for 1 hour.

Remove the steak from the water bath. If you wish to save the au jus from cooking for dipping, cut a small hole in one end of your bag and drain the liquid into a bowl

Heat up a pan (cast iron if you have it) or grill over high heat. Cook the steak for 1 minute per side just to get some brown on it.

Slice the steak against the grain for best texture.
Tried this recipe?
Mention @eatlikenooneelse or tag #eatlikenooneelse