Find out how much Prime Rib Roast or Standing Rib Roast cost at Costco. Below you will find our guide to what's available for the 2021 Christmas season. We also talk about the price for Ribeye roasts and beef tenderloin.
And make sure to check out our cooking tips throughout the post.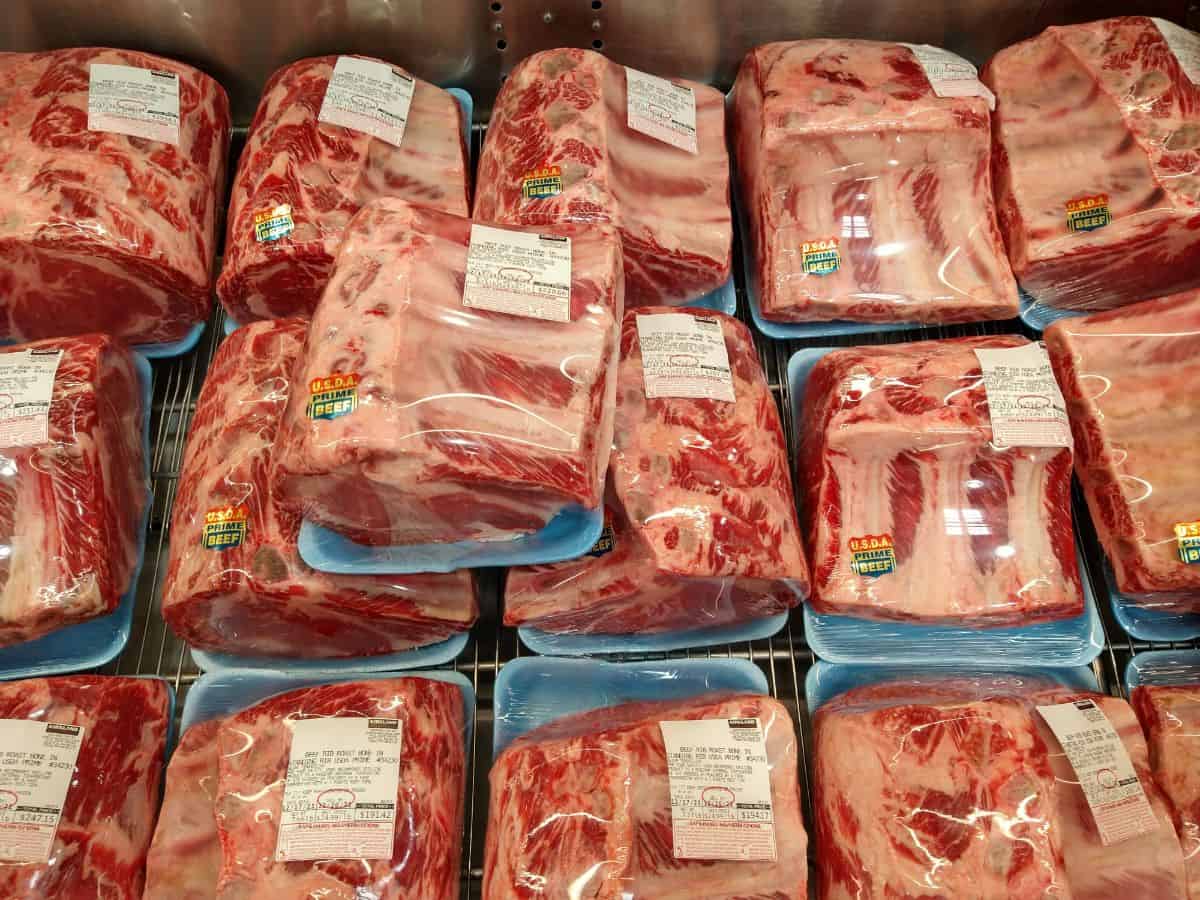 Turkey is clearly the king of Thanksgiving dinner.
I would suggest that a rib roast is the king of Christmas dinner.
Its the time of year where people will splurge on a big chunk of beef. Sure there are plenty of meat options for Christmas, but when you got a rib roast as an option, it's hard to pass up.
And one of the grocery stores to make that splurge is at Costco. For some it may be the only place that can find a true Prime Rib.
How big of a splurge is it this year? We got all that info and more for you today.
Jump to: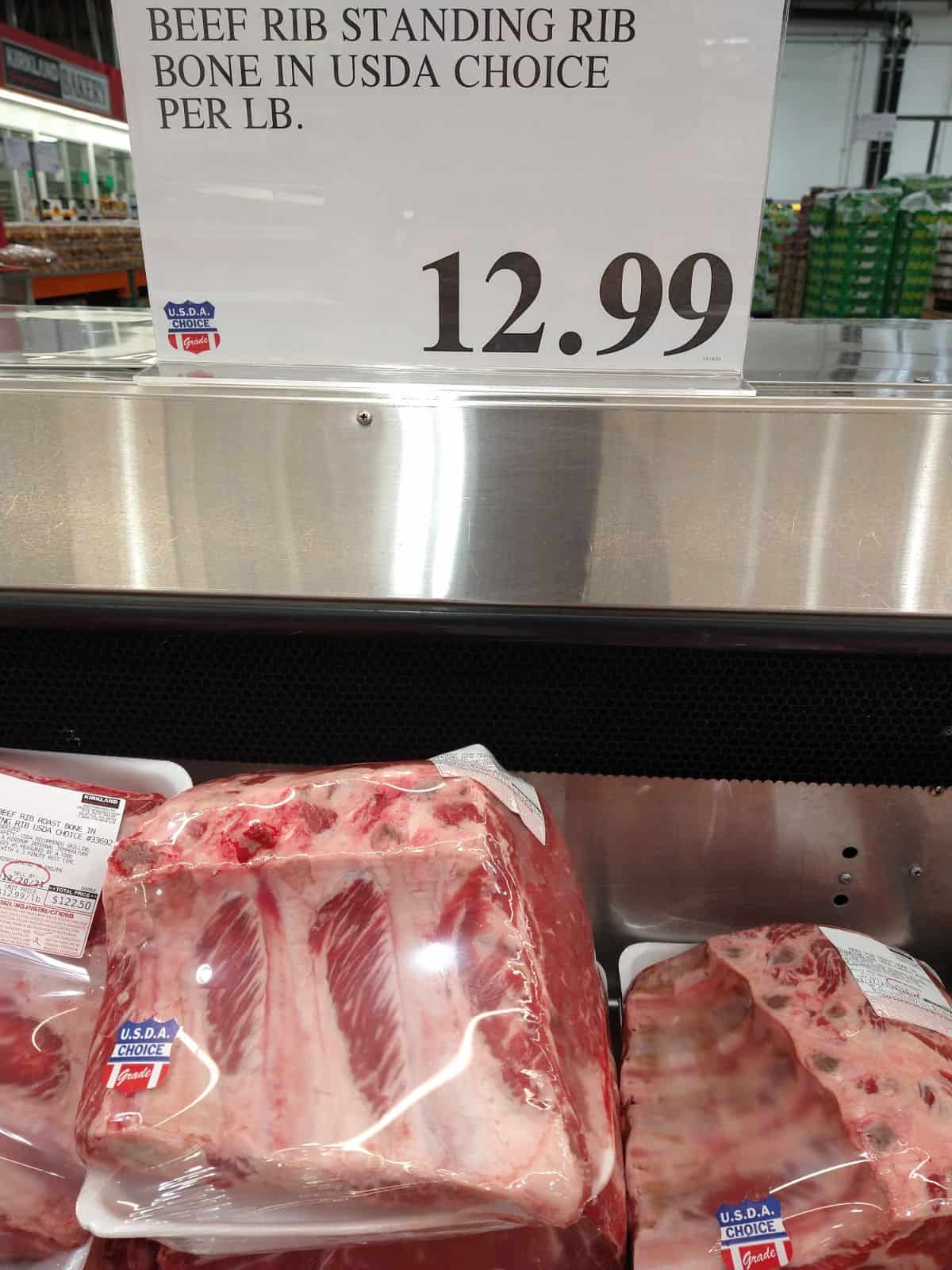 💲 Costco Rib Roast Prices
Here is how much the different types of beef roasts for Christmas cost at Costco. Prices were taken on December 17th, 2021. In the last column I list some example of what might be your final cost with an example size I spotted in the store.
Prices have increased on everything by on average $1.50 per pound (some less, some more) since I first did this post in 2019.
| | | |
| --- | --- | --- |
| Cut of Meat | Cost per lb | Example Cost |
| Prime Standing Rib Roast | $24.99/lb | $228.66 (9.15lb) |
| Prime Rib Whole Bone-In | $17.79/lb | $404.19 (22.72lbs) |
| Prime Ribeye Boneless Roast | $25.99/lb | $199.86 (7.69lbs) |
| Prime Ribeye Whole Roast | $17.89/lb | $323.63 (18.09lbs) |
| Choice Standing Rib Roast | $12.99/lb | $129.90 (10.00lbs) |
| Choice Whole Rib Roast | $12.89/lb | $212.56 (16.49lbs) |
| Choice Boneless Rib Roast | $12.99/lb | $180.89 (13.91lbs) |
| Seasoned Choice Standing Rib Roast | $13.99/lb | $113.60 (8.12lbs) |
Check out other places where you can buy prime rib.
I have seen lower prices at other stores on the choice cuts by when it coms to options I think it's hard to beat Costco unless you have a good local butcher. The quality of Costco beef is better in my opinion than some of the other chain stores, making it one of the best places to shop for a roast this year.
Other cuts from this same area that I don't mention here are of course any type of rib eye steak including ribeye caps. I think Christmas is for roasting something big not grilling steaks!
Really what you are deciding is whether you want to buy comes down to making 3 choices:
Prime or choice
Bone-in or boneless
A whole roast or partial roast
If money were no object I would pick get a whole prime rib roast and slice it into 2 halves.
As for the best deal that would be the choice standing rib roast at $12.99 per pound. Even choice rib roasts are safe bets as long as you cook them correctly.
❔ FAQ - How Far in Advance Can You Buy a Standing Rib Roast?
📧 Email List
Sign up for our Costco Meat email list and learn about all the meats from flank steak to pork chops and everything in between.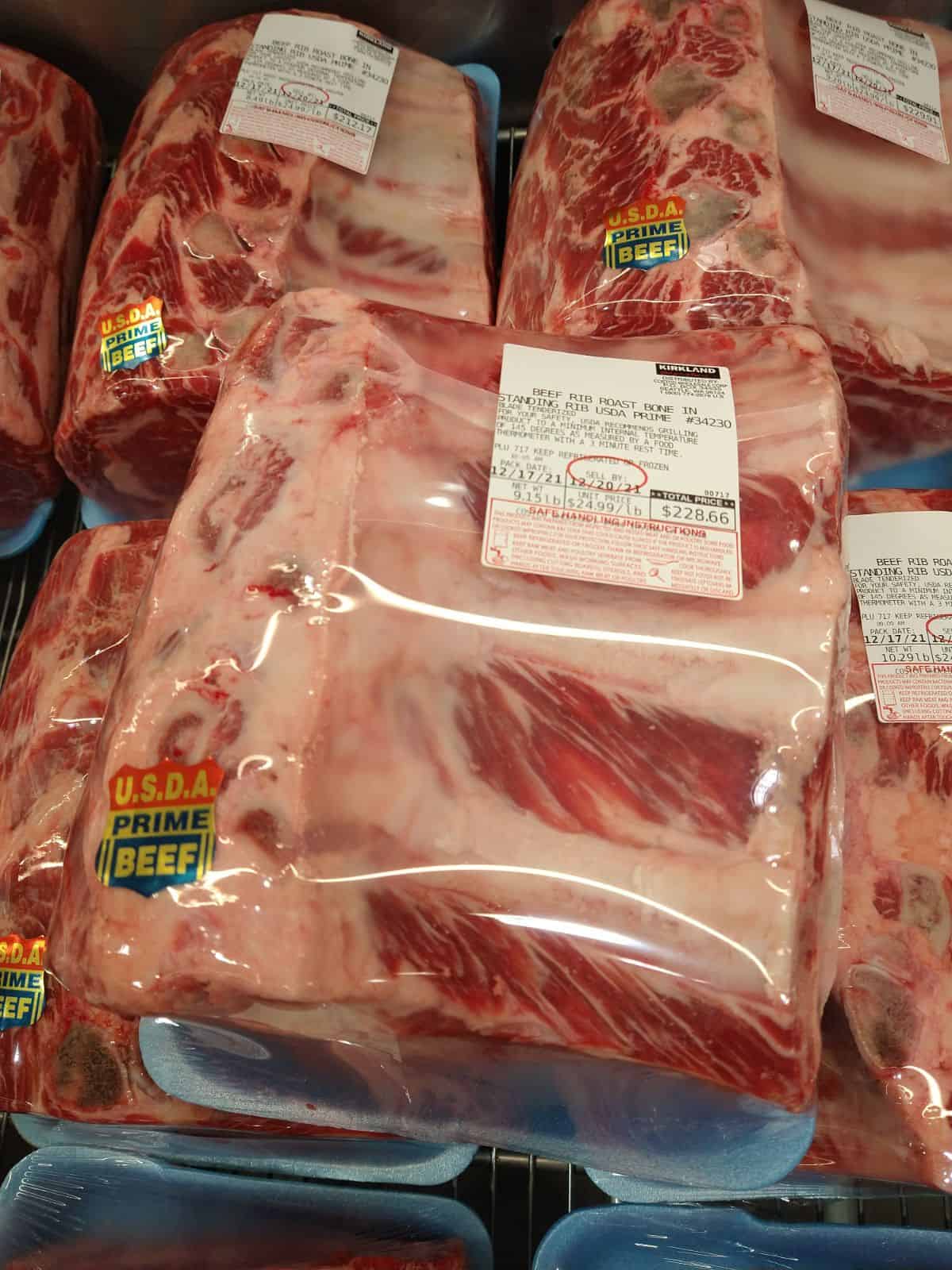 ❓ What's Prime Rib?
What really is Prime Rib? Let's clear up some confusion first.
You will see and hear a Standing Rib Roast is called Prime Rib. This may or may not be true. A roast has to have the USDA Prime Certification be truly Prime Rib.
The term "Prime Rib" was coined before the USDA grades (Prime, Choice, Select) came into existence which is what i think leads to the confusion.
If you are looking for "the prime rib" you might get a restaurant you want a standing rib. If you want a rib roast that is legit prime, then you to need to buy beef that is rated Prime. As you can see above there is a clear price difference.
At Costco it's easy to spot the price beef as they use blue packaging for it and it will have the prime label right on the plastic wrap.
💡 Cooking Tip - You can use a roasting pan when you roast it in the oven but you also can get away with just a baking sheet or half sheet pan. You just want to be sure whatever you use has sides.
⚖️ Ribeye or Standing Rib Roasts
What's the difference? First, both of these come from the same section of the cow - the rib primal. The difference lies in that standing rib roast will have the bone attached and the ribeye roast will not.
If I am going to roast one in the oven I would choose the Standing Rib Roast. If I am going to make steaks, then I would get the whole Ribeye, be my own meat cutter and cut steaks or steaks and a roast. But there is no rule from stopping you from doing either method for either one.
💡 Cooking Tip - Bring your roast to room temperature before you put it in the oven.
🥊 Chuck End vs. Loin End
These are terms that tell you where exactly the roast was cut. The chuck end has a smaller center eye of meat with more fat and the loin end has a large center eye with less fat. It's a matter of personal choice although my food hero, Alton Brown says go with the loin end. You won't see these terms on the packaging itself. All you can do is take a look at the meat and see how much fat is around the eye.
If you really want one certain end, you can try asking an employee there to help. Not sure how helpful they can be (I haven't tried this ) or if you can get exactly what you want but its worth a try.
🦴 How Many Bones?
Some people shop for a rib roast by the number of bones it has, like they want a 4-bone roast. If you buy a whole roast it will have 7 bones. Most cut roasts will have 3 or 4 bones.
🧑‍🤝‍🧑 How Much Per Person?
The suggested amount of Standing Rib Roast you need per person is 1 pound. That is what the sign said at Costco. I do think that is a generous portion. If you have kids around or lighter eaters you could do less than that for sure.
Here the cost you could expect to pay per person going on the Costco recommendation . The smaller roasts were around 7 pounds so let's start there.
| | | |
| --- | --- | --- |
| Number of People | Choice ($12.99/lb) | Prime ($24.99/lb) |
| 7 people | $90.93 | $174.93 |
| 8 people | $103.92 | $199.92 |
| 9 people | $116.91 | $224.91 |
| 10 people | $129.90 | $249.90 |
| 11 people | $142.89 | $274.89 |
| 12 people | $155.88 | $299.88 |
| 13 people | $168.98 | $324.87 |
| 14 people | $181.86 | $349.86 |
💡 Cooking Tip - Make sure you have a quality food thermometer in order to check the internal temperature of your roast. The probe needs to be inserted into the center of the roast. I myself have gone to sous vide cooking my roast which makes it as lot easier to hit that perfect temp.
📋 Tenderloin Prices
Maybe you are more of a beef tenderloin person. No worries. Here is what that should cost you.
| | |
| --- | --- |
| Choice Peeled Beef Tenderloin | $24.99/lb |
The Costco I went to only had choice peeled whole tenderloin in this. In the past I have seen prime peeled, prime unpeeled, and choice unpeeled. Not sure it if it was just this store or they only have the one type this time around.
The price is over $5 a pound higher than it was a couple years ago.
🔪 How is a Peeled Tenderloin Different?
As you can see a peeled tenderloin is more money. Those tenderloins have had the silver skin removed. This is a layer of the beef that is silver colored (hence the name) and is too tough to eat. Trying to eat it would be trying to eat string. So it must be removed.
If you can find one that is unpeeled then a YouTube search and a great knife will help you peel off that silver skin and save money in the process.
❔ FAQ - Should I Wrap a Standing Rib Roast in Cheesecloth?
🏆 What is Better - Rib Roast vs. Tenderloin?
Obviously this is a subjective question. We are a subjective blog so I am going to answer it!
When it comes to pricing, the Rib Roast is cheaper per pound. Yes you are paying for bones but unless you pay way more to get the peeled tenderloin, you still are paying for some parts you aren't going to eat.
Flavor wise, rib roast wins hands down. It's way more flavorful than tenderloin. Tenderloin are known for their as easy to cut as butter texture, which is definitely attractive, don't get me wrong. If you cook your Rib Roast well, it can also be tender, even if not as tender.
Lastly if you are cooking this for Christmas dinner, I think the Rib Roast looks better on the Christmas dinner table than a tenderloin.
For me the winner is easy - the Rib Roast
➕ More Guides
If you are looking to include fish in your holiday meal, check out our Costco Fish Price Guide. It shows what I have found at different Costco stores. I have found the variety varies quite a bit depending on where in the country you are, so this is meant to be a guide that you might find.
We also have these guides as well to help you buy any type of meat at Costco
If you are looking for another easy protein to serve with your beef, you can try the frozen Kirkland brand Panko Fried Shrimp. I cook it in the air fryer, it's super easy.
Have you gotten a Standing Rib Roast or Tenderloin at your local Costco before? Share your experience in the comments below.