Find out how much Prime Rib and Standing Rib Roast cost at Costco. Below you will find our guide to what's available for the 2019 Christmas season. We also talk about the price for Ribeye roasts and beef tenderloin.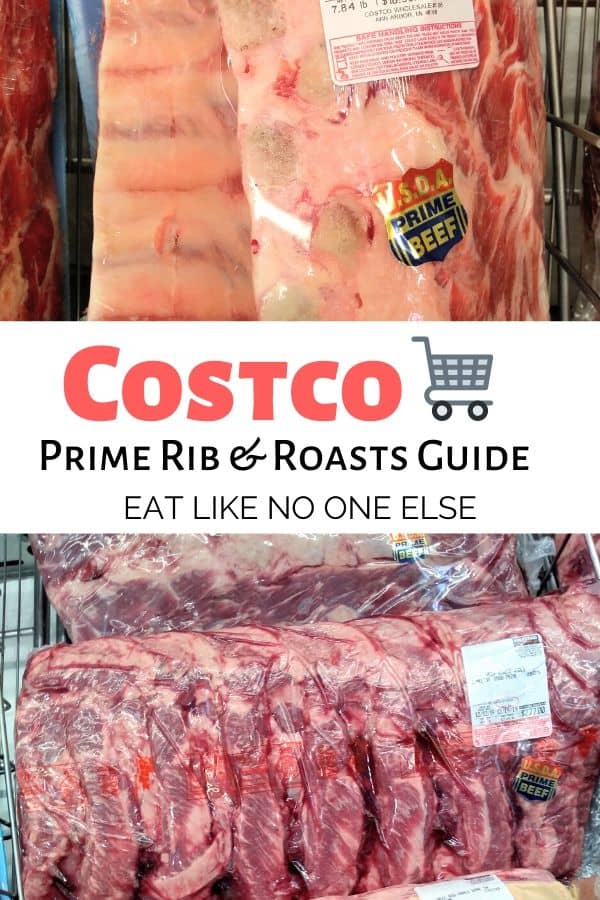 Turkey is clearly the king of Thanksgiving dinner.
I would suggest that a rib roast is the king of Christmas dinner.
Its the time of year where people will splurge on a big chunk of beef.
And one of the best places to make that splurge is at Costco. For some it may be the only place that can find a true Prime Rib.
How big of a splurge is it this year? We got all that info and more for you today.
Costco Rib Roast Prices for 2019
Here is how much the different types of beef roasts for Christmas cost at Costco. Prices were taken on December 17th, 2019
| | |
| --- | --- |
| Choice Standing Rib Roast | $11.69/lb |
| Prime Standing Rib Roast | $16.99/lb |
| Seasoned Choice Standing Rib Roast | $12.69/lb |
| Choice Whole Ribeye | $9.69/lb |
| Prime Whole Ribeye | $13.99/lb |
| Boneless Choice Ribeye Roast | $11.99/lb |
What's Prime Rib?
What really is Prime Rib? Let's clear up some confusion first.
You will see and hear a Standing Rib Roast is called Prime Rib. This may or may not be true. A roast has to be USDA Prime Beef for sure to be truly Prime Rib.
The term "Prime Rib" was coined before the USDA grades (Prime, Choice, Select) came into existence which is what i think leads to the confusion.
If you are looking for "the prime rib" you might get a restaurant you want a standing rib. If you want a rib roast that is legit prime, then you to need to buy beef that is rated Prime. As you can see above there is a clear price difference.
What's Difference Between Ribeye and Standing Rib Roasts?
Both of these come from the same section of the cow - the rib primal. Standing rib roast will have the bone attached and the ribeye roast will not. That is the difference you see at Costco.
If I am going to roast one in the oven I would choose the Standing Rib Roast. If I am going to make steaks, then I would get the whole Ribeye and cut my own steaks from it. But there is no rule from stopping you from doing either method for either one.
How Much Rib Roast Do You Need Per Person?
The suggested amount of Standing Rib Roast you need per person is 1 pound. That is what the sign said at Costco. I do think that is a generous portion. If you have kids around or lighter eaters you could do less than that for sure.
Here the cost you could expect to pay per person going on the Costco recommendation . The smallest roast was around 7 pounds so let's start there.
| | | |
| --- | --- | --- |
| Number of People | Choice ($11.69/lb) | Prime ($16.99/lb) |
| 7 people | $81.83 | $118.93 |
| 8 people | $93.52 | $135.92 |
| 9 people | $105.21 | $152.91 |
| 10 people | $116.90 | $169.90 |
| 11 people | $128.59 | $186.89 |
| 13 people | $151.97 | $203.88 |
| 14 people | $163.66 | $220.87 |
What is the Cost of Beef Tenderloin at Costco
Maybe you are more of a beef tenderloin person. No worries. Here is what that should cost you.
| | |
| --- | --- |
| Prime Beef Tenderloin | $18.99/lb |
| Choice Beef Tenderloin | $13.99/lb |
| Prime Peeled Beef Tenderloin | $29.99/lb |
| Choice Peeled Beef Tenderloin | $19.69/lb |
How is a Peeled Tenderloin Different?
As you can see a peeled tenderloin is more money. Those tenderloins have had the silver skin removed. This is a layer of the beef that is silver colored (hence the name) and is too tough to eat. Trying to eat it would be trying to eat string. So it must be removed.
Costco charges you a lot to do it themselves, $11 per pound in the case of the prime tenderloin.
A YouTube search and a great knife will help you peel off that silver skin and save money in the process.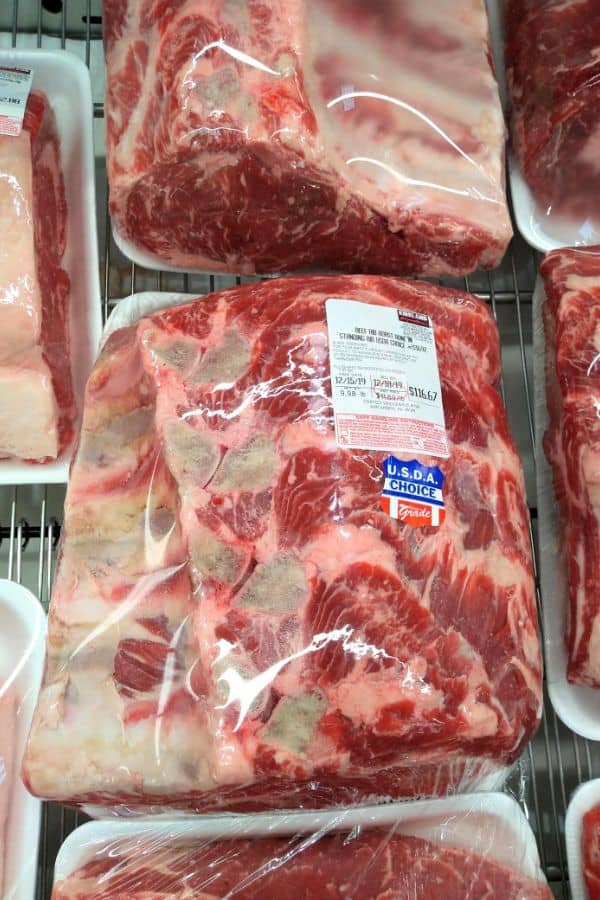 What is Better - Rib Roast vs. Tenderloin?
Obviously this is a subjective question. We are a subjective blog so I am going to answer it!
When it comes to pricing, the Rib Roast is cheaper per pound. Yes you are paying for bones but unless you pay way more to get the peeled tenderloin, you still are paying for some parts you aren't going to eat.
Flavor wise, rib roast wins hands down. It's way more flavorful than tenderloin. Tenderloin are known for their as easy to cut as butter texture, which is definitely attractive, don't get me wrong. If you cook your Rib Roast well, it can also be tender, even if not as tender.
Lastly if you are cooking this for Christmas dinner, I think the Rib Roast looks better on the Christmas dinner table than a tenderloin.
For me the winner is easy - the Rib Roast
Have you gotten a Standing Rib Roast or Tenderloin at Costco before? Share your experience in the comments below.