The 2021 edition of our guide to buying turkeys at Costco. Find out what's available to get your Thanksgiving meal planning going. Does Costco have great deals?
We also share some of our favorite techniques, tricks, and tools you will need to have a happy holiday.
This post includes affiliate links. This means that at no additional cost to you, I will earn a commission if you click through and make a purchase. These are products and services I recommend because I use or trust them. Cookies will be used to track the affiliate links you click.
It's turkey talking time again. After all it wouldn't be Thanksgiving dinner without the star of the show!
As usual we are here to help you select your bird from Costco.
There is concern about turkey shortages this year, especially with fresh birds, which is what Costco carries.
Also concerns about prices being higher than in years past. Seems everything is more expensive in the grocery store right now.
Are these concerns a reality? Let's take a look at what I saw at Costco for this year.
Jump to:
💲 Turkey Prices
Here are the prices for the 2021 Thanksgiving season. Don't fear that prices skyrocketed, they didn't. In fact only the smoked turkey increased in price from last year.
| | |
| --- | --- |
| Fresh Whole Turkey (Butterball or other) | $.99/lb |
| Fresh Organic Turkey | $2.99/lb |
| Whole Smoked Turkey | $3.29/lb |
Costco is a great place to buy a turkey. Their prices are on par or cheaper than most grocery stores. For example the cheapest fresh turkey at Trader Joe is $1.99 a pound.
I have learned that selection isn't the same at every Costco exactly. There may be slight differences. Check your local store to see what they have. I have visited Costco stores in Michigan, Ohio, Texas, and California all at Thanksgiving time.
Each store has had the three whole turkeys options from above. I have seen some additional options before in California which I will mention below.
What I see in every store is a fresh whole turkey, an organic whole turkey, and a smoked whole turkey. I have never seen a turkey breast at Costco before.
Here are some things to note about each type.
The organic turkey price is the same or cheaper than what you will find at Whole Foods Market depending on if there is Prime deal or not.
In the early years of doing these posts I found the Foster Farms turkeys to be the organic option but in recent years I have seen seeing more Norbest.
🦃 Additional Turkeys
The store I went to near Palm Springs, California in 2020 had these additional turkeys.
| | |
| --- | --- |
| Just Cook Citrus Herb Spatchcock Turkey | $3.89/lb |
| Diestel Oven Roasted Cooked Whole Turkey | $5.29/lb |
For those intimidated by doing their own spatchcock turkey, the hard work is done for you. I have done them myself and they aren't easy to do. A chicken is so much easier. I think anyone can learn to do it.
If you do find this and decide to go with it. I recommend following Alton Brown's instructions for cooking which includes cooking the turkey directly on the rack over top of veggies and cubed bread.
Diestel turkeys are from California and usually not found in the Midwest and eastern stores. They sell many types of turkey but the ones I saw at Costco where already cooked. You may also find their heirloom turkeys in select locations in Northern California. Call store to check.
✋ Limit
Just as in 2020, there is a limit on the number of turkeys you can buy. But the limit is 5. So I don't think that's going to be a problem unless you are having the whole neighborhood over or your family is that big!
💵 Price by Size
Here is a table with what you would pay by size. Whether you are having a lot of people or fewer guests you can find the turkey that is the right size for you - but don't wait till the last minute. A 1.5 pounds' per son is a generous serving size.
| | | |
| --- | --- | --- |
| Size | Butterball or Honeysuckle White ($.99/lb) | Organic ($2.99lb) |
| 10 | $9.90 | $29.90 |
| 11 | $10.89 | $32.89 |
| 12 | $11.88 | $35.88 |
| 13 | $12.87 | $38.87 |
| 14 | $13.86 | $41.86 |
| 15 | $14.85 | $44.85 |
| 16 | $15.84 | $47.84 |
| 17 | $16.83 | $50.83 |
| 18 | $17.82 | $53.82 |
| 19 | $18.81 | $56.81 |
| 20 | $19.80 | $59.80 |
| 21 | $20.79 | $62.79 |
| 22 | $21.78 | $65.78 |
| 23 | $22.77 | $68.77 |
Smoked turkeys are average between 9-12 pounds. Which means you will pay $29-$40 per turkey.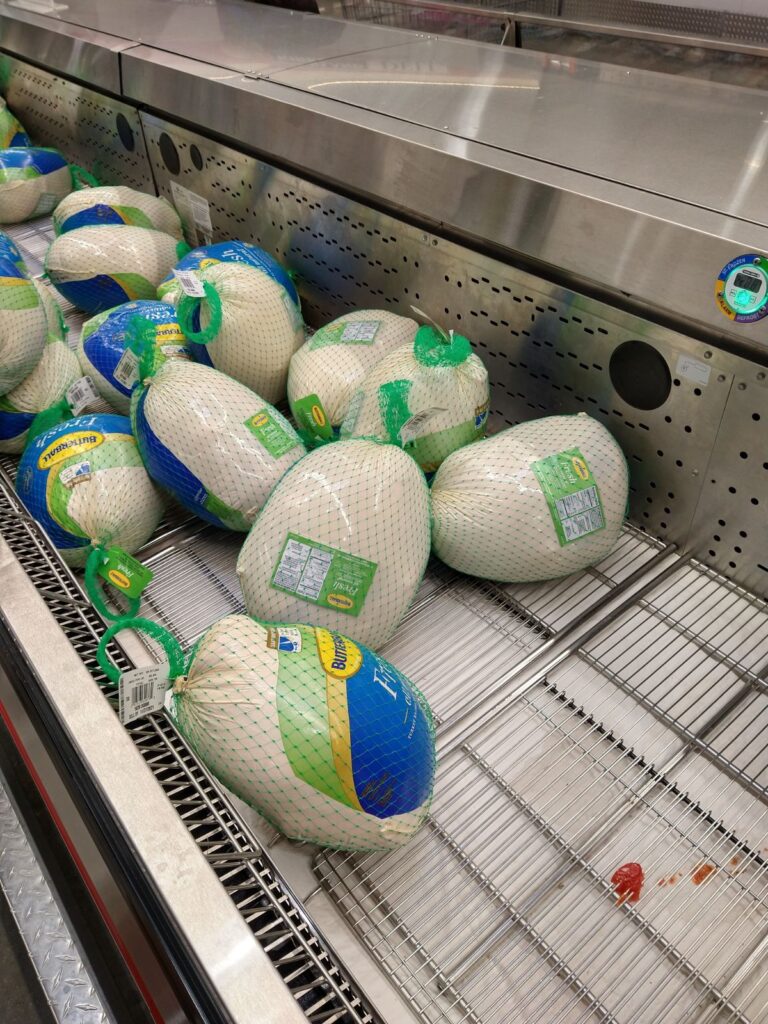 📅 How Early Can You Buy?
As soon as the turkeys are in the store you can buy them. The fresh ones won't go bad before the meal. I have never seen one at Costco that had a sell by date that was before Thanksgiving.
I usually find the turkeys in the store the week before Thanksgiving. Try to go early in that week for the best selection. The smaller bird tend to sell out faster.
This year I did notice that there weren't a lot of smaller turkey already over a week out. Don't wait!
📋 Shopping List
Want some help with your Thanksgiving shopping at Costco? We have created a guide that you can purchase.
❓ Frequently Asked Questions
Let me answer some of the most frequent questions I get about turkey at Costco.
Do They Sell Frozen Turkeys?
No, all the turkeys are fresh.
RELATED - Fresh vs. Frozen Turkeys
When Do They Start Selling Turkeys?
You should be able to find them at the latest, the Monday that is the week before the week of Thanksgiving. Peak selection being on the Friday before Thanksgiving.
Will They Go on Sale?
The price stays the same through Thanksgiving. You might be able to see them cheaper afterward but that is not guaranteed. People have reported them being $5 off for a hen size and $15 for a tom size turkey in years past.
Do They Sell Turkey Legs?
No, I haven't see any kind of turkey legs at Costco in recent years or this year.
Which is the Best Tasting?
I think this comes down to how you season it and cook it yourself the most. But if you start with an organic turkey you will probably have a better tasting bird in the end. Will you be able to really tell the difference that much? That's the real question.
What is the Largest Size?
The largest size turkey I have seen in a Costco display was just over 22 pounds. I personally don't like larger turkeys. They are more difficult to handle and take longer to cook. I say you are better off cooking two smaller turkeys at the same time if you can make it work in your oven.
If your family prefers more white-meat turkey you could pick a turkey breast up from a different store - Costco doesn't carry us the breast meat. And cook a whole turkey as well.
Do the Turkeys Contain Artificial Ingredients?
The Butterball turkeys don't contain artificial ingredients and neither do the organic ones. The smoked turkeys I am pretty confident don't have any artificial ingredients either. They are smoked for 4 to 6 hours.
Do They Contain Turkey Broth?
Broth isn't added to the turkey. However a fresh Butterball turkey does have water, salt, and spices added to it. But not actual broth itself.
Can You Order a Turkey?
Depending on the market you live in, you may be able to get same day delivery on turkey. and other Thanksgiving ingredients. You will need to check the Costco website. I did notice that the prices listed ae higher than what I saw in the store, like $1.16/lb for a fresh turkey instead of $.99/lb.
You also can look into using a service like Instacart. Keep in mind all these services will probably be used to their max this year, so don't hesitate if you want to use one.
👨‍🍳 How Are You Going to Cook Your Turkey?
Every year I like to cook a turkey that is dry brined and butterflied or spatchcocked. I follow Alton Brown's method. This makes all the hard work of preparing the turkey done the Sunday before.
A fresh turkey from Costco makes it easier. I have tried to butterflied a turkey that was frozen a bit in the middle still and my hands can't take that kind of cold!
As a Thanksgiving bonus, I wanted to share with you my favorite tools that will make your Thanksgiving easier.
📖 More About Turkey You'll Want to Read
🍽️ What to Make with Your Costco Turkey
Here are some good dises to maek along side your Costco turkey.
Fresh Cranberry Sauce | Costco sells fresh cranberries
Pumpkin Pie | Canned pumpkin, or you actually can make one with butternut squash instead.
Honeycrisp for Apple Pie | Yes, Honeycrisp apples will work for a pie
Mashed Potatoes & Sweet Potatoes Swirl | Will look beautiful on your Thanksgiving table.
Turkey Gravy | How to make an overnight stock
Green Bean Casserole | Find the green beans all the ingredients you need to make one at Costco. If you like the thinner beans look for the French beans.
Dinner Rolls | Sure you can pick up a pack of already made rolls, but making them homemade can't be beat.
Are you finding different turkeys in your store or different prices? Let us know what your store has by leaving a comment below. Thanks! Also feel free to ask any question you have.