Find out what kind of selection for turkeys you can find at Publix from fresh to frozen to kosher. Is Publix a good place to buy a turkey or are there better deals elsewhere?
I love traveling the country especially around Thanksgiving. It's fun to see what different stores are offering up for the biggest meal of the year.
This Thanksgiving I happen to be in Publix country. So I want to share with you what they have in the way of turkeys and why you should consider buying one if you can.
Check out ALL of our turkey price guides for your favorite stores
Jump to:
💲 Turkey Prices
Here is all the prices that I found at a Publix store in Columbia, South Carolina on November 13, 2022.
| | |
| --- | --- |
| Frozen Butterball | $.99/lb |
| Fresh Butterball | $2.49/lb |
| Fresh Lil' Butterball | $2.69/lb |
| Frozen Lil' Butterball | $1.79/lb |
| Fresh Butterball Whole Turkey Breast | $4.39/lb |
| Greenwise Fresh Turkey | $2.29/lb |
| Greenwise Fresh Bone-In Turkey Breast | $3.99/lb |
| Empire Whole Frozen Kosher Turkey | $2.69/lb |
| Publix Frozen Bone-In Turkey Breast | $1.49/lb |
| Publix Frozen Turkey | $.49/lb |
| Greenwise Fresh Turkey Wings | $3.69/lb |
| Greenwise Fresh Turkey Drumsticks | $3.69/lb |
| Greenwise Fresh Turkey Breast Culets | $7.29/lb |
| Greenwise Fresh Turkey Boneless Tenderloins | $6.89/lb |
| Greenwise Fresh Turkey Necks | $3.69/lb |
| Greenwise Fresh Turkey Thighs | $3.69/lb |
| Greenwise Fresh Turkey ½ Turkey Breast | $3.99/lb |
That is a great selection of turkeys. You got options for fresh, frozen, turkey breast, and kosher.
The cheapest option is the Publix brand frozen bird at 49 cents per pound. That is as cheap as you are going to find. If you want more than 2 of them you will have to pay $1.69/lb after the first two. The sign is also calling them a Broad-Breasted turkey which is your most commonly found turkey, known for having a lot of white meat.
🎧 Wondering how Publix turkey prices measure up to other stores? Listen to our podcast episode on - What to Expect to Pay for a Turkey.
👶 Lil' Butterball
Something you might not have seen before is the Lil' Butterball turkey. It's a smaller turkey than the standard sizes. They are under 10 lbs. The ones I was finding were around 8 to 9 pounds. They came in either fresh or frozen.
This might be an option if you are looking for a smaller bird or if you want to try your hand on spatchcocking a turkey, this size would be a lot easier.
However they cost more money per pound. A frozen one is $1.79/lb. A 9-pound one is going to cost you $16.11. A regular Butterball frozen turkey would cost $15.84 for a 16-pound turkey. So it's not the best value. I would only get it if you just really want a smaller turkey. You can freeze leftovers with a bigger one.
RELATED - How Far in Advance You Can Buy a Fresh Turkey
🟢 How is Greenwise Different?
What's the difference between the Greenwise brand turkeys and the Publix brand turkeys? Or other brands for that matter? The Greenwise turkey has nothing added to it. Other turkeys are put into a brine that could include water, salt, broth, sugar, and/or sodium phosphates. The Greenwise turkey would be what I consider a non-basted or non-brined turkey.
I prefer to do the brining all myself. And don't want to pay for extra water weight and insufficient seasonings.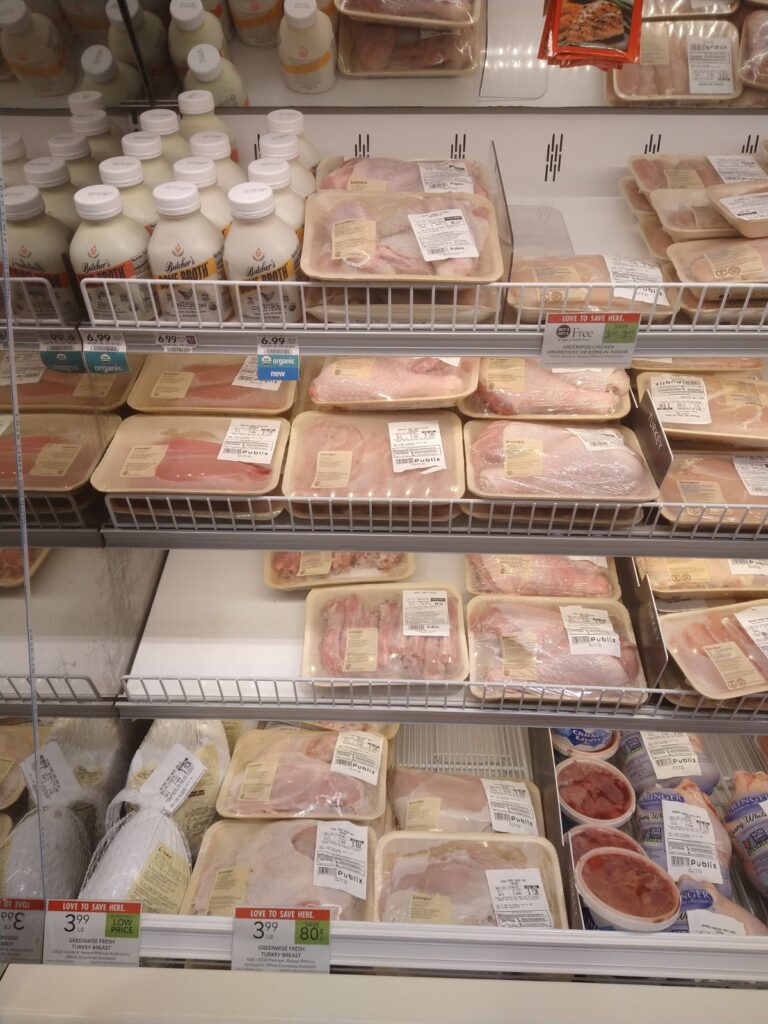 🍗 Turkey Parts
What I liked about shopping for turkey at Publix is that they have all that different parts. Maybe you want some drumsticks or a tenderloin. Or you need some extra necks for gravy. Or you just don't want to cook a whole turkey. They had all of that. There is a whole section of fresh turkey parts under the Greenwise brand.
☎️ Can You Order a Turkey?
You can use a service like Instacart to order a turkey but they don't have a service to just reverse a turkey for you to pick up in the store. If you get there before the weekend before Thanksgiving, you should have plenty of selection to choose from so you can get what you want. If you wait until the last minute they could run out of some types, especially smaller sized turkeys. Often you find the large 22 lb turkeys are the ones that are left at the end.
👍 Is Publix a Good Place to Buy a Turkey?
The verdict is yes. I think it is a good store to buy a turkey. They offer a wide selection with all the different parts in case you don't want a whole turkey or you want to add more meat to the meal. They offer a cheap turkey for those on a budget and an affordable price on non-brined turkey as well as a kosher turkey.
Did you plan on buying a turkey at Publix this year? Or maybe you have before? What do you like to buy? Leave a comment below.