Find out how to cook a smoked turkey from your local Costco and if it's a good choice for the money to buy for your Thanksgiving turkey dinner.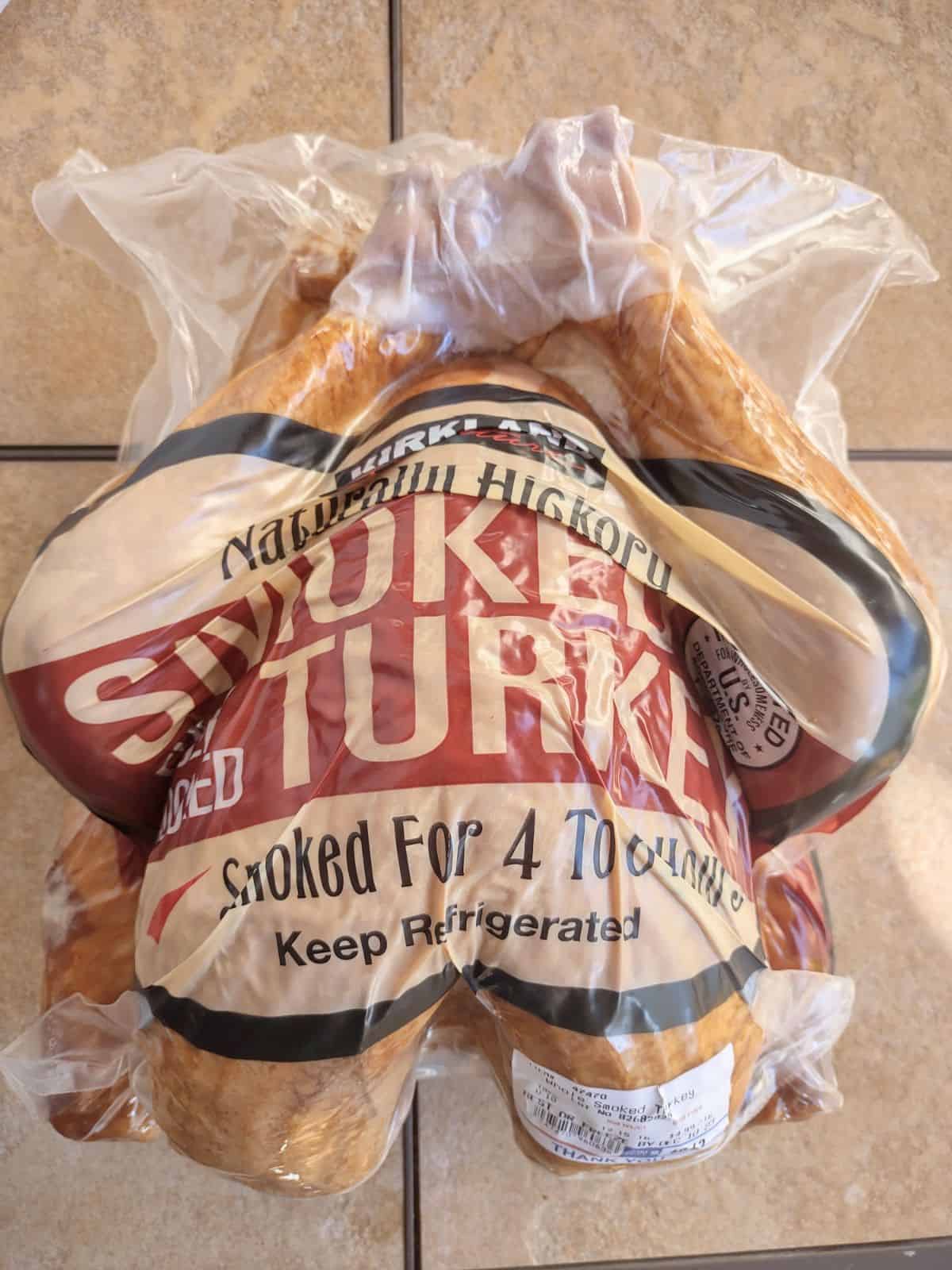 This post includes affiliate links. This means that, at no additional cost to you, I will earn a commission if you click through and make a purchase. These are products and services I recommend because I use or trust them. Cookies will be used to track the affiliate links you click.
Is the Costco Kirkland Signature Smoked Turkey Worth It? If reheated correctly this turkey comes out moist with the right amount of smoky flavor, not too much, but not too little either. The dark meat is exceptional.
For many years I have been reporting on Costco turkeys. I wrote my 1st Costco turkey guide for the 2014 Thanksgiving. I have gotten turkeys from Costco. But you know what? I have never tried the smoked turkey before. That changes now. This year I decided to get the turkey right after Halloween and cook it up so I could tell you all about it before the big turkey day.
Jump to:
🦃 What Kind of Turkey?
The Kirkland turkey is a hickory smoked whole turkey. It's been smoked from between 4-6 hours. This is considered a fully cooked turkey. Stevison Meats from Portland, TN are the ones that smoke these turkeys for Costco. They used to have the Stevison name on the packaging but it switched to saying Kirkland a while back.
💲 What is the Price?
In 2023, I found them for $4.99 a pound at a Costco in Spanish Fork, Utah. The average weight of the turkeys is between 9 and 13 pounds, so the price you will pay in total will be around $45-$65. Most of the ones I saw were around $60 each. I would not call this a good dea,l however it's still cheaper than a high end turkey you might order online or directly from a farm.
When can you buy the turkey before Thanksgiving? You can get the turkey weeks in advance. They have it before the standard fresh and organic turkeys. Since they have been smoked they will last a long time in the fridge. If you are going to buy one and have fridge space, then buy one early.
⏲️ How Long Does It Take to Cook?
Since we are starting with a smoked turkey that means we are talking about reheating it not cooking it. However this is still going to take a while. Why? Because you want to slowly reheat it. If you do it at a high temperature you will end up drying the outside of the meat before the interior is heated up.
Slow and steady wins the race here.
How long does it take to reheat? For my just over 12 pounds it took 3 ½ hours at 300 degrees to reach an internal temperature of 140 degrees. I also cooked it at over 5,000 feet of elevation.
The key is cooking to temperature, not cooking time. Just use the time given as a guide to how long it could take, but let your thermometer tell you when it's ready. When I cooked mine I was in a house in Utah that is over 5,000 feet in elevation. That will have an effect. The size of your turkey is a factor too.
The best way to track the temperature of the turkey as it reheats is a thermometer with a probe. That way you can constantly track the temperature. It's better than using an instant read thermometer where you will have to open the oven to check the temperature. Every time you open the oven you slow down the cooking.
For quality and affordability, I suggest getting a DOT® Simple Alarm Thermometer from ThermoWorks before Thanksgiving. Between getting an already smoked turkey and a thermometer to tell you when it's reheated enough, you will have a pretty low stress Thanksgiving.
⏲️ Heating Instructions
When it comes time to cook your turkey, I recommend pulling it out of the fridge about 30 to 45 minutes before cooking it. Bringing the turkey closer to room temperature will give you a jump start in heating up your turkey.
I like to look for ways to add a little more flavor. If you hve some carrots, onions, or celery lying around you can stick some into the cavity of the turkey or place them underneath or around the bird. This is a great way to use up soft carrots, limp celery, and old onions.
Next, if you have a thermometer you will want to insert the probe now into the deepest part of the breast without hitting any bone.
To keep the turkey from drying out, you need to wrap it in heavy duty aluminum foil. It doesn't need to wrap all the way around, just all the way around the top and down the sides.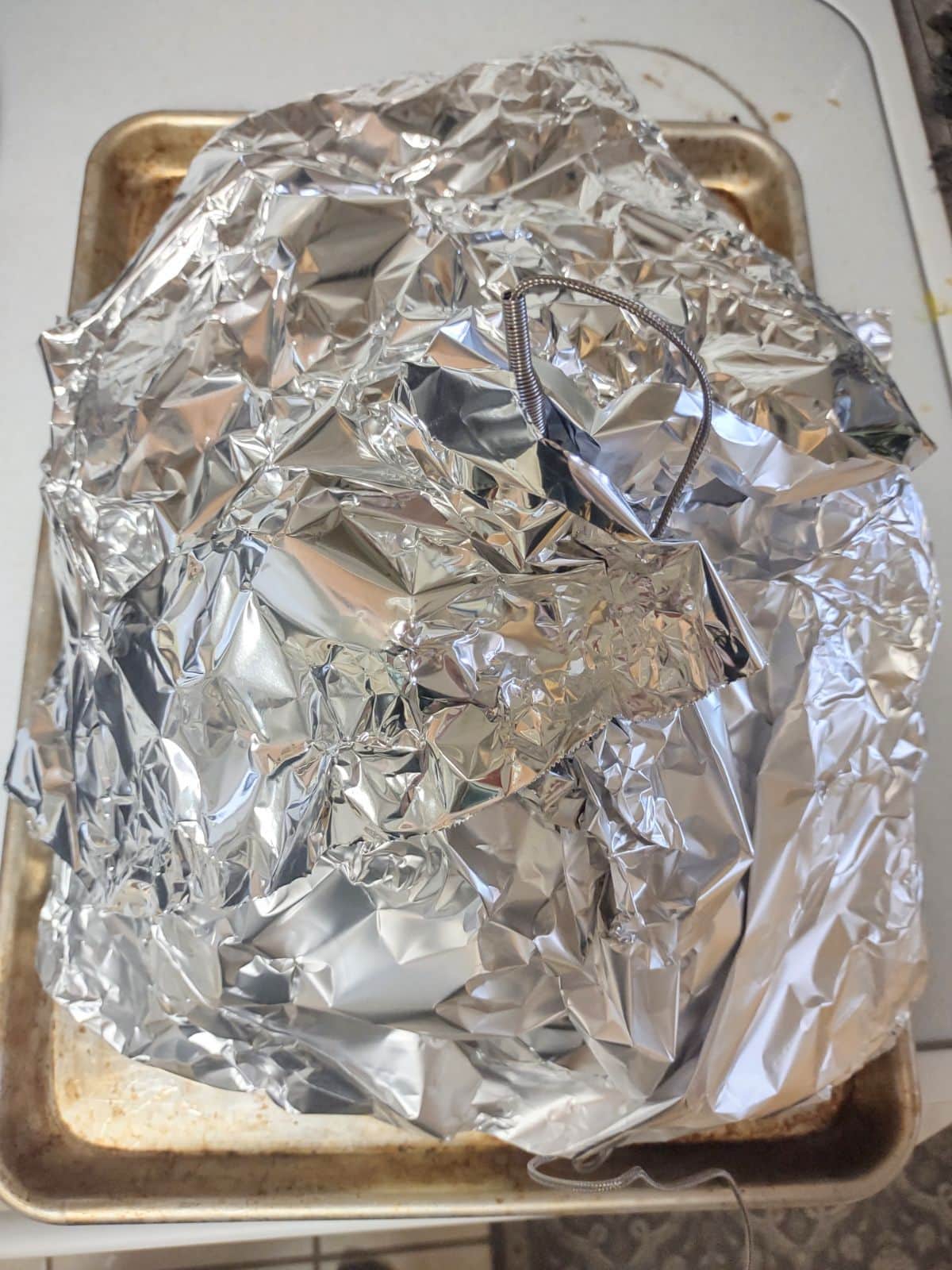 There is no need to put any stock or broth in the bottom of the sheet or roasting pan. Cooking to the right temperature and using foil will keep it moist.
Now you just place it in the oven. I don't attach the probe to the unit after I put the turkey in and shut the door, making sure the cord is within reach of the unit. Set the temperature to 140 degrees. Now you just need to sit back, enjoy the smells, and wait until it reaches the temperature.
When the turkey comes out you have some options. You could just keep it covered and allow it to rest for 15-20 minutes. Or
Add Herb Butter
Melt a stick of butter in a bowl. Then mix in 2 tablespoon of chopped fresh herbs (combo of thyme, rosemary, and sage would be good). Brush all over the turkey.
Crisp the Skin
If you want the skin to be more crispy, take the turkey out, and then turn on your oven's broiler. Remove the thermometer probe and the foil. Put the turkey back in, making sure it doesn't touch the heating element. Cook for 3-8 minutes to get the skin more crispy. Watch carefully, don't leave the room while doing this, you don't want to burn it.
💡 Tip - Save those bones! When you have pulled all the meat off the turkey save the bones for making turkey stock or turkey broth. I freeze the bones, so when I am ready to make it they won't have been stuck in my fridge for days after Thanksgiving.
⭐ How Good Is It?
After years of seeing the smoked turkeys, I finally got to try it. Was it worth the wait? I would say so. The turkey had a great taste. It's different from the ones I normally do that have a lot of herbs and spices, but the smoked flavor is a nice contrast.
Here are the pros and cons of choosing this turkey for Thanksgiving.
👍 Pros - The flavor of the turkey had a nice smoked flavor without being too light or too much. The meat was moist upon reheating. The dark meat was particularly good. The process of cooking it is easier than a fresh turkey.
👎 Cons - Cost at $4.99 a pound, it's more money than you would pay for a traditional raw turkey. Some of your guests may not like the smoked flavor.
I wanted to mention that part of the skin of my turkey was torn. I might have just come off when I was removing the packaging. It was not a big deal to me.
🧊 Can You Freeze Leftovers?
Yes you can most definitely freeze the leftovers. What I did was cut off an entire turkey breast and put it into a bag and vacuum sealed it. Labeled it including the date and placed it into my freezer.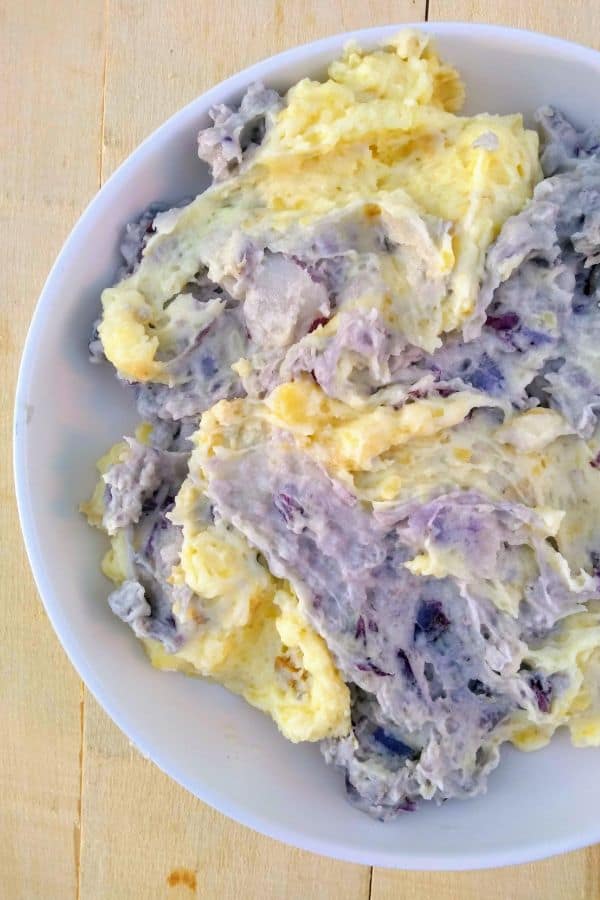 🥔 What to Serve with Smoked Turkey
Here are some side dish ideas from around the blog that would go perfect with this turkey.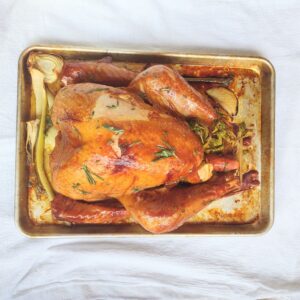 Reheated Costco Kirkland Smoked Turkey
Learn the best way to reheat a smoked turkey from Costco
Print
Pin
Rate
Ingredients
9-13

lb

Kirkland Smoked Whole Turkey

vegetables or onions

1

stick

butter

optional

2

tbsp

chopped fresh herbs

optional
Instructions
Start by removing the turkey from the fridge 30-45 minutes before you will cook it.

Preheat your oven to 300 degrees.

Remove the turkey from the packaging. The legs will be tied, leave that on.

Place the turkey on a sheet or roasting pan with the breast side up.

If you have any carrots, celery, or onions, rough cut them up and insert them into the cavity of the turkey. You can put some underneath the turkey as well.

Insert the probe of your thermometer into the deepest part of the breast. Set your thermometer to go off at 140 degrees.

Wrap entire top of the turkey in heavy duty aluminum foil, making sure not to mess up your probe. You don't need to cover the bottom of the turkey.

Cook until the alarm on your thermometer goes off. This could take between 3-4 hours or less depending on your elevation and the size of your turkey.

When you hit 140 degrees, remove the turkey from the oven.

Allow the turkey to rest for 15-20 minutes before carving .

Put leftovers in the fridge as soon you are done eating and they have cooled down.
Notes
To add flavor (optional) - Melt a stick of butter and mix in 2 tablespoon of chopped fresh herbs. Brush all over the turkey.
For crispy skin (optional) - You can turn on your oven's broiler to make the skin more crispy. Take the turkey out first and remove the probe and foil. Place turkey back in and allow it to get crispy for a few minutes, watch it carefully so you don't burn it. Don't leave the room while doing this.
Tried this recipe?
Mention @eatlikenooneelse or tag #eatlikenooneelse