Learn what a Sirloin filet steak is, how it differs from a top sirloin steak, and what the best way to cook it is. Both an oven method and sous vide method await you.
Disclaimer: Some of the links you will find below are affiliate links, meaning that at no additional cost to you, I will earn a commission if you click through and make a purchase. Cookies will be used to track the affiliate links you click.
In my quest to master the world of steaks and all the different cuts, I am always keep my eyes peeled for cuts that I have not talked about on this blog before.
A last night journey into my local Meijer store, I spotted the Top Sirloin Filet steak. The package came with two steaks on sale for $4.99/pound - in 2014, not 2022 :). I snatched those puppies up and toss them in the freezer until I was ready to use them.
In our house I like to save the steaks dinner for later in the evening when the kids are in bed and my wife and I can just enjoy without interruption. Trying to perfectly cook a steak with screaming kids all around you is one of life's great challenges!
Jump to:
🥩 What is a (Top) Sirloin Filet Steak?
Most people are familiar with the Top Sirloin - a long, tasty steak, that can be found at most steakhouses. It's one of my favorite steaks to toss under the broiler.
Sirloin comes from the Short Loin of the cow, which is located toward the middle of the cow's back. It's the part of the cow where we get tenderloins, ribeyes, porterhouses, and t-bones.
The Top Sirloin Filet steak (or just called Sirloin Filet steak) is a cut of the leanest, most tender part of the top sirloin.
The average steak weighs about ½ a pound or so.
🥊 Vs. Filet Mignon
It is boneless and similar in appearance to a filet mignon without the hefty price tag. It has the flavor you would expect from a top sirloin. Not quite as tender, but for a budget minded person it's probably the best substitution for filet mignon.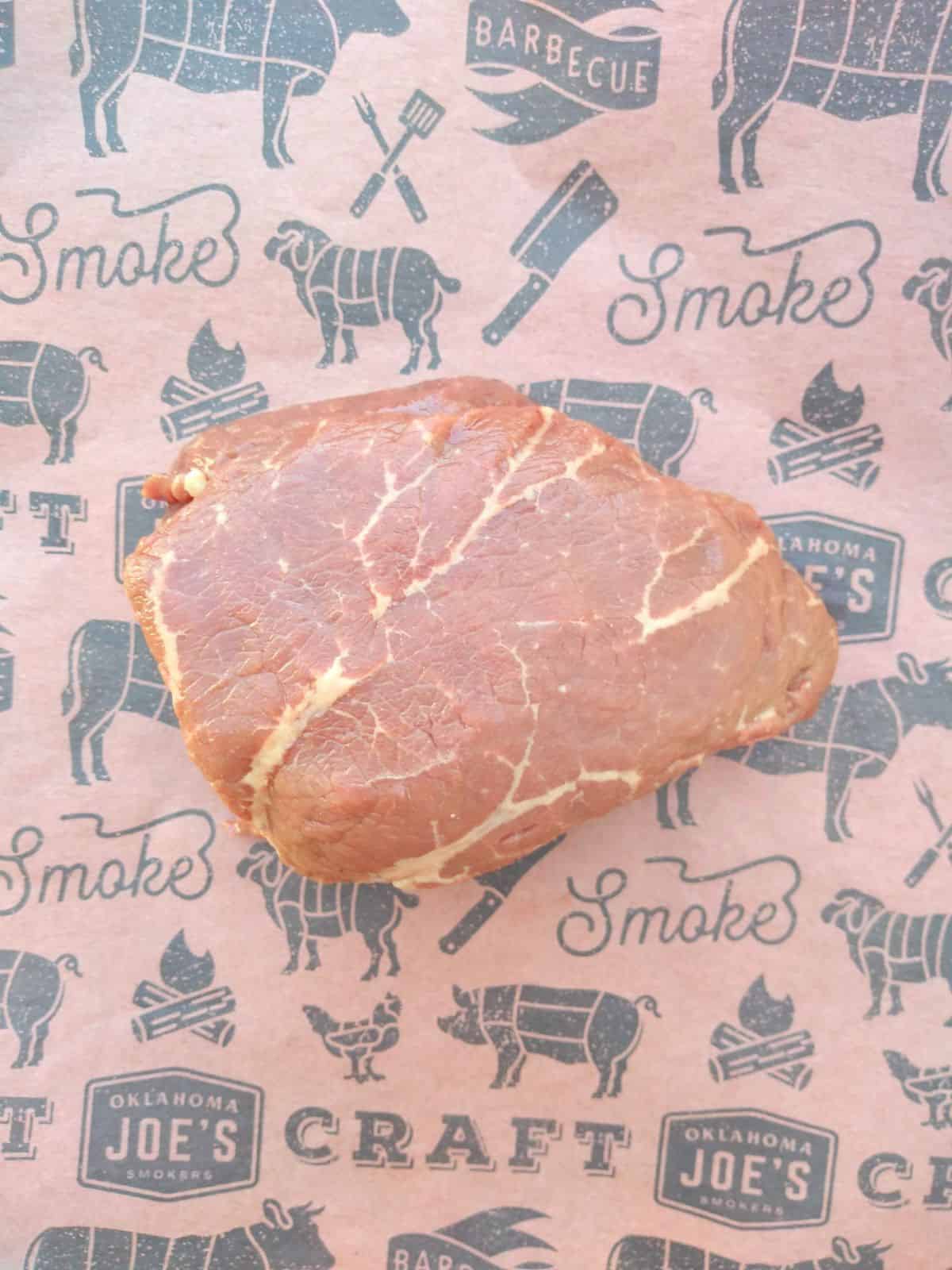 🛒 How to Pick a Steak
The key thing to picking a good steak is look for streaks of fat in the middle. This is a leaner cut but that doesn't mean it's devoid of all fat. Choose steaks with nice steaks in the middle.
If the steaks come in a package of two, try to pick ones that are the same size for even cooking.
The best Sirloin Filet steak I have had was the one I got from Porter Road. They are known for their dry aged beef that comes from smaller farms. They believe the well being of the animals not only benefits them but produces a better end product. I picked up a Sirloin Filet steak at their Butcher Shop in Nashville. You can also get them and all their amazing meats delivered directly to your door. Since they source from small farms, sometimes items are out of stock, however you can join a waitlist and be notified when you can order again. And there is also something good to order.
♨️ How to Cook
One way to cook this steak is to take a two method approach. You want to get a great sear on the steak but you don't want to burn it before the inside is cooked. Top Sirloin filet steaks are on the thick side.
What I recommend doing is performing a quick sear in a cast iron pan or any heavy bottom pan that is oven safe, then finishing it in the oven. You might also call this the reverse sear.
I used a Lodge Cast Iron Griddle, when I last cooked these steaks and it did a wonderful job. I first saw this method performed by Robert Irvine on Food Network's Restaurant Impossible, but he certainly didn't invent it. By finishing it in a hot oven you can finish the inside without burning the outside.
🛁 Sous Vide
If you have a sous vide machine/immersion circulator, this is the method I would now use. Since I got mine I have never cooked a steak any other way. Here are instructions for my sous vide enthusiasts.
Season the steak with kosher salt and black pepper
Vacuum seal the steak or whatever method you use for cooking
Set a water bath to 120 for rare, 130 for medium rare, 140 for medium, 150 for medium well
Cook for 1 hour
Remove the steak from the bath.
Cut a corner in the packaging and drain out the liquid if you want some au jus
Sear the steak in a hot cast iron pan on both sides for about 60-90 seconds to just get it brown
🏆 Best Cast Iron
Of course cooking a steak on a grill outdoors is a special thing. Sometimes the weather won't allow for that. So when cooking a steak indoors I always do it on cast iron.
I always recommend the american company Lodge for their cast iron. High quality, American made, and won't break the bank.
Here are 3 different options of cast iron to cook your steak on.
Griddle - For small steaks like these ones, a grill works perfectly fine. A grill is always the perfect vessels for hamburgers. Both steaks and burgers are easy to flip on a griddle because the sides are so shallow.
Skillet - A skillet will have high sides. Good for making cornbread in. And can be do a steak proud as well. Not as easy to flip as in a griddle but a skillet is more versatile.
Grill Pan - If you want those nice grill marks turn to a grill pan. They have ridges that will give you that very appetizing looking grilled appearance.
❔ Should You Marinate?
I don't think it's required but you could do one. Since it's a thick steak you will need to do it longer. I would shoot for about 2-3 hours.
It's best to make a marinade to your tastes. Here are some ingredients I like to use in steak ones:
Soy sauce
Worchestershire sauce
Minced garlic
Lemon juice
Olive oil
Cumin seeds
Freshy cracked black pepper
Kosher salt
For best results, marinade in a bag that just fits the steak so that all the liquid can surround it giving your steak the best chance to soak up that flavor.
🧈 Add Butter
I have had several readers make this comment and I think it's a great idea. When you are finishing your steak in the oven, add a pat of butter on top of it. It will melt deliciousness all over your steak.
Grilled or caramelized onions that you add when you plate your steak would also be an excellent addition.
👍 Pros & Cons
To sum it all up let's review the pros and cons for this steak:
👍 Pros - A tender steak that is cheaper than Filet Mignon, it's small size is great for a smaller appetite, The steak has some good flavor.
👎 Cons - Not available in every store, it's lean so that makes it's easy to overcook it. It's a thicker steak so it can be harder to nail the internal temperature just right.
If you can get your hands on this steak I highly recommend you give it a try. It's a good steak for a good value. You want to either sous vide or have a good thermometer on hand so you cook it perfectly. The one I suggest is the one that I saw Alton Brown use on Good Eats all the time, the Thermapen from ThermoWorks.
🎧 If you are on the fence about buying a thermometer for cooking listen to our podcast episode - Why a Thermometer Will Save You Money.
🐮 More Steaks to Cook
Here are some of the other steaks we have talked about on our blog and how to cook them.
🥔 What to Serve with Sirloin Filet
I want to help you round out your meal with some suggestions of what to serve alongside your sirloin filet.
Steak and potatoes are a must for me. My son's favorite is mashed potatoes. There are so many ways to make them, two unique ways I like is is buy making sous vide mashed potatoes or mixing together two different colored potato for Swirled Mashed Potatoes.
I love going to a steakhouse and enjoying some bread before my steak comes. At home, I love yeasty, buttery homemade rolls. Check out these Butter Flake Rolls from Alton Brown, they aren't hard to make and are soft and delicious.
For great veg, air frying broccoli is one of my favs. I wrote about how to do that in a post I did on helping people know whether their broccoli has gone bad or not.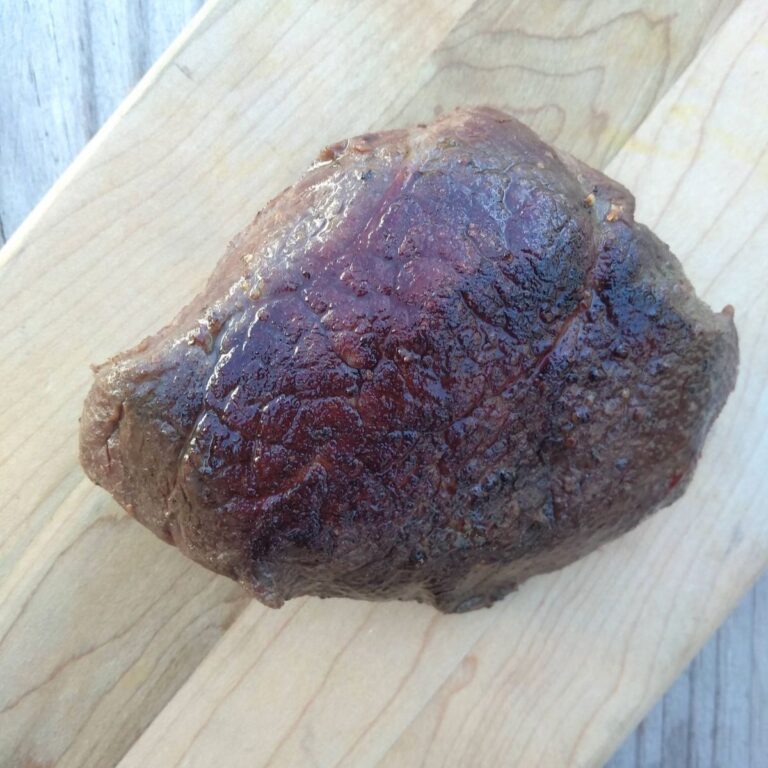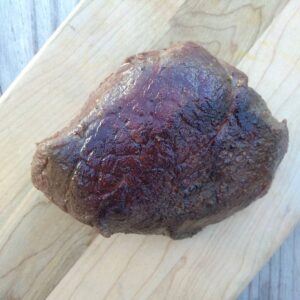 Seared Top Sirloin Filet Steaks
A two part cooking method is the perfect way to cook top sirloin filet steak.
Print
Pin
Rate
Ingredients
2

Top Sirloin Filet steaks

high heat cooking oil

I like sunflower or grape seed

kosher salt and freshly ground black pepper to taste
Instructions
Place your steaks on a plate and liberally season with kosher salt. Allow them to come up to room temperature before cooking, about 30 minutes.

Preheat your oven to 500 degrees.

Coat a cast iron skillet or oven safe pan with a coat of oil. Place over high heat. When hot, place the steaks on leaving room between them.

Sear for 2 minutes, then flip and sear for another minute.

Immediately place into the oven. Allow 3 to 5 minutes for the steak to finish or until they an internal temperature of 5 degrees below your final temperature (120 for rare, 130 for medium rare, 140 for medium, 150 for medium well and 160 for well done).

Allow the steak to rest on a plate for 5 minutes before cutting.
Notes
An optional but delicious addition to the steak is putting a pat of cold butter on top of it when you are ready to put it in the oven. The butter will melt and coat that steak is deliciousness.
Tried this recipe?
Mention @eatlikenooneelse or tag #eatlikenooneelse