Is broccoli that turns yellow just another color or it is something you want to avoid? Is it still safe to eat? Why does it turn yellow in the first place?
You came to this blog looking for answers.
Is that broccoli I forgot about that turned yellow still ok to eat.
You got questions, I hope I have answers.
We love to answer your food related questions here at Eat Like No One Else.
Feel free to ask another one in the comments section when you are done reading the answer to this question.
Jump to:
🥦 Can You Eat Yellow Broccoli?
Answer: Well yes you can eat it.
Wait. wait, wait.
Don't hit that back button yet!
Broccoli that has turned yellow is not poisonous. It could be considered "safe to eat", however....do you really want to eat it?
Probably not.
You see when broccoli turns yellow it becomes very bitter. Or if you are growing broccoli in your garden and it flowers, it will be very bitter.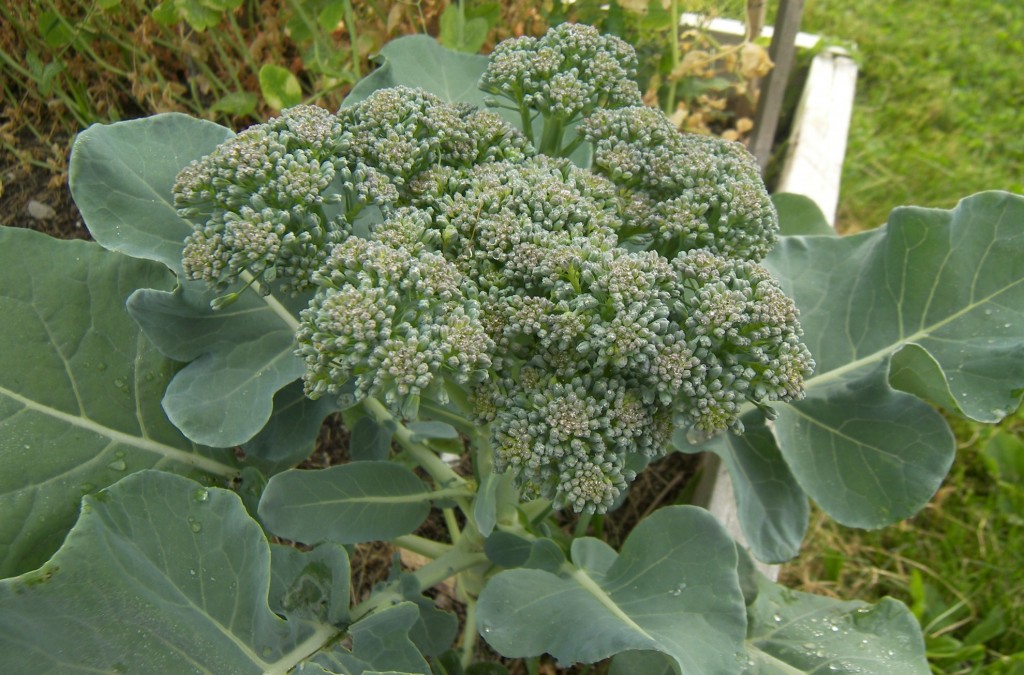 🔥 What Happens When You Cook Broccoli That is Yellow?
If you thought it looked bad before you cook, it looks even worse.
And through my own personal tasting - which I don't recommend now as I bite the bullet for you - the bitter taste gets even worse when you cook it.
❓ Can You Eat Raw Yellow Broccoli?
So if you really don't want to waste it, you could eat it raw. If there is only a little bit of yellow, you might be able to cut the yellow parts off and use the rest.
Let your tongue make the final decision. If it tastes too bitter than do not eat it or add it to something sweet that will counteract the bitterness
🟩 What About the Stalks?
We have been talking about the florets turning yellow but can you eat the stalks when the florets have turned yellow?
Depends on the condition of the stalks. If they seem soft, they won't be good.
You can try removing the stalk and cut them in half to see if they are look ok. Sometimes they still are and you could give the stalks a try.
👶 What About Broccolini?
If we are talking about broccolini or baby broccoli, it often has a bit of yellow on the buds. This type of broccoli is sweeter to start with, so it's better balances out any bitterness.
🗑️ Not Comfortable? Toss It!
Always do what you are comfortable with doing. If you don't feel comfortable eating the even the stalks once the florets turn yellow, then toss them or throw them into your compost - as long the broccoli isn't full of mold.
🟡 Why Does Broccoli Turn Yellow?
As broccoli ages the florets turn yellow due to the break down of chlorophyll - the pigment that gives broccoli and other plants their green color. Same thing happens every fall when the leaves in the trees begin changing color.
Some vegetables will rot before the chlorophyll breaks down. I have never seen asparagus go bad by turning yellow. Salad greens for sure turn yellow.
🎧 You can listen to this blog post in podcast form. Listen to Episode 005 - The Colors of Broccoli. Learn about broccoli that has a purple tint to it and whether you should buy it. Also check out our episode - When Green Beans Go Bad.
🧊 How to Freeze Fresh Broccoli
What if you had planned broccoli for a meal one night and then you ended up eating out instead? You are concerned that your broccoli is going to go bad now because it no longer fits into your immediate meal plans. One thing you can do to save yourself from wasting broccoli is to simply freeze it.
What I do is a cut the broccoli into bite size pieces. If you are just buying broccoli crowns, then you will just have the florets. If you buy the whole broccoli you will need to cut the stems into bite sized pieces. No reason to waste them, they have flavor too!
Now you can either put them into a plastic freezer bag. Make sure to put the date on the bag with a Sharpie so you can remember when you froze them.
If you are worried about freezer burn, then there are two things you could do:
Wrap the broccoli in heavy duty foil before you put it into the freezer bag
Vacuum seal the broccoli
If you own a vacuum sealer I think that is going to be your best bet. Arrange the broccoli into a single layer in the bag so that it will lay flatter in your freezer. Make sure you put the date on the bag as well.
Now when you are ready to use this broccoli I have a great idea for you.
🌬️ Air Fryer Frozen Broccoli
For an easy side dish on a busy weekday, try taking the frozen broccoli out of the freezer and place it right into the air fryer. No need to thaw whatsoever. How simple is that?
Instructions - I spray the broccoli with some cooking oil, then season with salt, garlic powder, and freshly ground black pepper. Cook at 375 degrees for 10 minutes. I would check on the broccoli half way through to see how it's cooking. If the florets are getting too dark too fast, just reduce the heat to 350 degrees until the stems are tender.
I have made broccoli in the air fryer several times from fresh broccoli but you know hat it actually turned out better using the frozen. The freezing process ended up softening the stems, so that they actually cooked quicker. From now on I prefer to use frozen broccoli in the air fryer over the fresh.
I also have a recipe on the blog for using frozen veggies to make Sous Vide Broccoli and Cauliflower medley.
What do you find is the most often problem you see with broccoli going bad in your fridge? Leave us a comment below and share your experiences.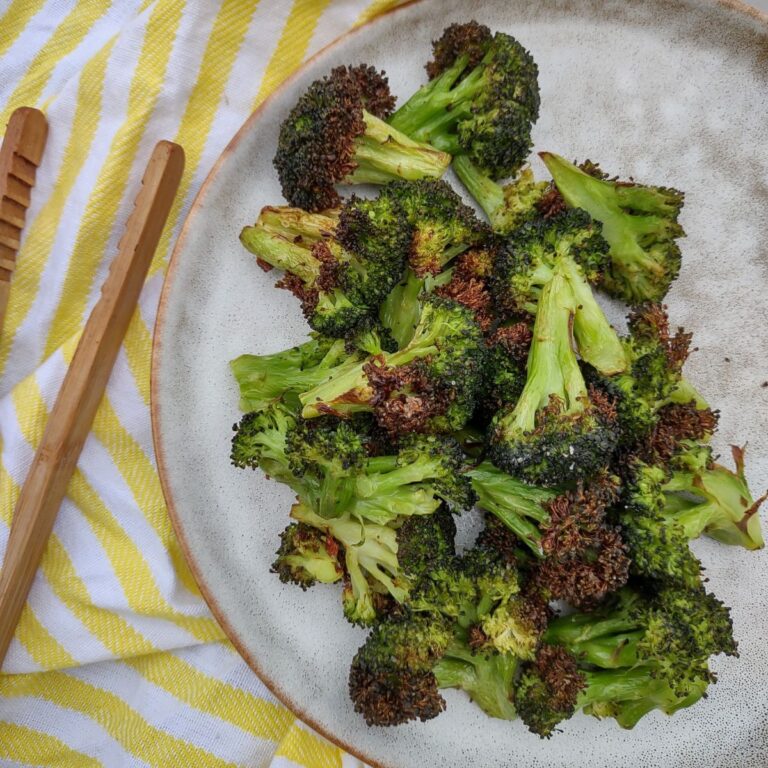 Air Fryer Frozen Broccoli
How to save broccoli from going bad by freezing it first and then cooking it straight from the freezer in the air fryer. The stems of the frozen broccoli cook faster than fresh broccoli would.
Print
Pin
Rate
Instructions
Remove broccoli from the freezer and put directly into air fryer basket

Spray on a thin layer of oil. Then season with salt, pepper, and garlic powder. For more seasoning ideas see the notes below.

Set your air fryer to 375 degrees for 10 minutes.

Check after 5 minutes. Stop and shake the basket. If the tops are getting brown too quickly, then reduce to 350 degrees to finish or under the stems are tender.

Serve immediately. Optional - add some freshly squeezed lemon juice from ¼ of a large lemon.
Notes
You can make this with broccoli that you bought frozen in the store as well.
For the cooking spray oil, I like olive, avocado, or grapeseed oils,
Some other ideas for seasoning the broccoli include
Fresh lemon juice
Smoked chipotle powder
Cured Sumac
Everything But the Bagel Seasoning
Soy sauce
Smoked salt
Tried this recipe?
Mention @eatlikenooneelse or tag #eatlikenooneelse