Taking broccoli and cauliflower directly from your freezer to your water bath - does it work or should you stick to fresh broccoli and cauliflower?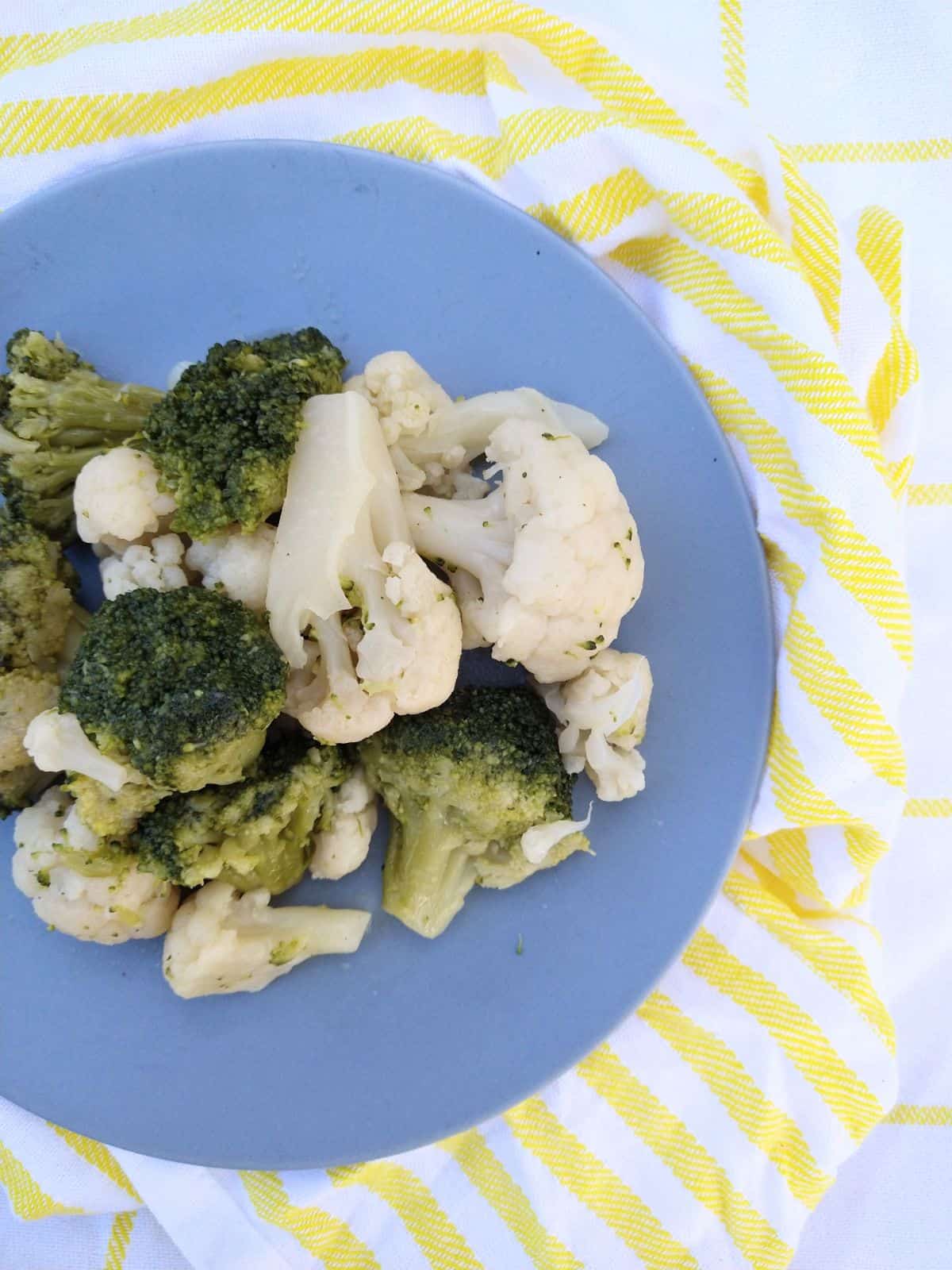 This post includes affiliate links. This means that, at no additional cost to you, I will earn a commission if you click through and make a purchase. These are products and services I recommend because I use or trust them. Cookies will be used to track the affiliate links you click.
I had been wondering how frozen vegetables would do cooked sous vide style. I decided to give it a try with a bag of frozen broccoli and cauliflower. Why not test two vegetables at the same time.
Normally I don't cook them together as cauliflower benefits from a longer cooking time and broccoli does not. Does that matter in the sous vide environment. Let's find out.
Jump to:
❓ Why Sous Vide?
Broccoli and cauliflower really don't take long to cook so why would you bother giving it the sous vide treatment? At first it doesn't make any sense. It's simply going to take your longer. However have you ever overcooked broccoli or cauliflower while you were attending to other parts of your dinner?
Most of us, that's probably a yes. It can be easy to forget about. One of the great things about sous vide you can almost forget about it. You can still turn broccoli and cauliflower into mush through sous vide if you keep it in too long, but it's much more forgiving than cooking it on the stove.
Also by cooking with water but not in water, the vegetables doesn't absorb extra water, making them more flavorful.
RELATED - Can You Eat Broccoli That Has Turned Yellow?
🛒 Ingredients
For this recipe we are keeping things rather simple.
What should you look for when buying frozen broccoli and cauliflower? I like to find florets and avoid ones that have lots of steams in them. Not that the stems are bad but I feel like a lot of those bags are like 75% stems.
If you want you can just do all broccoli or just do all cauliflower. All instructions will reman the same.
Now what's going to make the biggest impact on flavor is the olive oil you use. Choose a quality one that you really like the taste of. It will make all the difference.
📋 Instructions
There is no need to thaw the veggies before hand. Just throw into the bag you are using along with the olive oil, salt, and garlic powder.
Seal up your broccoli and cauliflower using your favorite method. Mine is vacuum sealing with my Vesta vacuum sealer. I use WeVac bags with it. If you are using a vacuum sealer make sure you don't get olive oil near the top of the bag. It will make it harder to get a good seal.
⏲️ Time suggestion : 45 minutes. If you want your veggies more firm than go 30 minutes.
The goal here is to cook the veggies so they are not crunchy, but not mushy. 45 minutes will give you broccoli and cauliflower that are soft, but mushy. If you want them to be firmer than you can try 30 minutes. Not a bad idea to test them at 30 without opening the bag. See how they feel, you can always put them back in.
🌡️ Temperature suggestion : Set your water bath to 185 degrees.
This seems to be the magic temperature for cooking veggies.
When your water bath is heated up, add the bag. Sometimes it may still float that's when you need to weight them down with something. I find that a small, heavy saucepan does the trick. Or I will use my metal camping plates or bowls to push the bag underwater to stay.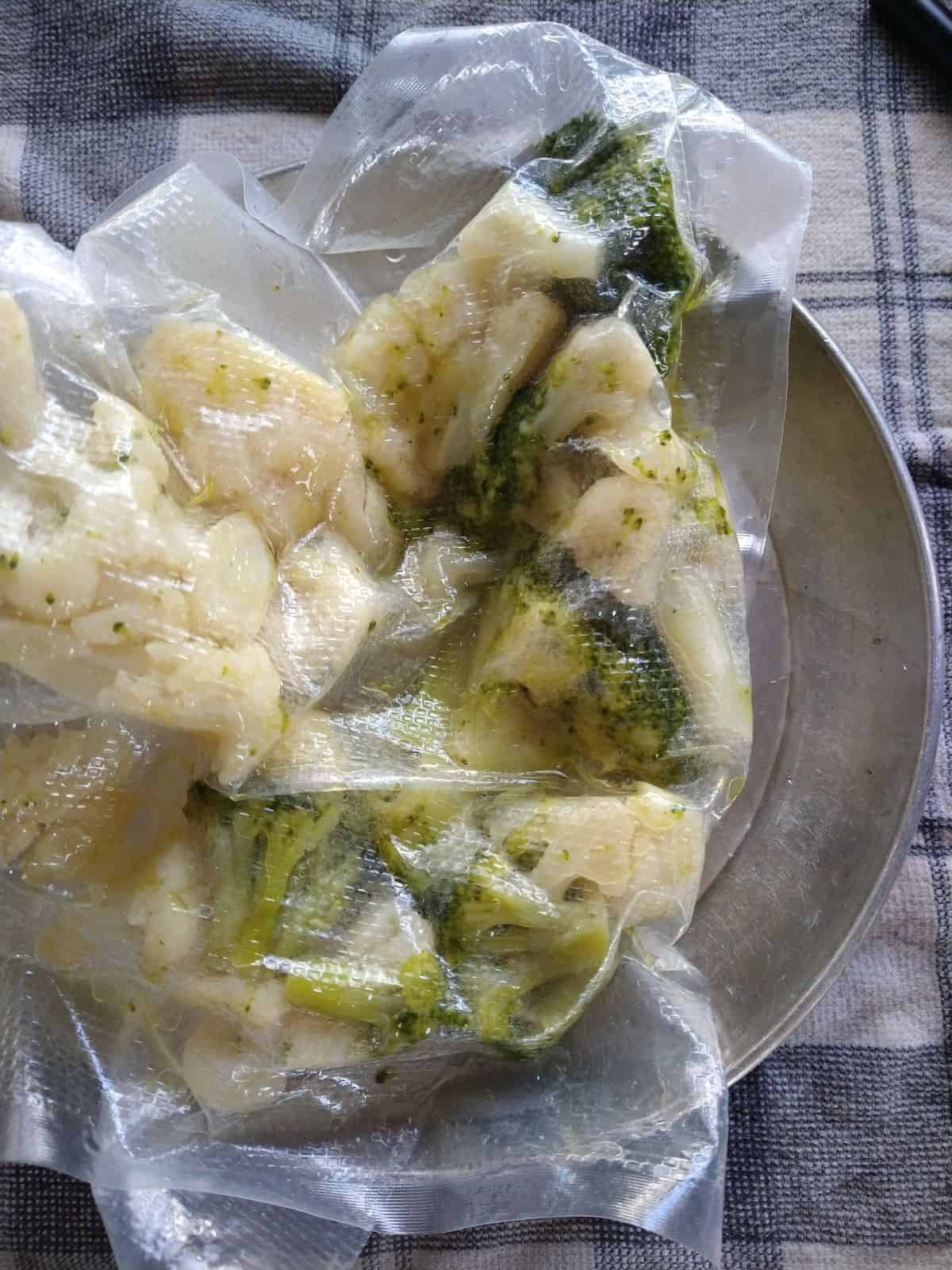 When the veggie are done, remove them from the water bath with a pair of tongs. You can eat them right away. Time it right and they can be done at the same time your main course of the evening is.
💨 Instant Pot Sous Vide
I gave this recipe a try using my sous vide function that my Instant Pot Duo Plus has. The results were great. It does take longer to heat up than my sous vide machine, so there's that drawback. It helps if you only use the amount of water you need and that's enough to cover whatever you are cooking.
⚠️ Be aware - The Instant Pot only lets you choose times that are increments of 30 minutes. So you can't set it to 45 minutes. You can set it for 60 minutes and then set a timer for 45 minutes, so you remember to pull the veggies in time.
🍽️ More Sous Vide Recipes
More things to try out in your sous vide water bath:
🥕 Veggies
🥩 Meat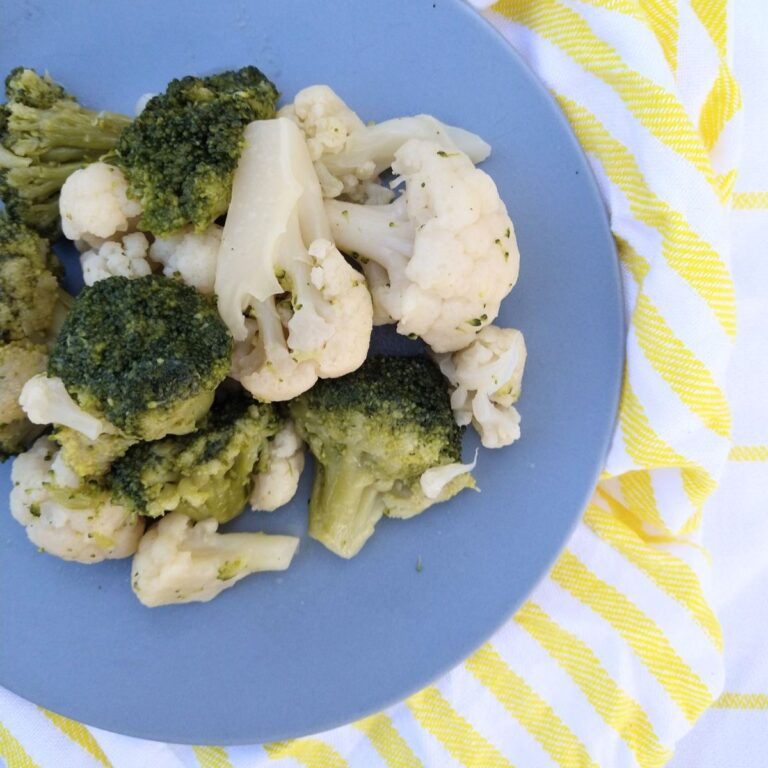 Sous Vide Frozen Broccoli & Cauliflower
Take frozen broccoli and cauliflower straight from the freezer to your sous vide bath with tasty results.
Print
Pin
Rate
Instructions
Set your water bath to 185 degrees for 45 mintues.

Add the frozen veggies to a bag with olive oil, garlic powder, and kosher salt. Seal the bag. If vacuum sealing try to avoid getting oil at the top of the bag, so that it won't interfere with gettig a good seal.

Add to the water bath once it comes to temperature.

If at any point the bag starts to float, weight it down. A small, heavy duty pot works.

When the time is up, remove the bag from the water bath with a pair of tongs.

Remove from the bag and enjoy immediately.
Notes
If you want firmer broccoli and cauliflower, try cooking it for 30 minutes instead of 45. 
Tried this recipe?
Mention @eatlikenooneelse or tag #eatlikenooneelse