(Last Updated On: July 30, 2017)
I think it's safe to say John Wayne ate steak. These are the famous first ones uttered by Mr. Alton Brown in the very first moments of television's greatest TV of all the times – Good Eats. OK. I know a lot of you are rolling your eyes and thinking of a handiful of shows that better belong among the greatest. For me, Good Eats has had the biggest impact of any show on my life. I may not be writing a food blog right now if it wasn't for Alton and his cast of characters and puppets.
Back to the point. Today we are talking about steak. The very same steak that was the topic of that first ever Good Eats episode – the Ribeye. I love a Ribeye steak. Ribeyes are flavorful, tender, and juicy. Very hard to beat a good Ribeye. I don't eat Ribeye a lot. Why? They aren't cheap eats. It's more of a special treat thing – the kind of meal I save for a day like father's day, the first cook-out of the year, bringing home a baby from the hospital, any kind of momentous day can be a Ribeye day.
How to Find a Good Ribeye Steak
As mentioned, Ribeye are not cheap. Well unless you buy them from Dollar Tree:
This post will be your guide to finding a Ribeye steak for a good price. Notice I didn't say the cheapest price – we already know who won that one. I am defining a good price as being the price you pay for a good, not necessarily top of the line steak.
What is a Ribeye Steak?
Before we get into talking prices, I want to take time to describe what you are getting in a Ribeye. Time to pull the cow diagram.
Bone-In or Boneless
Ribeye either comes either boneless or bone-in. Which is better? I love the look of the bone in the steak. But does it really make a difference in taste. Research has been thoroughly done on this topic. Check out Steak University for the result. The results may surprise 🙂
Ribeye Prices
To give you an example of what a good price for a Ribeye steak is let's look at the price in one area. All of these prices come from stores in the Ann Arbor, Michigan area.
| Store | Price |
| --- | --- |
| Busch's (Boneless Choice) | $14.99/lb |
| Costco (Boneless Choice) | $9.99/lb |
| Costco (Prime Bone-In) | $13.99/lb |
| Kroger (Angus Choice) | $14.99/lb |
| Meijer (Choice) | $11.99/lb |
| Meijer (Grass Fed) | $18.72/lb |
| Whole Foods (Grass Fed) | $22.99/lb |
| Whole Foods (Dry Aged) | $22.99/lb |
| Sam's Club (Choice Angus) | $9.98/lb |
| Lucky's Market (Organic) | $13.49/lb |
| Lucky's Market (Bone-In) | $12.99/lb |
| Trader Joe's (Premium Angus Choice Beef) | $13.99/lb |
| Trader Joe's (Organic) | $13.49/lb |
Most of those Ribeye steaks fall in the $11.99 to $14.99 range. Your club stores (Costco and Sam's Club) are offering the best deals. Whole Foods Market has grass fed and dry aged options that are quite expensive – $22.99/lb.
What is a Good Price for Ribeye
I prefer to buy my meat where their is an actual butcher you could talk with. Sorry Trader Joe's, you and your pre-packed meat are out. Whole Foods Market does indeed have some good meat people, however that price tag is too hard to shallow. I like the dry aged concept, more on that in a moment. Costco comes in at $9.99/lb. Costco cuts their beef in house. And you could dry aged them yourself. I have done dry aging with brisket and turkey before. Check out this video on the process below.
What to Look For in a Ribeye
You want the Ribeye steak to be odorloess, bright in color, moist, and with plenty of marbling (the fat running through it). Below you will see an example of some good marbling in a Ribeye.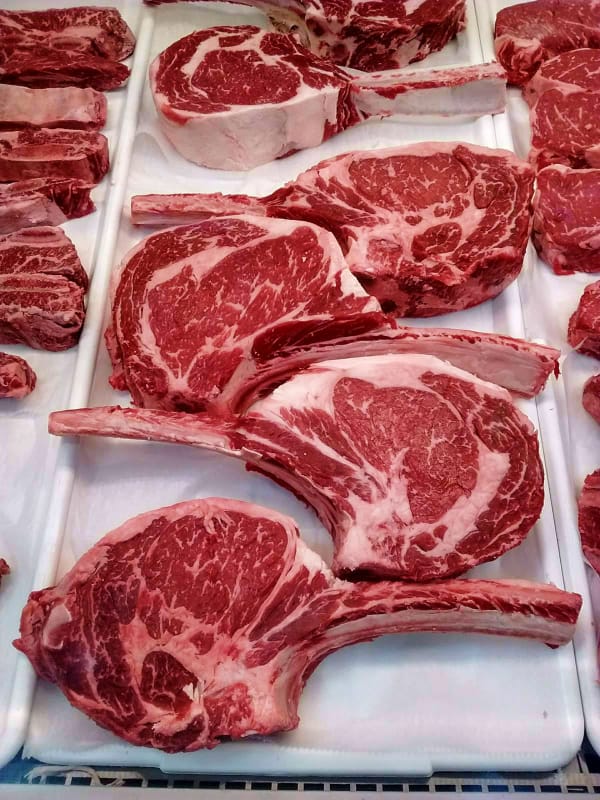 How to Cook a Ribeye Steak
I like to cook it in a cast iron skillet just as Alton Brown did in that first episode. All you had to the meat is some oil, pepper, and salt. As just he recommends:
Cook it for 30 seconds. Flip. Cook for another 30 seconds
Place the whole skillet and steak in a 500 degree oven.
Cook for two minutes. Then flip and cook another two minutes.
Allow 5 minutes to rest before eating
For more beef/meating cooking techniques, recipes, and information check out the Niman Ranch Cookbook. It is my favorite meat related book ever. I learned so much from it, almost as much as I have learned from Alton.