Do you like to buy the popular Cuties or Halos mandarins in the store? Are you convinced they are the same thing or do you swear that they are different? See what the differences are and why the flavor chances throughout the year.
We will also talk about the difference - Clementine vs. mandarin.
This post includes affiliate links. This means that at no additional cost to you, I will earn a commission if you click through and make a purchase. These are products and services I recommend because I use or trust them. Cookies will be used to track the affiliate links you click.
The produce world can be a confusing place at times.
We got sweet potatoes sometimes called yams, we called cabbage that looks clearly purple, red cabbage, and what are those little orange fruits that come in 5 pound boxes? Clementines, Cuties, Halos, Dimples, Suki, Tangerines, Mandarins?
The world of single serving, easy to peel citrus can leave one wondering. I am going to shine my years of produce experience on the subject today and talk about what is the difference between the popular Cuties and Halos.
In the process I am doing my part to prevent any of these terms from becoming the next Kleenex (genericized term to refer to all facial tissues).
Jump to:
🙋 What is the Difference?
Are Cuties and Halos the same thing? Is the answer
A) Yes
B) No
C) Maybe
D) All of the above
....
...
..
.
If you answered D you are correct! How can that be? Let's start with the most basic thing. Whether it's a Cutie or a Halo it is a mandarin. A mandarin is "a small flattish citrus fruit with a loose skin, especially a variety with yellow-orange skin" (thank you Google dictionary). It does not have to be seedless but in the case of Cuties and Halos, it is.
Many people will also interchange oranges with mandarins. Is true they are both orange! I categorize an orange as being a large piece of fruit like a Navel orange, Cara Cara, or Blood oranges. When mandarins are canned, they are called mandarin oranges, further adding to the confusion!
🏷️ Different Brand Names
What the name "Cuties" and "Halos" comes down to is marketing names from different companies. They are not actual varieties. The name "Cuties" is owned by Sun Pacific. The name "Halos" is owned by Paramount Citrus, who also has the trademark POM Wonderful. Paramount Citrus use to own the "Cuties" name.
A split occurred in the company and Sun Pacific parts with the "Cuties" name. "Halos" is the brand name that Paramount choose as a replacement for "Cuties".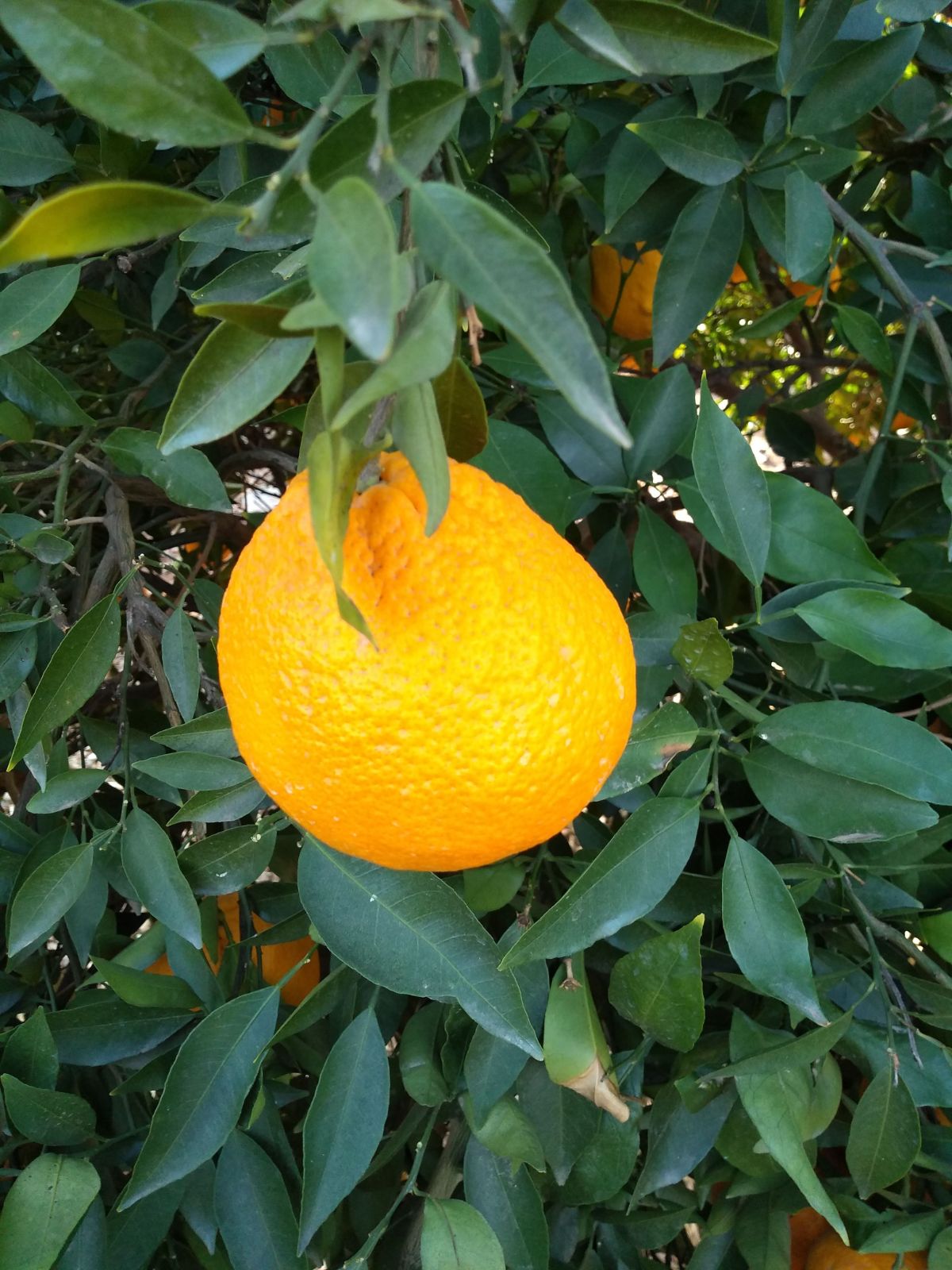 🍊 Clementine vs. Mandarin
A Clementine is a type of mandarin. All Clementines are mandarins. Not all mandarins are Clementines.
Here is something that I don't think most people know. Cuties and Halos are different types of mandarins depending on what time of year it is. They are not always the Clementine variety. In fact, Clementines are only available during the beginning part of the citrus season (from November to January).
The other mandarin commonly used is the W. Murcott. Often I see grocery stores naming even the Murcotts as Clementines as that name as more recognition. Just look at the calendar and you will have an idea of what you are really getting.
List of names you may see grocery stores use interchangeably even if they aren't the exact same thing - Mandarins, tangerines, Clementine mandarins, Halos mandarins, Halos clementines, Cutie tangerines, Halo oranges, Clementine, Cutie oranges, etc. Look for what it says on the package, not the store sign. Grocery stores change through similar products and won't often update the sign to reflect that, leading to consumer confusion.
📅 Availability Calendar
Below you will find what variety is in a box or bag of Cuties or Halos during the season:
Cuties
| | |
| --- | --- |
| Early Clementines | November 1 to Thanksgiving |
| Clemetines | Thanksgiving to mid January |
| Murcotts | mid January to April |
Halos
| | |
| --- | --- |
| Clementines | November to January |
| W. Murcott | February to May |
| Tango | February to May |
❔ Seedless?
Have you ever found a seed or two in either a Cutie or a Halo, or any other seedless mandarin? What gives?
Read my post on Why There are Sometimes Seeds in Halos or Cuties.
🌤️ End of Season
The Cuties and Halos brands are NOT in store year round. By spring, usually in May, maybe even early June, they disappear. You may be able to find them occasionally imported from South America but not as consistent as in the winter months. Lucky fruits like peaches and cherries are in season then, so I recommend just eating more of those fruits.
For when that happens you can buy mandarins in their dried form. They make for a great snack year round.
If you are interested in learning more on mandarins as well learning about how to better choose fruit and vegetables here is some recommended reading.
For when fruit is out of season and your missing your favorite Cuties and/or Halos, you can buy
Read more about the end of the season and if you can freeze Cuties or Halos.
📧 Sign Up for Emails
Want to find know when the best fruit of the season is in your local stores? Sign up for our seasonal fruit email list.
🍊 Varieties of Mandarins
Here is a list of all the varieties of mandarins we have reviewed on the blog.
Noble Citrus in Florida has developed a new variety called Juicy Crunch that I believe has a lot of potential to be the next great piece of citrus.
🍋 More Types of Citrus
Another citrus question I get a lot is what is the difference between a Heirloom Navel and a regular Navel. I highly recommend these "new" old Navels for their superior flavor. They are even easier to peel than the thicker skin regular Navels.
Here are some other types of citrus worth checking out
🍽️ Recipe
You could just enjoy your Cuties, Halos, Clementines, Tangerines, Mandarins etc as is. But when you got a big box of them why not play around with them a little more in the kitchen. I got a recipe below that will be way better than any orange chicken you find at your strip mall.
The recipe calls for Clementines but you can use any mandarin/tangerine you want.
If you want the full lowdown on the recipe, check out my post - Clementine Glazed Boneless Skinless Chicken Thighs. Otherwise scroll down.
Ingredients
For the glaze
8-10

Clementines

1

teaspoon

Chinese Five Spice

1

tablespoon

orange blossom honey

zest of 3 Clementines

½

teaspoon

ground white pepper

½

teaspoon

kosher salt
For the chicken
6

boneless skinless chicken thighs

cut into bite sized pieces

cooking oil

I like grape seed
Instructions
To make the glaze
Start by peeling 8-10 Clementines and place them into a blender or a container and use a stick blender.

Place a sieve over a sauce pan and pour the mixture through it.

Add remaining glaze ingredients

Bring to a boil. Lower the heat to medium, so you don't boil over.

Stir frequently.

Cook until the juice it has begun to thicken and is almost a syrup like consistency, but not quite.

Taste the glaze. Add more seasonings if necessary.
To prepare the chicken
Season with kosher salt. Then grab a large skillet or electric skillet, and place enough oil just to cover the bottom.

Heat the skillet over medium high heat.

When skillet is ready, place the chicken inside.

Cook until the chicken pieces have browned all over and there is no pink in the middle.
Tried this recipe?
Mention @eatlikenooneelse or tag #eatlikenooneelse