In the produce aisle it's time to go big or go home.
That must mean it's now time for Sumo Citrus season.
Let out a scream that it's finally here.
Per usual we are going to help you track them down and answer your most frequently asked Sumo Citrus questions.
When is Sumo Citrus (Mandarin) Season?
January through mid April
When Sumos were first being shipped, fruit was reaching stores first in February. Now you can them pretty much right after the ball drops in NYC. The season lasts longer now than it did years ago as more tress have come into production increasing supply.
I have found them still hanging around in as late as near the end of April. Last year their final shipment went out the week of April 9th.
Can You Order Sumo Citrus Online?
Yes you can! Yeah. If you having trouble finding them in the stores, you can head over to the Sumo Citrus website and order a gift box for yourself or a friend. The cost is $37.50 with shipping included. You got 8 Sumos in a box.
They ship anywhere in the contiguous United States (sorry Alaska and Hawaii).
Get Sumo Citrus as Part of a Fruit Club
I recently discovered that in February, Sumo Citrus is one of the varieties in Golden State Fruit's monthly fruit club (affiliate link) that you can order right on Amazon. They offer better choices than other fruit clubs I have researched. During the year they offer special varieties like Sumo Citrus, Sugar Cot Apricots, Pixie Tangerines, Bing Cherries, Pearl White Nectarines, and more. The club comes in 3-month, 6-month, 12-month.
What is the Price of Sumo Citrus?
Let's get this out of the way first, Sumo are more expensive. They hare harder to harvest and grow than other mandarins and oranges. The "knob" on the top of the Sumo can easily be damaged, so they have to harvest into small bins, instead of large crates like they do with other types of citrus.
The price I see most often is $3.99/pound. I have seen them for a dollar more and a dollar less. Kroger sells them by the each - such as 3 for $5.
Make sure to check out our post "Sumo Citrus - From Tree to Your Hands" to learn more about why they are expensive.
Can You Buy a Sumo Orange Tree?
Sorry they are not available for purchase. The link I shared above will also address this issue.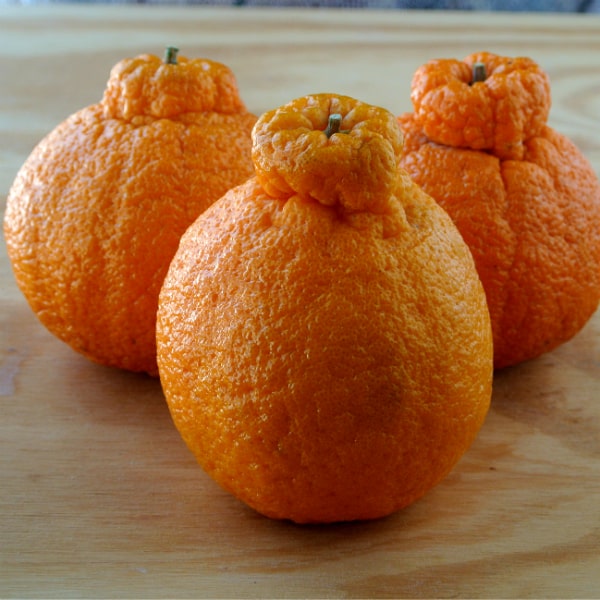 Are Sumo Mandarins Similar to Honeybells?
While they make share some similarity in appearance, Sumos and Honeybells are not the same. Honeybells are a Tangelo - a cross between a mandarin and a grapefruit. The taste and texture is very different. Sumos have a lighter colored orange skin as well.
You should be able to recognize the difference easily, even though I have seen grocery store screw this up.
Where to Find Sumo Citrus in 2018?
The list of locations below are stores that are expected to carry Sumo Citrus during the 2019 season. The independent stores may be missing from this list as they are harder to track.
Kroger has been going pretty big on them this year so far, so make sure you if you have a Kroger store or Kroger owned store nearby that you check it out. Whole Foods is pretty good about stocking them throughout the season. They usually have them on sale at some point.
For specific store locations, see the comment section below. You can help me with that by leaving a comment and letting us know where you found them.
Find Sumo Citrus in These Stores
Albertsons
Aldi
Bristol Farms
Central Markets
Cub Stores
EarthFare
Gelson's Markets
Giant of Maryland
H.E.B.
Haggen
Jewel Food Stores
Kroger
Lunds/Byerlys
Market Street
Nugget Markets
Pavilions
Publix Supermarkets
Raley's
Roundy's
Safeway
Save Mart
Shaw's Supermarkets
Shop Rite Stores
Sobeys
Sprouts Farmers Market
Star Market
Stop & Shop Supermarkets
Target
The Fresh Market
United Supermarkets
Weis Markets
Whole Foods Markets
Zion Markets
Sumo Citrus Fudge
I really love seeing them. Sumos have a rich orange flavor that cannot be beat. That hasn't stopped me from using them in some recipes. Below you will find my recipe for a Sumo Citrus Fudge!
This post includes affiliate links. This means that at no additional cost to you, I will earn a commission if you click through and make a purchase. These are products and services I recommend because I use or trust them. Cookies will be used to track the affiliate links you click.