This unique citrus fruit is a cross between a blood orange, tangerine, and pomelo. Not only that this red fleshed pomelo comes out right around Valentine's Day. In my opinion this one of the sweetest pomelos you will find.
If you have been a reader of this blog for anytime you know how much I like the unique, unusual fruit. If it's a different color, a different shape, a different flavor if I hear about it, you can better believe I am going to track it down - to share it with you my lovely readers!
A couple years ago I heard about a different type of pomelo that was red on the inside. So of course it went on my list until I could find one and lo and behold here it is.
Jump to: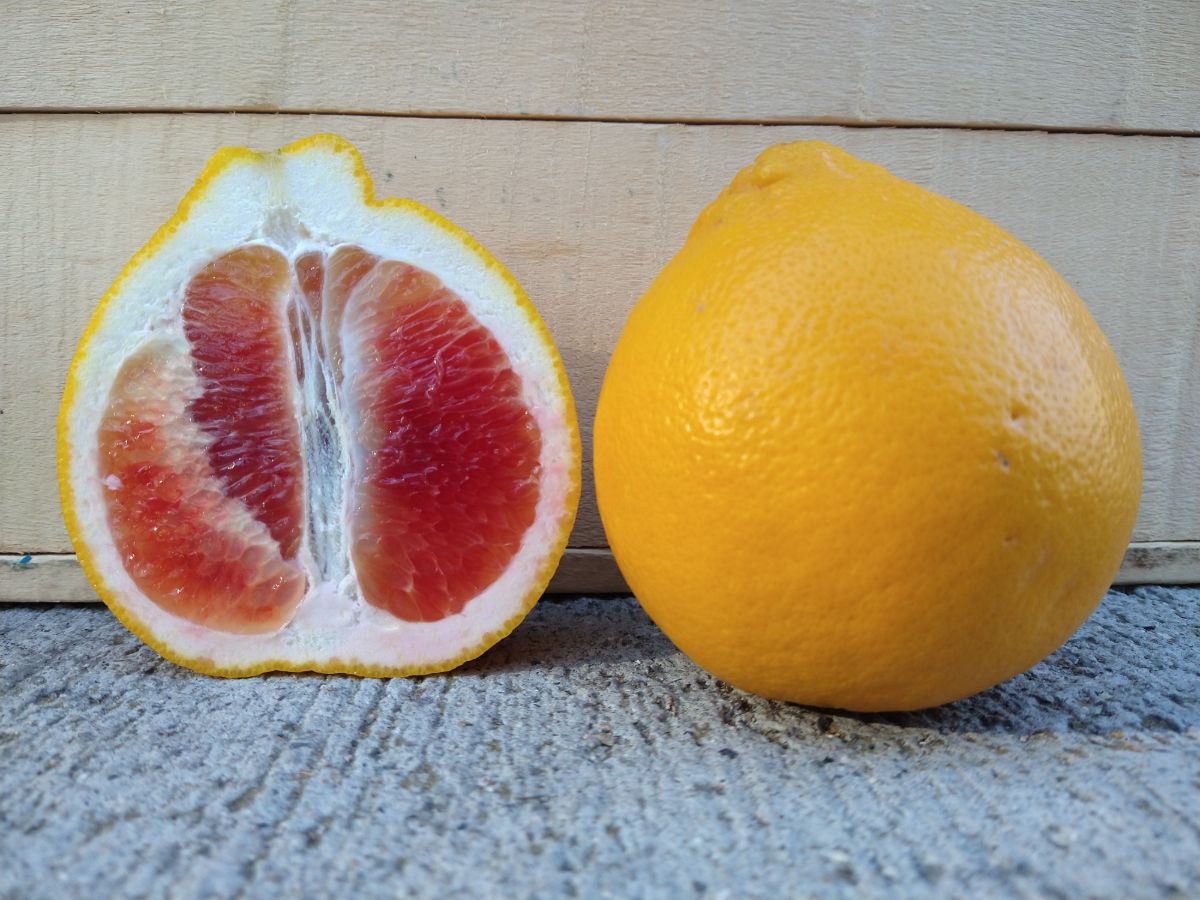 ❤️ What is a Valentine Pomelo?
It's part blood orange. It's part tangerine. It's part pomelo. For the citrus nerds, a Dancy mandarin and a Ruby blood orange were crossed together. Then that fruit was crossed with a Siamese Sweet pomelo. It has characteristics of each fruit, with pomelo clearly being the most dominant.
The skin color is more orange like a mandarin.
👀 Check out this blog post to learn everything you want to know about pomelos.
👅 What Does It Taste Like?
The flavor profile is heavily pomelo. It has that same taste. However add to that the tart, berry like notes you get from eating a blood orange. It's quite unique to get both of those in a single piece of fruit.
It's sweet. You don't need sugar like a lot of people put on a grapefruit. If you a grapefruit fan this pomelo is worth seeking out.
💡 Tip - Have a towel or napkin nearby when eating a Valentine pomelo. They are extremely juicy. You have been warned!
📏 How Large Are They?
Pomelo can get pretty big. Big like if one fell off a tree and smacked you in the head you might have a significant headache afterward.
However these pomelos are quite small for Pomelos. Take a look at the photo below. The smallest pomelo is the Valentine one.
It's still quite a bit larger than an orange. It does have more pith than an orange. The actual serving size is going to be close to a good sized orange in my opinion.
❓ Do They Have Seeds
Yes this fruit does indeed have seeds. But I think they pretty easier to manage. If you eat it more like a traditional pomelo or grapefruit, you can slice it in half and pop out the seeds in the middle before eating the fruit. It will only take a few seconds.
🥄 How to Eat It
Another unique aspect of this pomelo is how you eat it. All the other pomelos my family has tried have to be eaten like a grapefruit. You scoop out the flesh with a spoon as the membranes between the segments are too tough to eat.
Valentine can actually be peeled and eaten like an orange. The membrane is not too tough at all. I tried peeling one and it wasn't an harder to peel than orange. Start at the top knot and remove the peel. I got it off in about 3 large pieces.
Avoid eating any of the white pith at all costs. It is bitter. I got a little bit of it and still tasted bitter several minutes later. It was not pleasant.
❄️ When Is It in Season?
Have one for Valentine's Day like I did this year. They come out right around this time of year. First ripening around the end of January and available through March.
🛒 Where to Buy
Distribution of this fruit is unfortunately not very wide as of yet. I got mine at Specialty Produce in San Diego. I know that Melissa's Produce has carried them as well along with Baldor Foods on the east coast. And you might find them at a farmer's market in California during the winter.
I'm hoping this fruit is grow more and is able to reach some grocery store chains. It's a great piece of fruit that is perfect for marketing around Valentine's Day.
📧 Join Our Email List
If you like learning about fun fruits and when they are in season, you got to sign up for our Fruit Season email list.
🍊 More Citrus
Here are some other varieties of citrus you need to try: