Ruby Tango mandarins are the perfect combination of the flavor of a blood orange and the size of a Clementine.
At the beginning of this month I was reading a New York Times article about the mandarin industry.
It included some great photographs, including my friends from Friend's Ranches in Ojai, California (I visited their orange grove last March).
As I was scrolling through the photos, something caught my eye. The Ruby Tango mandarin. Never heard of that one before. As I continued to read my excitement grew when I found out that his mandarin is a cross between a Clementine mandarin and a blood orange.
Now how cool is that!
The chance to eat a blood orange just as you would a mandarin is super a-peeling - see what I did there!
Fast forward two weeks. As I am browsing my facebook newsfeed, I come across a post form Melissa's Produce talking about the Ruby Tango mandarin.
Now I really wanted them.
But how long would it take for me to find them? A whooping 3 days later I was peeling and eating my first specimen.
Good thing too because my son had a blood orange my wife had brought back from California and was really wanting more. I was excited to bring them home for a taste test for him and the whole family.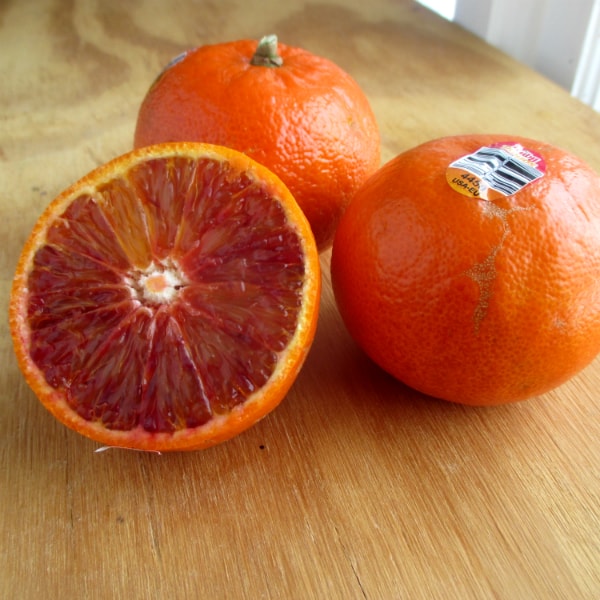 ? What Does It Taste Like?
If you were to close your eyes and be given a slice of this mandarin without knowing what it is or seeing it at all, you would think you are just eating a blood orange. The flavor is spot on blood orange. Yet in comes in a smaller package and is easier to peel. T
he skin itself in some specimens will have some red color on the outside just as you see in blood oranges. The more red on the inside, seem to indicate more color on the inside and a richer flavor. They are sweet and tart.
I am anxious to see if they get sweeter as the season progresses as I have observed with most citrus (UPDATE - I tried them later in the season and did find them to be sweeter). Even now I am ready to call these new bad boys a winner!
They are easy to peel enough to peel, maybe not as easy as some mandarins where you got the skills you can remove the entire peel in one piece. This was is a little more tricky to do that, yet still easier and faster than your straight up blood orange.
? Great on Salads
Ruby Tango are really good on top of a salad. I served the up before on top of some spring mix with sesame sticks and poppyseed dressing. One of my favorite salads I have ever made. In fact, I should go make one right now!
? When in Season
2016 marked the first time Ruby Tango was released commercially in a big way.
Even now supplies are limited and they may not be easy to track down.
In future years supply should increase as tree mature and hopefully they will be then easier to find.
Their season runs from February to March.
? Are They GMO?
I was asked by a reader if the Ruby Tango is a GMO crop. The answer is no. Ruby Tango resulted from natural crossing breeding of a blood orange and a Clementine. It was achieved the way a lot of varieties of fruit have been made. As of now, I do not know of any genetically modified citrus available commercially.
? Where to Buy
I haven't heard a lot about who is carrying them yet, but here a few stores I would recommend looking. Whole Foods seems to be backing this new variety:
Whole Foods Market
Gelson's Market
Bristol Farms
Fairway Market
Fresh Direct
Have you found these mandarins yet? Let me know what you think by leaving a comment in the section below.
? More Citrus to Try