Learn all about what makes blood oranges different than other types of oranges - Navels or Valencia juicing oranges for example.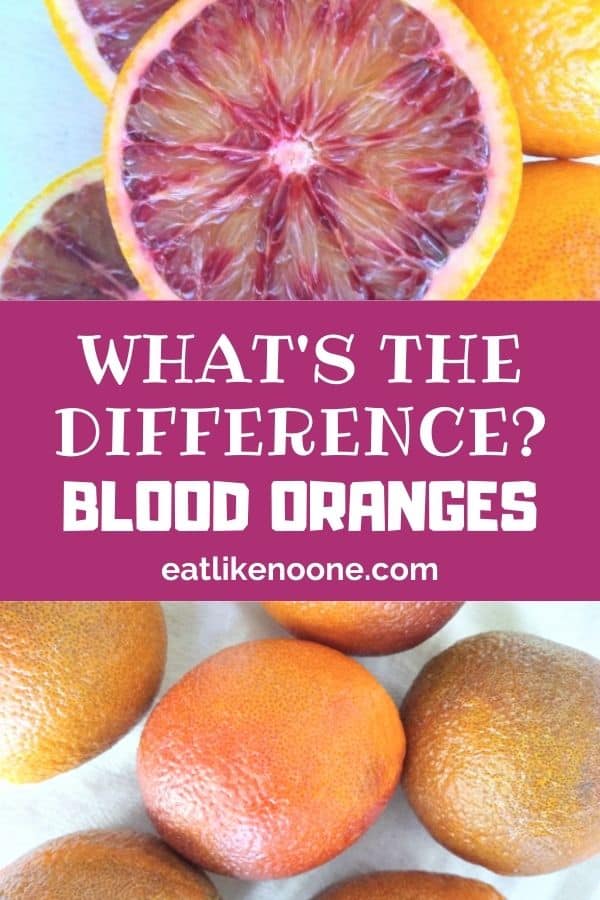 This post includes affiliate links. This means that at no additional cost to you, I will earn a commission if you click through and make a purchase. These are products and services I recommend because I use or trust them. Cookies will be used to track the affiliate links you click.
What do you think when you hear the word "blood orange"?
Does it sound scary? Maybe something that should be at a Halloween party?
Or it is a tasty piece of citrus that is colorful that you may or may not have used before? Blood oranges have been gaining in popularity. And why not they are so cool!
The question that might be on your mind is how are they any different from any other orange.
Jump to:
❔ What's the Difference
The obvious difference starts with the color. On the inside blood oranges can range from shades of red, orange, and purple - depending on the variety and how mature they were at harvest. The skin can shows various amounts of red again depending on their maturity and the variety.
? Learn more about when they harvested and the different varieties by reading our post - When are Blood Oranges in Season?
If you find a blood orange that is not red at all on the outside, you can still tell it from a Navel orange as it won't have the characteristic "belly button" that a Naval has.
What I am sure you are really wanting to know is taste. Do they taste different or is it appearance only? Blood oranges are more acidic than Navel or Valencia oranges. They do have a unique flavor, than many categorize as raspberry-like. Some might say cranberry because of it's tart punch.
?️ Peeling Them
Peeling them is not all that easy. It can be done for sure, but might want to eat slices or wedges instead. On average they are about as easy or harder to peel than a Navel orange. Unless it's a variety like the Tarocco blood orange which tend to have a thinner skin. I have peeled those before without trouble.
? Seeds
Are blood oranges seedless? Most of the time I don't find any seeds, but you still may see one from time to time. If there is it might only be 1 or 2. Nothing to worry about. This makes them easier to juice than most juicing oranges that contain several to many seeds.
? Recipes
This is where it's time for the blood orange to shine, they are perfect to use in recipes. You can juice them as you would a Valencia or any orange labelled as a juicing orange. They work better than Navels in recipes because of their more bold flavor and acidity. Plus Navel oranges have a tendency to turn sour when juiced.
The color of the blood oranges makes it very appealing for salads. Or to slice them up and cook them on top of things like chicken or fish.
? Tip - For recipes, you need about 2 medium blood oranges for ¼ cup of juice. Always buy more oranges than you think you will need to make sure you have enough juice. You can always eat the extras.
Here is a list of different recipe ideas to try, which some suggestions of recipes on our blog where you can substitute blood oranges for whatever the recipe calls for.
Granita (a frozen dessert made from sugar water and flavorings)
Jam (great combined with strawberries)
Fudge (this is a recipe for lemon fudge, but you can subtitle blood orange)
Use the zest in sugar cookie (like I did with Sumo Citrus)
Loaf cakes
Orange bars
Scones
Macarons
Syrups (add simple syrup with the juice & zest, then boil down)
Squeezed on top of grilled fish
Glaze for Chicken (replace them in my Clementine Glazed Chicken Thigh recipe)
✍️ If you want like for us to post a recipe with any of those items in the last, leave a comment below and we will do our best to accommodate!
❄️ Seasonal
Unlike juicing oranges and Navel oranges, you won't be able to find blood oranges in the store year round. Thanks to imports from other countries, you can find them a good portion of the year. Read our post on when they are in season for more info.
? Where to Buy
Good news, most major chain stores carry them now. Just check the area where the Navel oranges and the mandarins are sold. You can always drop us a comment below if you need help finding them in your area.
? Storage
In my experience I have not noticed any difference in how long they keep compared to other oranges. Place them in the fridge to keep them around longer. If you don't have space in the fridge or you love the idea of a bowl of citrus on the counter, you can leave them out for at least a week.
It's possible the fruit could start to feel harder which is a sign it's drying out. Use or refrigerate immediately.
? More Posts
Check out this additional posts in our "What's the Difference" series